Create a huge batch of sweet treats for events and parties is no easy feat! We regularly get large cookie orders for corporate events, so we've picked up a few tricks for managing them. Today, we're sharing our top tips for handling huge cookie orders.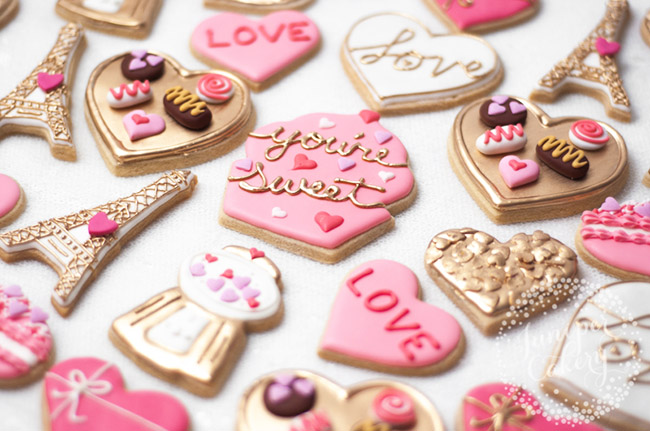 How to handle huge cookie orders with no stress
Planning your cookie order
1. Plan a timeline in advance
It helps to be an utter control freak when it comes to dealing with larger orders. We plan every detail weeks in advance. When you're planning, here are just a few of the items you need to consider:
Baking time. We try to bake all our cookies about one week before we need to decorate. This is so we have enough time to do a practice run of the design(s) on one or two cookies. We also calculate how many cookies we need to bake per day to meet the deadline.
Cookie size and shape. How many can you fit on a tray (without cramming them too much)? Is it a complicated shape to cut and then release from the cutter? This all affects your timeline.
Drying time. Factor the amount of time it takes for royal icing to dry into your overall timeline. Unfortunately, bold colors can bleed when piped next to lighter tinted royal icing so extra drying time will be needed here. (A practice run helps here!)
The weather. If you live in a humid part of the world the moisture in the air will slow down the drying process of royal icing.
More planning = less stress, which is something everyone can appreciate!
2. Keep it simple
One of the first things you can do to reduce stress with larger orders is to keep the designs realistic and simple.
If a client wants a lot of elaborate cookies (and in a short amount of time), be honest with them and try to design some compromises.
There are also clever ways you can make a design seem more detailed. Use sprinkles or pre-cut shapes (hearts, stars, florals) to easily add detail. If you can quickly piping messages, use that as a design feature. Metallic edible paint adds instant glamour, too.
One more tip: know your strengths and weaknesses. If you're great working with color, make that your main design element. But if you're not great with piping words, don't recommend that to the client.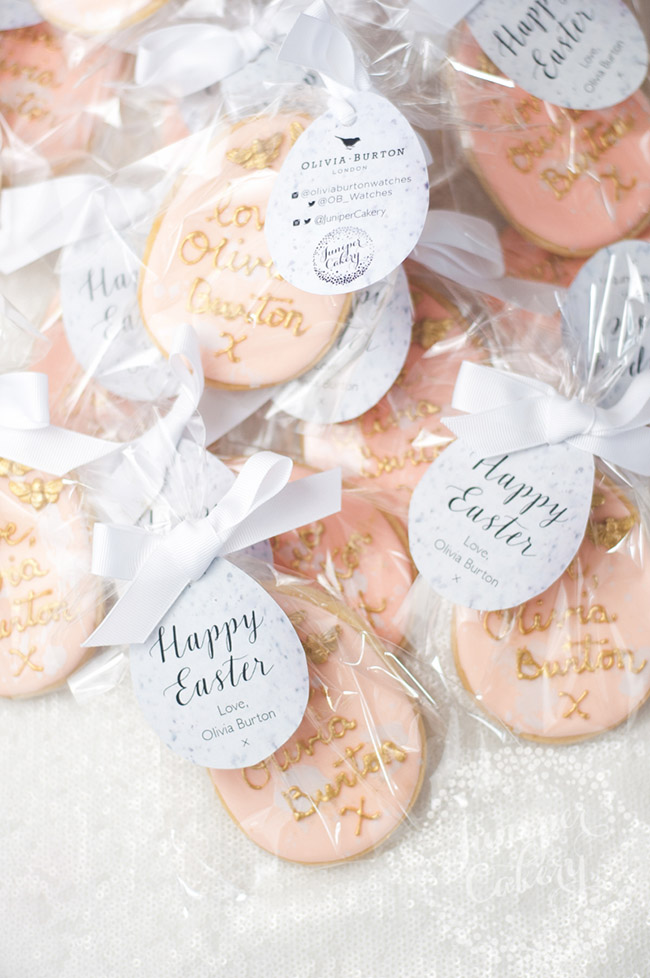 3. Always over-estimate your time
If you think a job might take you 30 minutes, tack on some extra time to your estimate. Chances are your initial guess is wishful thinking. We all can look at a mountain of work and think particular tasks will fly by.
The Easter cookies above may look like they took no time at all. But the order included 100 cookies, and with the gold painted lettering, the order took us a full 20 hours (and a lot of coffee) to finish. So always over-estimate, even on simple designs.
Another reason to over-estimate: You could easily finish a day early, meaning no rush jobs or last-minute panic!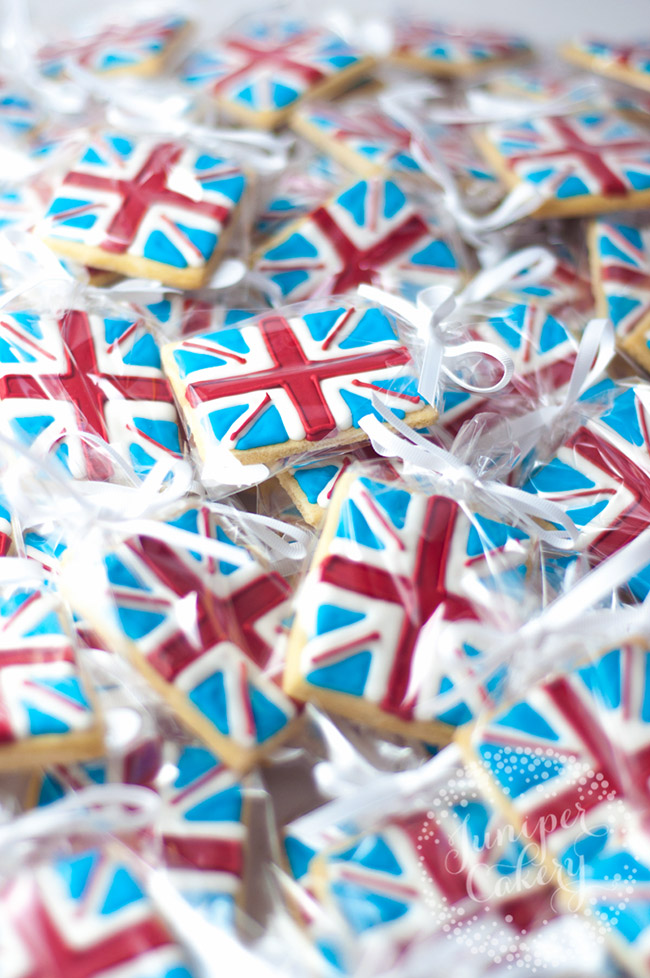 Preparing your space
4. Make sure you're fully stocked
Need sprinkles, piping bags, food coloring? Order all the ingredients and tools you in a few weeks beforehand.
If you're shipping the finished cookies, get all the packaging you need. You may need to stock up on business cards and promotional materials, tissue paper, bubble wrap, boxes, mailing labels and more.
Go through every part of your cookie making, decorating and packaging process to see what you need. Then, stock up.
5. Organize your space
Make sure you have a well-organized space to work and store all of your cookies. A day or two before you need to start baking and decorating, have a deep clean.
Next, prepare your work station. Clear away any clutter, and make sure you have enough room for each step of the process. You could invest in some fold-away tables or wire racks for some extra drying space.
Then, organize your materials. We like to fill a craft caddy with everything we need before we start a huge project. For cookies, we'd fill it with disposable piping bags, tips, a tablet charger (see Tip #2), scissors, paper towels and more.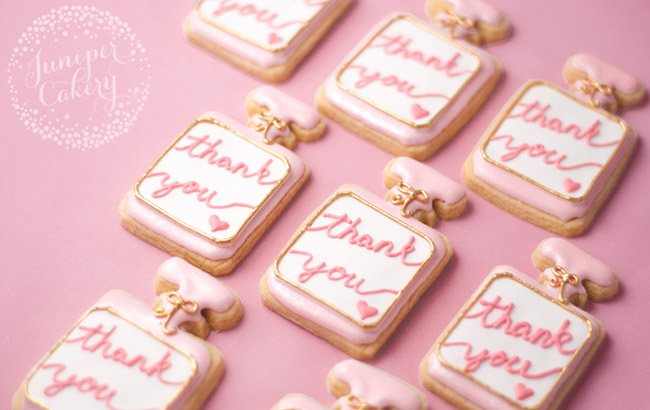 Creating your cookies
6. Have "Franken-cookies" on hand.
When it finally comes time to work on the designs, we keep "Franken-cookies" nearby. These are just spare cookies that we use to test flooding, detail or piped messages. They end up looking like a crazed mishmash of things — hence the name — but it's better to practice on a spare than on the precious few you have for the client.
7. Use a sketch
Look at your designs as creating the cookies is vital. It's easy to think you have something memorized, but you should always check. We sketch out every designs we're working on using a tablet. Then, we always make sure the sketch is in front of us as we work.
8. Take a break
You may think that you can't spare even a minute when you have a huge order to finish. We've all been there! But taking breaks is so important.
If things are piling up or you're beginning to make mistakes, take a time out. Go outside, have a coffee, read for 30 minutes, watch your favorite TV show — anything to take your mind off the work. It'll re-set your mind, so you'll feel a little more relaxed in the end.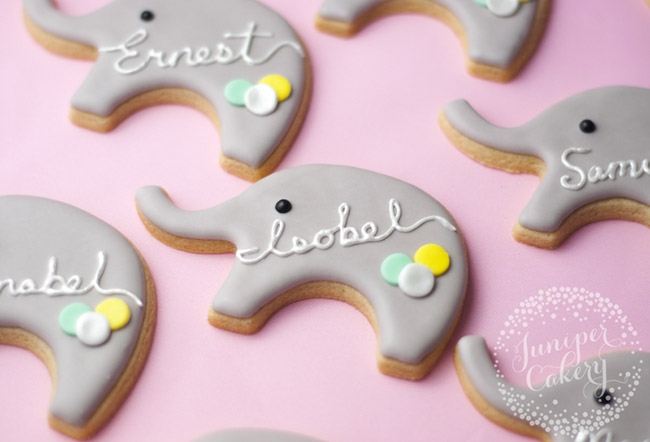 9. Create a meal plan
This tip may seem a little out of place, right? Figuring out your meals and snacks for a busy week is a life-saver in the end. When you know what's on the menu, you're more likely to stay on track, be organized and avoid junk food (which makes you feel tired and stressed).
P.S. Take a little time away from your work desk to eat. Seriously, it will keep you sane!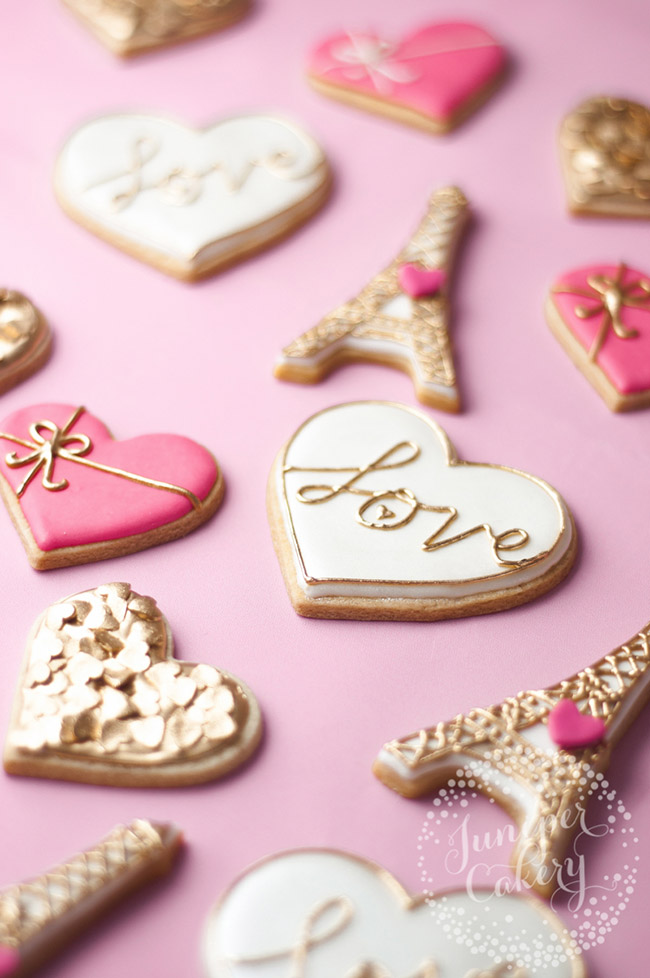 Be a Smart Cookie!
Streamline your cookie decorating and create your best designs yet. Get the Class