In my opinion, there is nothing more classically elegant than lace lingerie. On its own, paired with a coordinating fabric or used as an overlay, lace adds a romantic flair to any garment.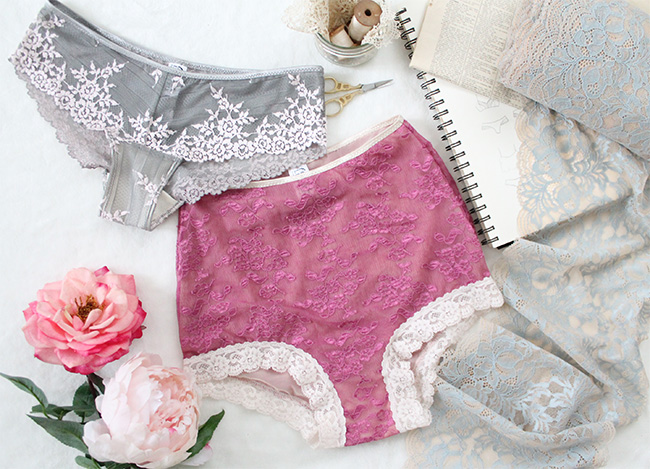 Photo via Ohhh Lulu
There are countless types of lace available, from a delicate chantilly lace to a heavier guipure. In this post, I'll be talking in more general terms about some basic stretch laces. Although nearly any kind of lace can be used for making lingerie, the most commonly used lace is of the stretch variety.
Working with lace is far less difficult than it seems, but there are a few tips and tricks to make it a little easier.
Types of stretch lace
1. All-over stretch lace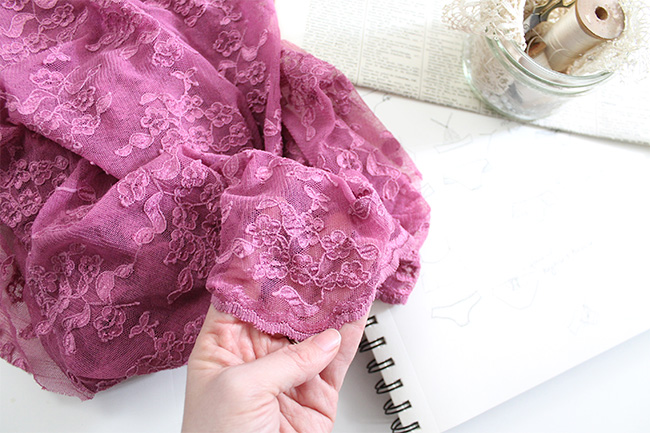 All-over stretch often offer four-way stretch. These laces are generally 45″-60″ wide; sometimes they have a scalloped edge, though usually they have a straight selvedge. 
Stretch laces come in different weights and densities, though I usually find stretch laces to be quite lightweight. Because of this, they can be prone to tearing along seams or forming small holes in the delicate mesh.
I like to back my all-over stretch lace with sheer stretch mesh. The stretch mesh adds some stability to the seams, and is especially nice on bras and panties with a higher waistline. Lining your fabric this way creates a stronger garment that still maintains the delicate sheerness of the lace.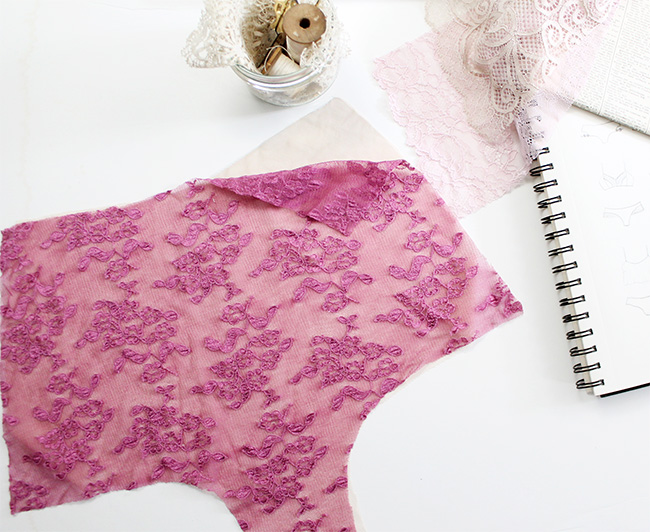 Backing the lace is simple: Just cut your pattern piece out of both lace and mesh. I baste my pieces together using a long zigzag stitch, making sure the right side of the lace is facing out. From there, the construction of the garment is exactly the same! You'll find that flimsy stretch laces are much easier to work with when backed with mesh.
2. Scalloped stretch lace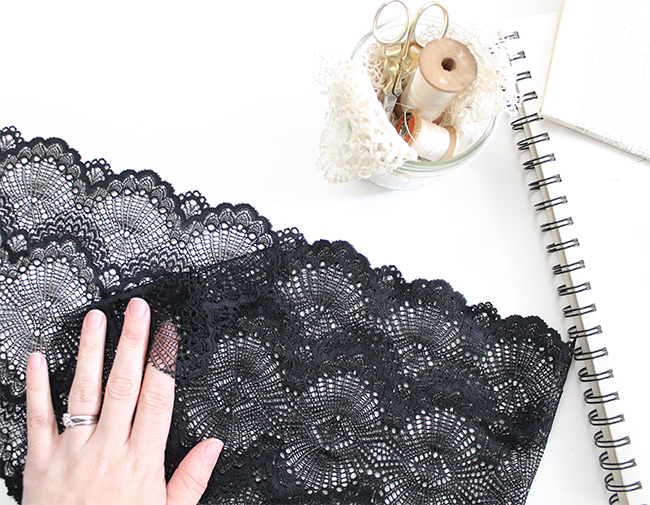 Scalloped lace has two scalloped edges. Scalloped stretch laces come in a vast array of widths. For lingerie-making, I generally like to purchase laces that are at least 8″ wide, but the width required for certain styles of lingerie will vary based on the pattern. 
Pay special attention to the motif on the lace: Some have symmetrical patterns while others have a directional pattern.
Symmetrical patterns are easy to cut. Simply fold the lace over, making sure that the scallops line up evenly, and proceed to cut your pattern piece.
A directional pattern can be a little more challenging. In these instances, you want to cut off a piece of your lace long enough to accommodate your pattern piece, and place it against your remaining lace with the right sides together, so that the pattern and scallops align. This will give you perfectly mirrored pieces. One of the nice things about working with lace is that it is sheer! It is so easy to match up the patterns.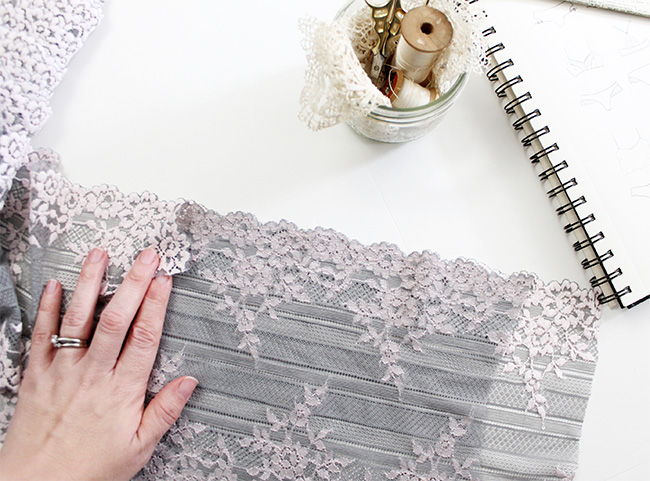 When sewing scalloped lace, take the time to pin your seams, and make sure you align the scallops at your seam line. When your seams are sewn, you want the scalloped edge to look seamless with the scalloped edges, lining up perfectly.
When I sew scalloped lace, I like to baste my seams prior to serging my seams together. I find that this ensures my scallops line up neatly.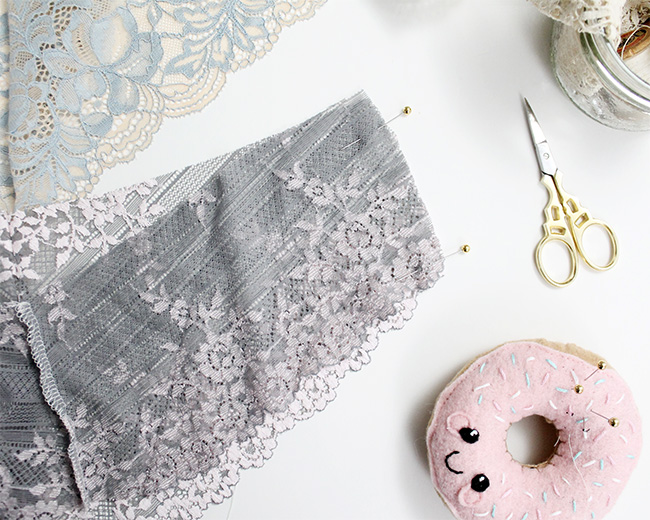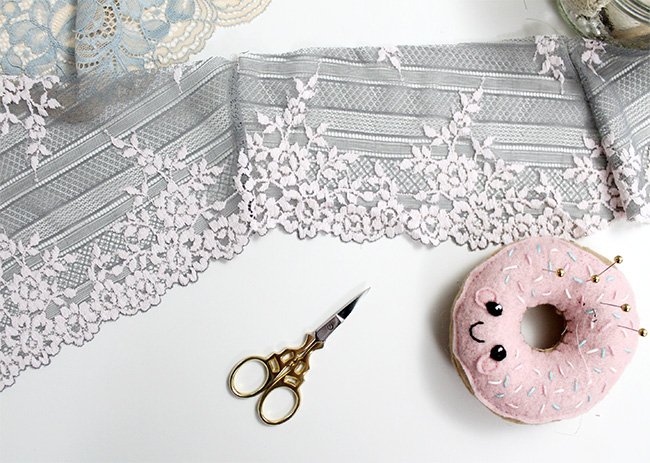 3. Stretch lace trim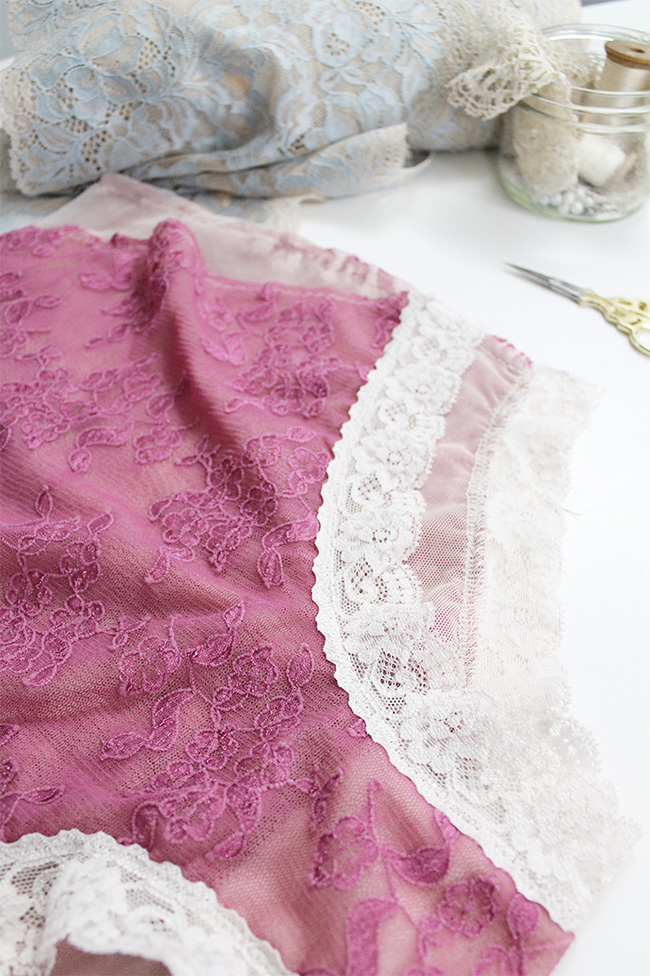 Narrow stretch lace can add a pop of color or interest to an everyday pair of panties.  Stretch lace trim makes an excellent substitute for elastic on leg lines, and provides a smoother finish with less visible panty lines! It can be used on nearly any panty style. It is generally applied along the right side of the garment using a zigzag stitch.  
Stretch lace trim comes in a large variety of styles. If you're using a lace with a straighter edge, you may want to serge the edge of your garment prior to zigzag stitching the lace on. If you're using a heavily scalloped lace, omit the serging step, and zigzag stitch the elastic directly to the right side of the garment. Excess fabric can simply be trimmed back to the stitching line.
Needles and stitches for sewing lacy lingerie
When you're working with stretch lace, having a serger really comes in handy. As you might guess, stretch lace, especially all-over laces, tend to have quite a bit of stretch. Serged seams provide a narrow seam finish that ' stretchy and almost disappears through the sheer lace. Although not impossible to sew on a standard sewing machine, you'll get the best results when sewing your seams on the serger.
If you're looking for a needle for your sewing machine, look for stretch-specific needles in a smaller gauge, such as 75/11.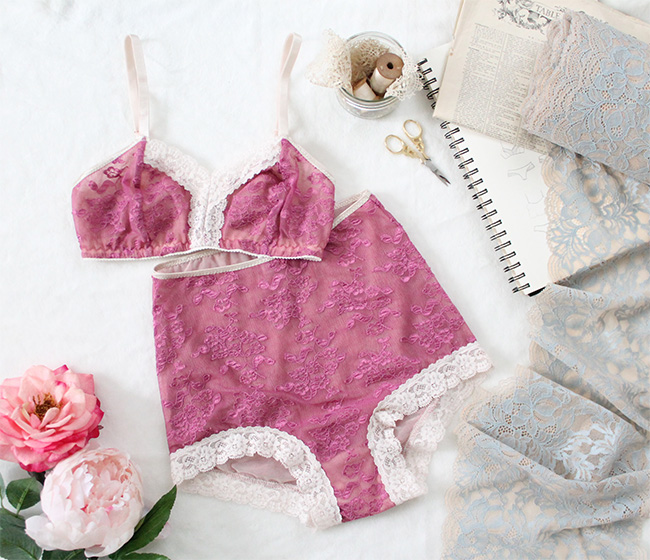 Lace looks like a difficult fabric to work with, but it really doesn't have to be!  With a few basic tips you can create your own show-stopping lace lingerie.