Have you ever admired a beautiful sweater knit with several different colors, then took a peek at the inside and gasped? Stranded colorwork involving two or more colors has what's called knitting floats on the wrong side, and they can look gnarly if they're not properly trapped.
A crazy wrong side full of knitting floats shouldn't stop you from knitting your own stranded colorwork, though. From float length to tension, these tips will keep your knitting floats in tip-top condition, ready for even the most critical of knitting eyes.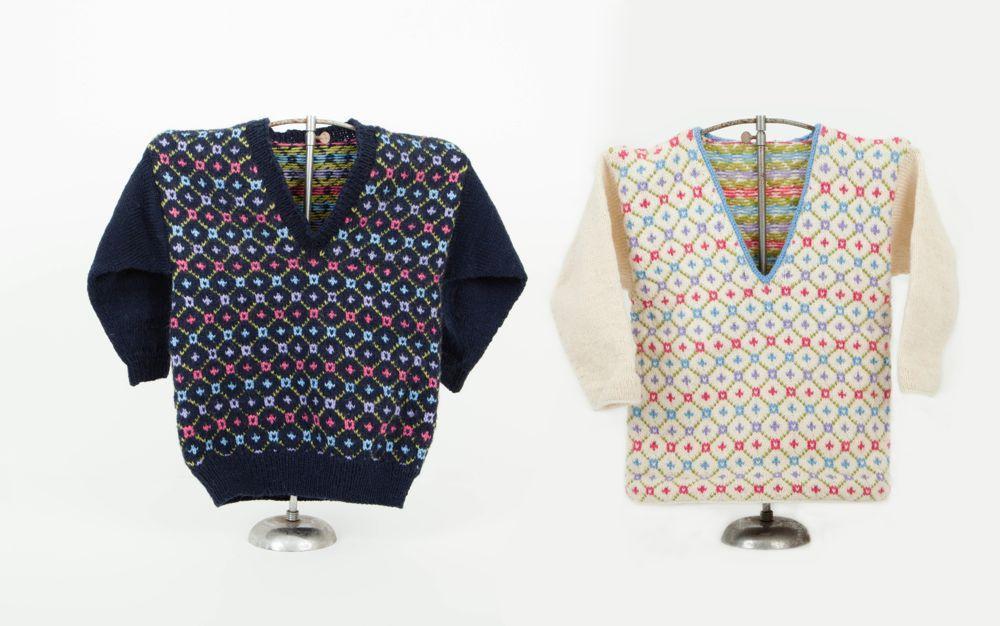 Photo via Craftsy instructor Amy Detjen
1. Wrong side pride
Be as concerned about what the wrong side of your work looks like as you are the front side. When I'm trapping floats, I always ask myself, would I be ashamed to show another knitter my wrong side? Take a look at the wrong sides peeking out from Craftsy instructor Amy Detjen's sweaters pictured above. The wrong side, which you can barely see below the neck of the sweater, looks just as beautiful as the front!
The patterns for these sweaters are available exclusively to students of Amy's Simple Sweaters: Stranded & Steeked class. Pop on over to see what other students are making in the class and let Amy show you her tricks for knitting a wrong side that's just as beautiful as the right side!
2. Try Portuguese knitting
The Portuguese knitting style involves using a knitting pin to control the yarn. It's especially useful for working with multiple strands, and it can help you trap those knitting floats without tangling the yarn. Plenty of knitters use this style solely for stranded colorwork.
3. Trap floats longer than an inch
The general rule for trapping floats is to trap strands that are longer than an inch. Any float shorter than an inch is free to lay across the back of the work as it pleases, but if it's longer than an inch, there's a danger of it catching on jewelry and even fingers — especially important if you're using floats on a sweater or a pair of mittens.

Photo via The Feisty Redhead
4. Keep an even tension
Keep the piece of knitting spaced out as evenly as possible while you work so that your floats are trapped evenly across the back. Check out the photo above. This was my first ever attempt at stranded colorwork. I've learned a lot since then, and now I know that some of the floats on the back were way too loose — and too long! See how some of the floats are bunched up a bit, especially with the dark green yarn? That's because I stretched the knitted fabric too much when I was trapping the floats, causing the floats to not lay evenly across the back.
Trapping floats too tightly can cause the opposite problem. If the float is too short and doesn't lay evenly across the wrong side, the knitted fabric will pucker on the right side, distorting your beautiful design. Just remember to spread the knitted fabric out so that it's not stretching across your needles, but it's not bunched up on the needles, either.
5. Knit with animal fibers
If you've dabbled in felting at all, you'll know what happens to animal fibers when there's a lot of friction. They start to stick together! Using animal fibers for colorwork takes advantage of animal fibers' tendencies to stick together, as fibers trapped in floats begin sticking to the knitted fabric over time. Clinging to the wrong side is a real benefit, especially if you accidentally left some too-long floats back there.
6. Don't trap too frequently
Trapping floats is a delicate balance. If you trap too frequently, you risk puckering the knitted fabric. You might even have a float that shows through on the right side of the work. Don't go float-trap crazy. Follow the rule of trapping floats every inch or so for the ideal balance.
Have you ever been tangled up in floats? Any tips for trapping floats more easily?