Visiting far-flung family for an upcoming holiday? Getting ready to congratulate your sister on her new digs? Attending a friend's dinner party? Make your housewarming gift extra meaningful by pairing up that bottle of wine or fruit basket with something beautifully made by your own hands. From elegant placemats to spiffy coffee-press cozies to intricate throw pillows, we rounded up some of the best housewarming knitted gift projects around. Enjoy!
Photo via Craftsy member Tin Can Knits
1. POP Blanket
This ain't your typical knitted blanket. Geometric and modern, colorful and versatile, the POP blanket is a pretty fab, contemporary design. A short row–lover's delight, this blanket can be knit in worsted weight for a smaller scale version, or in a heavier yarn for a chunkier, more substantial alternative. Pick a good yarn for this project, as the blanket will get lots of use. It's one of those home decor knitted objects that's bound for family heirloom status.
Photo via Craftsy member Universal Yarn
2. Hot Spots
More polka-dot fun! Hot Spots is an oven mitt and trivet set that would look perfectly at home in any kitchen, from rustic to contemporary. Cleverly designed, this set is first knitted, then felted, and it might just be too handsome to use. But it's meant to be perfectly functional. A great stash-buster project, the multi-color "hot spots" in this design are perfect for using up lone yarn skeins.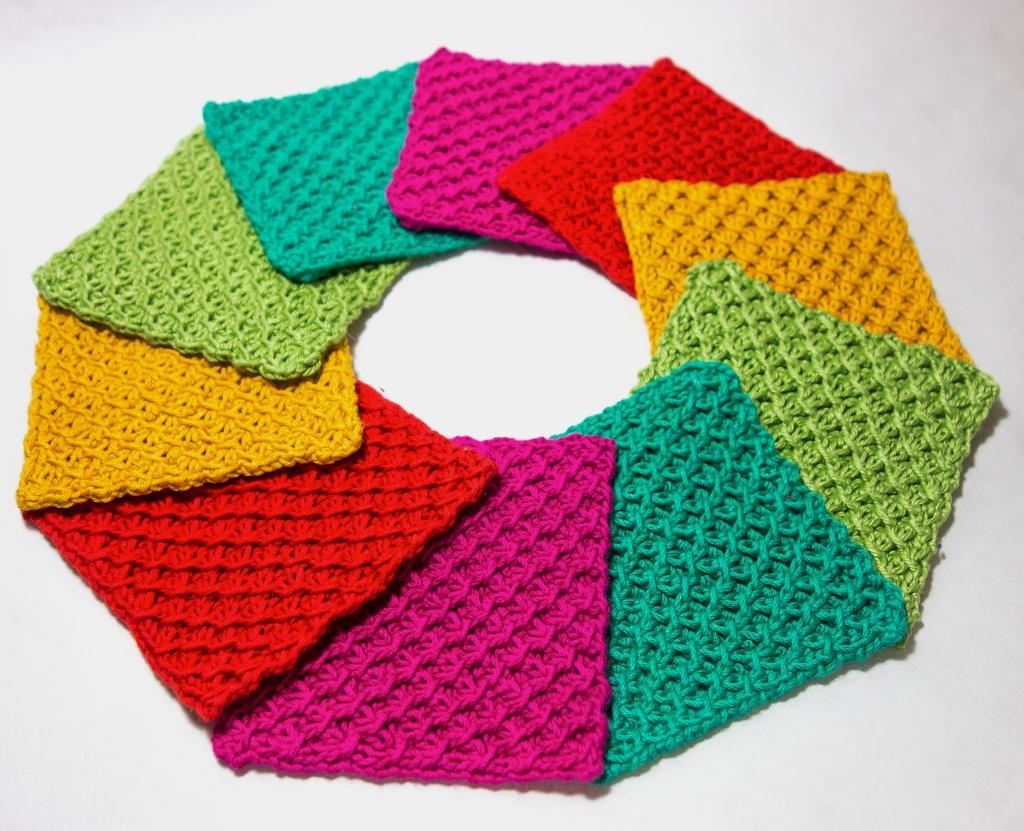 Photo via Craftsy member anna_rave
3. Rainbow Coasters
There's no lack of color in this set of Rainbow Coasters. Though, if you wanted to, you could easily make the set black and white, or try an ombre approach. The coasters use a reversible quilted cross-stitch that, according to the designer, makes for a perfectly flat surface. You are advised to work these on smaller needles to create a firm and solid surface. Another tip from the designer is to use all-cotton yarn and gently starch it.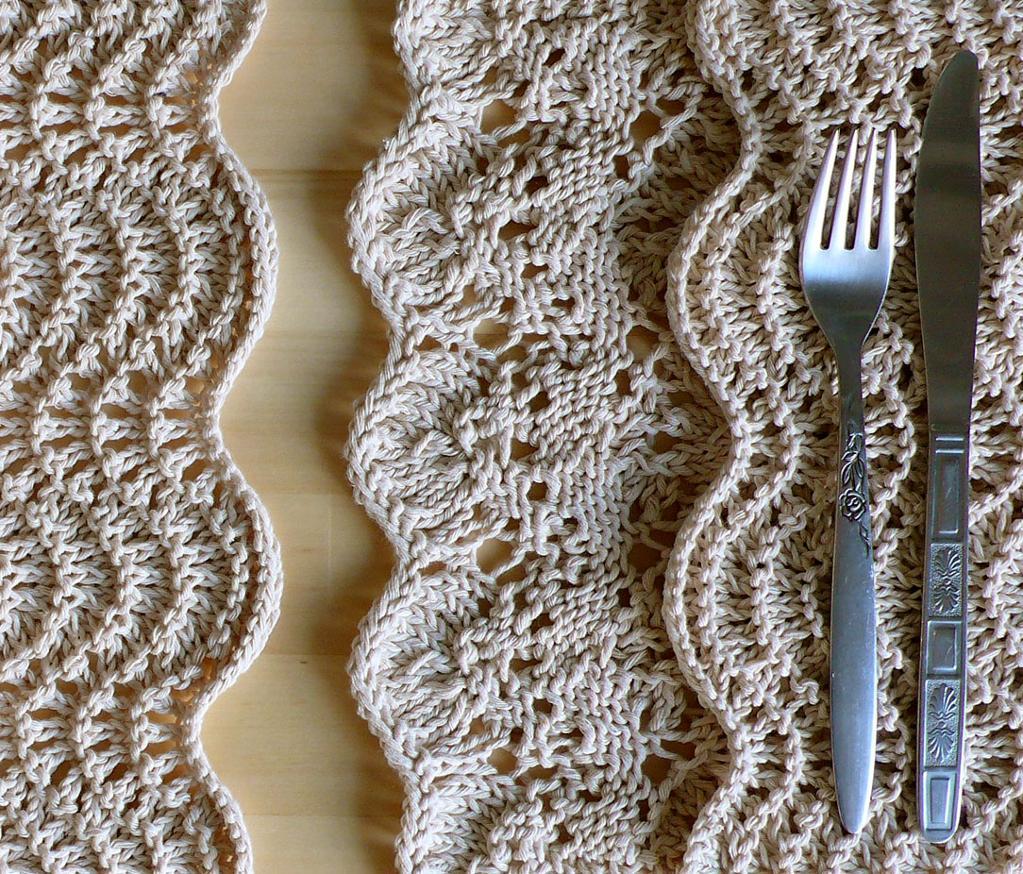 Photo via Craftsy member anna_rave<
4. D.I.Y. Placemats
I really like the idea of using a lace pattern and a natural colorway to create a set of beautiful and unusual placemats. These will give your eat-in-kitchen or dining room an instant boost of coziness and warmth. Worked in humble cotton twine, this project is great for those practicing lace knitting. These would make a very special and welcome gift, don't you think?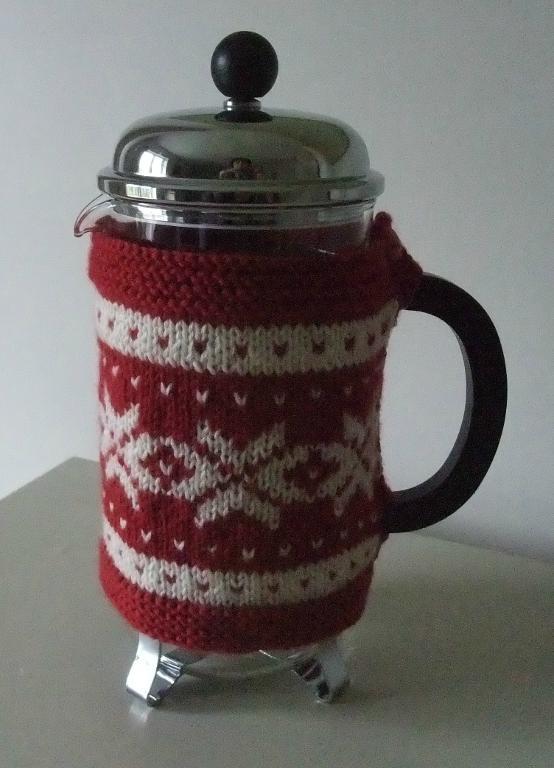 Photo via Craftsy member Buzybee
5. Nordic Cafeterie Cosy
Winter-like in look and feel, your French Press will love dressing up in this Cosy. Whether you bust it out apre-ski or at another time of year to invoke that "snowy day by the fireplace" ambiance, the Nordic Cafeterie Cosy is kind of irresistible.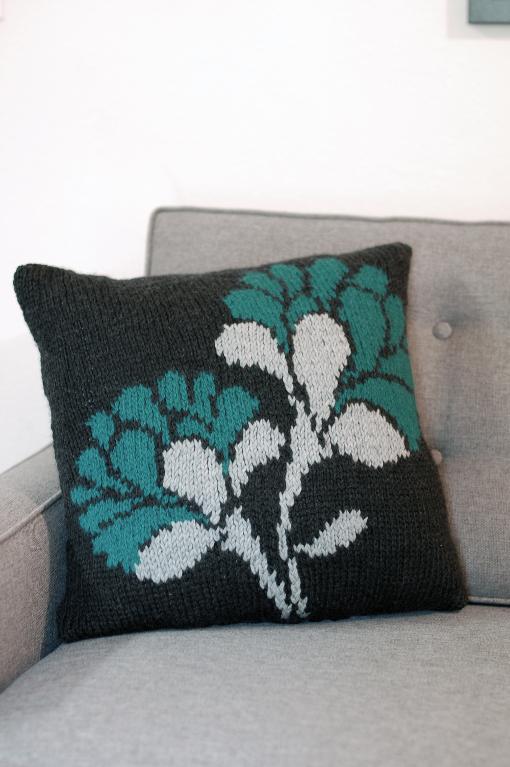 Photo via Craftsy member Jordana Paige
6. While Away the Flowers Pillow
As any interior decorator knows, one can never have too many throw pillows. Perfect housewarming gift, this pillow is worked in stockinette using three colors to create a bold shadow and light effect. There are echoes of art nouveau motifs in the design, and the pillow would fit comfortably into all kinds of rooms.