In knitting when we think about yarn substitution, most of us are guilty of just matching the gauge and moving on. It doesn't matter how that gauge looks to us, even if the stitches look like they're packed in there tightly. If we get the correct amount of stitches per inch, we're happy.
This usually works out for us if we're knitting something like a tech case. But what if it's a wearable? Things can go wrong in ways you never expected when you don't consider draping while choosing yarn for your project.
Draping isn't some fancy knitting term. It's exactly what you think it is: how fabric (including knitted fabric) moves and hangs.
Think about loose drapes, like light, airy mohair shawls. Or how about something that barely has drape at all, like a super bulky-weight knit in a gauge so tiny the stitches have nowhere to go and therefore stand at attention?
Let's use this beautiful Arcadian shawl by Craftsy member Knitting Kninja as an example: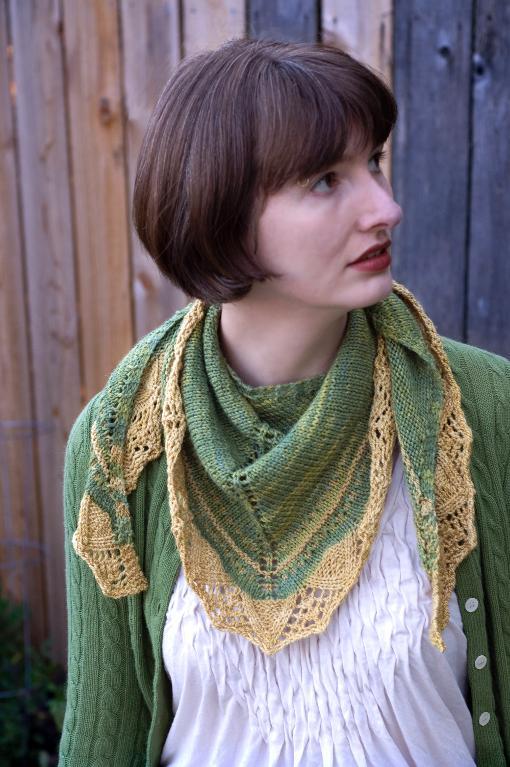 This shawl was knit with an alpaca-silk blend (yummy!) and a merino lace edging. Notice how it gathers and falls around the neck and shoulders. Let's say you want to substitute this yarn for something in your stash of the same weight. The weight matches, and you've managed to achieve the same gauge as the pattern. So does that make it a good substitution? Eh, not exactly. If your yarn sub is made of something a bit stiffer (say, a wool for example) then your shawl is not going to tuck and roll like the one in this photo. It might actually stand straight up instead.
How to solve a drape problem
There are a couple of things you can do to avoid completing a 20+ hour project only to find the drape makes it totally unwearable.
1. Research online
Search online to find knitters who have used the yarn you're thinking about using as a substitution. If they made an item similar to the one you want to make, even better! Notice how the yarn drapes in the photos. Do you like it?
2. Knit a bigger swatch
Knitting a larger swatch has a lot of advantages, and draping is one of them. If you just knit the usual 4″ x 4″ swatch, you can't tell much about it. Knitting a larger swatch not only gives you a more accurate gauge measurement, but it also makes the draping much more obvious. A small, lightweight swatch isn't going to show off the drape, especially if that little swatch is going to turn into something like a big, cozy sweater.
3. Test your swatch
Don't just measure your swatch. Put it through the same routine as you would your clothing. Wad it up, wash it. Knitting designer Lily Chin is a fan of hanging your swatch on the wall to see how it falls and hangs. Does it droop? Does it stand perfectly straight? These are all good indicators of how the yarn will look and behave once it's knitted into a bigger project.
Achieving the right drape is just the first step in knitting well-fit knits. Check out Craftsy's Fit Your Knits with Stefanie Japel and Feminine Fit with Joan McGowan-Michael for tips on everything you need to know about fitting knits before you even put the project on the needles, from calculating increases to adding bust darts.
Have you ever experienced a yarn substitution draping nightmare?