04Have you ever heard of kitchari? Pronounced "kitch-uh-ree," this dish is mixture of yellow mung dal beans, rice, vegetables and spices. It's easy to make, and it's an incredibly tasty vegetarian food.  
Photos via CakeSpy
What is kitchari, really?
But kitchari isn't merely a vegetarian-friendly food. It's also considered a traditional mainstay of an Ayurvedic diet.
What's an Ayurvedic diet? In a nutshell, the Ayurvedic approach to nutrition involves eating in a way that is appropriate for your "dosha," which is the term to describe your overall body type and constitution (more on that here).
Kitchari is seen as a deeply nourishing, easily digestible food that can be soothing to all body types. Plus, the recipe can be edited or augmented to suit anyone's nutritional and energetic needs.
Even if you don't follow an Ayurvedic diet, kitchari is worth adding to your recipe box — and not just because it's easy to prepare. Kitchari is hearty enough to act as a vegetarian entree, but you could also serve it as a perfect side dish.
Why not see for yourself how good it feels to eat this nourishing, delicious food?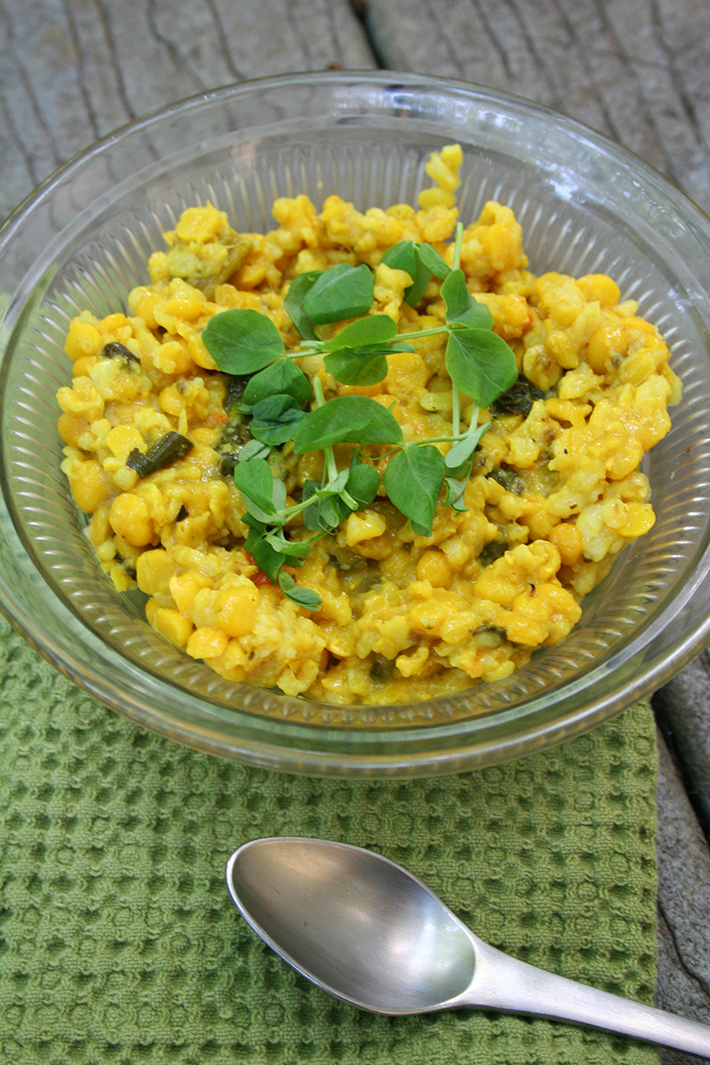 Basic kitchari recipe
Makes 6-8 servings 
Adapted from the Kripalu Center for Yoga and Health
Ingredients:
2 cups yellow mung dal beans
1 cup basmati rice (white or brown is fine) 
2 tablespoons ghee 
2 teaspoons mustard seeds
2 teaspoons turmeric powder
1 teaspoon black pepper
1 teaspoon cumin powder
1 teaspoon coriander powder
1 teaspoon fennel seeds
1 teaspoon fenugreek seeds
2 cloves
2 bay leaves
2–5 cups of chopped seasonal vegetables (I used carrots, kale and zucchini)
4 cups water
Salt, to taste 
Cilantro or microgreens, to garnish (optional)
Note: International readers may enjoy our handy metric conversion guide.
Step 1: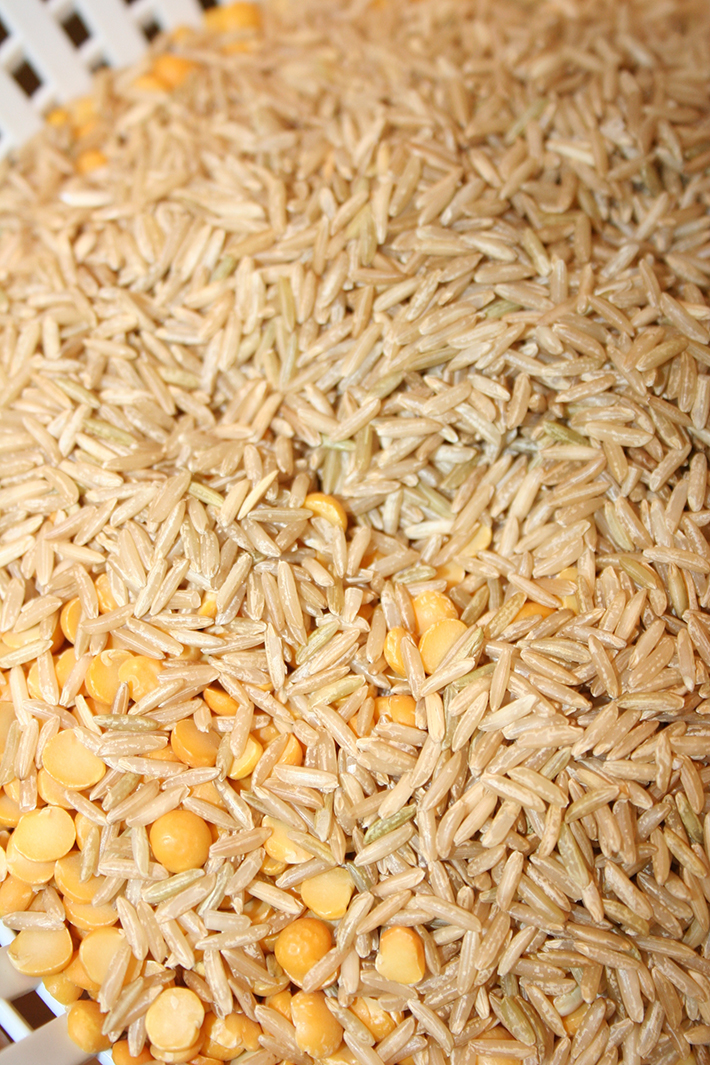 Rinse and strain the mung dal beans and rice several times, until the water runs clear. I put them both in the same strainer — just be sure yours is fine enough that the rice doesn't fall through. Set to the side.
Step 2: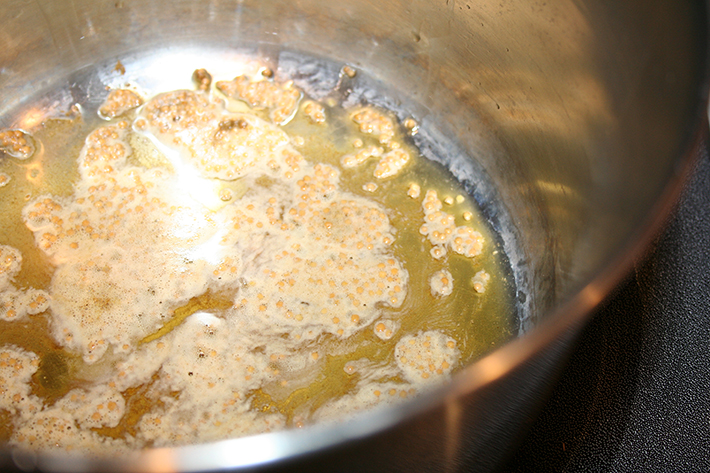 In a large pot (at least an 8-cup capacity) or a stock pot, combine the ghee and mustard seeds. Heat on medium-low, toasting until the seeds begin to pop open. Turn off the heat for the moment and add the remaining spices, giving them a stir to combine. 
Step 3: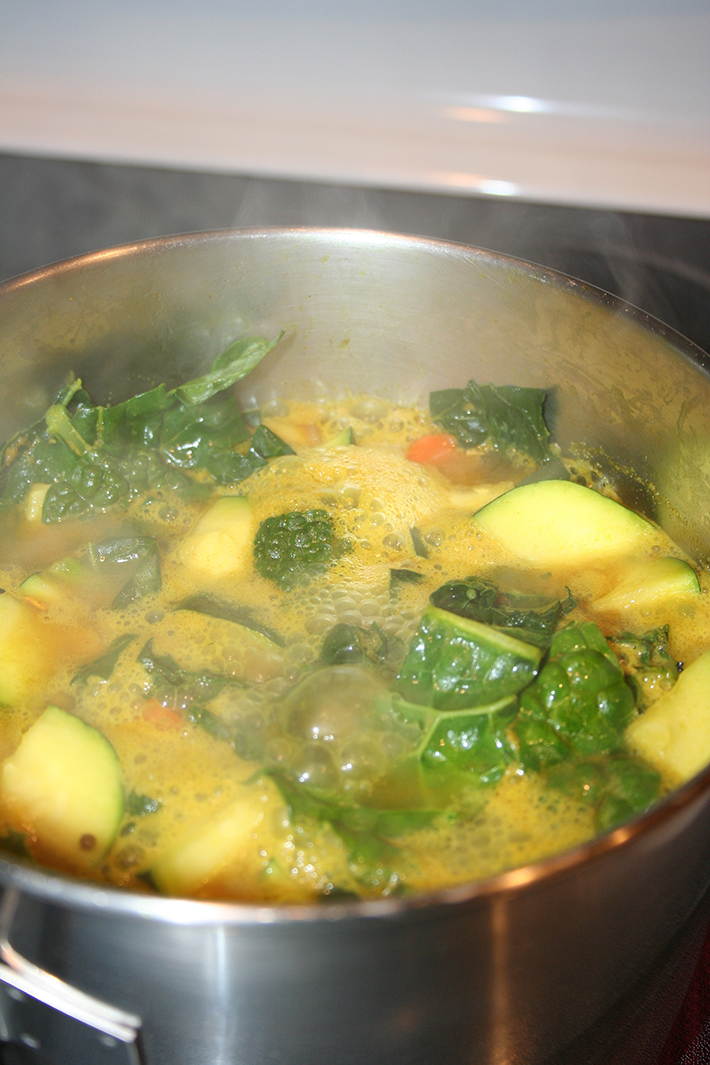 Add the rinsed dal and rice and the chopped vegetables to the pot. Pour 4 cups of water in the pot, and turn the heat to medium. Bring the mixture to a boil, stirring occasionally. 
Step 4:
Once the mixture reaches a boil, immediately reduce the heat to a simmer and cover the pot. Cook for at least one hour, checking every 20 minutes or so, or until the mixture has a porridge-like consistency and the dal, rice and vegetables are softened to your liking. If the mixture seems like it has absorbed a lot of liquid early on, you can add more water as needed.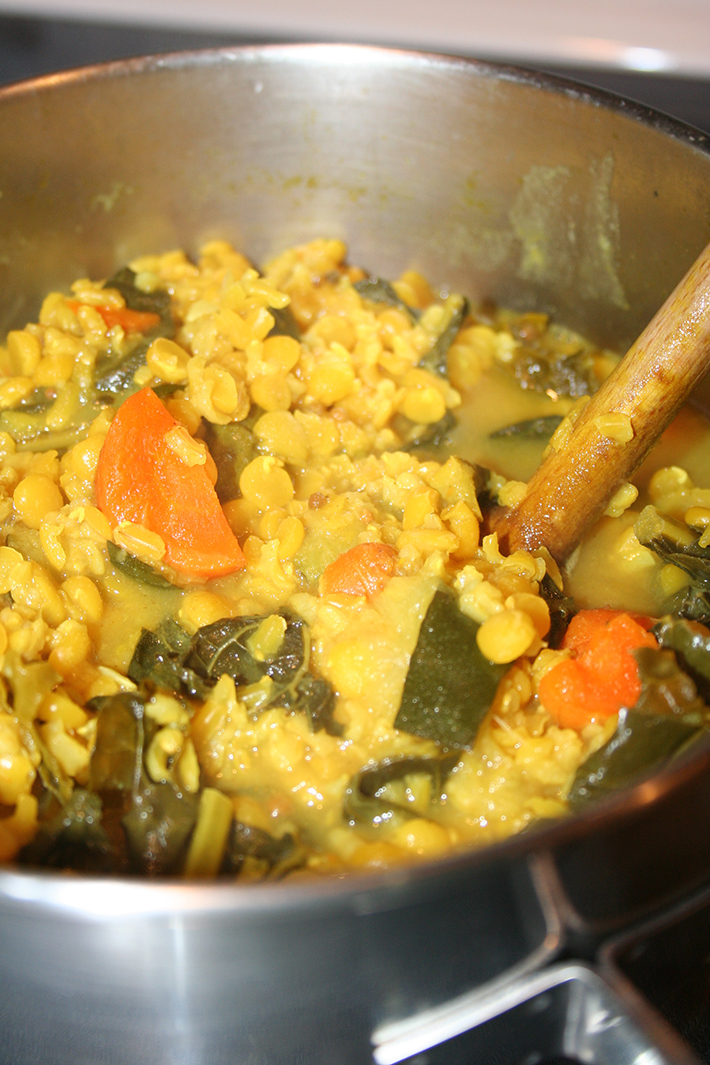 Make it unique: recipe variations and substitutions
Instead of yellow mung dal beans…
Try this recipe with green or red lentils, or even a mix. The color will be different, but the recipe will still taste great. 
Instead of the same veggies every time…
Change up the recipe seasonally, using what's in your garden or what you can find fresh at the farmers' market. Pro tip: You can choose to cut your vegetables in larger or smaller chunks, but try to keep the pieces of a consistent size to ensure even cooking.
Instead of rice…
Prefer an alternate grain? Instead of rice, you can substitute equal quantities of quinoa, amaranth or even millet. 
Instead of ghee…
Ghee is a variant of clarified butter. If you can't find it at your local grocery store, you can substitute clarified butter or oil.
Or, to make your kitchari vegan, substitute oil (coconut oil or olive oil are both great choices) for the ghee called for in the recipe.