Quilling is a unique cake decorating technique involving rolling and shaping strips of fondant to form designs. Quilling actually has roots dating back to Renaissance times, when when monks and nuns would use quilled paper elements to decorate books and relics.
While quilling is still done with paper and cloth today, at some point over the years, the technique has expanded to include edible art. So what does a creatively quilled cake look like? I'm about to show you!
Here are some lovely examples of cakes prominently featuring quilling techniques to inspire your own edible masterpieces!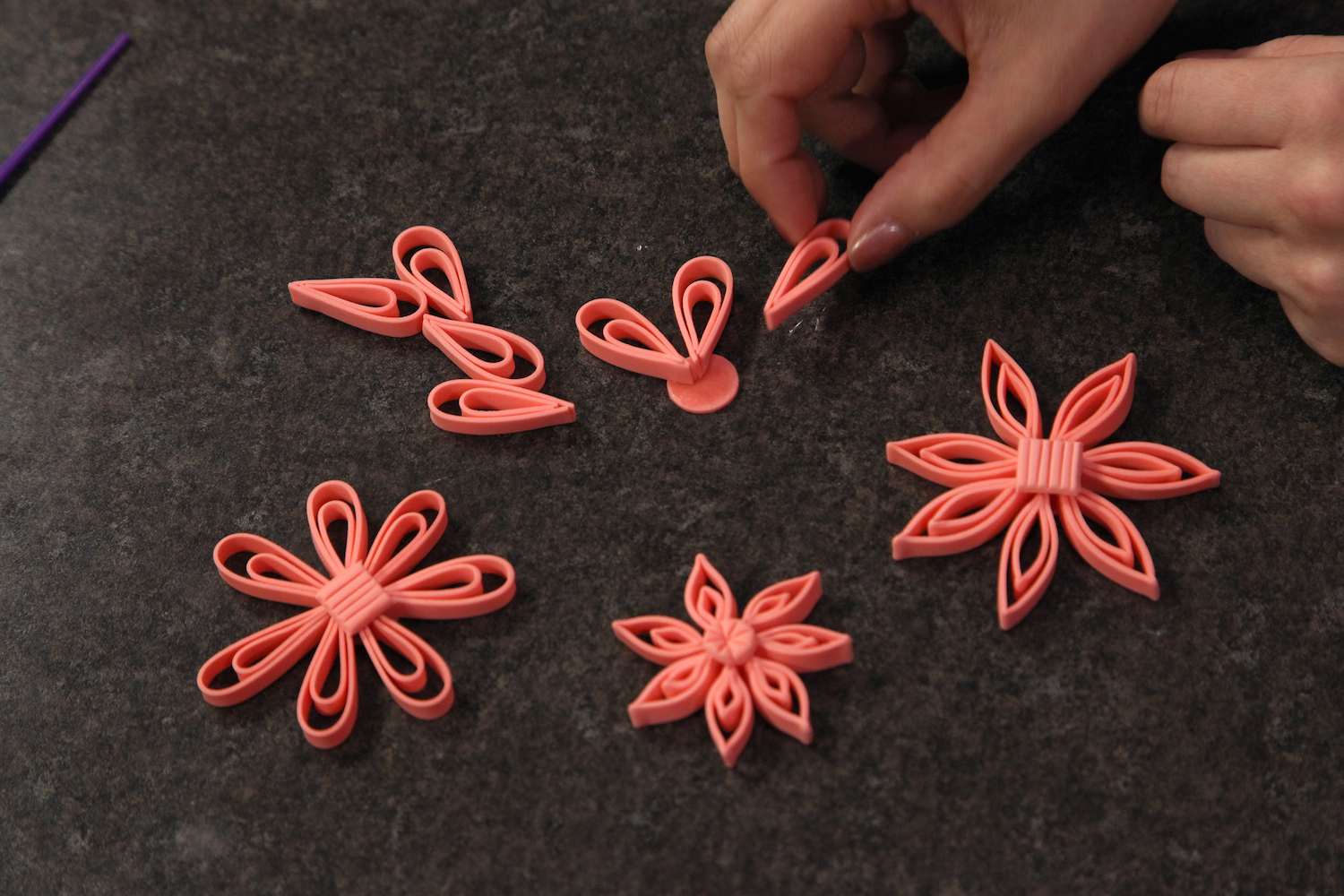 Making quilled flowers in the Bluprint class The Wilton Method®: Stunning Small Cakes
Rainbow quilled cake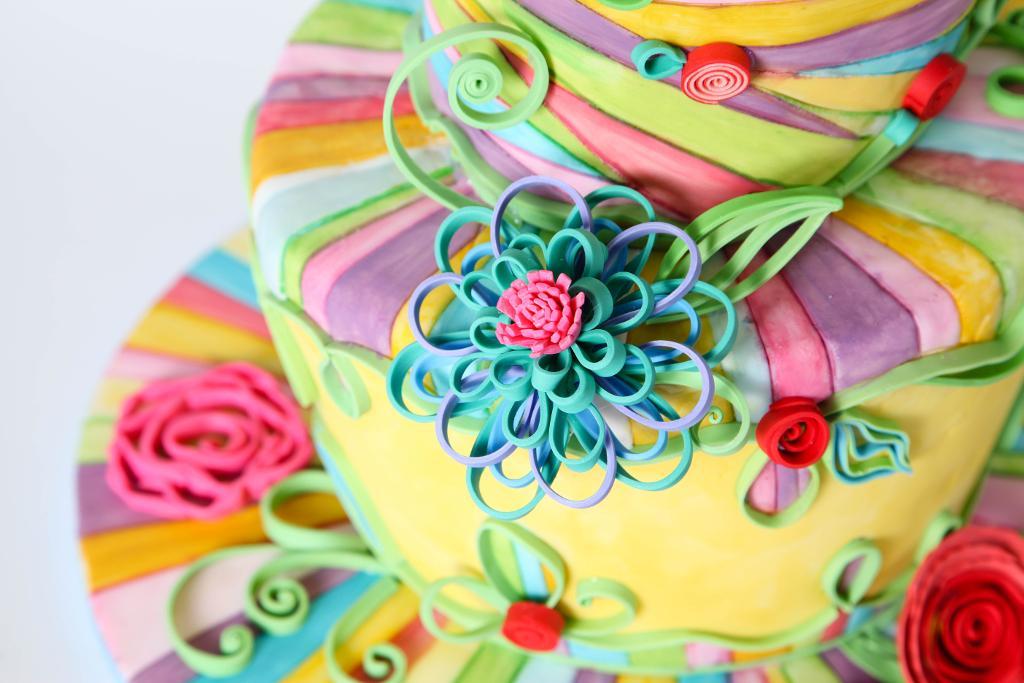 Quilled Flower Detail via Bluprint instructor Colette Peters
Quilled strips of fondant come together to form a vibrant wonderland on this whimsical and color-filled cake. Delicate quilled elements such as leaves, spiraling stems and bountiful blossoms come alive when stacked to form dimensional and colorful cake decorating elements.
Fantasy flower cake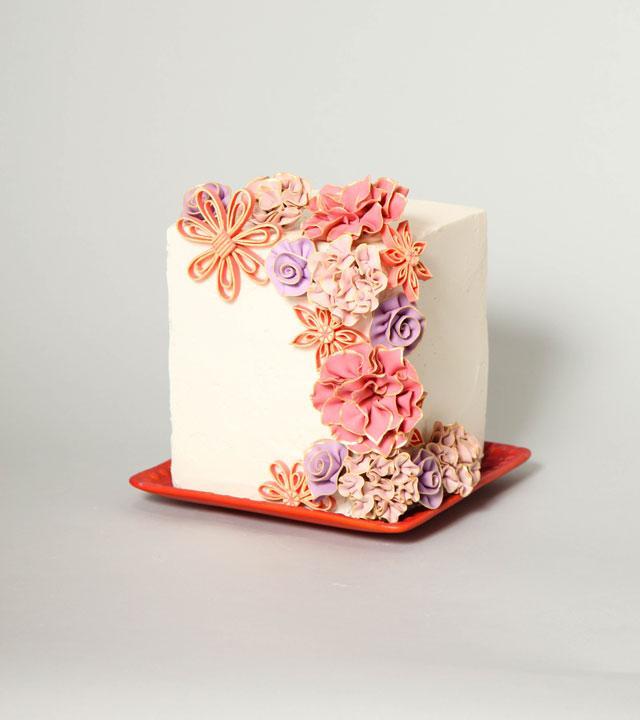 Fantasy Flower Cake via Bluprint instructor Valerie Pradhan
Pairing quilled flowers with ribbon roses and ruffly flowers creates a fun contrast in textures on this eye-catching cake, which is one of the featured tutorials in The Wilton Method®: Stunning Small Cakes. Elements both quilled and hand-shaped are combined in one cascading bouquet; an even distribution of each type of flower, and a consistent gold edging on each type, keeps the design consistent and flowing.
Whimsical teapot cake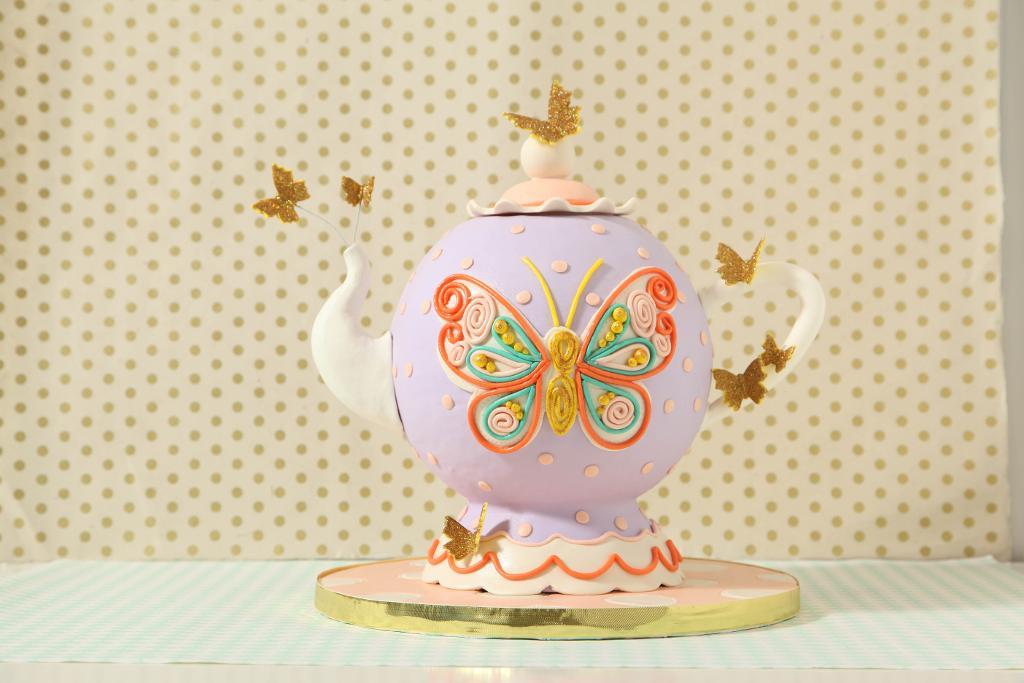 Butterfly birthday cake via Bluprint instructor Mary Maher
Tea, cake and quilling come together on this wonderfully whimsical cake. The cake itself is wonderfully sculpted to resemble a tea pot, a method highlighted in Bluprint course A Cake for Every Occasion. Quilled elements come together in spirals to form a colorful butterfly which is featured front and center on the teapot. A fairly low profile on the quilled pieces keep the fantastic design from becoming too "loud". Floating golden butterflies garnishing the sides of the cake further add to the magical effect.
Simple but sweet quilled elements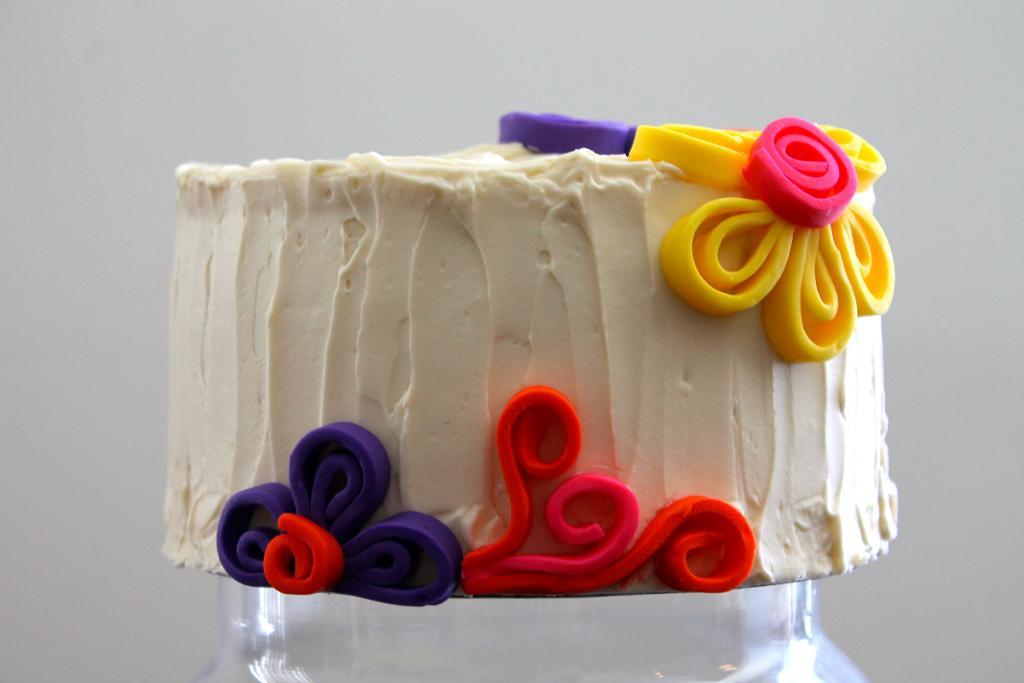 Simply sweet quilling via Bluprint member magz.williams
Simple and sweet is the name of the game on this quilled cake. First, a cake is iced with buttercream in an artfully homespun method featured in Bluprint course Modern Buttercream. Next, it is garnished with simple quilled elements in bright, eye-catching colors. The spare, offset designs and simple shapes add a sense of fun and festivity to this lovely cake.
Intricate quilled bird cake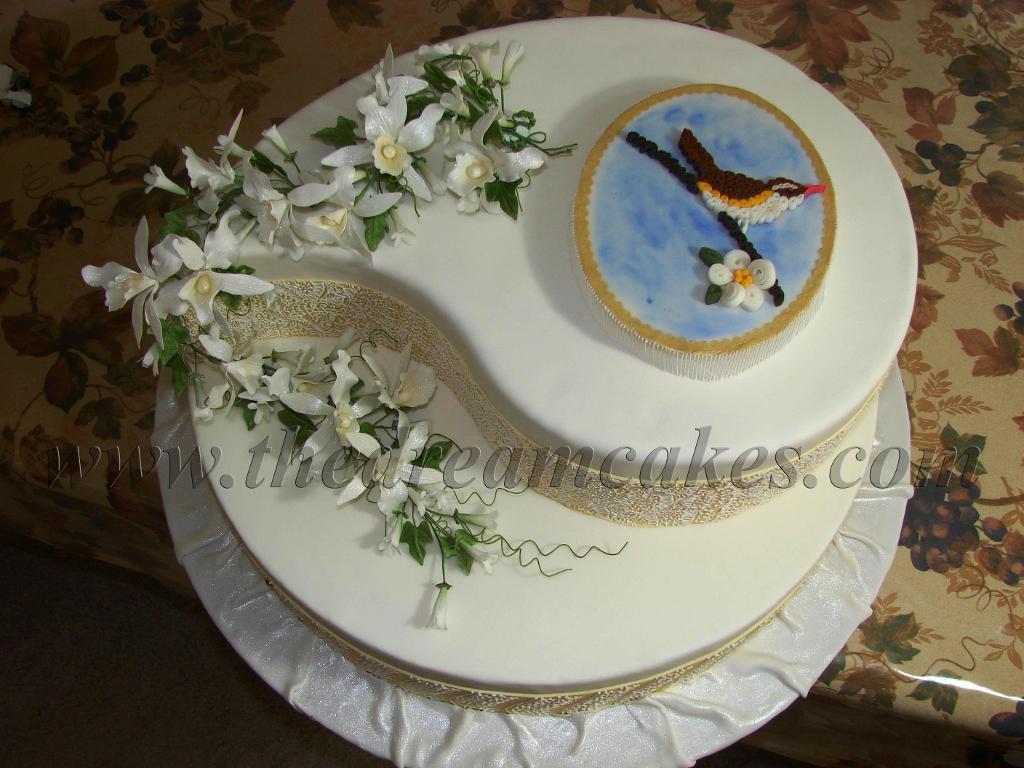 Quilled bird cake via Bluprint member The Dream Cakes
Perhaps you don't see the quilling on this lovely cake upon first glance. Look closer: the bird, as well as the branch and flower it's perched on, are all composed of quilled colors. The intricate components form a bird on a branch once combined, making for a creative and exceptionally beautiful example of quilling in cake decorating.
Chocolate fondant quilled cake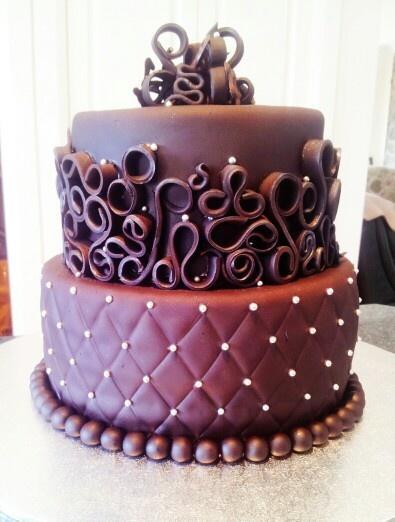 Death by chocolate cake via Bluprint member katrask88
The bottom layer of this cake is all about controlled symmetry. But, the top layer is footloose and fancy-free, with funky quilled bits in irregular swoops, swirls and spirals. An even distribution and consistent heights of the irregular elements makes it very clear that the design is intentional. The mix of exacting design and free-form quilled elements executed in chocolate fondant make it a beautiful and fascinating cake.
Gilded and quilled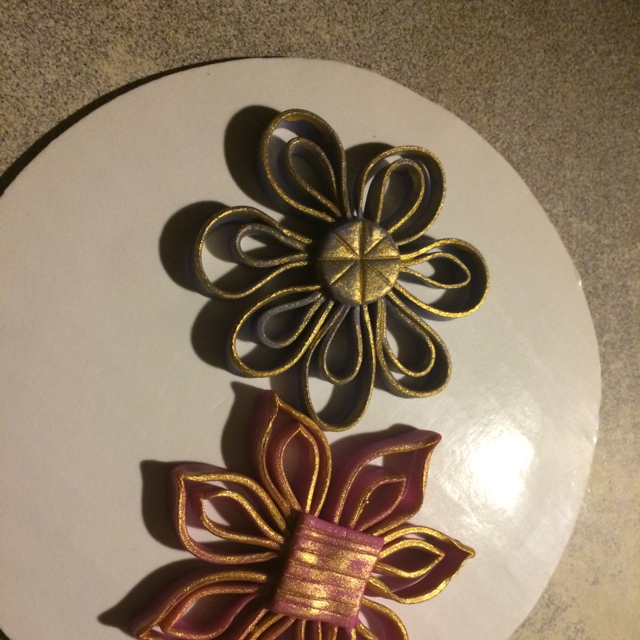 Quill flowers via Bluprint member Sugar Hands
As a parting tip, if you're looking for a simple method for adding a little dazzle to your quilled design elements, simply add a bit of luster dust. These quilled flowers are intricate and lovely, but adding some gold luster dust gives them an antique look that would add a little sparkle and intrigue to any finished cake!
[box type="shadow"]
You can master the art of quilling cakes with Bluprint class The Wilton Method®: Stunning Small Cakes. Quilling is one of the many eye-catching cake decorating techniques covered in this inclusive course, which also includes lessons in creating flower overlays, ruffled flowers and ribbon roses, and even a tutorial for creating an intricate and lovely mosaic cake design. This course will help you gain all the skills you need to ensure your small cakes measure up!
[/box]
Have you ever used quilling in your cake decorating designs?