Oriental stringwork may not be in your cake decorating vocabulary right now, but this cake piping technique is so beautiful and fascinating that it's well worth seeking out. As a sweet introduction to this elegant and advanced cake decorating method, here's some inspiring Oriental stringwork designs.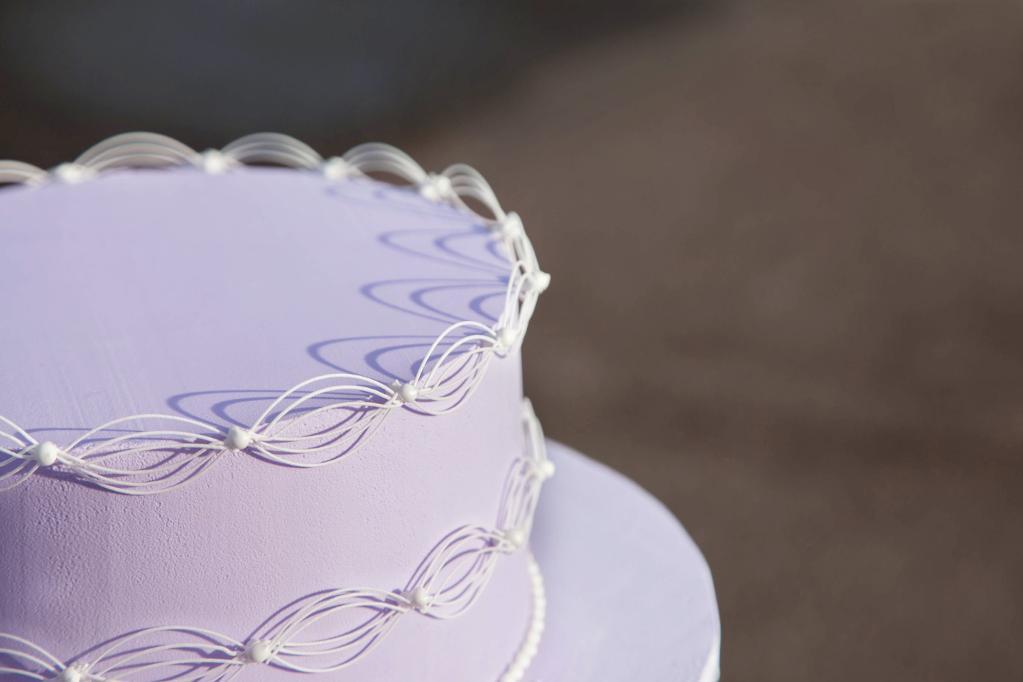 Photo via Bluprint class Elevating Oriental Stringwork
Upgrade your cake piping techniques with Oriental stringwork!
What is Oriental stringwork?
In case you are not familiar, Oriental stringwork is a delicate piping technique that can be used to create gorgeous trellis and ornamental elements with royal icing. As opposed to the equally beautiful linear-focused Australian stringwork, the shapes in Oriental stringwork are more organic and rounded. These stylish elements add panache and an extremely professional look to decorated cakes.
[box type="shadow"]
Oriental stringwork is the focus of the Bluprint course Elevating Oriental Stringwork. In the class, distinguished cake artist Toba Garrett guides you through the entire process, from icing your cake with razor-sharp corners to marking and measuring to creating gravity-defying stringwork. As the icing on the cake, you'll learn how to safely transport your finished cake so that it retains its beautiful design.
[/box]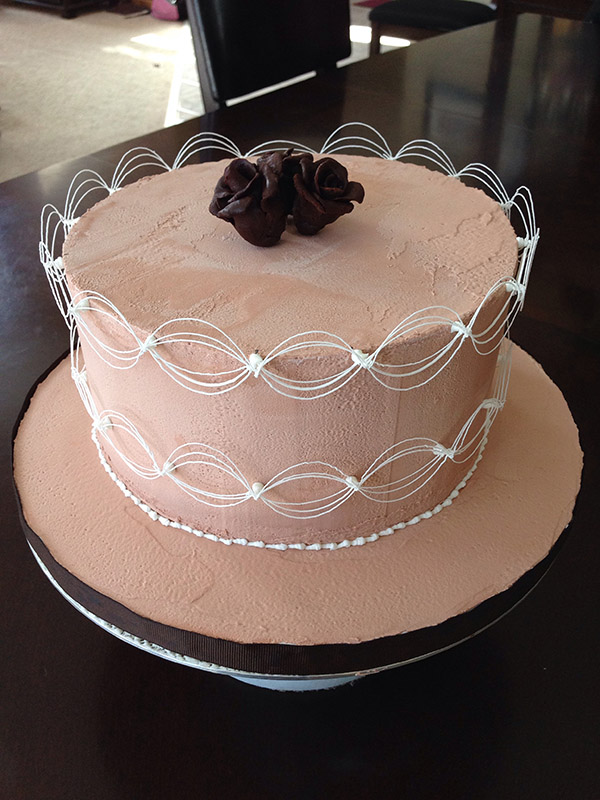 Photo via Bluprint member Kduluth
Classic Oriental stringwork
Do you think that Oriental stringwork takes a long time to master? Simply not so! The above cake was the decorator's first attempt at the method.
Drop strings are the foundation of this design. First, the cake was measured and marked. Then, the delicate strings were created to fit perfectly. When applied in a mirror image shape, they have the illusion of floating upward. Stunning!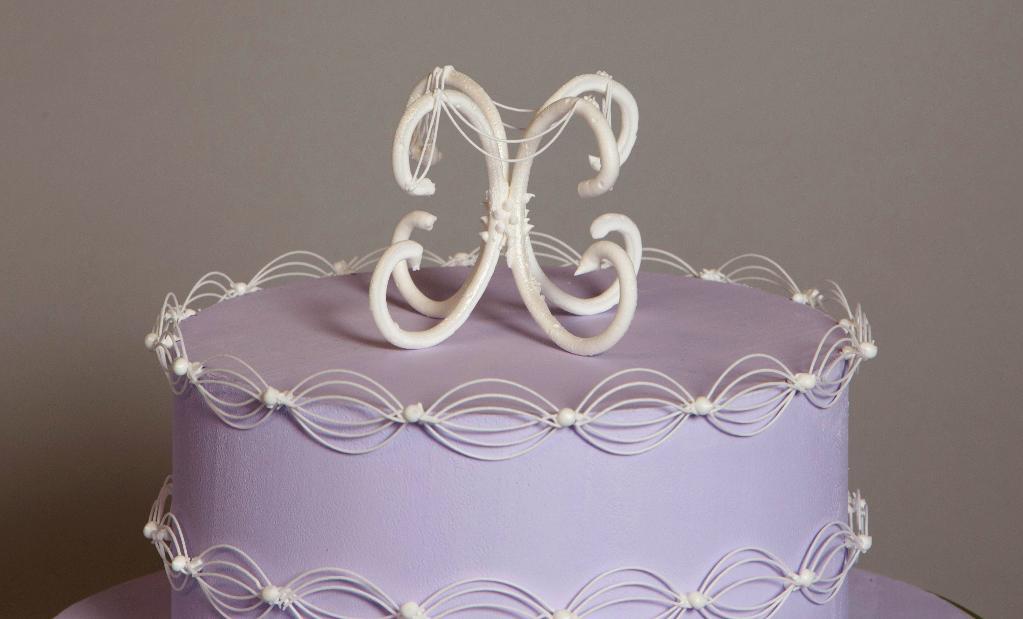 Photo via Bluprint class Elevating Oriental Stringwork
An elegant topper
This lovely cake made by Toba Garrett features classic piping delicately arranged on the top and bottom of a pretty lavender cake.
It's taken a step further with the addition of an Oriental stringwork topper. This cake topper was made by piping thick swirls, and then adorning them with delicate drop strings to echo the rest of the design.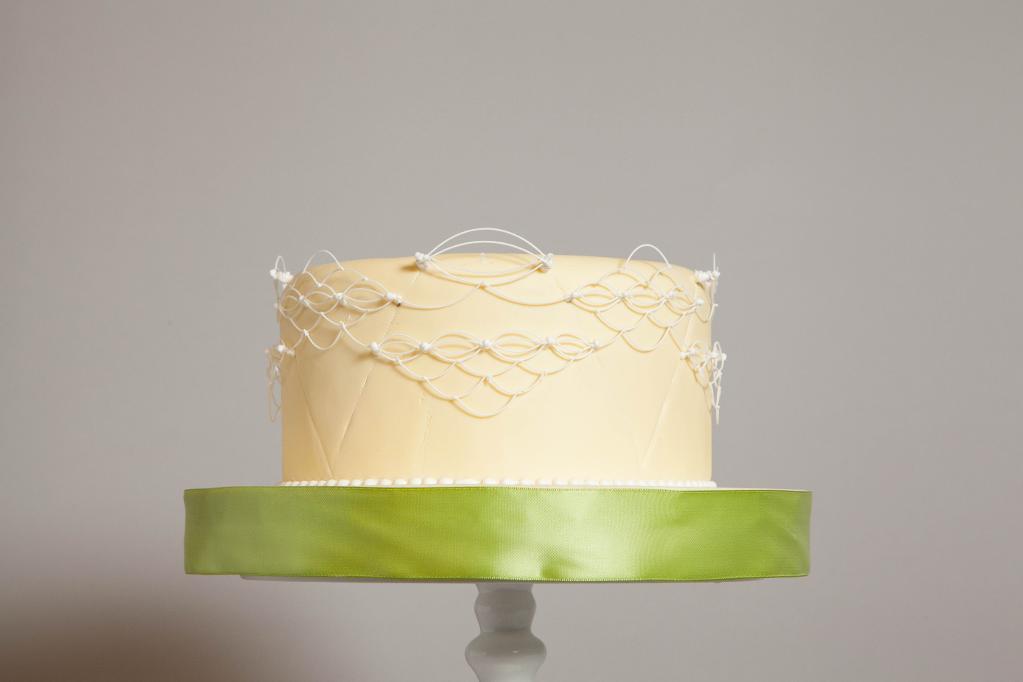 Photo via Bluprint course Elevating Oriental Stringwork
The trellis cake
Looking to take your stringwork further? Turn things upside down! This beautiful fondant covered buttercup yellow cake features piping that goes in both directions. The swoops and scallops in dual directions make for a delicate design, which has the look of a birdcage veil perched on top of the cake.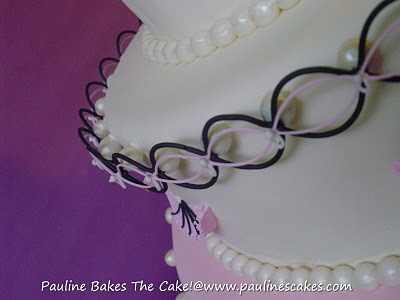 Photo via Pauline Bakes the Cake
A pearly affair
Adding contrasting color, as was done in the cake seen above, can be an easy and effective way to make your Oriental stringwork pop. This cake features black drop strings topped with pink ones. Though a simple effect, it makes the design look even more involved and professional.
The finished look on this cake is very sophisticated and slightly French. It's a fantastic way to incorporate wedding colors or echo color motifs from other cake design elements.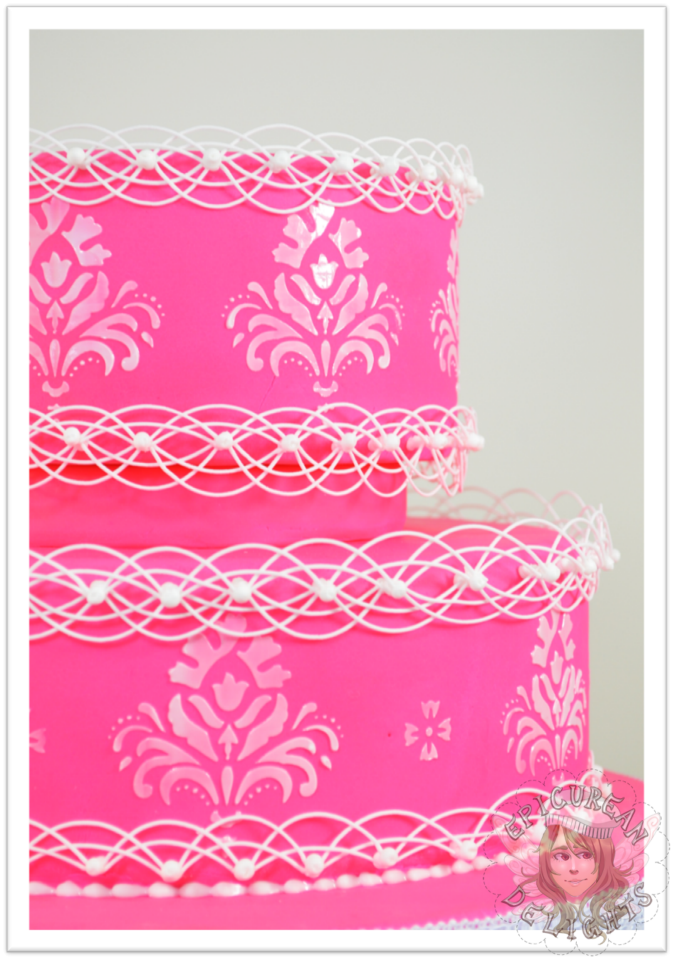 Photo via Epicurean Delights
Pretty in pink
You'll be tickled pink with this hot pink cake! A popping pink color is tamed and contrasted with perfectly executed Oriental stringwork. An upside-down arrangement of drop strings borders the bottom of the cake, drawing the eyes up to more involved stringwork borders on the upward tiers. It's all punctuated with stamped damask motifs, making for a cake that would please Marie Antoinette herself.
Photo via Cosy Bites
Cake with royal icing church and Oriental stringwork
Blank sides would simply not suit this involved cake featuring an extremely intricately piped church on top. Oriental stringwork maintains the intricate, lace-like texture of this cake without distracting from the impressive topper. Using a classic palette of white and off-white elements keeps this cake from becoming too busy and maintains the bridal lace look.
Have you ever tried Oriental stringwork?