Knits are one of the most comfortable fabrics to sew into garments, but their seemingly mysterious ways can frustrate a someone who's new to sewing. This complete beginner's guide to sewing with knit fabrics will demystify them and allow you to successfully finish any project.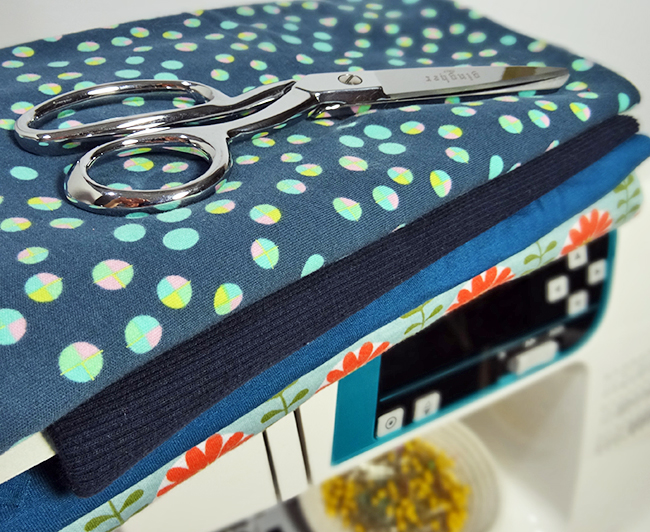 We'll start with an overview of knit fabrics and wrap up troubleshooting tips. Along the way, this post will answer your questions and guide you through a complete project.
What is a knit fabric?
When it comes to fabric, you generally have two options: wovens or knits.
Woven fabrics are, as you might guess, woven on a loom, with vertical and horizontal threads (called the warp and the weft). Knit fabrics, on the other hand, are knitted, meaning the fabric is made up of interlocking loops.
How can I tell if a fabric is knit?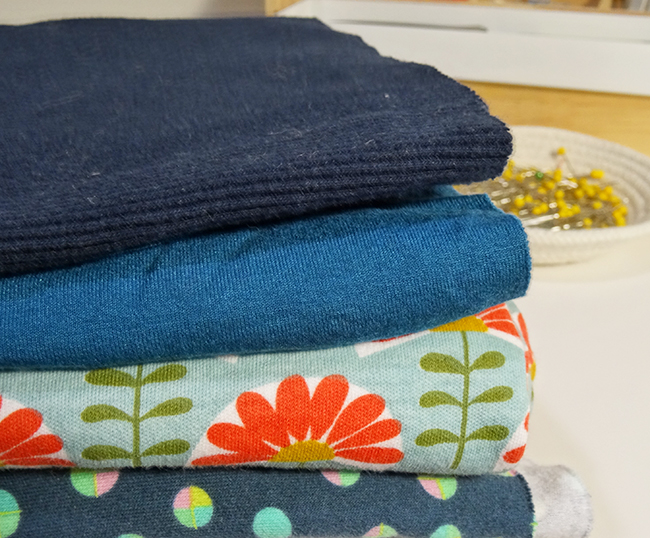 Unlike most woven fabrics, a knit fabric will stretch when pulled. Some stretch side to side, giving you a two-way stretch. You can also find a four-way stretch fabric that has side-to-side as well as up-and-down stretch. Knit fabrics are comfortable to wear and easy to fit because they will stretch over the wearer.
How do I know which knit fabric to use?
There are many weights of knit fabrics, and each stretches a different amount. Before you start sewing kits, take some time to learn a bit about the different types of knit fabric, how to identify them and which ones are most suitable for your project.
1. Jersey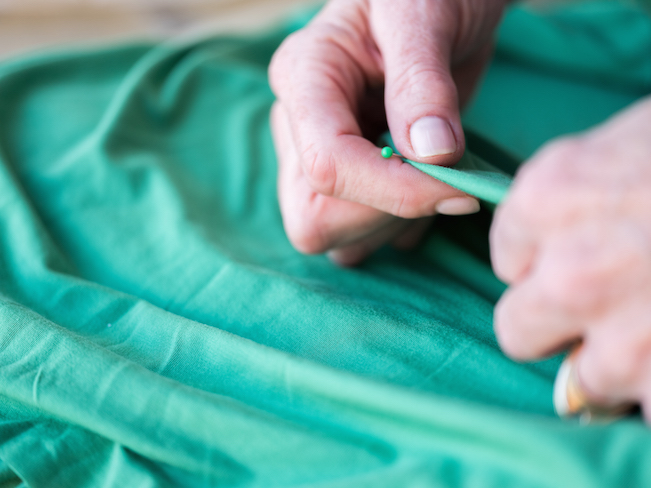 The most common type of knit fabric is jersey, which is what most basic T-shirts are made of. Jersey fabric is made with a single needle that works approximately like knitting needles, putting together knit and purls in rows.
Jersey is typically very lightweight and has a lovely drape, so it hangs well on the body.
Jersey will stretch fairly well, but may not recover well from stretching.
Jersey has a right and wrong side. The V shapes of the knit stitches are the right side.
When pulled, its edges tend to curl toward the right side (perpendicular to the grainline) and to the wrong side (along the selvedges).
This kind of knit fabric is perfect for sewing clothes to wear on the top half of the body: T-shirts, blouses, pullovers, T-shirt dresses.
2. Double knit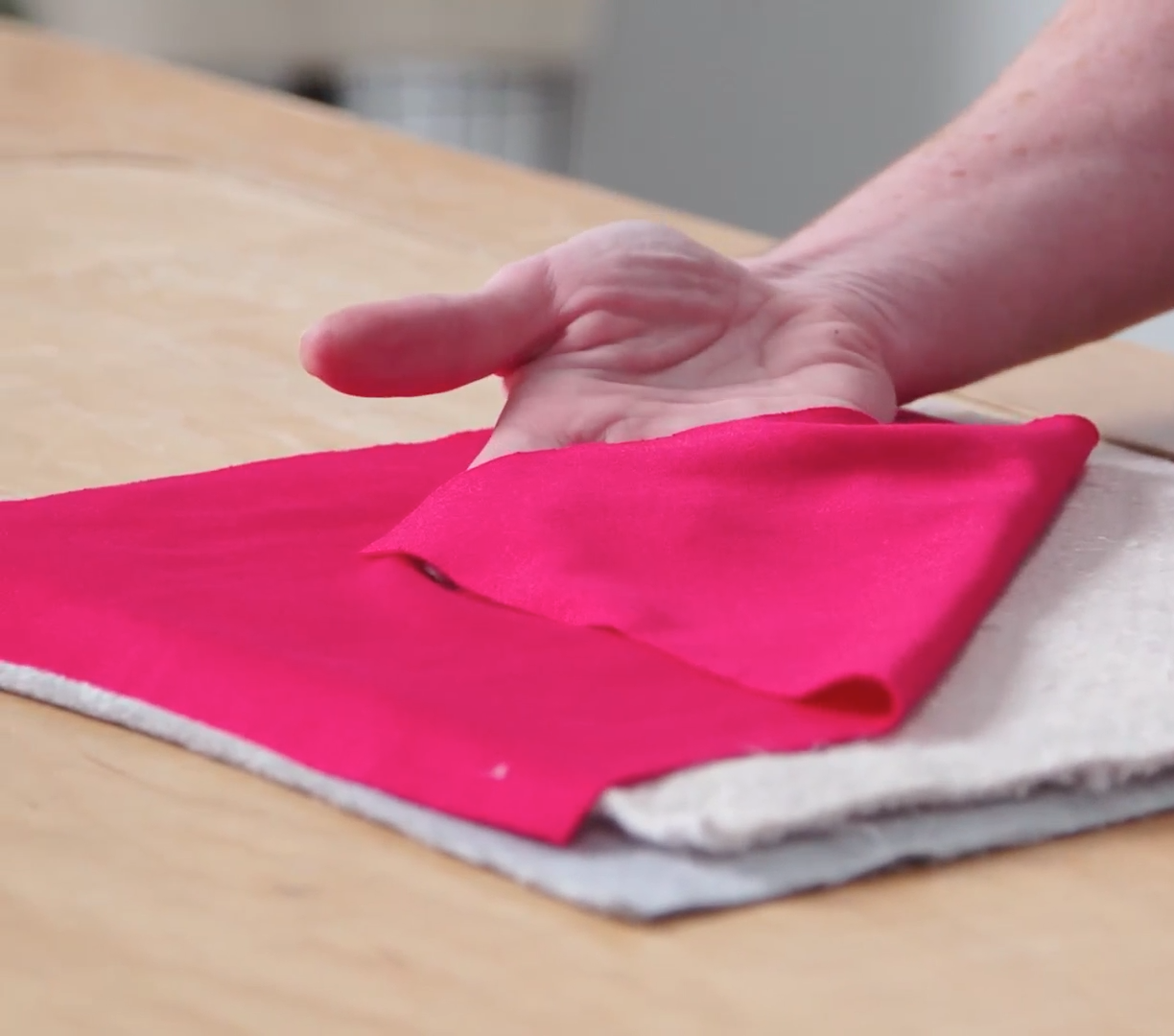 Double knit fabrics are created with multiple needles, resulting in essentially. two layers of fabric. This means that both sides are identical and the fabric is a bit sturdier. Double knits (which has many other names, including ponte, interlock, heavy knit, etc.) are a great starting point for beginners since they are a little easier to handle.
While double knits do stretch, they may not stretch as far as jersey. Be sure to use your pattern's stretch gauge.
Both sides of the fabric are identical, so either can be the right side.
It's stiffer than jersey and less smooth, but it also doesn't roll in as much.
It hugs the body a bit tighter than jersey, highlighting shapes and curves.
Because double knit fabric is fairly sturdy, it works well for garments that need a little more body, like structured dresses, skirts or lightweight jackets. It's also great for closer-fitting garments like leggings or trousers.
3. Sweater knits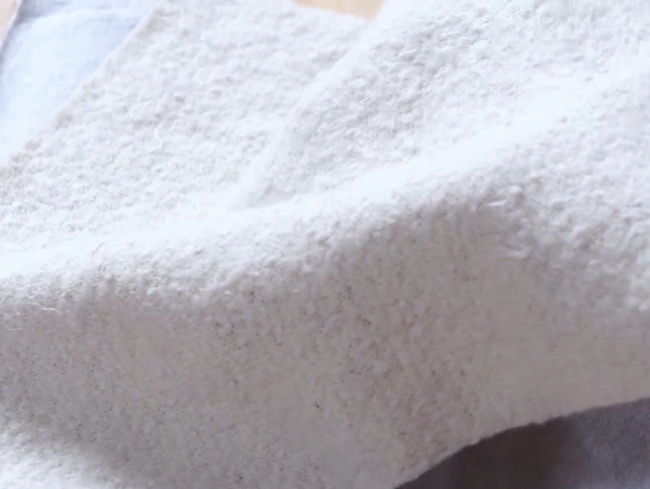 Yes, these are just what they sound like! Typically, these fabrics have a bit more stitch definition and a little more "fuzziness" to them. And just like a hand-knit sweater, these fabrics can come in many weights, from a heavy fabric you'd use for a winter jacket to a lightweight fabric you'd use for a casual top.
It's typically made with a thicker yarn, so you may be able to see the individual stitches clearly.
It's much more stable and thicker than jersey or double knit.
It doesn't have as much stretch and doesn't recover very well after being stretched.
Sweater knits may fray or unravel.
As you probably guessed, sweater knits are fabulous for sweaters! Depending on the weight of the fabric, there are countless possibilities: Lighter-weight sweater knits could be used for summertime cardigans, while heavier-weight sweater knits would work well for a structured winter jacket
4. Novelty knits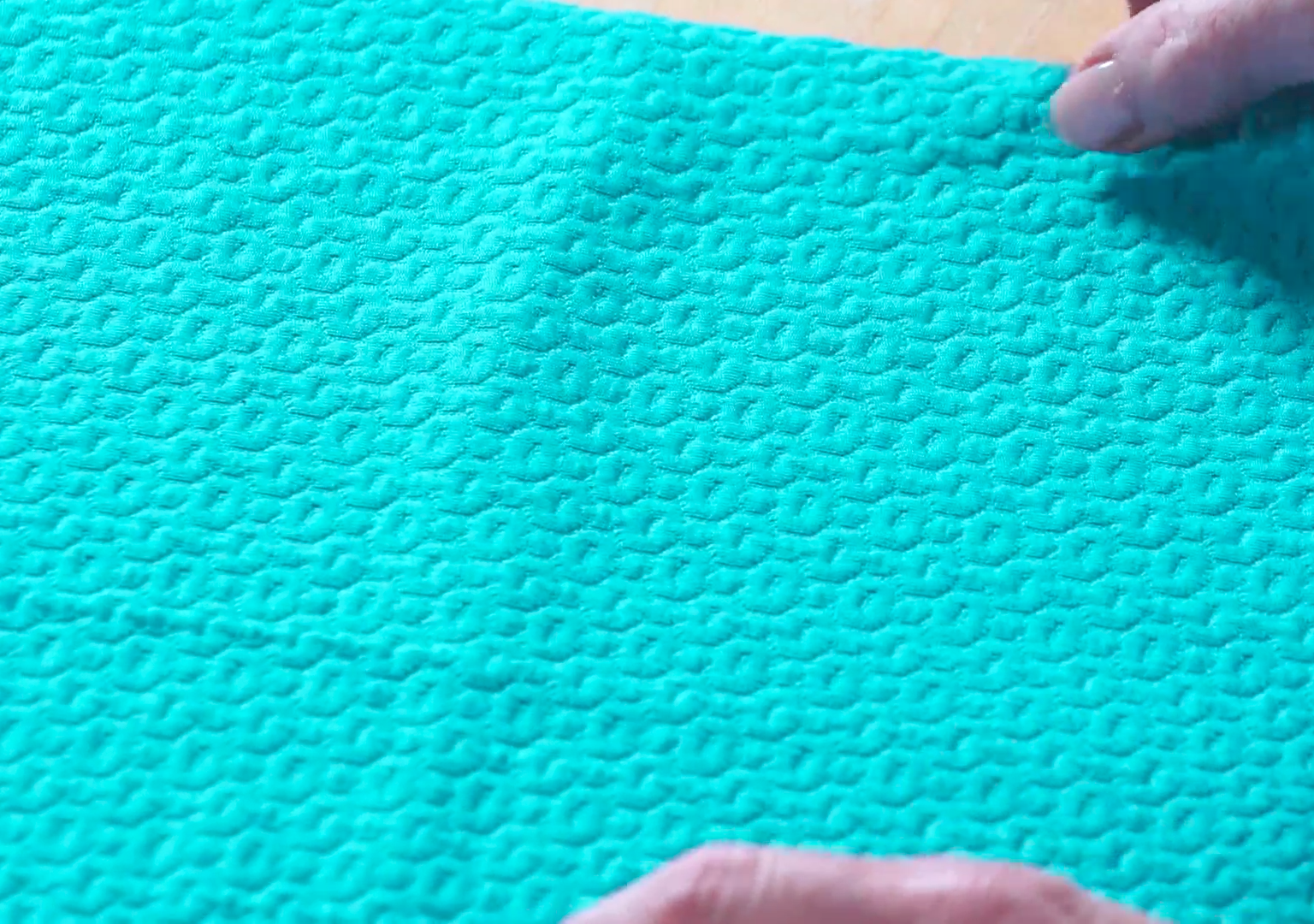 This last category is sort of a "catch-all" for all the other knits out there. If a fabric doesn't fall into one of the three categories listed above, it's likely a novelty knit. These typically have a unique texture, pattern or material.
Fiber content of knit fabrics
Any of the above types of knit fabric can be made with a number of different fibers, and fiber content can have a big impact on the finished piece. Think of the fabric in a swimsuit: It's technically a knit, but you probably wouldn't use that fabric to make a blouse to wear to work. The quick-drying nylon and lycra blend that's used for swim and sportswear isn't well-suited for everyday wear.
Here are a few of the most common fibers and when to use each:
Rayon-jersey is a soft and comfy knit that works well for tops and some dresses, but will probably not work at all when structure is required.
Cotton interlock knits are great for T-shirts and children's wear.
Cotton and rayon jersey work for tops, dresses, lightweight cardigans and items that have layers, wraps or gathers, since these fabrics are usually not too thick for those styles.
Ponte knits are usually made from a poly-rayon-lycra blend, which makes them good for pants and unstructured jackets, as well as dresses that resist wrinkling.
Lycra (also called spandex) can be combined with knits to add stretch in one or both directions. The difference between a cotton knit T-shirt with or without lycra is very noticeable, with the lycra-added shirt being softer and much stretchier.
Do I need a special sewing machine to sew knits?
You don't needa special machine for knit fabric. That said, adding a few special machines to your arsenal can make the job easier.
Serger or overlock machine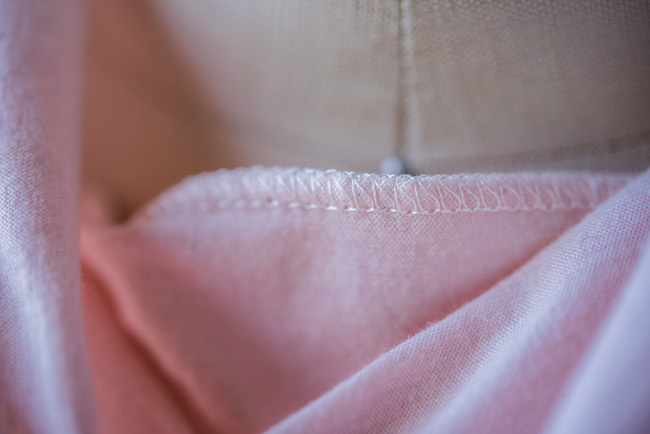 A serger (as it's called in the U.S.) or an overlocker machine (its name outside the U.S.) is the ideal machine for sewing knits.
A serger stitch usually looks like the image above, with loops going around the edge of the seam allowance, and two straight stitches along side of the loops. A blade inside the machine also cuts off the excess seam allowance as you sew. Serger stitches naturally stretch, so when you pull on your seams, the stitch moves along with the fabric.
Sergers are best for sewing a seam on knit fabric. However, a serger isn't great for hemming knits, and you can't do any topstitching with a serger.
Coverstitch machines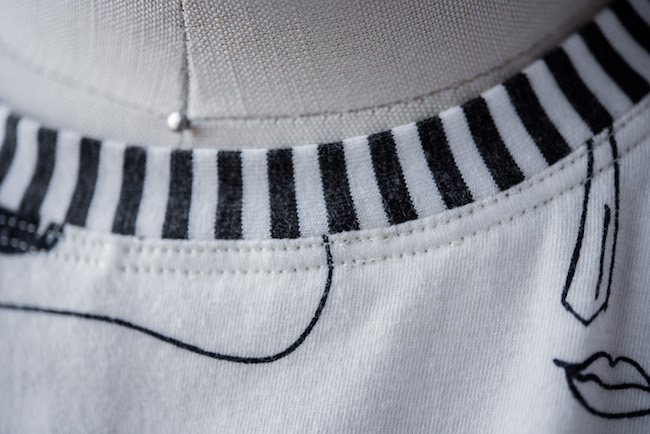 Coverstitch machines make stitches similar to sergers. One side of the stitch has two parallel straight stitches (like sewing with a twin needle on a regular machine) and the other side has thread loops that hook between the straight stitches, which allows the stitch to stretch when pulled.
A coverstitch is great for hemming knits. Most RTW T-shirts are sewn with a coverstitch machine (like you see above).
Conventional sewing machine
Your regular, conventional sewing machine has a lot of uses when sewing with knits. If you don't have a serger, you can sew your seams on a conventional machine using a stretch stitch (more on that in a bit!).
You can also use a conventional machine to sew a hem using a zigzag stitch or using a twin needle to do a mock coverstitch.
Any topstitching on a knit fabric is best done on a conventional machine. Though a coverstitch can do some lovely topstitching on necklines, most of the time you would use your regular machine.
Which needle should I use for sewing knit fabric?
When it comes to sewing knit fabrics (the stretchy material that is used for T-shirts and other comfy clothing), it's important to choose the right needle for the job.
For sewing knits on a regular machine, you have a few choices.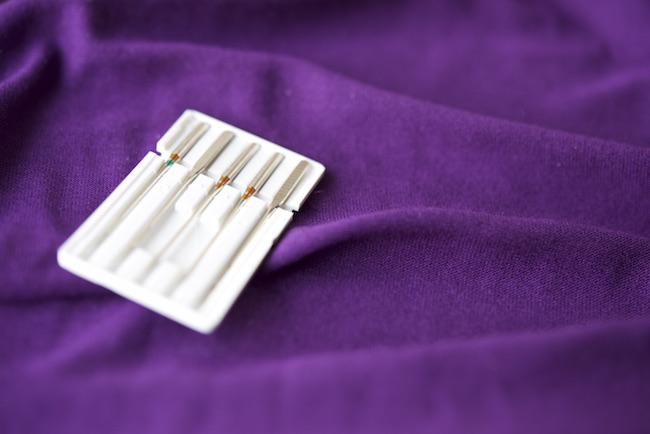 When you're sewing knit fabrics on your sewing machine, look for jersey or ballpoint needles. These work with the majority of knit fabrics because they have a dull tip that slides between the fibers of the fabric, not through the fibers.
For sewing swimsuits and workout gear, you can use a stretch needle, which is specially designed to work with the stretchiest fabrics. Some sewers prefer to use stretch needles for all of their sewing with knits, so you can try a few needles types on your machine and see what works best.
If you only have a universal needle handy and you're desperate, you can use this on sturdier knit fabrics. For slinkier and thinner knits, look for a jersey or ballpoint needle such as Schmetz Ball Point Machine Needles. Avoid sharp needles intended for woven fabrics though, as they can tear holes in knit fabrics.
For sergers, you need specialty needles.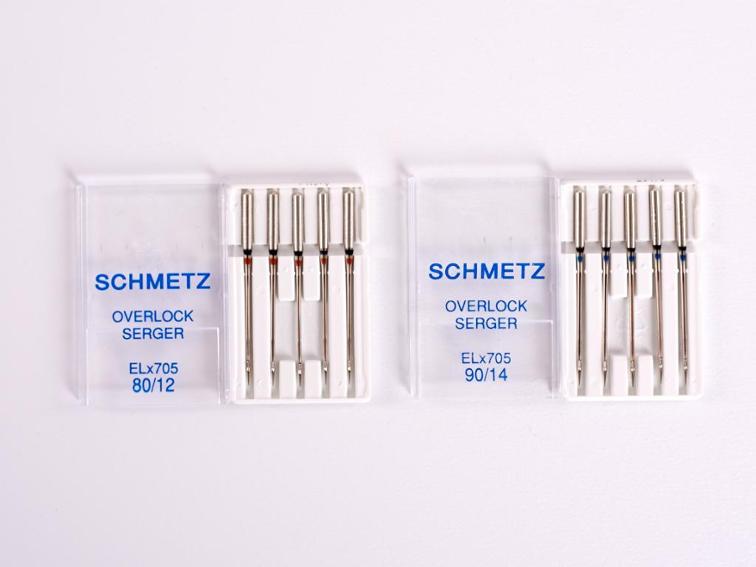 Look for specially designed serger and overlock needles like Schmetz Overlock/Serger Machine Needles.
What other tools and notions do I need to sew knits?
Consider using an even foot or a walking foot.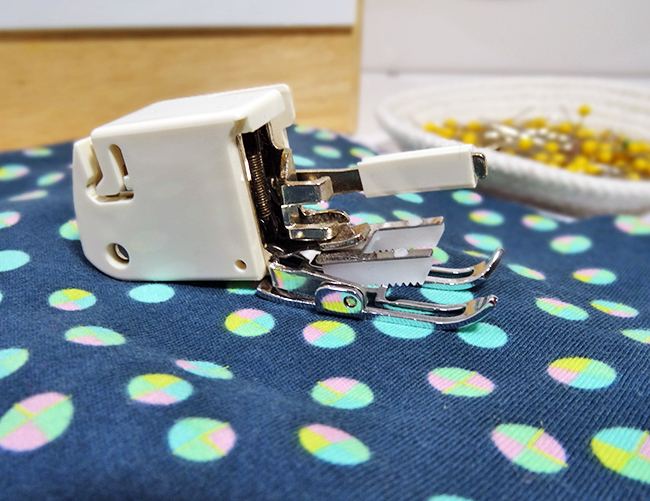 This foot (two names for the same thing) feeds the top and bottom layers of fabric through the machine evenly.
The stretch in knit fabrics can cause the layers to separate as you sew — especially if you are stitching in the same direction as the fabric's stretch. A walking foot has an extra set of feed dogs for the top layer of fabric that work with the bottom feed dogs in your sewing machine to help keep everything in place.
Try sewing with a twin needle.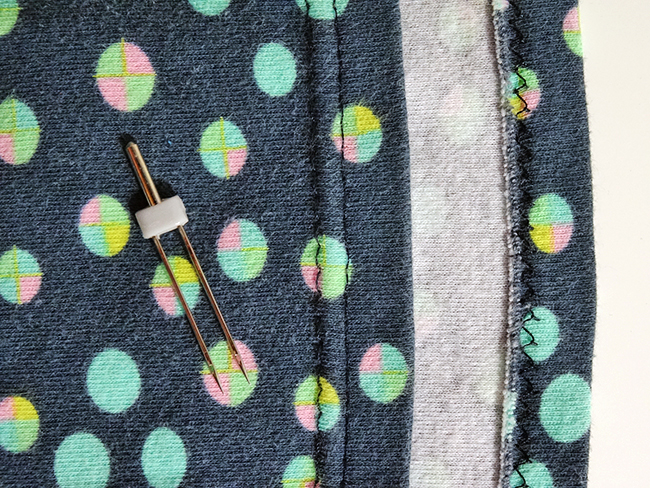 A twin needle stitches a seam that will stretch and move with the wearer. Despite its unusual look, a twin needle is easy to use and readily available. The needle uses two threads to create two lines of stitching on the top of the fabric with one thread in a zigzag pattern, connecting them on the back.
Tip: As a bonus, twin needle seams look more professional, mirroring the look of a hem or top-stitched seam on a knit ready-to-wear garment. They are available in many different widths.
Clear elastic can help stabilize your seams.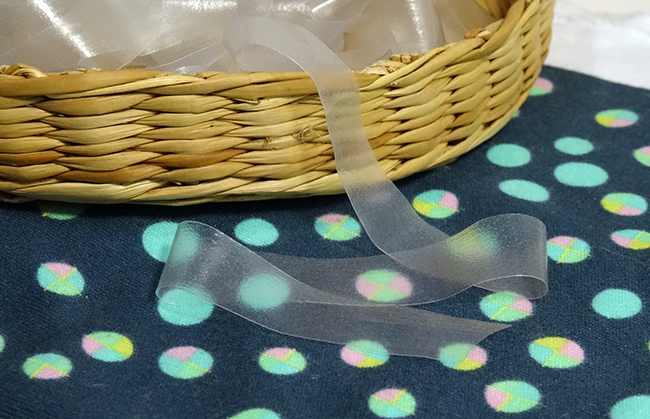 Turn a favorite ready-made tee inside out and you are likely to see clear elastic stitched into the shoulder seam. This specialized elastic stabilizes the seam and helps to keep it from drooping with wear. It is simple to use and can be sewn directly into the seam wherever you want less stretch.
Try fusible knit hemming tape.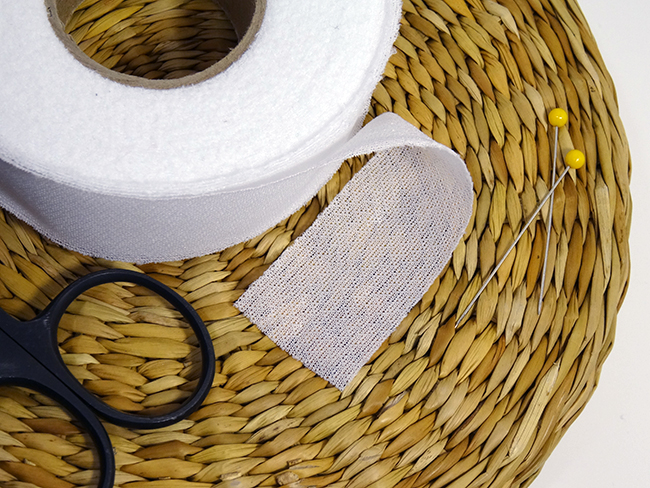 Hemming with fusible knit hemming tape is like magic, especially if you encounter trouble with wavy seams on your knit garments. Once this tape is fused to the raw fabric edge, the fabric is stabilized with less stretch and you can proceed to stitch the seam as usual.
How do I prepare to sew knit fabric?
Pre-shrink your fabric.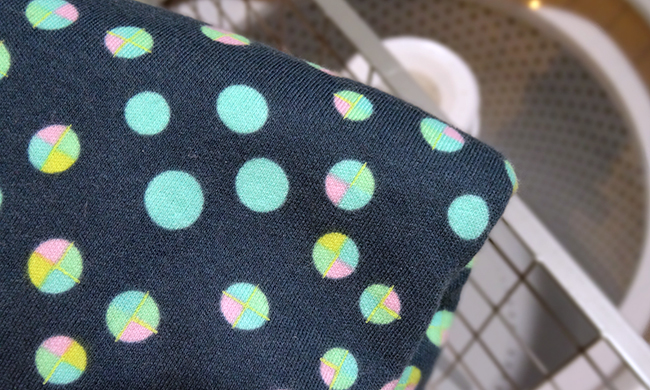 Before cutting out a garment, it is always important to pre-wash the fabric. This will pre-shrink it so the garment will stay the size you need after future washing. Knits can shrink in unpredictable ways, even when the label indicates that they have been pre-shrunk.
Note the stretch amount.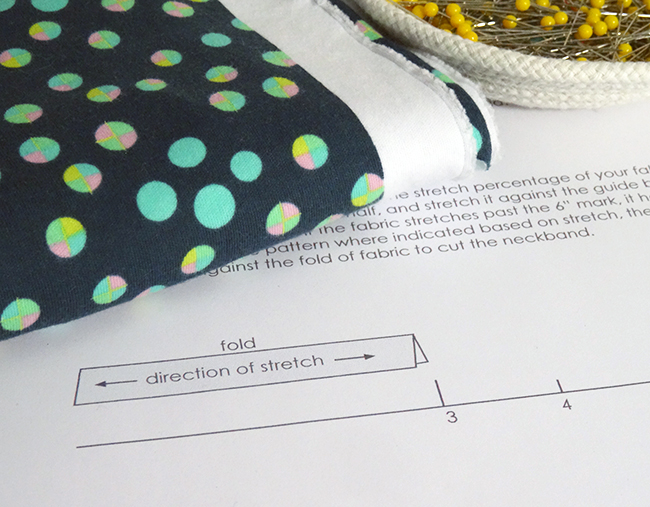 Before choosing a pattern size, take note of how much your knit fabric stretches. Each type of knit fabric is different, and this will greatly affect the fit of your finished project. Most patterns suggest which knits will work best, and some will include a stretch gauge so you can predict how the garment will fit once it is sewn.
Find the direction of stretch.
When cutting out a knit using a pattern piece, you must always note the direction the fabric stretches most. Usually, the direction of most stretch will need to go around the body, not up and down. Your pattern pieces should indicate the correct stretch direction. Line up the pattern piece parallel to the stretch direction carefully before cutting.
How do I set up my machine to sew knit fabric?
Use a stretch stitch.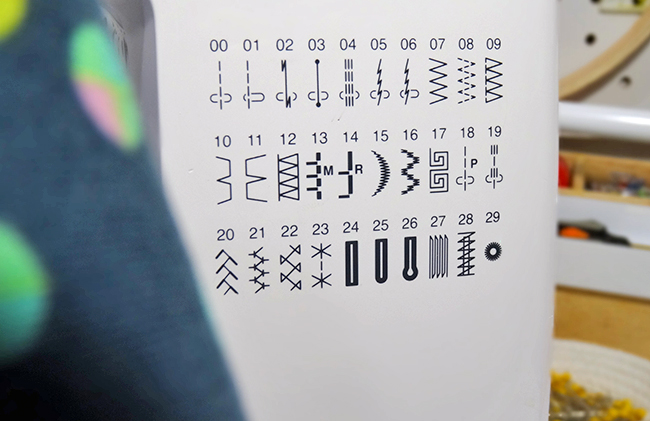 Knit garments are made to stretch and fit over the body — and this means the seams must also stretch to fit.
Most sewing machines come preprogrammed with one or more stitches made especially for knits. These are called stretch stitches. Your sewing machine manual will tell you which one to use for heavier or lighter weight knits. Stitches 4 – 12 in the photo above are stretch stitches included with my Janome 2030 QDC.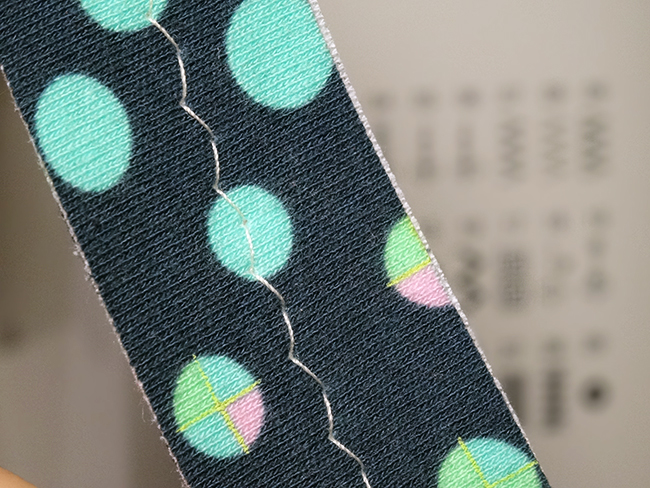 If you do not have a specific stretch stitch, you can set your machine to sew a long, narrow zigzag (pictured above.) This works best on areas of the garment that need to stretch a lot, like necklines and armbands.
Tip: You may also have good luck sewing a very long straight stitch, especially when you are sewing against the direction of most stretch, such as a side seam or loose fitting hem.
Use your feed dogs.
The feed dogs on your machine feed the fabric through evenly. When sewing a knit fabric, it's important to let the fabric feed itself under the presser foot without pulling the fabric. If a knit is stretched while sewing, it will generally stay stretched after it is sewn as well. This creates an undesirable and unprofessional finish.
Sew a test run.
Layer small scraps of your knit, just as they would be when you are sewing your garment. This is usually two layers, but you can also test a hem or topstitch with three or more layers.
Stitch using your chosen stretch stitch following the direction of stretch you will use on your garment. Test a few stitches until you are happy with the results. This little test can save you a lot of trouble and lots of time unpicking a troublesome seam!
Having trouble? Let's see what we can do…
When you're just getting started with sewing knits, it can be a big challenge. If you're having trouble sewing kits, one of these common problems might be the problem!
Wavy seams
If your seams look a little wonky, try one of these solutions:
1. Press with an iron
A wavy seam will benefit greatly from a good press. This is different from ironing, where you move the iron back and forth over the fabric.
To press the wavy seam properly, first lay it out flat on an ironing surface. Then place the hot iron on the seam and leave it for a few seconds without moving it around. Lift the iron straight up and move on to another section of your seam. Leave the garment in place until the fabric has cooled for best results.
2. Change the presser foot pressure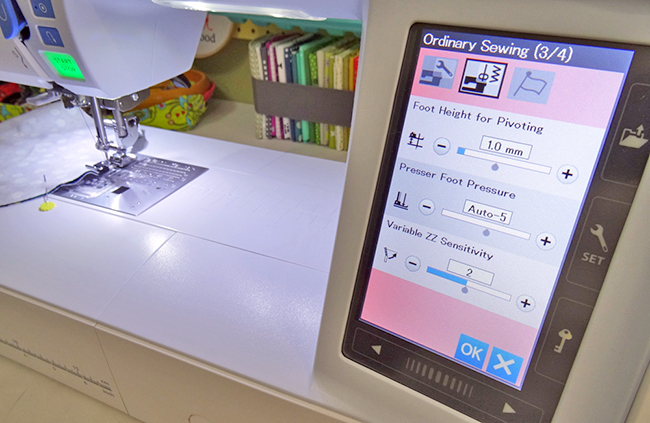 Many machines allow you to lessen the pressure of the presser foot. This will help the top layer of fabric to slide through more quickly and evenly. Check your manual to find instructions for your specific machine. Sometimes it also helps to "release the pressure" on your fabric every few inches by raising and lowering the presser foot in place while the needle is down.
3. Try the tissue paper trick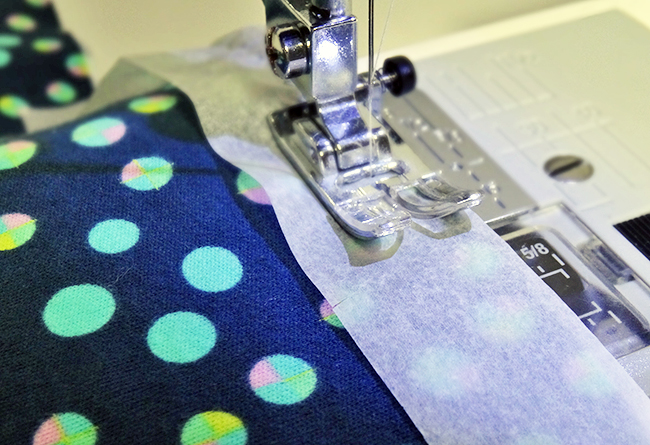 If you've tried all of the above ideas and your machine is still causing wavy seams, here's another trick you can try! Cut a 1″ wide piece of tissue paper (the kind you wrap gifts with) and place it over the top layer of fabric. Stitch the seam as you would normally, right through the tissue paper. The tissue paper layer slides differently under the presser foot and the fabric will not be able to stretch as much.
Tear off the tissue paper once the seam is sewn, being careful not to pull the threads too much. Try placing tissue paper above and underneath the layers of lighter weight knits, especially on unruly hems.
Your machine "eats" the fabric
Make sure you're using the correct needle (stretch, jersey, etc.). A new needle will also help.
You can also use a "leader" cloth, like tissue paper or a fabric scrap, to start the seam.
Start sewing ½" from the fabric edge so that the edge doesn't get caught under when you start. You can come back and sew that edge from other other direction if needed.
Feeling inspired to sew?
Knits are a joy to work with and will expand your ability to create useful wearable garments. As with most skills, practice is key. No matter what sewing machine you have, there are tips and hacks available to help your journey proceed with success. You can find more tips for sewing with knit fabrics here.