Sewing clothes for yourself or your kids is really fun and rewarding. The best part, for me, is creating unique garments with original accents I can customize to my own taste.
I'm a practical sewer (and mom) and (like most of you, I bet), I hate hemming knits with a turn and topstitch method: They start looking shabby after just a few washing cycles.
The solution… the lettuce hem!
Stitching a lettuce hem is an easy and fast way to add some spice to a plain boring hem. Here's how to do it!
Once you master this technique, you'll want to add it everywhere. Choose a contrasting decorative thread and you'll get a charming accent on the hem that looks like a trim. Just be sure to make sure you have enough thread, as this technique tends to use quite a bit!
Bonus: It adds the hem allowances width to the overall length!
You can sew lettuce hems with a serger or with a sewing machine, and I'll show you how to do that in a minute. But first, let me share with you a few interesting truths you may need to know about lettuce hems…
On the edge
Regardless the type of fabric and if you're using a serger or a sewing machine, you want to sew a lettuce hem right on its edge, wrapping it so it won't unravel.
Choose the right needles
As for any project, be sure you're using the right needles: stretch or ballpoint if using knits, universal if hemming wovens. This will save you from a few headaches, later!
Choose the right fabric
Not all the fabrics can benefit from a lettuce hem on their edges: you can sew it on jerseys or other light to medium weight knits, but also on lightweight wovens (but consider the grainline: see next chapter).
Do not attempt sewing a lettuce hem on heavy weight fabrics, or stable ones like double knits: the results won't satisfy you!
Fabrics nice-looking on both sides are your #1 choice:  things like double sided fabrics or yarn-dyed plain colors are perfect!
Since the wrong side is going to show, better avoid print fabrics, usually white on the back (scroll down to see the light brown knit I used for pictures)
Watch the grainline!
Always sew a lettuce hem on knits along their greatest stretch direction (which usually is cross-grain, in a two-ways stretch).
Choose the project wisely: it won't look good if you need to hem around a corner on a 2-way stretch knit where one side is cross-grain and the other one is on grain!
You can sew a more subtle lettuce hem only on bias cut woven fabrics. It won't work on fabric edges cut on-grain or cross-grain.
Be consistent and stretch: lettuce hem foundation!
Lettuce hems are sewn stretching the fabric while you sew, gently equally pulling it before and after the presser foot.
The more you pull, the wavier the result: Do not overstretch or you'll break the needle (been there, done that, several times!)
Tip: Stretch it evenly, to avoid a poorly-homemade inconsistent look.
My best tips, only for you
Sewing a lettuce hem is easy, you really need just a little bit of practice. I think there are mainly 2 little tricks you want to follow:
Do not start sewing and pulling, just sew for one inch or so before you begin stretching it!
You need to pull the fabric a tiny bit toward the right, to counteract its tendency to shift to the left when stretched, leaving most of the thread hanging out freely.
Sewing a lettuce hem with a sewing machine
Best stitch choice is the zigzag stitch, is available in most new-ish sewing machines.
Another stitch you can use is the satin stitch (or column stitch, basically a z-shaped zigzag).
Settings
A good starting point are settings you use for buttonholes. Remember that each sewing machine is different and you'd better practice on scraps to find the perfect settings for each project!
Stitch width: 4 to 5  (wide stitch, so it's more visible)
Stitch length: 0 to 1 (short stitch, for best filling)
Press and stitch
The easiest way to sew a lettuce hem with a sewing machine starts with folding and pressing the fabric toward the wrong side for a scant 1/4″.
Pro Tip: To easily start your seam, do a couple of stitches manually turning the knob, then lift the needle and the foot, pull the thread to have something to grab when you start to sew.

This way your needle plate won't eat the fabric!
When you're done sewing the whole lettuce hem, check on the wrong side if you need to trim the exceeding fabric: trim the fabric right after you've sewn it, because on certain fabrics this edge will get curlier while the time passes by.
While trimming out this exceeding fabric can be a real pain, I wouldn't suggest you sew a lettuce hem by sewing machine directly on the raw edge: The single layer of jersey fabric will curl too much and you will most likely end with the fabric curled toward the right side, showing the wrong side (white on prints).
Add that the width of the stitch will become narrower and then less visible and decorative, as you can see below (all the other settings remained the same):
Top lettuce hem, made pre-creasing the fabric
Bottom lettuce hem, sewn on the raw edge
Lazy Tip: If you're not satisfied by the fullness of your lettuce hem, just sew above it another time!
Depending on your fabric, you may want to reduce the fold width to the bare essential, so you won't need to trim it away… Look at my wrong side, I won't bother trimming it away!
Sewing a lettuce hem on your serger
The principle behind the lettuce hem, is basically the same as the negative differential feed.
I've found enlightening Angela Wolf's Creative Serging Class she shares so many tips and little tricks but also valuable troubleshooting techniques that will make your relationship with your serger way easier!
Blade or not?
I usually prefer sewing my lettuce hems with the serger disengaging the blade (straightening the raw edge before I start sewing, maybe using mat and roller cutter!). This way it's easier for me to go straight!
You may prefer working with your blade engaged: my suggestion is to test your fabric and see how you feel more comfortable.
My sensation is that the jersey bounces away from the needle after it is cut by the blade, leaving only a tiny portion of the stitch on the fabric, not enough for my tastes; it often happens that the stitches fall entirely off the fabric and I need to restart the seam… and I honestly hate it!
Which stitch should I use?
With a serger, you have two main stitch options for a delightful lettuce hem:
1) A 2-thread rolled hem
2) A 3-thread rolled hem
Settings
*use the left needle if you prefer a wider stitch (more evident) or the right one to have a narrower (more subtle) lettuce hem. Use the suggested right needle tension for whatsoever needle you're using!
Stitch length R = rolled hem setting (0 – 1 in other overlockers).
Pro Tip: Use a wooly nylon or a lightly twisted yarn or even a decorative thread (rayon, nylon…) on the most visible thread (table's last row) for a fuller hem stitch.
Stitch fingers
Depending on your overlocker brand/model, you will have different options for your stitch fingers; I can choose between two sizes:
Consult your manual to decide which one you need to use.
I use:
A for regular overlock stitch
B for 2-thread rolled and  2-thread lettuce hems
no stitch finger at all for 3-thread rolled and  3-thread lettuce hems
Are you ready to add a lettuce hem to your next sewing project? I am!
What about a multi-purpose scarf you can toss in your bag to be ready for next spring storm? I could use one right now, since it's (frequently) raining in Italy!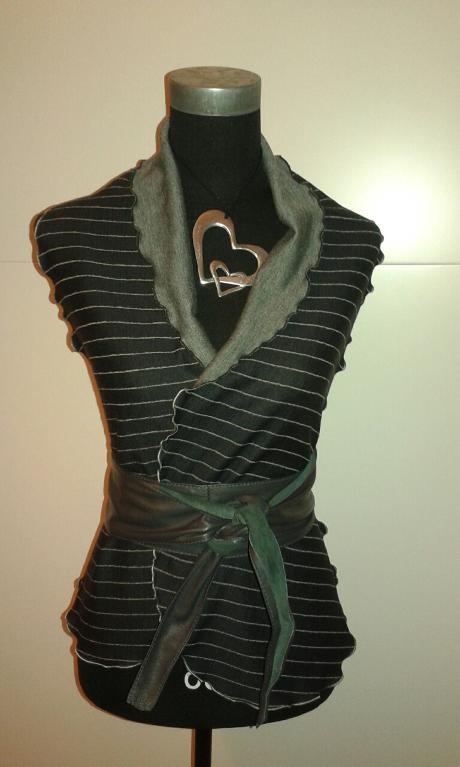 The multi-purpose scarf via Craftsy member LeCosediBabs