Have you ever wondered how people get such nice crisp folds in their paper craft projects? Scoring paper ensures accuracy when folding, and prevents the paper from cracking or crinkling. Once you have the hang of scoring and folding paper or cardstock, creating cards (and matching DIY envelopes!) will be a breeze. 
Want more tips and tricks for free? Check out our free paper craft mini classes!
How to score paper 5 different ways:
#1: Invest in a bone folder
A bone folder is an inexpensive paper crafting tool, and a necessity when it comes to scoring your paper. They are widely available at craft stores and come in all shapes and sizes. Bone folders have a firm pointy tip used for creating score lines on paper. The long flat edge of the bone folder can be used to flatten out the crease on your paper, creating the perfect folded edge.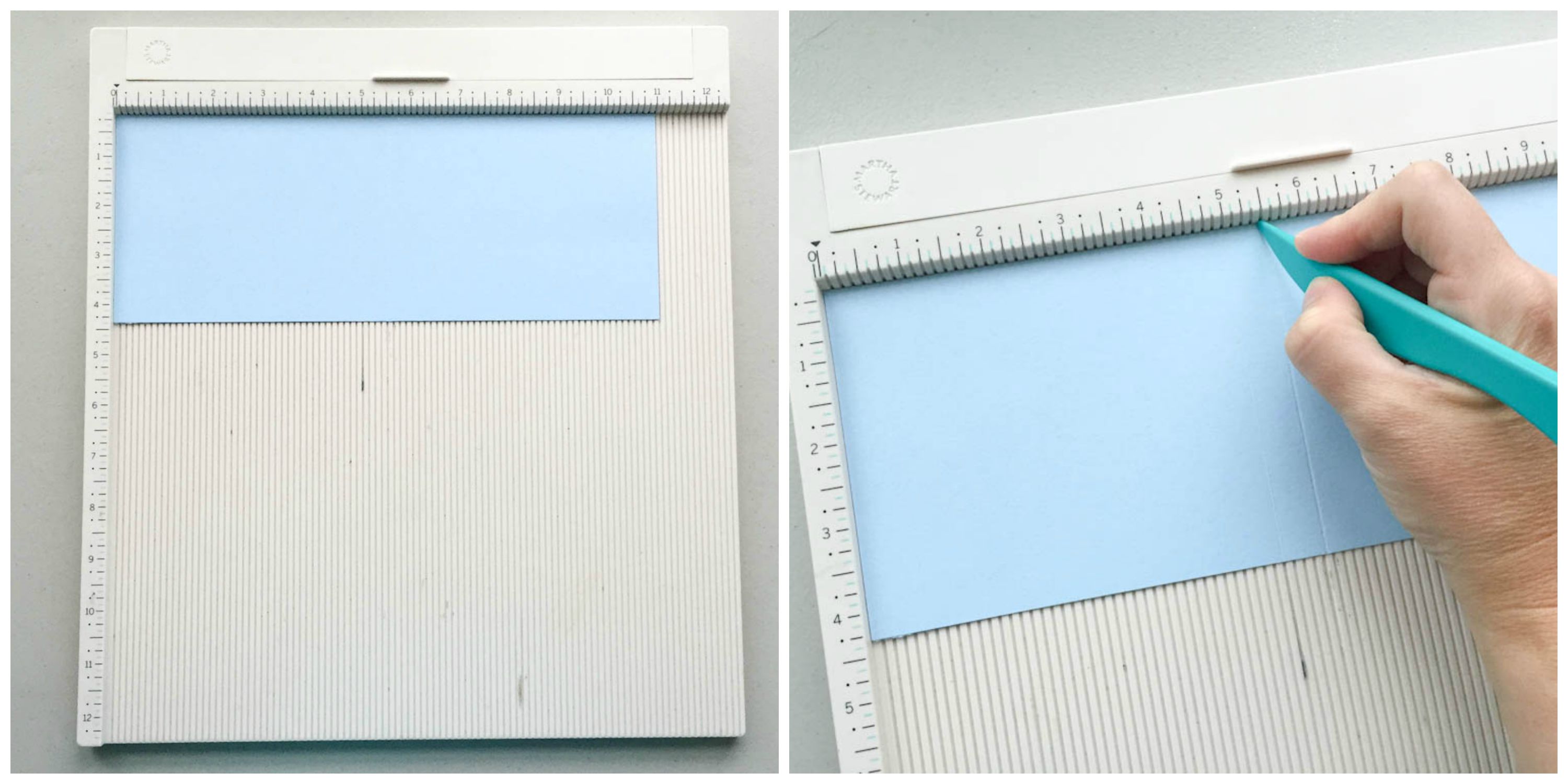 #2: Use a scoring board
The simplest and most convenient way to score is to use a scoring board. These boards come with pre-measured lines, allowing you to score up to a 12"x12" sized piece of paper, with score lines spaced 1/8" apart.
To use the score board, line your paper along the straight edge. Run your bone folder along the desired pre-measured line to score the paper. This tool is most handy when you have to make multiple score lines down a piece of paper at once.

#3: Use a paper trimmer and scoring blade
If you already own a triple track paper trimmer, you most likely have the option to purchase a separate scoring blade. This non-sharp blade is meant to create score lines in the paper rather than cutting entirely through it.
To score this way, simply pop the blade onto the track of your trimmer, line up your paper and use the blade just as you would when cutting paper.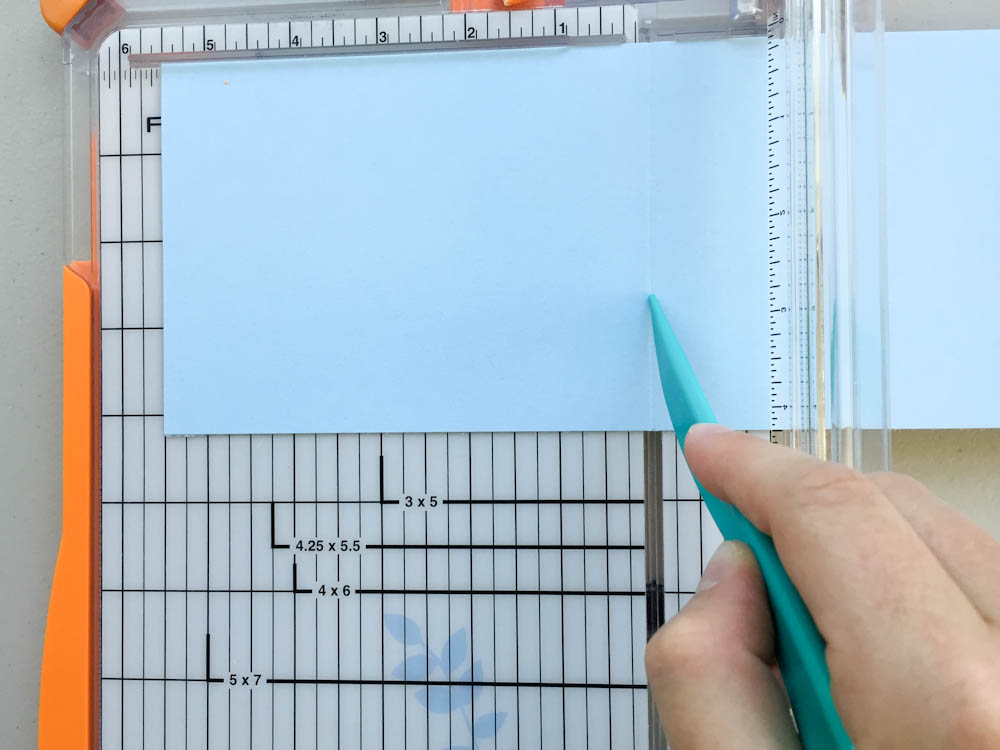 #4: Use a paper trimmer and bone folder
Don't have it in your budget to purchase a separate scoring blade? You can still use your paper trimmer for scoring. Simply open the cutting arm of the trimmer and expose the recessed line where the cutting blade runs. Line your cardstock up and run your bone folder down the recessed line. This line will guide your bone folder along the paper leaving you with an even score line every time.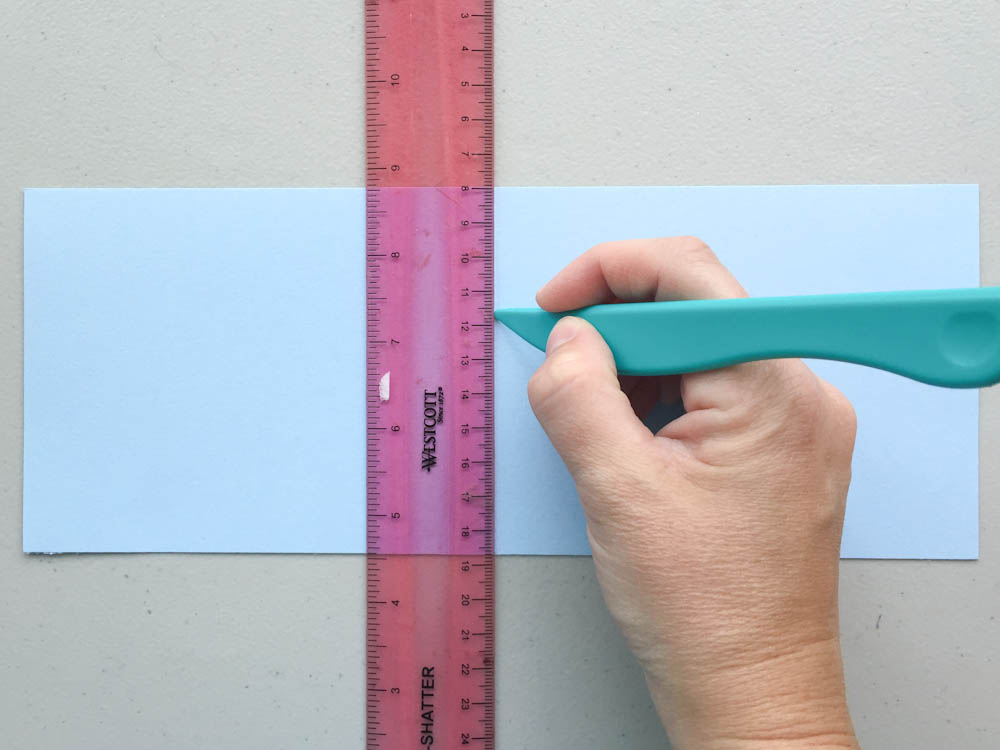 #5: Use a ruler
You can always achieve score lines by going back to basics and using a basic ruler. Use the lines on your ruler as a guide for lining it up straight along your cardstock. Run your bone folder along the straight edge of the ruler, applying firm and even pressure to create a score line. For best results, try using a T-ruler that lines up against the edge of your paper.