Grandma's house has always had a certain smell. I used to describe it as "comfort, warmth and familiar", and it emanated from incredible cuisine. As soon as I would open the door and catch the scent, I felt relaxed, at home and connected to all the hundreds of times I've smelled it before. It wasn't until I learned how to make the perfect pot roast on my own that I realized the smell of Grandma's house comes from the hours of tough meat simmered into submission alongside carrots and onions. It's the smell of Sunday evening during the months when the cold threatens to invade the home. Grandma fights back with the stove set on low all day long.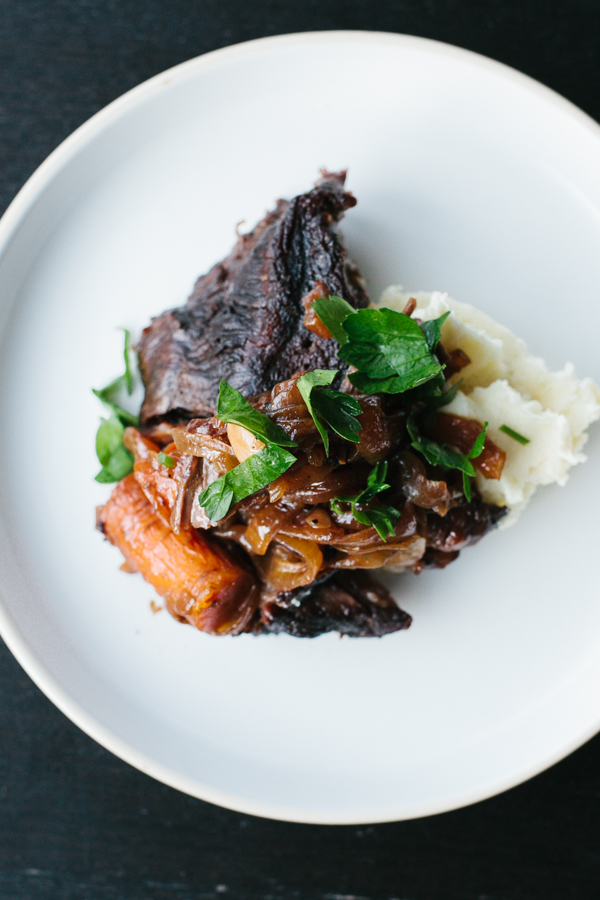 Truth be told, I used to more attached to the smell of the roast than the roast itself. To me it was gray, stringy, tough and not worth the battle I fought with those bits in my teeth once dinner was done. But I've learned the beauty of the pot roast and not just because it's one of those meals where the magic happens mostly by me not tending to it but because it actually tastes delicious — tender, juicy, full of flavor and served alongside soft and sweet vegetables. I think I like my version because there's wine involved. Pretty sure Grandma's didn't, but let's not get ahead of ourselves.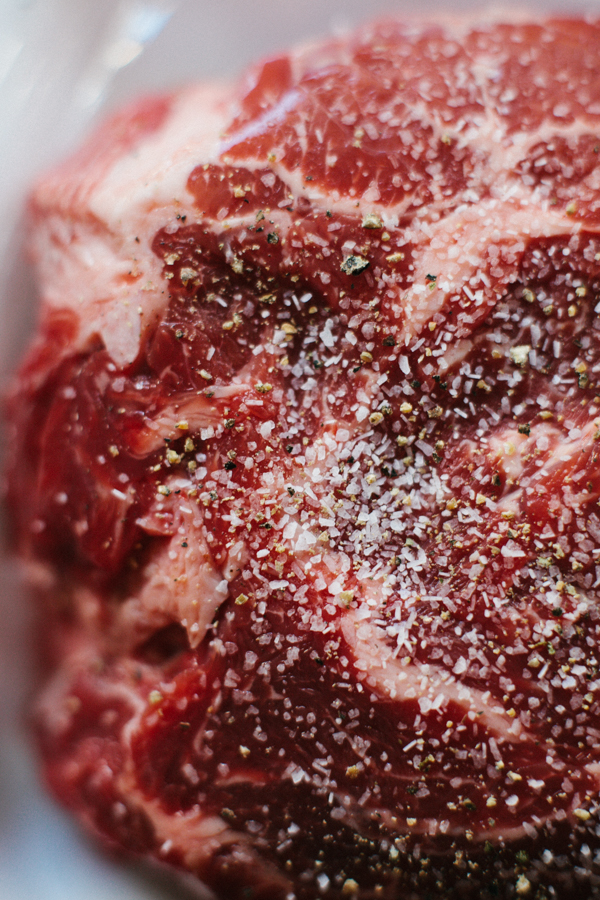 About this perfect pot roast recipe
We start with the beef. A good 3 lb. chuck roast is what I turn to. Use the best quality meat you can afford and look for white marbling throughout which, will leave you with a tender and flavorful roast. It's that combined with the technique of braising — where food is cooked, covered with a little bit of liquid — that produces an intensely seasoned and perfectly cooked piece of meat.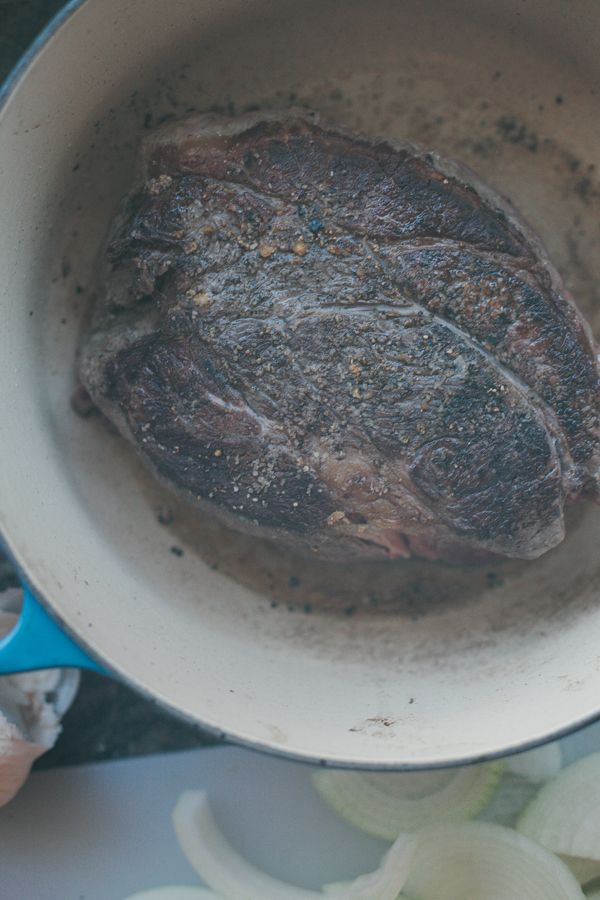 [Planning this week's dinners? Add this recipe to our FREE printable weekly meal planner template.]
How to make a pot roast

3 lbs. (or so) beef chuck roast (shoulder)
Salt and pepper
2 tablespoons butter
2 tablespoons olive oil
2 large onions, sliced
4 garlic cloves, peeled and roughly chopped
4 carrots cut in 2" pieces
1- 1 1/2 cups red wine
Sprigs of rosemary and thyme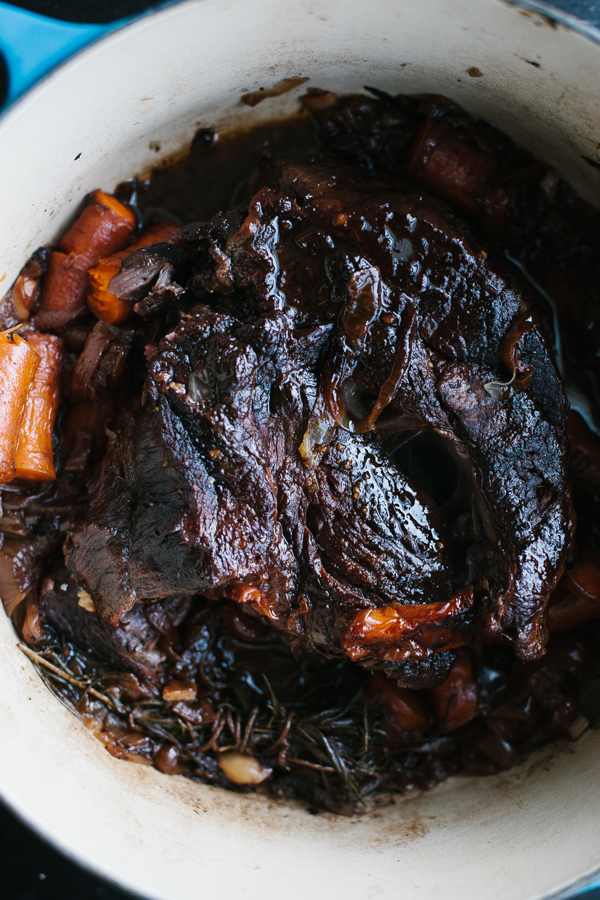 Step 1:
Salt and pepper your roast. If you remember to do this a day or two before cooking, the meat will be extremely flavorful throughout.
Step 2:
In a large Dutch oven, add the butter and olive oil, and melt over high heat. I use butter for flavor and olive oil to keep the butter from burning.
Step 3:
When the butter and oil are very hot and start smoking, carefully add the meat. Do not touch the meat for 3 minutes. Using tongs, check to see if the meat has a deep, dark crust. If it does, flip it over and repeat the process on the other side. If not, continue to sear until it does.
Step 4:
Remove the pot roast from the pan, reduce the heat to medium, and add the onions. Sauté until the onions tender and start to caramelize, about 5 to 7 minutes. Add more oil if the onions are too dry.
Step 5:
Add the garlic and cook 2 minutes more, until fragrant but not raw smelling.
Step 6:
Add the carrots and wine. Use a wooden spoon to scrape up any remaining brown bits that stuck to the pan during the searing process.
Step 7:
Return the meat to the pan and bring the wine to a boil. Tuck the herbs into the pot and then cover and reduce to low.
You can also stick the pot in an oven set to 250°F or simmer until the meat is tender and falls apart when you touch it. The total cooking time will be about 3 1/2 to 4 1/2 hours.
Step 8:
Let the meat rest for 20 minutes before you serve with the vegetables and mashed potatoes or creamy polenta.
What are your tricks for making the perfect pot roast?
FREE mini-class: Fix your most common cooking mistakes!
Enjoy lifetime access to this FREE mini-class with guidance from Sur La Table's Senior Resident Chef Joel Gamoran.Enroll FREE Now »