Eating healthy doesn't mean you have to skip dessert.
This delightful cake, which melds aspects of the Mediterranean diet with a Middle Eastern flair, employs an unusual baking ingredient for a dessert course: olive oil.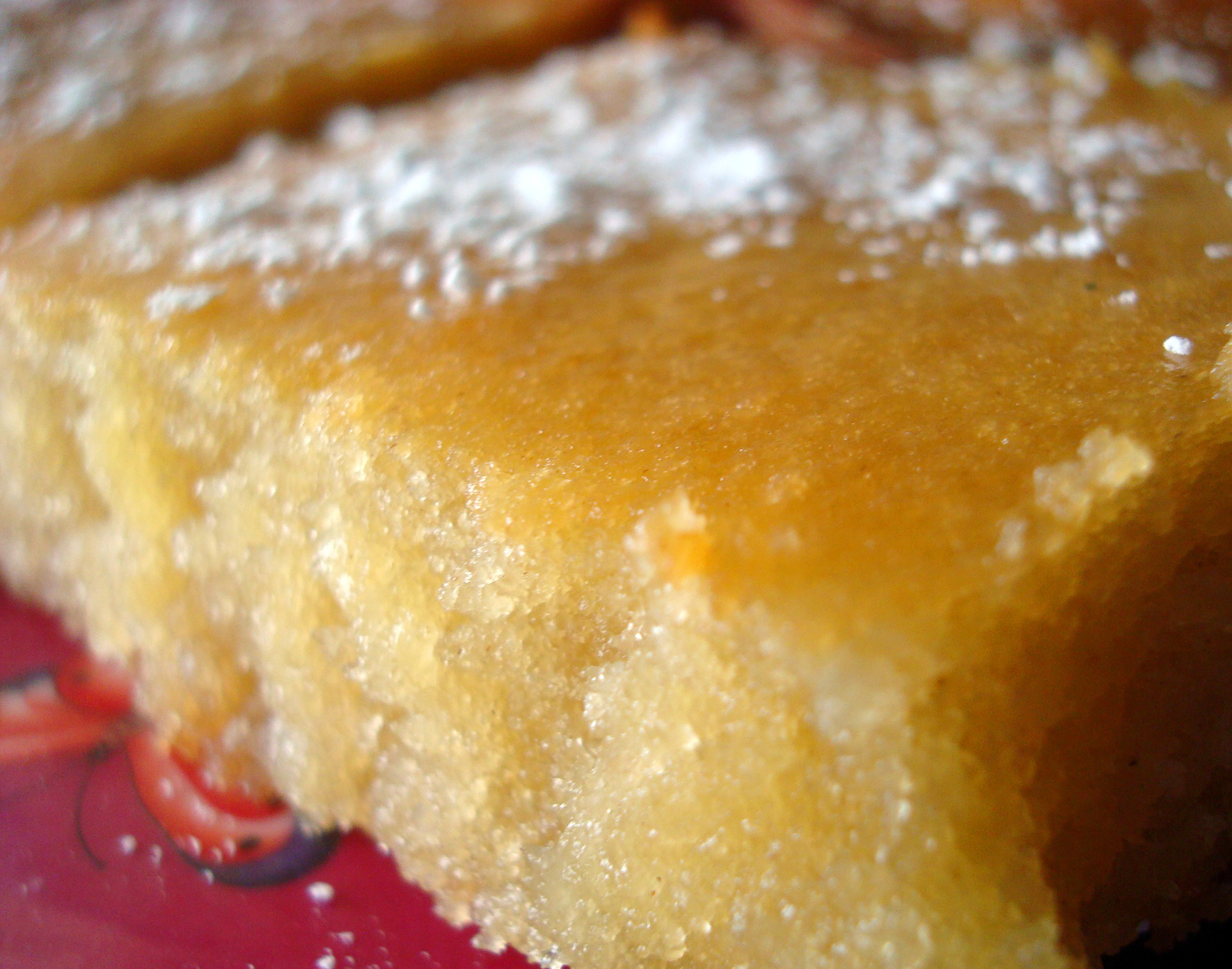 Photos via CakeSpy
Chances are, when you envision olive oil in food and cooking, it's drizzled over citrus-kissed vegetables or slices of freshly baked bread. But prepare to become a believer: This "liquid gold" ingredient is a beautiful addition to dessert recipes as well.
The recipe is an adaptation of a Middle Eastern cake called basbousa, which is made using semolina flour. The slight nuttiness of semolina works in sweet harmony with the heart-healthy olive oil and citrus flavorings inspired by Mediterranean cookery. Instead of a rich icing, this cake is flavored with a syrup that is poured over the cake while it is still hot. The icing sinks into the cake, making for a citrus-sweet, incredibly moist and flavorful dessert that won't weigh you down.
Olive oil cake makes for a perfect end to a meal inspired by Mediterranean flavors. This is the perfect satisfying yet naturally virtuous accompaniment to the delicious dishes presented in the Craftsy class Healthy Mediterranean Cooking Techniques.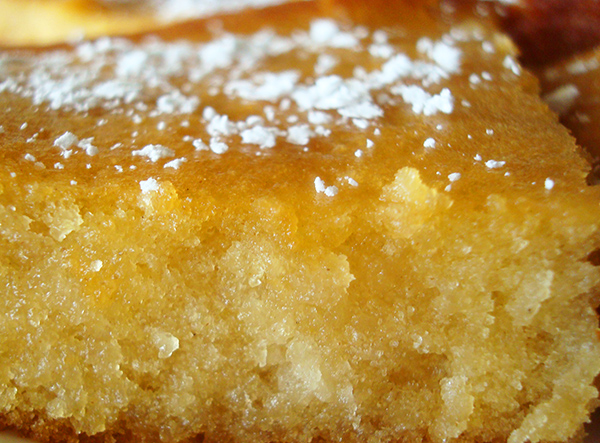 Recipe for olive oil cake
Ingredients:
For the cake
2 cups semolina flour
1 1/2 teaspoons baking soda
1/8 teaspoon salt
3/4 cup granulated sugar
1 1/4 cups buttermilk
1 teaspoon lemon juice
3/4 cup extra-virgin olive oil
1 1/2 teaspoons vanilla extract
For the sugar syrup:
1 cup granulated sugar
1 cup water
juice from one lemon
Step 1:
Preheat the oven to 350 F. Generously grease a 9 x 13-inch baking pan.
Step 2:
In a large bowl, mix together the flour, baking soda, and salt. Set aside.
Step 3:
In a separate large bowl or the bowl of a stand mixer fitted with the paddle attachment, combine the sugar, buttermilk, lemon juice and olive oil. Stir or mix on low speed until smooth and combined. Add in the vanilla and give it another stir just until incorporated.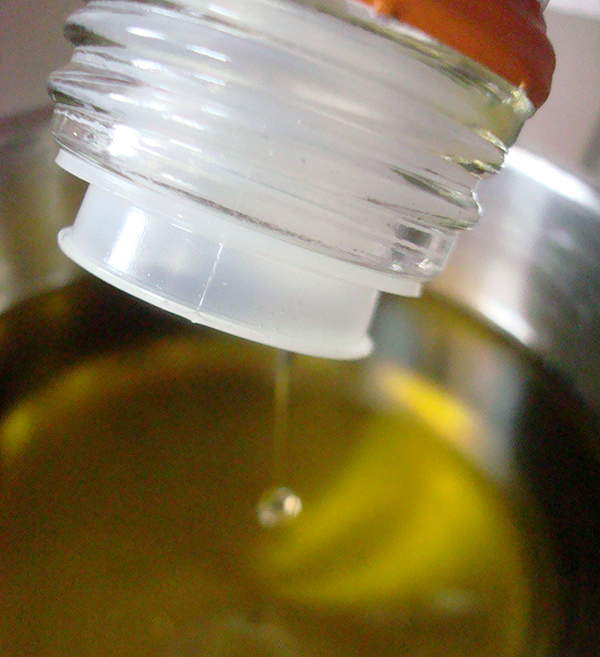 Step 4:
Add the flour mixture, and mix until smooth and combined. Do not overmix — just mix until there aren't lumps remaining.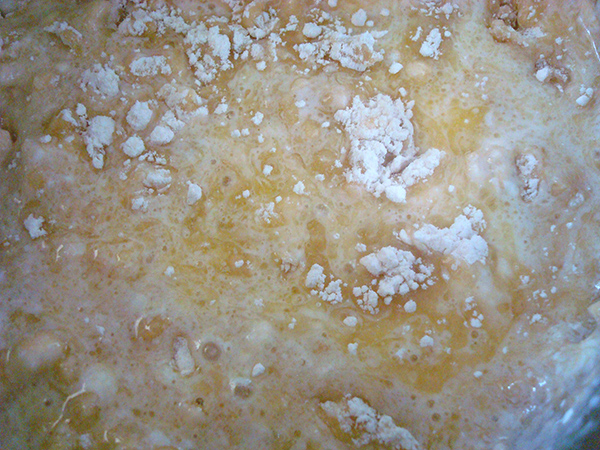 Step 5:
Pour the mixture into your prepared baking pan. Gently lift the pan an inch above the counter and let it clatter (say sorry in advance to any pets or friends who might be frightened). This will force any air bubbles to the surface.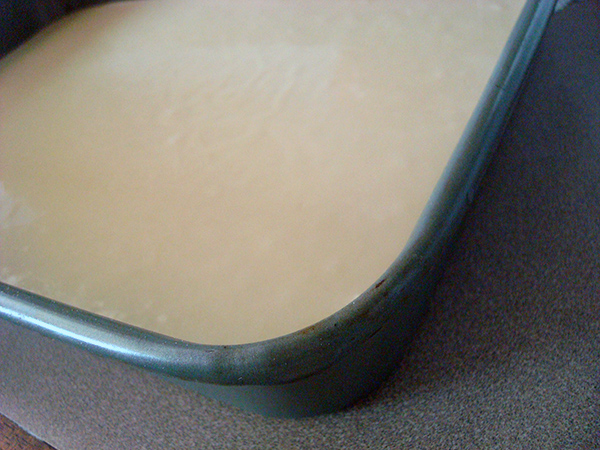 Step 6:
Bake in your preheated oven for 25 minutes, or until it is lightly browned on the edges, golden and set in the center, and the edges begin to pull away from the sides of the pan.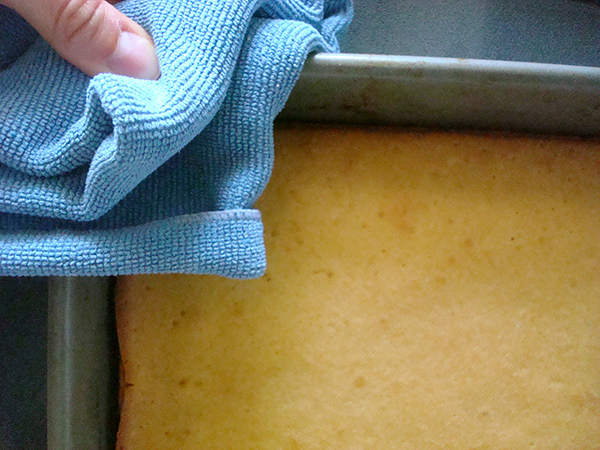 Step 7:
The sugar syrup can be made while the cake bakes, as it takes about the same amount of time as the baking to prepare. In a medium saucepan, combine the sugar, water and lemon juice. Heat the mixture on medium, stirring occasionally. The mixture will bubble, but what you're going here is not caramelization. Reduce the heat if the bubbling becomes too insistent.
What you are going for is a thickening of the syrup. Once the mixture has thickened to the point where drops are slow to fall off of a spoon (about 20-25 minutes), remove from heat. The mixture will thicken slightly as it cools.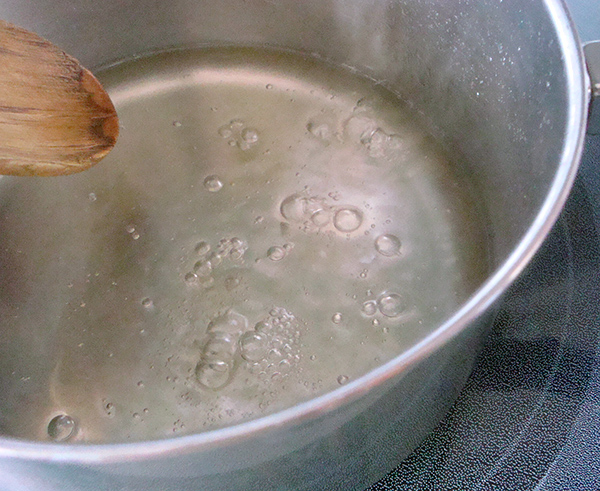 Step 8:
Once you take the cake out of the oven, gently poke it all over with the tines of a fork, as this will help the cake evenly absorb the syrup. Pour the syrup over the still-warm cake. It will look like a lot of liquid at first, but it will absorb it all rather quickly.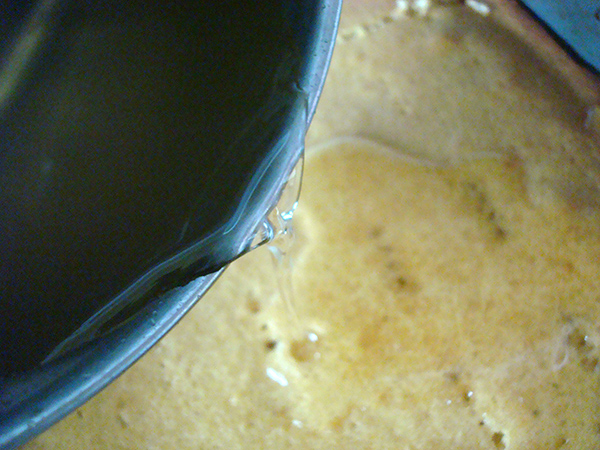 Step 9:
If desired, garnish however you'd like (suggestions: toasted nuts, confectioners' sugar or lemon zest). Once cooled, you can slice into squares and serve. This cake will keep nicely owing to the added moisture from the syrup.
If you happen to have leftovers, it's particularly pleasant with coffee or tea in the morning.