Fashion is a huge inspiration in cake design. So, adding lipstick and nail polish alongside a purse cake can be a nice finishing touch for customizing your treat for a client or friend. To learn how to make fashionable purse cakes check out Elisa Strauss Craftsy class Designer Handbag Cakes. Then discover how to make gum paste lipstick and nail polish right here!
Materials:
Gum paste- I used Satin Ice gum paste, but you can check out Nicholas Lodge's gum paste recipe if you'd like to whip up your own.
Food coloring of your choice
Gold luster dust (You can also use silver or any other color you want your lipstick tube to be.)
A paring knife
Paint brush
First, color part of your gum paste the color you'd like your lipstick and nail polish to be. I decided that it would be fun to have mine match, but you can choose any colors you'd like.
Roll a small amount into a thin tube shape for the inside of the lipstick and form the other piece into a triangular cone shape or whatever shape you prefer for the nail polish bottle.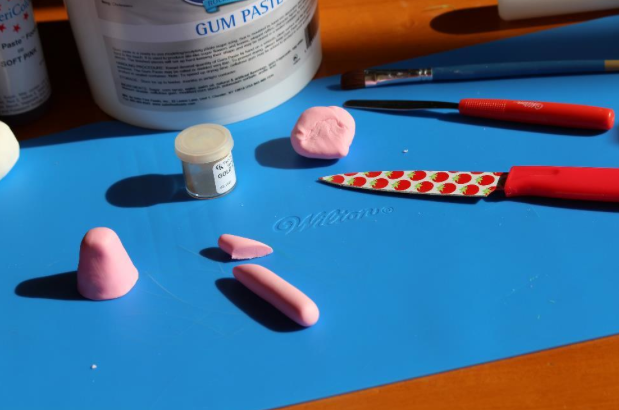 Using the paring knife, cut off the top of the tube at a sharp angle. Then roll it to make it round again.
Now, using the white gum paste roll another small tube shape and cut off the ends, so they are flat on both sides.
Break a toothpick in half and insert it into the white tube. Set this aside to let it dry for a few minutes.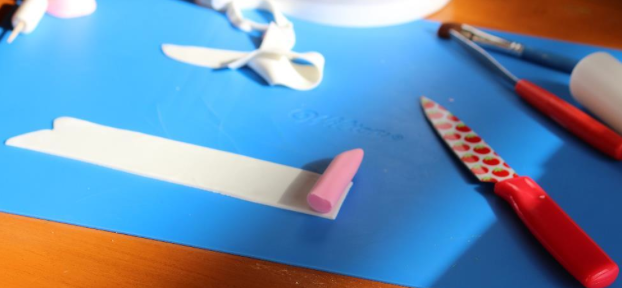 For the gum paste lipstick, roll out a long thin piece of white gum paste. Then cut it to fit the pink tube. You want it to be as tall as the tube from the bottom to just under the lowest part of the slant you cut earlier.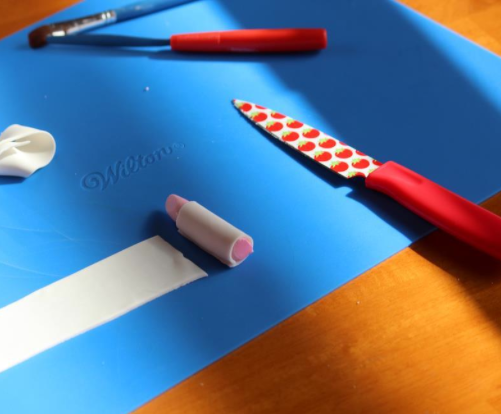 Roll it up and cut the gum paste to fit around the colored lipstick.
You need one more layer around your tube of lipstick, but it should be slightly shorter than the first. Cut your gum paste and measure how long you will need it to be by rolling it up around the tube and cutting it where it meets.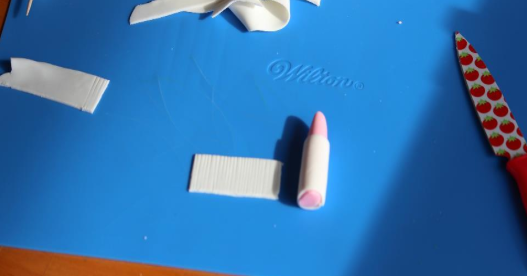 Unroll it, and then using the paring knife cut shallow slits vertically.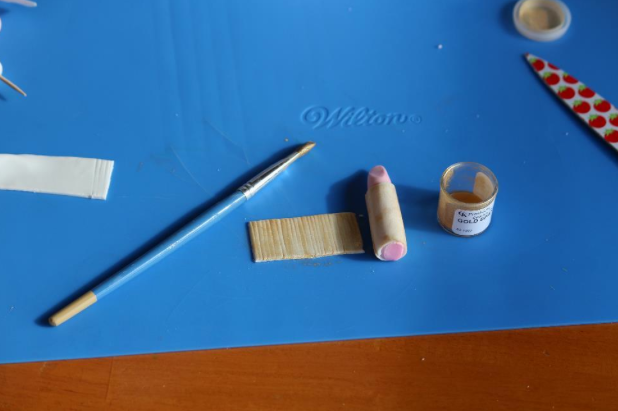 Add a small amount of lemon extract or vodka to the gold luster dust. Then paint the white tube and the extra white piece. Also grab your gum paste nail polish top and paint that as well.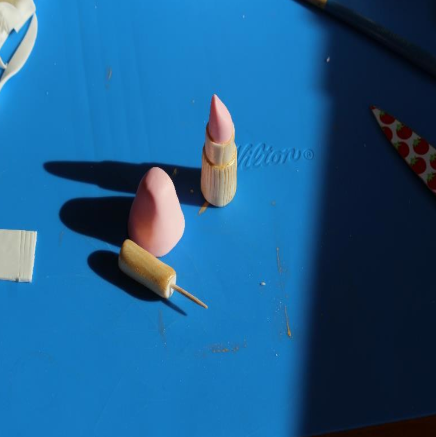 Wrap the extra piece around the lipstick while it is still slightly wet (don't let it dry flat), and insert the top tube into the bottom of the gum paste nail polish.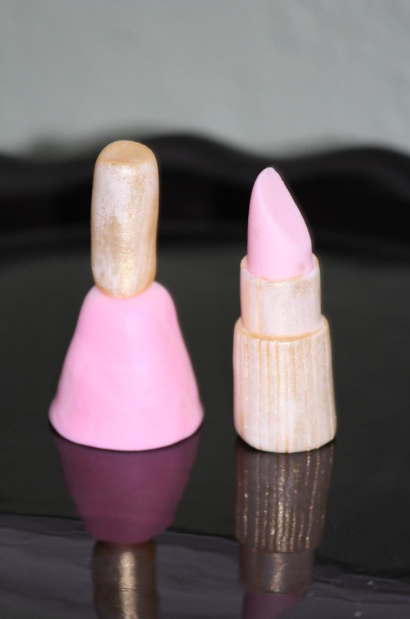 You now have a fashionable addition to a high fashion cake!