Last year for my birthday I threw a dinner party for 12 friends. I wanted it to be the sort of party where those at the table would feel spoiled, loved and very full. The food was what I want to eat; lots of roasted vegetables, homemade ricotta under a bed of shriveled roasted carrots, an assortment of breads and butter, potatoes smashed with seedy mustard and Parsley and homemade boudin blanc; a pork sausage softened with cream.
It was the first time I made sausage and was thrilled with the results and even more excited about the process. Nothing about the process is complicated but there are many steps and a few ingredients and tools that need to be sourced.
The steps to success for making mouthwatering sausages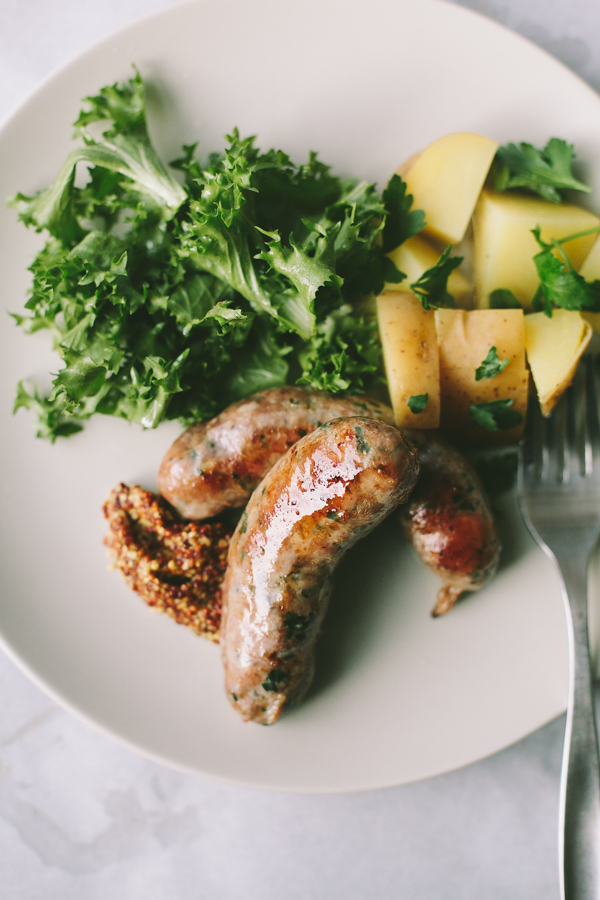 Supplies and ingredients you'll need to get started
Meat grinder
You could buy pre-ground meat but having a meat grinder is the best way to ensure that you are getting the right mix of meat and fat and it helps to grind some of the seasonings with the meat for the optimum flavor. If you have a stand mixer you could purchase a meat grinder attachment but I've had great luck with this inexpensive machine.
Sausage stuffer
If you want to make sausage patties you can skip the need for casings and a sausage stuffer but there is a great amount of satisfaction and pride that comes with making your own links. The machine I mentioned about comes with a sausage stuffing attachment. There are other machines that you can purchase as well or you could fill a large pastry bag with a big round tip and the sausage mixture, put the casings on the tip and then fill from there.
Further instructions on this process can be found here.
Casings
I went to my local butcher and bought enough casings for 15 – 20 links and it cost me all of $.92. Now for some, the idea of slipping intestines of any sort through your fingers is very disturbing. I get it. They do make a synthetic casing that you can buy online but it's just not the same.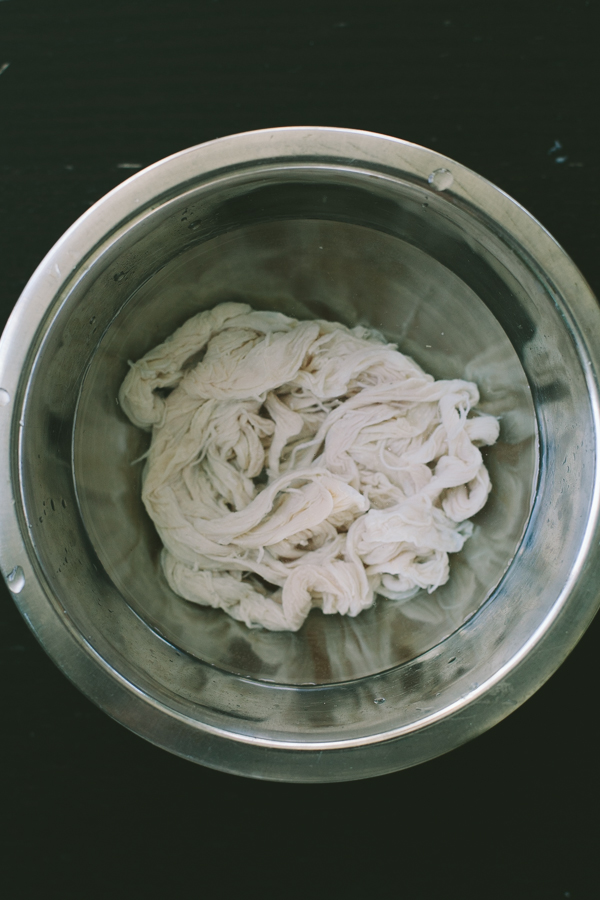 Important tips when making sausage
Keep the ingredients and equipment cold. There is a lot of fat in sausage and once the fat starts to melt it clogs up the grinder and mixes with the ingredients too much, in the same way warm butter does in a pie crust. The texture and flavor is improved when the fat is cold. Cold meat and fat also grinds a lot easier. In fact you can grind the meat straight from the freezer. I find it easiest when the meat is only partially frozen.
Don't attempt to make low-fat sausage. Keep the percentage of fat to around 20-30%. You can even go up to 50%. Lean sausage just isn't worth the trouble.
Cook a little bit of the sausage mixture before you stuff them in the casings. This way you can check the flavor and texture before you go through the work of turning them into links.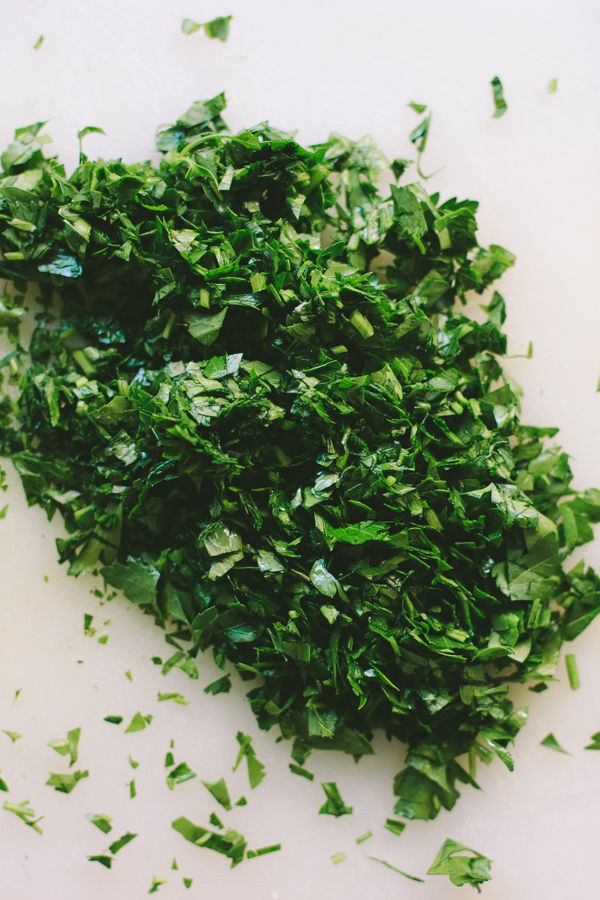 Sweet Italian sausage recipe
Adapted from Hank Shaw via SimplyRecipes.com
Ingredients
4 pounds pork shoulder
1 pound pork fat
1 1/2 tablespoons/ 40 grams kosher salt
2 1/2 tablespoons/35 grams sugar
2 tablespoons/10 grams toasted fennel seeds
1 1/2 teaspoons cracked black pepper
1 tablespoon dried oregano
1 teaspoon sweet paprika
4 grams ground nutmeg
1 cup minced fresh parsley
12 garlic cloves, peeled and finely chopped
1/4 cup dry sherry
Step 1:
Make sure the meat and fat are very cold.
Cut them into rough 1-inch pieces and place the meat in a bowl. Add ice to another bowl that it just larger than the bowl with meat. Place the bowl of meat on the ice to keep it cold while it's being mixed. Add the salt, sugar, fennel seeds, oregano, black pepper and nutmeg. Stir to combine.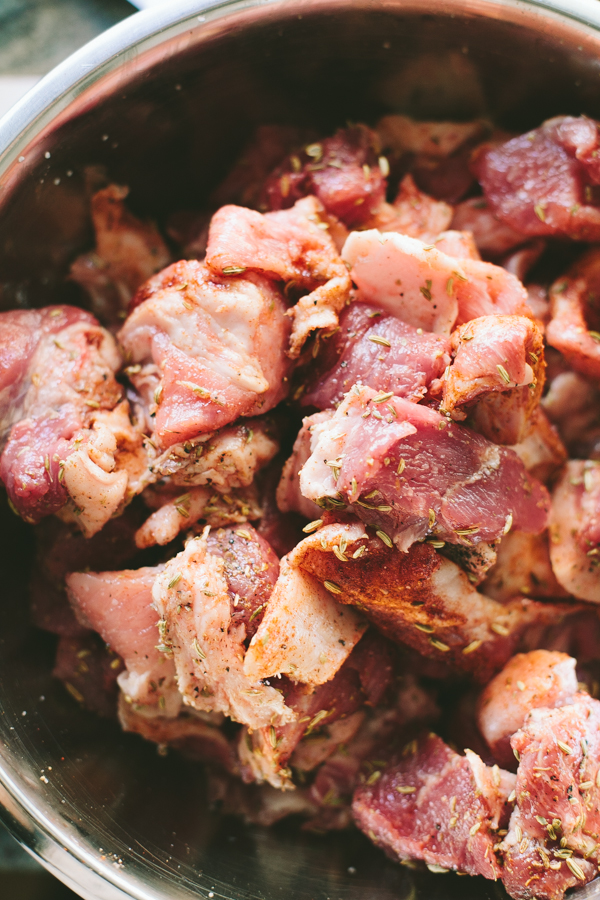 Step 2:
Grind the meat using the coarse grinder attachment. This can be done in a food processor but the texture will be drastically different.
Step 3:
Add the parsley, garlic, sherry to the ground meat mixture. Cook a small amount of this and adjust the seasoning to your liking.
If you don't plan to make sausage links you are done! From here you can form patties. Sear the patties on each side for 5 minutes, or until cooked through (165°F).
If you plan to fill the casings then place the bowl of meat into the fridge while you prepare to stuff the sausage.
Step 4:
Soak the casings in warm water for 5 minutes. Place the casings onto the stuffing attachment according to the instructions on your machine.
Leave a 6-inch tail at the end, which will leave room for the twisting at the end. Apply an even amount of pressure so the links will be even and consistent.
Use one hand to help guide the casing while the other hand applies pressure to the meat mixture.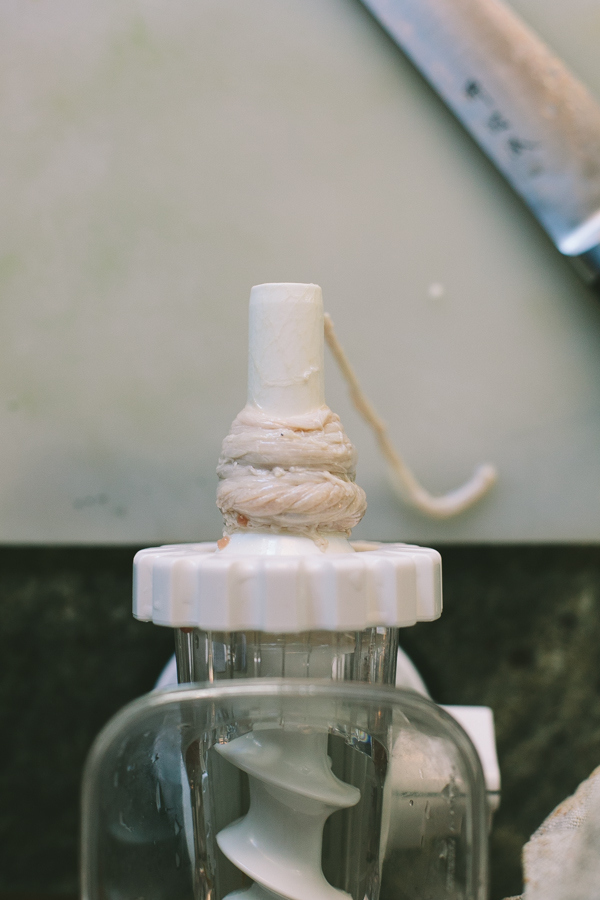 Step 5:
Twist in-between the links several times to form the links. Tie the casings at the ends.
Let the sausages air dry for an hour (if you have some sort of a rack that helps here) before refrigerating.
Links will keep in the fridge for one week or can be frozen for at least one month.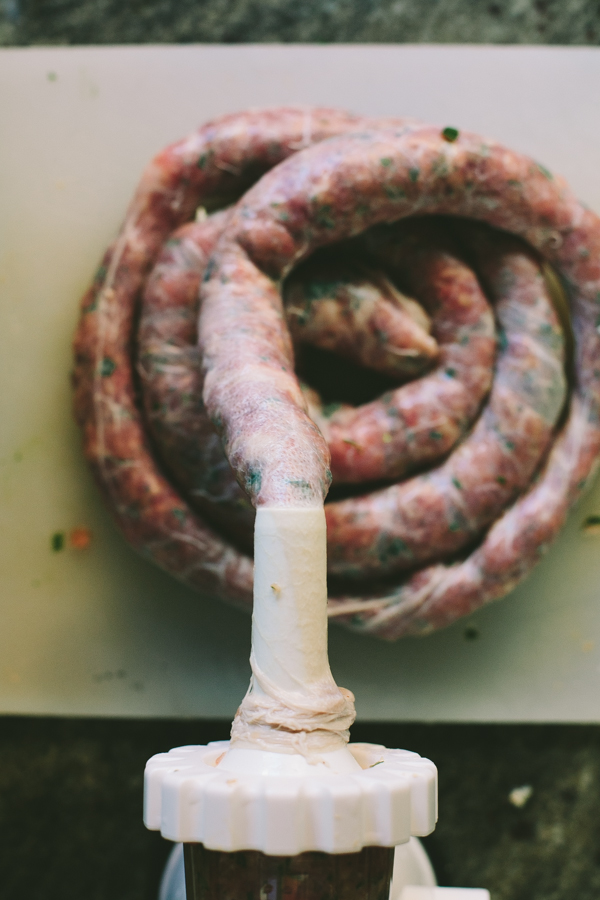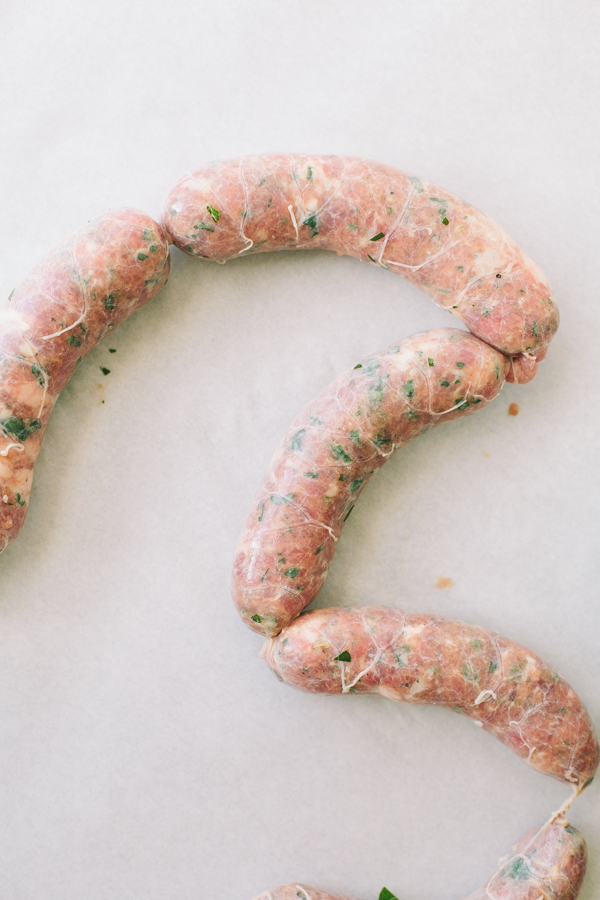 The best ways to cook your sausage
You could use this sausage in any dish you want. It'd be delicious with a spicy homemade pasta sauce or crumbled on top of a homemade pizza. My favorite way to cook fresh sausage links is to first boil them in beer and then sear (or fire-roast) until crisp and nearly charred on the outside. Serve with a simple green salad, caramelized onions deglazed with sherry and potatoes. Also, grainy homemade mustard. Don't forget the mustard.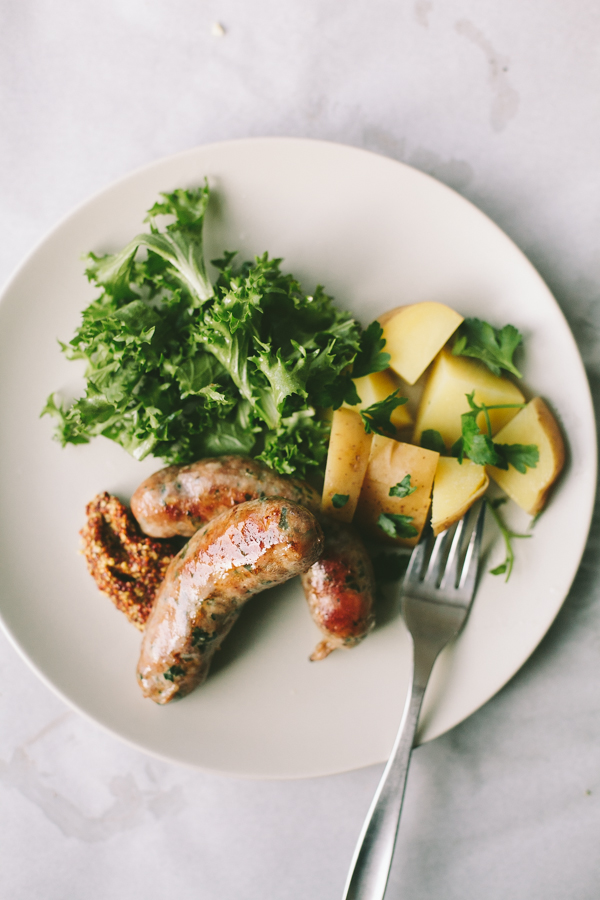 What's your favorite dish using fresh sausage?