Gooey butter cake: every part of this sweet treat's name sounds just so right. Perhaps calling it a cake, however, is a bit misleading, since it's a layered affair with a cakey crust and soft, buttery filling that's baked in a shallow pan, then cut into squares, more like lemon bars or brownies. While the finished product may resemble a lemon bar, it is a very different taste experience: a buttery, tangy, gooey, almost cake batter-esque flavor that is unlike anything else you've ever experienced.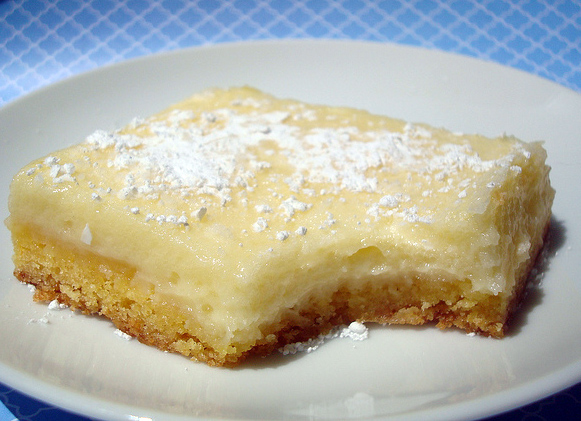 But first things first: what is a gooey butter cake, this food that the St. Louis Convention & Visitors Commission calls "one of St. Louis' popular, quirky foods"?
While variations exist, it seems that the most important aspects are a bottom layer of buttery yellow cake and a top layer of…well, gooeyness (usually some combination of eggs, cream cheese, and sugar), rather than icing.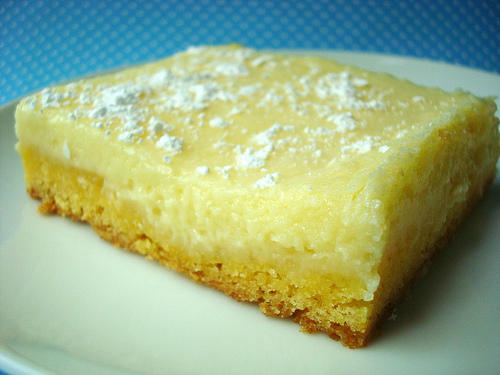 Most often, it's served as an informal morning cake, accompanied by coffee or tea and plenty of gossip, rather than as a vehicle for elaborate cake decorating. As it turns out though, the foundation of the cake's story is about as soft as its gooey top layer: there are varying accounts of who invented it and when.
Most agree that the cake was first made in the 1930s or '40s by a St. Louis-area German-American baker who was trying to make regular cake batter, but reversed the proportions of sugar and flour. But which German baker? Two accounts are famously documented.
First, we'll hear from the Danzer family:
According to them, in the 1940s, Johnny Hoffman of St. Louis Pastries Bakery was working away on a Saturday when something (or someone?) distracted him; he made a mistake with the batter, but it turned out to be a tasty accident–he then called another baker, Herman Danzer, to see if they could duplicate it. After much experimentation, they had a product that worked. "This sure is gooey!" exclaimed Danzer's wife, and with that, a new classic was born.
And then there's the Koppe family:
This family claims that the cake was developed by Koppe Bakery during World War II. This cake is described as being so rich and gooey that it was almost a pudding, and could be eaten with a spoon. It was a big hit with customers, and the bakery had lines wrapping around the block.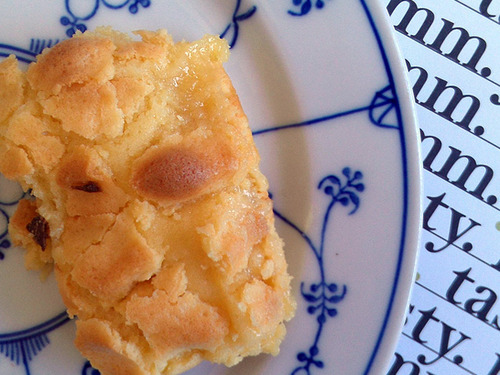 Philadelphia-style butter cake.
Now, not to rain on your parade, St. Louis, but it's also possible that the cake was invented elsewhere. After all, the earliest versions of the cake bear more than a passing resemblance to Philadelphia Butter Cake, a dish that has been baked primarily in German bakeries since the 1930s. This early incarnation features a yeasted crust with a topping made of eggs, flour, and sugar (no cream cheese in sight).
But while the cake's origins may be up in the air, one thing's for sure: it's a St. Louis institution, and it's absolutely delicious. Even if you haven't heard of Gooey Butter Cake, perhaps you've heard of Ooey Gooey Cake, or of Neiman Marcus Bars, Chess Squares, Houdini Bars, or Treehouse Buttercake; they're all variations on this basic theme. Anyway, the name probably doesn't really matter; it's always decadent and delicious–one of those treats that's hard to stop eating in spite of how rich it is. This popular version employs cake mix, but you'd never know it when you taste the finished cake.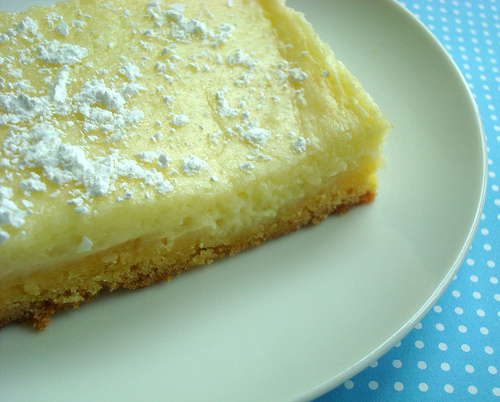 St. Louis Gooey Butter Cake
Makes one 9×13-inch cake
For the base:
1 (18.25 ounce) yellow cake mix with pudding in the mix
2 large eggs
1/2 cup (1 stick) unsalted butter, melted
1/2 teaspoon vanilla extract
For the topping:
8 ounces (1 brick) cream cheese, softened to room temperature
3 cups confectioners' sugar, plus more for dusting finished cake
2 large eggs
Step 1:
Preheat the oven to 350 degrees. Grease a 9-by-13-inch pan on the bottom and sides.
Step 2:
To make the cake base, put the cake mix in a large mixing bowl (ignore those instructions on the box). Add the eggs, melted butter, and vanilla. Stir together until thoroughly combined. The batter will be quite thick.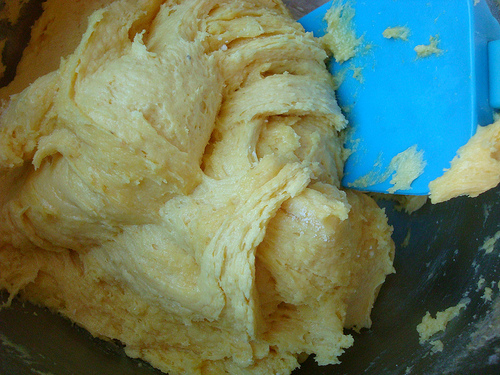 Step 3:
Spread the batter evenly in the bottom of your prepared pan, patting it into place. If you like a "crust" on the edges of your cake, slightly pinch up the sides of the batter on the bottom; if not, simply pat it flat into the bottom of the pan. Set the pan aside for the moment.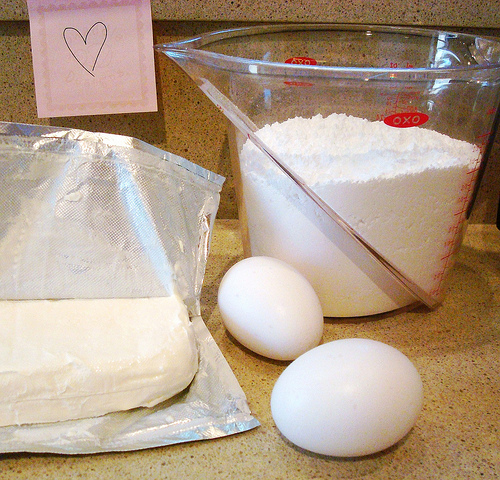 Step 4:
Using an electric mixer, beat the cream cheese until it is somewhat smooth; add the 3 cups of confectioners' sugar in 2 or 3 increments (to keep it from blowing up like a sugar snowstorm in your kitchen) and mix on low speed until well combined.
Step 5:
Add the eggs, one at a time, pausing to scrape down the sides of the bowl with a rubber spatula after each addition. Be sure to scrape down the entire side of the bowl, as you don't want any lumpy bits to get into the batter when you're spooning it on top of the crust. Mix until combined and very smooth, then pour this mixture on top of the batter. If you had pinched up the edges of the bottom layer to form a side crust, pour it within the confines of the crust.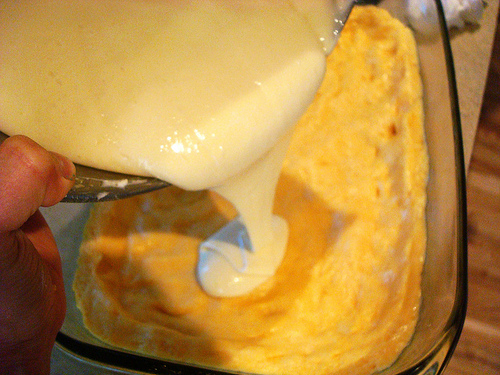 Step 6:
Bake for 30 to 40 minutes, or until the top of the cake is golden and the edges of the cake are lightly browned. The middle of the cake may jiggle a bit, but that is ok. It will continue to set as the cake cools.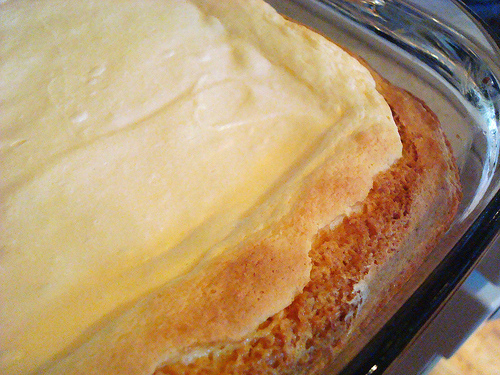 Step 7:
Let the cake cool at room temperature for about 15 minutes, until the pan is no longer very hot, and then transfer to the refrigerator to cool completely and to become solid.
Step 8:
Sprinkle with confectioners' sugar directly before serving. Cut into bars to serve, the way you would with brownies.
Store cake in the refrigerator, well wrapped, for up to four days.
If you've never tried gooey butter cake before, prepare yourself for a delicious taste experience. What's your favorite coffee-time cake?