One of my favorite foods of all time is cornbread. So after adopting a gluten-free lifestyle, one of the first recipes I had to figure out was how to make gluten-free cornbread. I like my cornbread thick and hearty with a bit of honey sweetness and a buttery browned edge.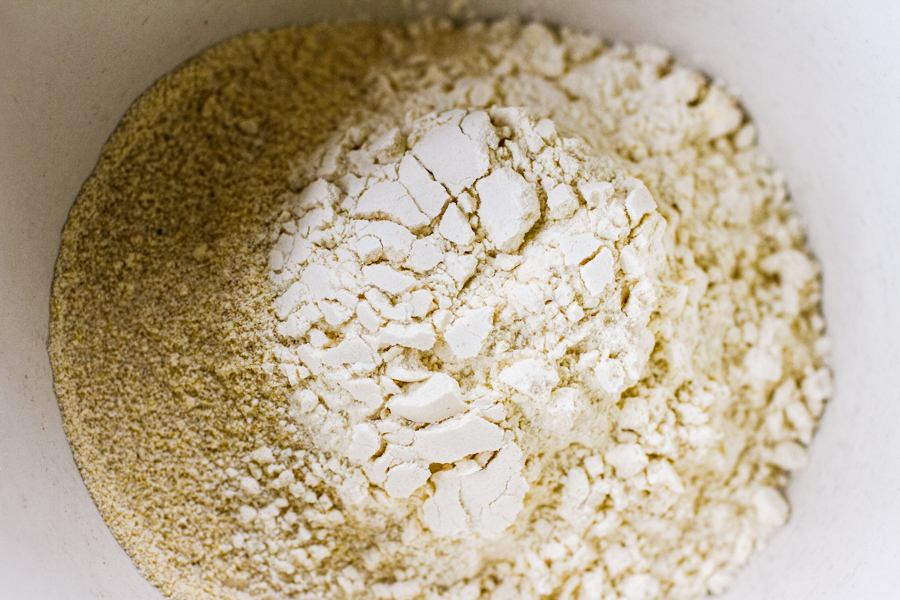 Photos via Edible Perspective
Today I'm going to teach you how to make a no-fuss gluten-free cornbread right at home!
So, why do I love cornbread so much? It all goes back to my childhood, and those fabulous nights where we would eat breakfast for dinner — simply the best idea ever to exist. One of the meals we ate was cornbread (from the little blue "Jiffy" box!) with butter and honey and a side of sausage or bacon. I'm sure there was something else served on the side (maybe fruit?), but I don't really remember, because all I cared about was the cornbread.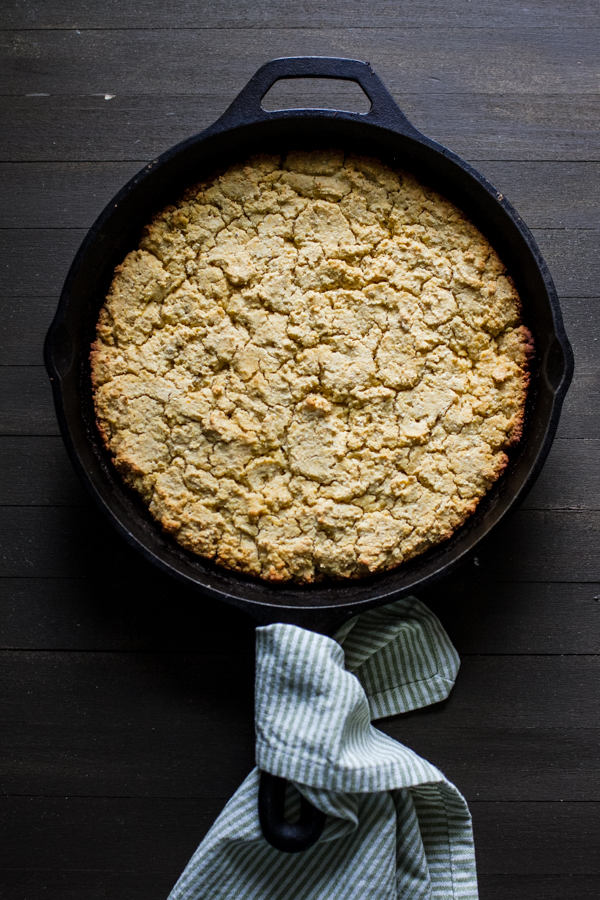 While many things have changed since my childhood days of breakfast for dinner, my love for cornbread has only grown. It's perfect in the morning alongside a few eggs, as a hearty snack with a swipe of almond butter and, obviously, as a dinner side with chili.
One of my favorite ways to reheat cornbread is to heat my cast iron skillet with a bit of butter over medium heat. I'll slice the cornbread carefully in half and then place in the pan, flipping once, until both sides are browned.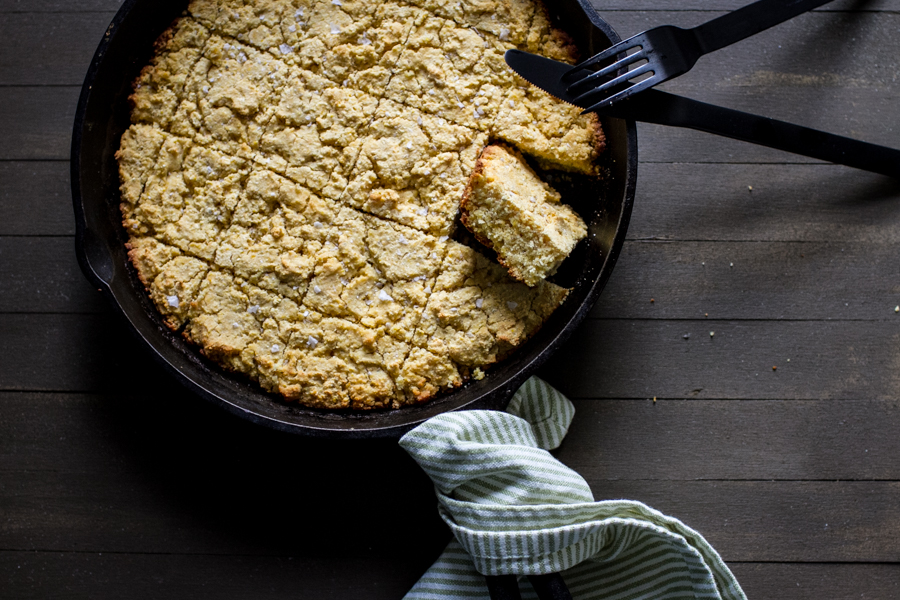 Tips for gluten-free cornbread success
I know gluten-free baking can be intimidating, but I promise I've kept this recipe simple. The cornmeal and masa harina should be very easy to find. The masa harina may be in the ethic aisle of your grocery store but Bob's Red Mill also carries this for just a few dollars.
Do not sub regular corn flour for the masa, as they do differ. The third flour I've used is millet flour. To save money you can grind your own millet right at home! If you have access to bulk bins, simply buy a cup of millet and grind it into flour. Here's how: Grind raw millet in a blender, coffee grinder or similar until soft and flour-like in texture. Sift out any larger pieces if needed.
Jelly preserves make a fabulous topping as well, especially with a sprinkle of flaked sea salt.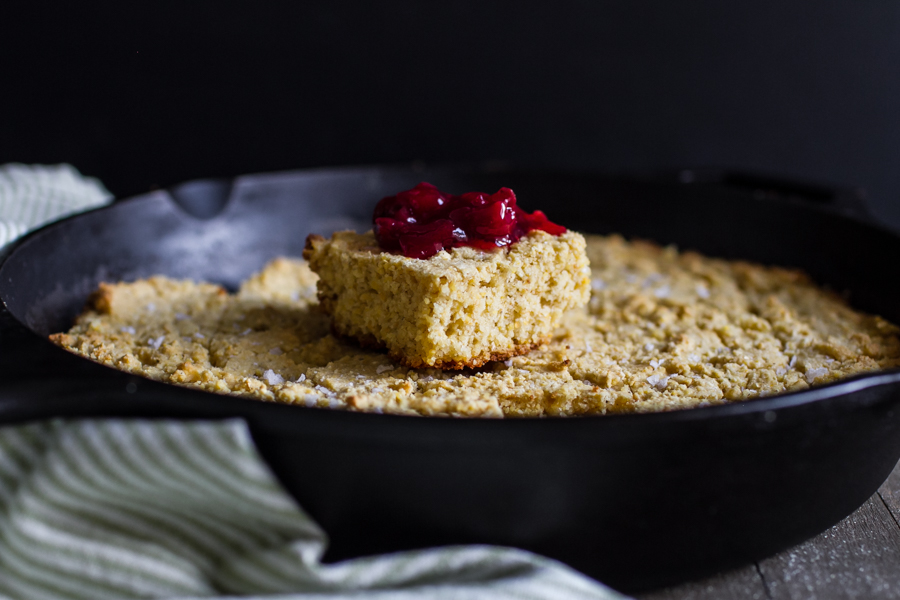 Recipe for gluten-free cornbread
Yields: 1, 9-10 inch pan of cornbread
Ingredients:
3/4 cup fine or medium ground cornmeal
3/4 cup masa harina
1/2 cup millet flour*
1 1/4 cup unsweetened almond milk or whole milk
3 tablespoons honey
1 large egg
1 tablespoon baking powder
1/2 teaspoon salt
4 tablespoons butter – divided, plus more to top
Step 1:
Preheat your oven to 400 F. You'll need a 9-10 inch square or circular baking dish.
Note: I prefer to use my cast iron pan because it creates a thick crust.
Step 2:
In a large mixing bowl, mix together the cornmeal, masa harina, millet flour, baking powder, and salt.
Step 3:
Melt 2 1/2 tablespoons of the butter in a small bowl. Let cool for a few minutes.
Step 4:
In a a medium-sized mixing bowl, vigorously whisk together the milk, honey, and egg. Then whisk in the 2 1/2 tablespoons of melted butter.
Step 5:
Stir the wet ingredients into the dry, until just combined. (When you no longer see dry flour.) The batter will not be completely smooth.
Step 6:
Let rest for 5 minutes. While resting, add the other 1 1/2 tablespoons of butter to your baking dish or cast iron pan. Bake for 4 minutes (to heat the pan and melt the butter), remove from the oven, then carefully tilt the pan to grease all sides and the bottom.
Step 7:
Pour the batter in and gently spread it around with a spatula and even out the top, pressing down lightly. The mixture will be thick.
Step 8:
Place the pan in the oven and bake for 22-28 minutes, varying slightly with the pan size. I used a 10-inch cast iron pan and it took 23 min. The edges will be golden brown and the top will be cracked when finished. Toothpick test for doneness. Do not over bake. You want small crumbs sticking to the toothpick and not completely bone dry.
Step 9:
Let cool for 10 minutes. Dab or spread lightly with butter over the top, then slice and serve with butter, honey, maple syrup, flaked sea salt, fruit preserves, nut butter, etc.