Spring has sprung and bunnies abound! If you're in need for a way to dress up your Easter table, we have a delicious and adorable homemade solution: a cute take on a fuzzy Easter Bunny cake!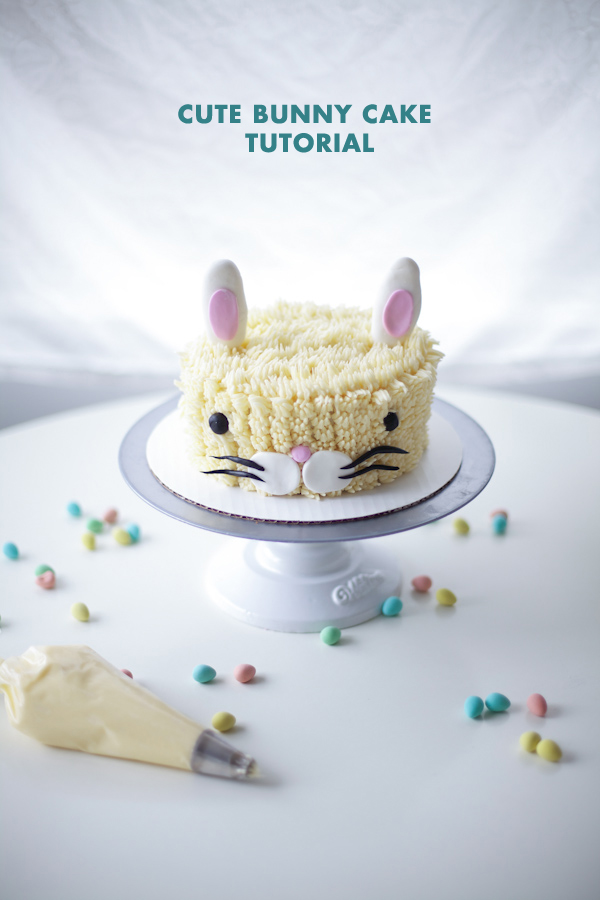 How to make a cute Easter Bunny cake
[Want to save or print this tutorial? Click here download the PDF version!]
You will need:
Two baked, cooled cake layers in flavor of your choice (I made a vanilla cake and tinted the layers pink)
5 cups of vanilla buttercream
Piping bag fitted with a multi-opening tip, such as Wilton #233
4″ ball of white fondant
2″ ball of black fondant
2″ ball of pink fondant
Small amount of cornstarch, for working with fondant
Wooden barbecue stick
Cake board or cake plate
Tip: Coloring black fondant can be a difficult process. I always keep pre-purchased black fondant on hand for quick and easy use!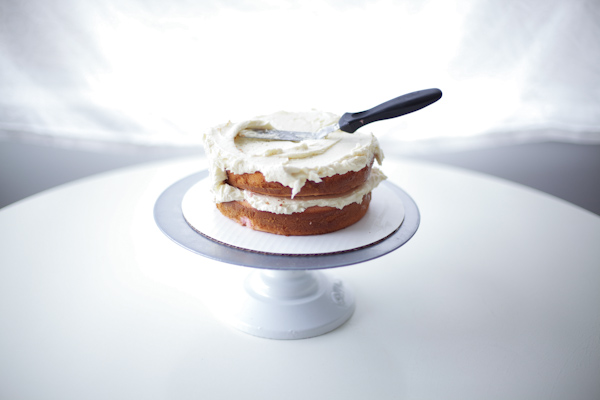 Step 1:
Begin your Easter bunny cake by filling your two-layer cake and then frosting the outside. Secure the first cake layer to your cake board using a dab of buttercream. Add a layer of buttercream to the top then sandwich with the next cake layer. Continue to frost the top and sides of the cake.
Tip: For more information on this step, refer to our step-by-step tutorial on how to crumb coat a cake.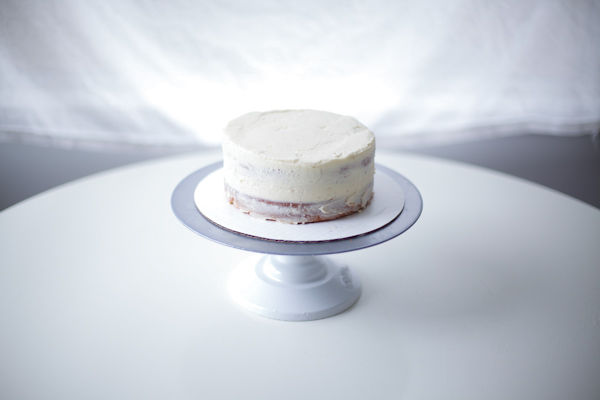 Now you have a crumb coat on your cake. Optional: use an icing smoother to smooth out your buttercream.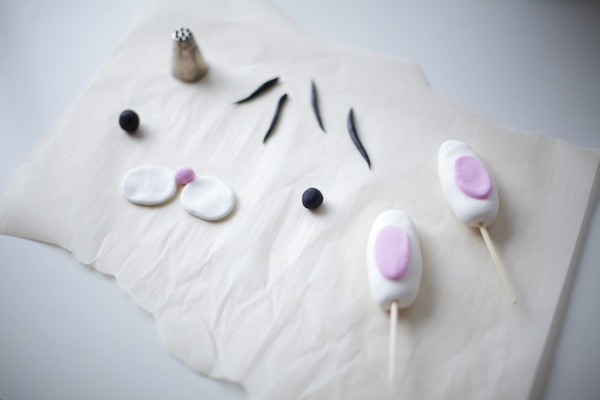 Step 2:
Make your fondant bunny face pieces! Use cornstarch as needed to prevent sticking. Divide the white fondant to create two "ears" – make large balls of white fondant, then pull gently to stretch them into an oblong shape. Cut a wooden skewer in two with heavy duty scissors. Insert the wooden skewer pieces into the white fondant "ears."
Using the pink fondant, use the same technique to make "inner ears." Adhere with a tiny amount of water. Make two white cheeks for the bunny face and a small pink nose.
Finally, roll two small black balls of fondant between your hands to make eyes. Then, roll thin pieces of black fondant for whiskers. Set aside.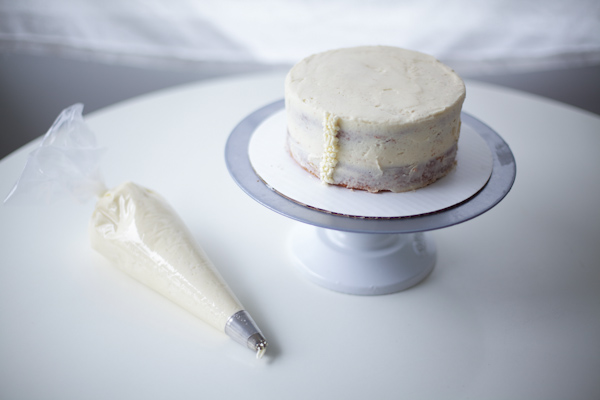 Step 3:
Fill your piping bag (fitted with the multi-opening tip) with white vanilla buttercream. Now, begin piping "fur." Squeeze the piping bag against the cake edge until buttercream flows. Pull away to create "fur."
You can create short or long fur using this technique. On my bunny, I went with shorter bursts to create the look of a shorter-haired bunny. I like to pipe the fur in rows starting from the bottom of the cake working upward.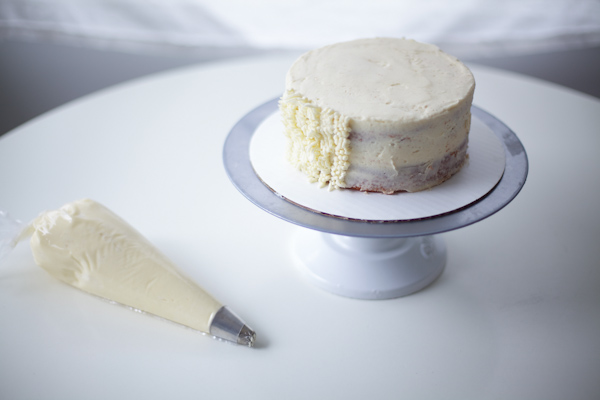 Continue piping the exterior of the cake. Your wrist and arm will get a bit of a workout here.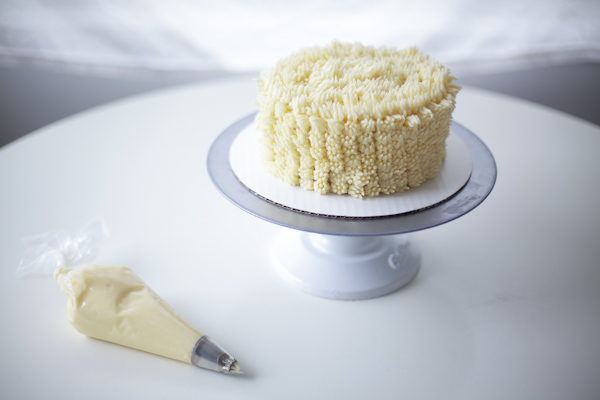 Once the sides of the cake are piped, start on the top, too – this bunny needs hair on his head, too!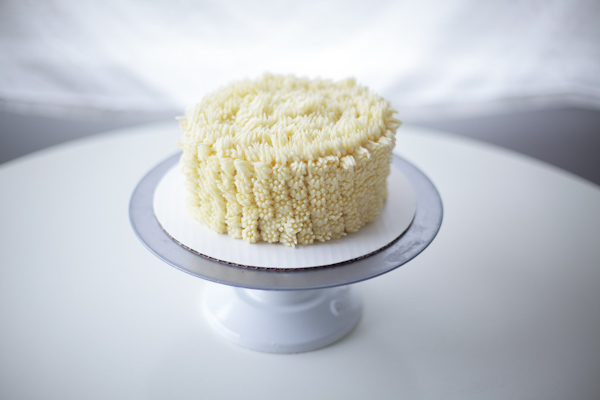 Once you are finished piping the whole cake, take a tiny break!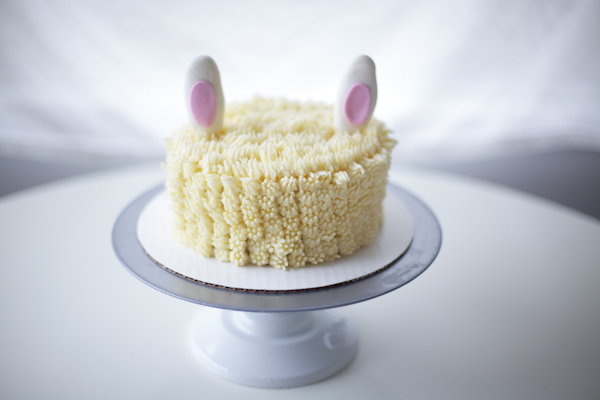 Step 4:
Insert the fondant bunny ears on wooden sticks into the top of the cake.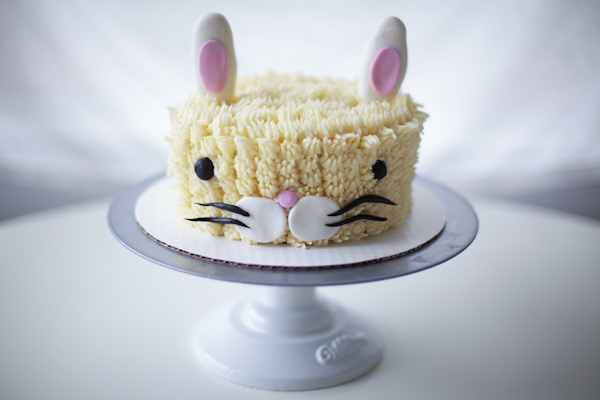 Step 5:
Place the white fondant cheeks onto the cake by gently pressing into the buttercream so it stays in place.
Add the pink nose. Using a tiny amount of water and a chopstick or toothpick, adhere the black whiskers to the white cheeks, then lightly press the edges of the whiskers into the buttercream for extra hold.
Finally, place the black eyes onto the cake by gently pressing into the buttercream.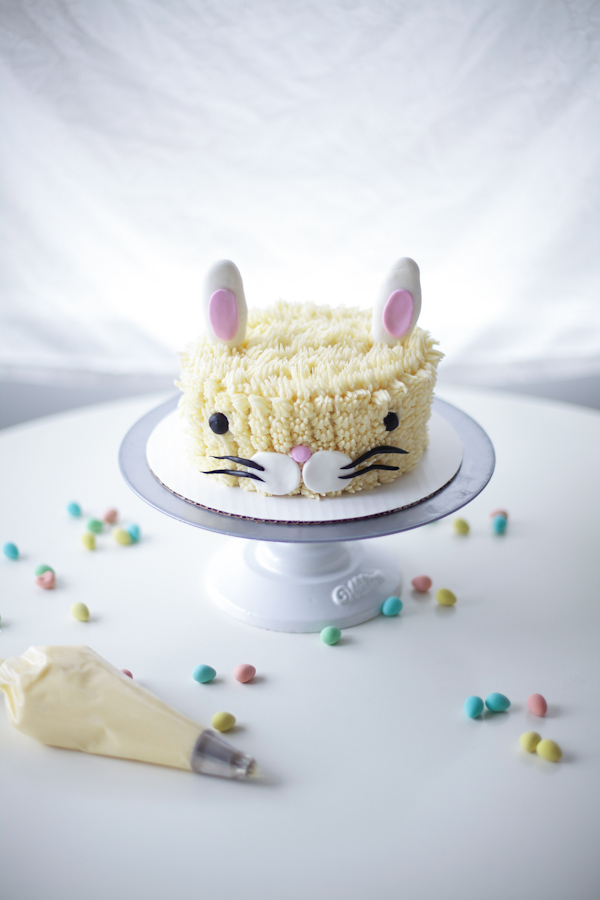 Woo hoo! Your Easter Bunny cake is done. It will be the grandest, or at least the cutest Easter dessert table centerpiece of them all! Scatter pastel candy-shelled mini chocolate eggs around it for some fun themed color additions.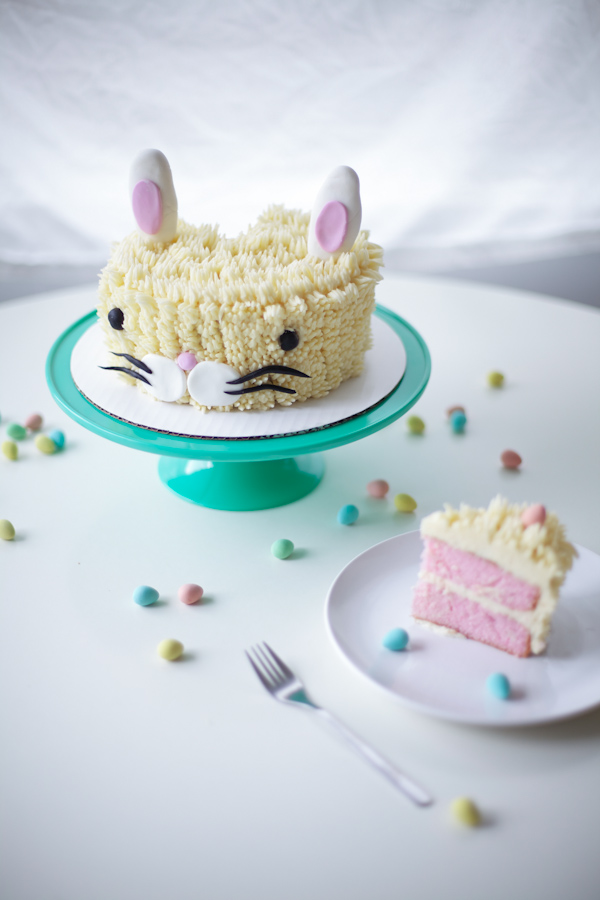 Bonus surprise: When your guests cut into the cake, the soft pastel pink layers will add even more adorable-ness. Hope you enjoyed this cute bunny cake tutorial!
You might also enjoy our free tutorials for how to make Easter cupcakes and how to make gum paste Easter eggs.
FREE Guide! Not-So-Basic Buttercream Decorating Ideas
Get insider tricks & inspiration to make one-of-a-kind buttercream goodies in this FREE PDF guide, available exclusively on Bluprint.Get My FREE Guide »