When you're watching the opening ceremonies of the 2016 Rio Olympics, you're going to need some snack foods to munch on. It seems only fitting to include a Brazilian desserts, such as caipirinhas and brigadeiros. These chocolaty truffles are popular in Brazil, and they're the perfect treat to whip up to celebrate Brazilian culture while satisfying your sweet tooth.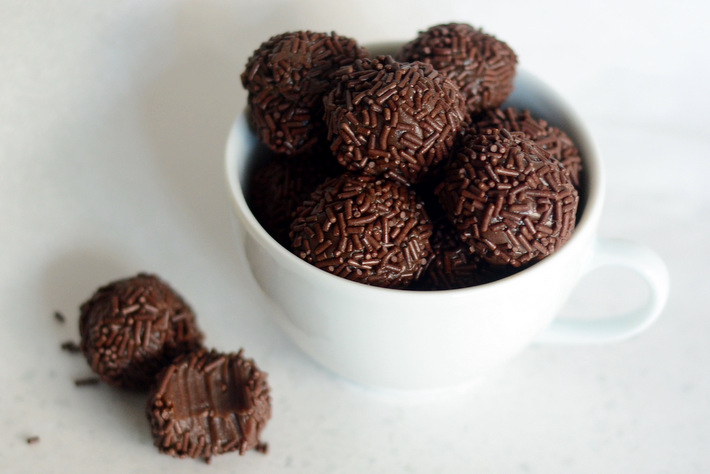 What are brigadeiros?
Sometimes described as "Brazilian truffles," brigadeiros are a chocolate-caramel candy made with three basic ingredients: butter, cocoa powder and sweetened condensed milk.
The candy is essentially a chocolate-flavored caramel made with sweetened condensed milk as the base. These Brazilian desserts have a velvety smooth, melt-in-your-mouth texture and a crisp exterior thanks to a generous layer of chocolate sprinkles.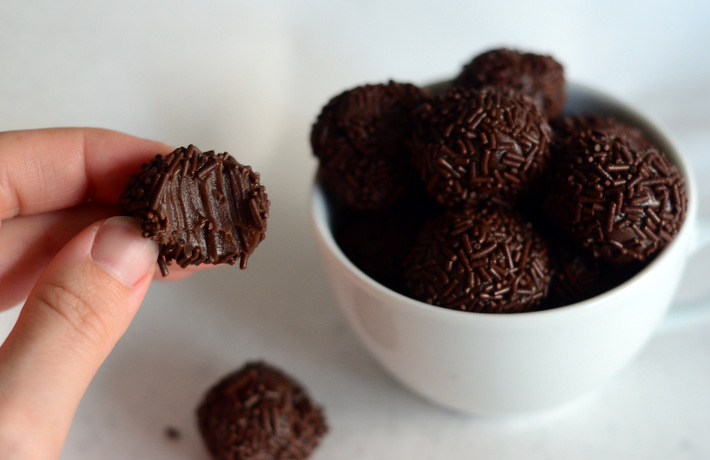 Learn how to make brigadeiros at home
To prepare the brigadeiros, simply melt butter and cocoa powder together in a saucepan, stirring to dissolve the cocoa powder. Once the cocoa powder has been incorporated, pour in the sweetened condensed milk and cook, stirring regularly, until the mixture begins to thicken.
As it cooks, the caramel will become firmer and will hold its shape as you stir. You don't want the candies to be too hard or too soft, but it is better to cook them for an extra minute or so if you are unsure. Candies that are too soft will be difficult to shape into individual portions.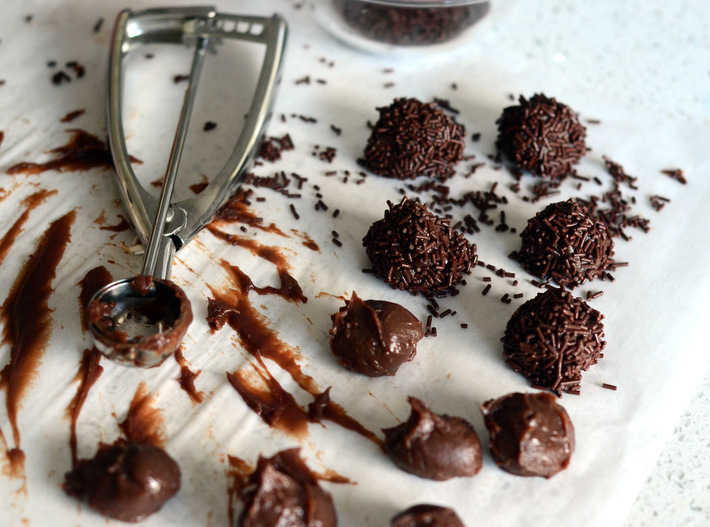 Once the chocolate base is ready, you'll shape it into balls and roll the candies in sprinkles. I like to make mine about 3/4″ in diameter, which is a nice bite-sized portion. You can certainly make yours larger if you want a sweeter treat, though the batch won't yield quite as many.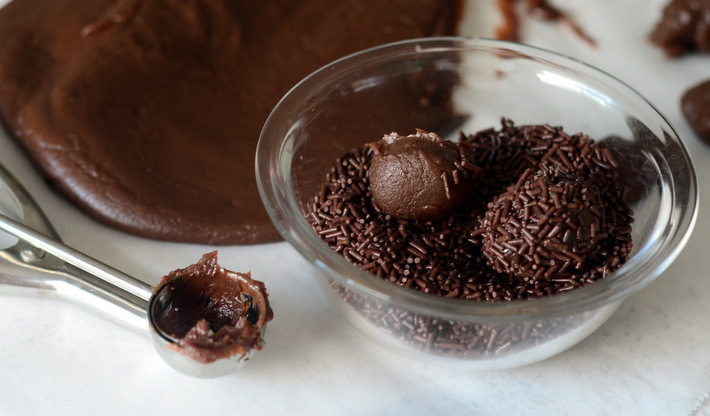 For the coating, chocolate sprinkles — a.k.a. chocolate jimmies — are most common, but you can use a variety of sprinkles if you want to bring some color to your candies. I made several using red, white and blue sprinkles as a nod to Team USA!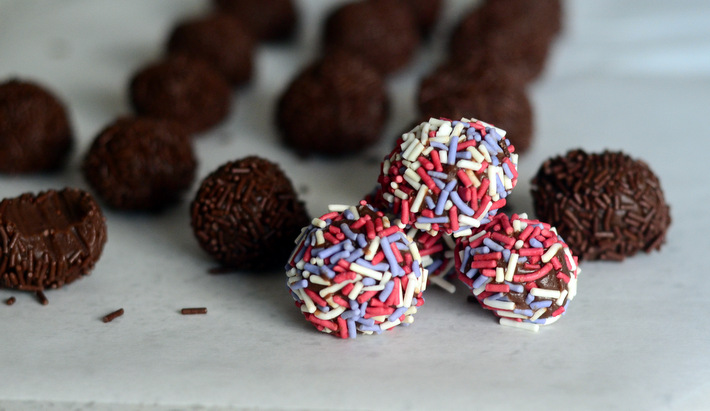 I recommend storing your brigadeiros in the refrigerator — especially if you are making these on a warm summer day — because the candies are fairly soft, and they have a firmer texture when chilled. They keep very well in the refrigerator and will last at least a week. They can be served at room temperature or chilled and they are delicious both ways (though I like them on the cooler side).
Homemade brigadeiros recipe
Makes about 36-40 candies
Ingredients:
4 tablespoons butter
3 tablespoons unsweetened cocoa powder
One 14-ounce can sweetened condensed milk
Approximately 1/2 cup chocolate sprinkles
Step 1:
Melt butter in a 10- or 12-inch nonstick pan over medium heat. When butter is melted, add in cocoa powder and stir with a spatula until dissolved. 
Step 2:
Pour sweetened condensed milk into the butter mixture and continue to stir gently with a spatula until the mixture becomes uniform in color.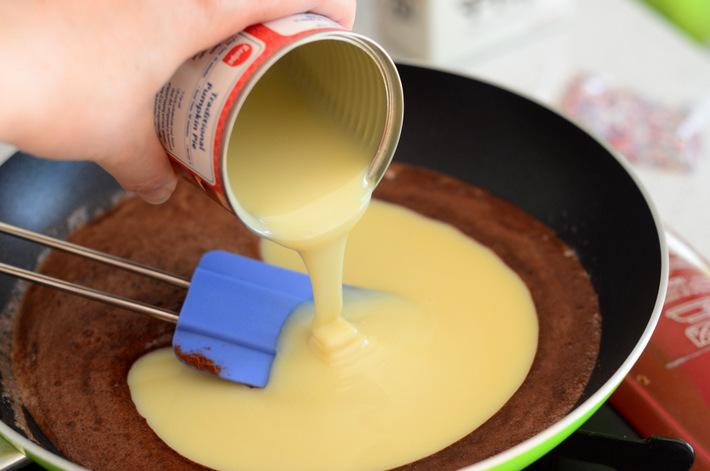 Continue to cook, stirring slowly but constantly, for 5-7 minutes, until the caramel thickens and holds its shape. You should be able to part the caramel easily for several seconds by running your spatula up through the center of the pan.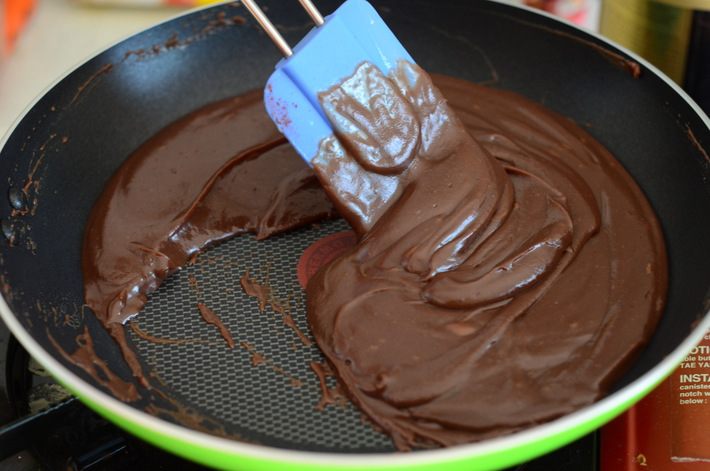 Step 3:
Remove the caramel from the heat and pour it onto a piece of parchment or waxed paper. Spread slightly with a spatula. Allow the caramel to cool at room temperature for about 30 minutes (or you can can also pop it in the refrigerator for 10-15 minutes), until it is firm and not warm to the touch.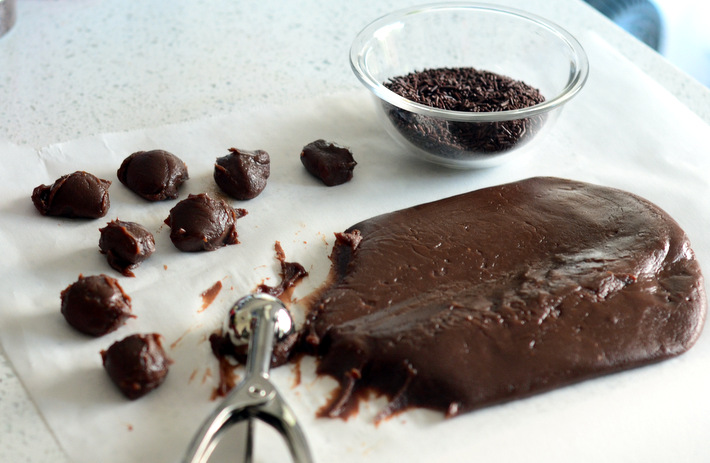 Shape caramel into 3/4″ balls (don't worry if they're not perfect). Roll in chocolate sprinkles, then arrange your brigadeiros on a plate.
Step 4:
Chill for at least 15 minutes, then roll the candies between the palms of your hand to make them even rounder. Candies can be served at room temperature or chilled. Enjoy!