Fat Tuesday is on the horizon, which means only one thing: It's the perfect day to learn how to make beignets at home.
If you've ever sampled these pillowy, lightly sweet New Orleans–style doughnuts, then you know that they offer an inimitable flavor sensation. Beignets are a traditional street-side snack in New Orleans, often served with a snowy-thick topping of powdered sugar and paired with strong chicory-laced coffee.
Happily, even if you're nowhere near NOLA, you can still enjoy this easy beignets recipe. The simple dough comes together in minutes, and once fried and dusted with sugar, you'll feel transported to the Big Easy. Mardi Gras beads optional!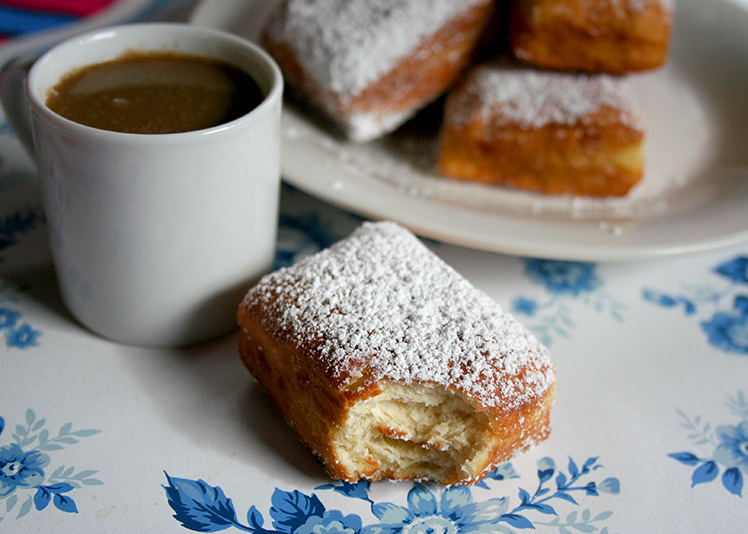 Photos via CakeSpy
How to make beignets at home
Makes about thirty 2″ beignets
Adapted from King Arthur Flour
Ingredients: 
½ cup water 

½

cup whole milk 
2 tablespoons unsalted butter 
2 teaspoons instant yeast 
1 large egg, lightly beaten
1 teaspoon vanilla 
¼ cup granulated sugar 
4 cups all-purpose flour 
1

½

teaspoons salt 
Step 1:
Combine the water, milk and butter in a medium saucepan. Heat on low until the butter has melted. Remove from heat and cool the mixture to lukewarm (about 105 F). Add the yeast and let sit for a few minutes, until it looks slightly foamy.
Step 2:
Add the remaining ingredients (yup, all of them!) and stir with a wooden spoon to combine. Once incorporated, ditch the spoon and knead either with your hands or with a stand mixer fitted with the dough hook. Continue about 4-5 minutes by hand or 2-3 in the mixer, until you have a smooth, flexible dough.
Place in a lightly oiled bowl and let the dough rise for about an hour. It will be significantly larger, but not necessarily doubled in size.
Step 3:
Mise en place time! To set up for the next steps, assemble your work area. Clean a work surface and grab a rolling pin for rolling out your dough. Line a baking sheet with parchment paper, to place your dough portions atop while they proof. Have a frying pan (12″ or so) at the ready. Assemble paper towels over a cooling rack, for letting the beignets cool once fried. 
Step 4:
Gently deflate the dough, and turn it onto a work surface. Using a rolling pin, roll the dough into a rectangle, about 10″ by 14″. Cut the dough into 2″ squares and place each square on the baking sheet lined with parchment paper. Cover the baking sheet with plastic and let the dough proof for about 30 minutes; it will puff up a bit.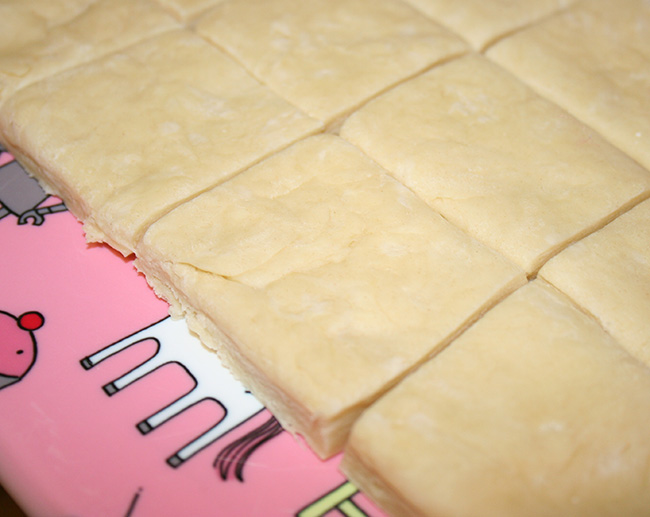 Note: If you want to make your beignet dough in advance, you can store the dough after deflating. Place in a large bowl, cover with plastic, and store in the refrigerator for up to 2 days. Let come to room temperature before proceeding. 
Step 5:
Fill your frying pan about with about ¾" of oil. I used olive oil, but you can use peanut oil, canola oil or vegetable oil, too. Heat the oil until it registers between 350 – 360 F on an instant-read thermometer. 
Step 6:
Drop the dough into the pan, a few squares at a time. Make sure that each square has room around it; I dropped mine in 4 at a time.
The dough will begin to puff and rise from the bottom of the pan pretty quickly. Fry for about 1 minute, or until golden on the bottom. Flip using tongs,and fry the second side until browned to match. It takes slightly less time to fry on the second side than the first.
Remove and transfer the beignets to the paper towel–topped wire rack. Repeat with the remaining dough, monitoring the temperature of the hot oil so that it doesn't get too hot or cool — keep it right in that 350 – 360 F zone.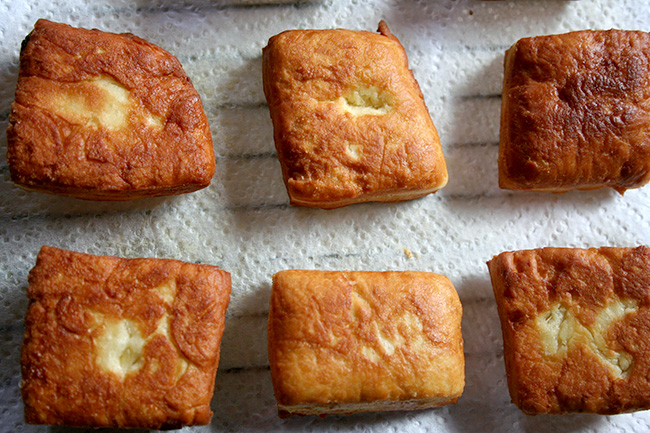 Step 7:
While still warm, sprinkle the beignets with powdered sugar on both sides.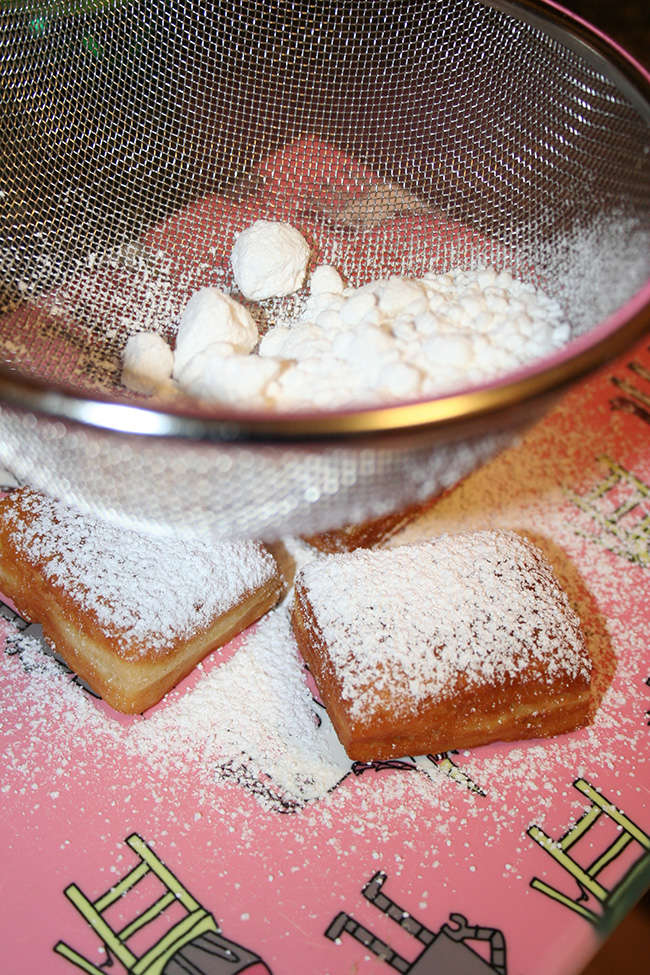 These doughnuts are best the same day they are made. Serve with some chicory coffee for the full New Orleans experience!