If you are looking for a simple decorative edge to add to knitting projects, look no further than the picot hem. This tutorial is for a folded hem that will add a lovely scalloped edge to your work. The folded hem means it's twice as thick, so you can count on it to be very warm! It works well as the edge of sleeves, knit socks, and hats. If you want to add some subtle flare to your project, here's how to knit a picot edge.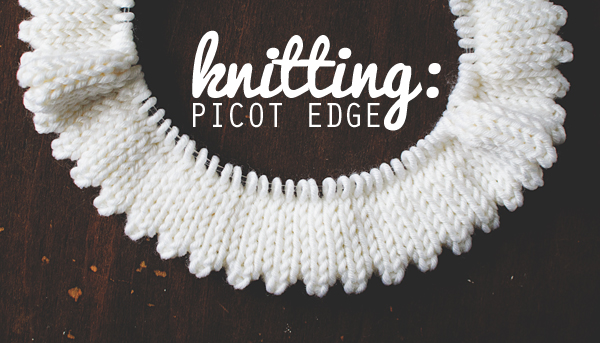 Note: In this tutorial, I am knitting a cowl and wanted a non-ribbed edge that didn't roll. I am working in the round, but I give some tips after each step for adjusting to work flat.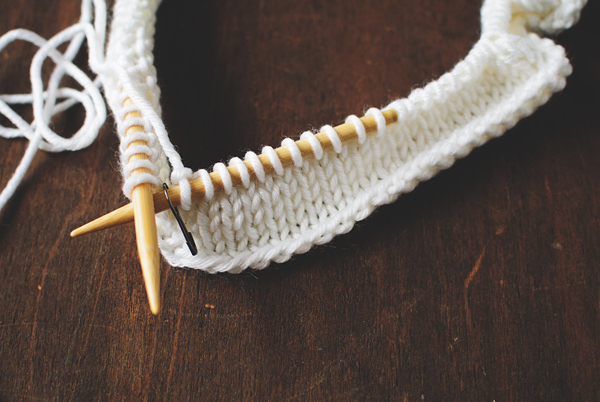 Step 1:
After casting on the number of stitches called for in your pattern (preferably an even number if you are working in the round and an odd number if you are working flat), work in stockinette stitch for about one inch. Make a note of how many rounds/rows you have knit.
Step 2:
Knit an eyelet row by working *Yarn over, knit two together* across/around the entire row/round. If you have an uneven number of stitches (working flat), knit the first stitch, then make the first YO.
Note: In my project, I actually did the K2tog before the YO. It all worked out for me!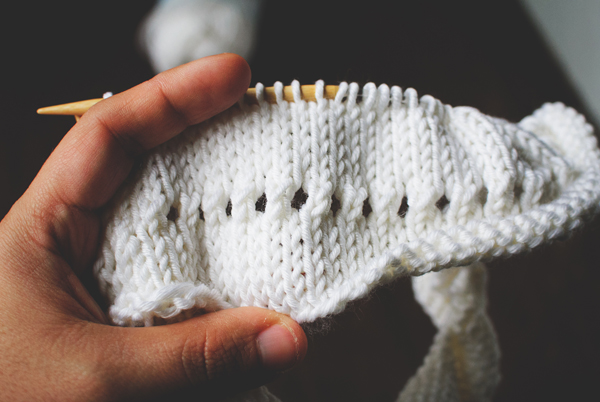 Step 3:
Knit another inch of stockinette stitch. Make sure to work the same number of rounds/rows you knit in Step 1.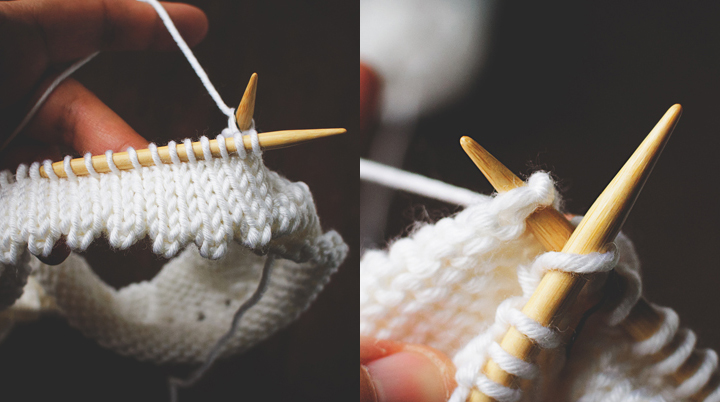 Step 4:
Fold the bottom piece of stockinette up so the wrong sides of either side of the eyelet round are together. This next round, you have to knit the stitch WITH a stitch from your cast-on (CO) edge. If you prefer, you can keep knitting your pattern and then sew the edge up during finishing. Personally, I knit the edge up.
Use your needle to go through the bottom of the stitch and then knit and bring the new stitch through both the CO edge AND your current stitch. Some knitters will pick up both loops at the CO edge, but I just knit one. Below is another photo of my point of view.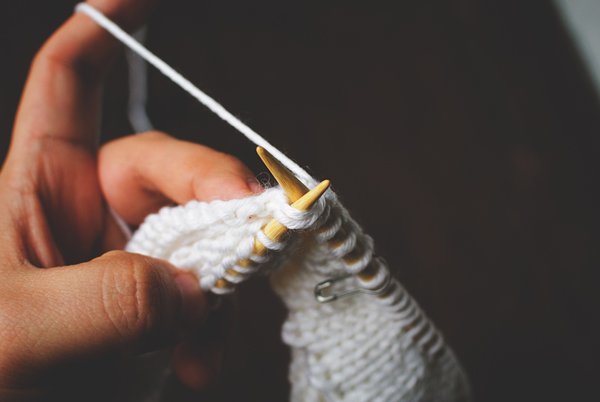 After completing this hemming round, work your pattern as written. Enjoy the double-thick and elegantly scalloped hem you just created.
Tips
Knit the joining round a little loosely. The stockinette hem is less stretchy than ribs, so you want to keep the join loose.
Work a few rows/rounds of garter stitch after the join to define the hem and make it stand out.
If you want to make the hem as a cast-off, at the end of your project, no worries! Work your hem rows/rounds (remember to take note of the number of rows), work the eyelet row/round, then work the hem rows/rounds again. Cast-off and sew the edge down. It is much easier to do this, since you are weaving in ends and finishing anyway. Leave a long enough tail when you cast-off and use it to sew the edge to the back of your work.
Do you enjoy the look of knitted hems? Is the picot edge one you routinely add to projects?