In spite of what autocorrect might tell you, these are not samosas. Samosas are a savory Indian food, but Samoas are 100 percent sweet.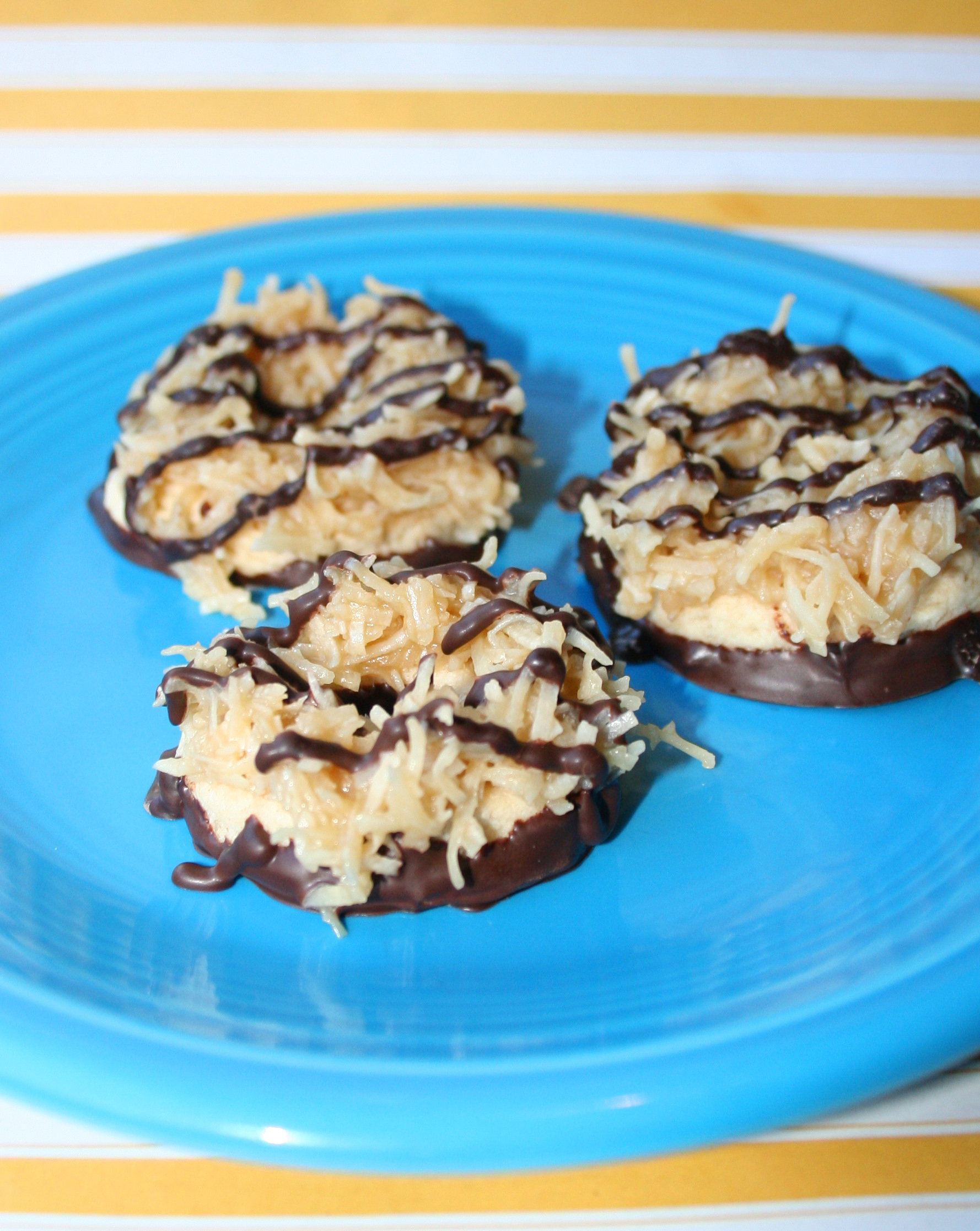 Photos via CakeSpy
Samoas are doughnut-shaped sugar cookies stacked with a rich coconut-caramel mixture and dipped and drizzled in chocolate. A commercial version is available seasonally through the Girl Scouts, but with this homemade Samoas recipe, the deliciousness can be enjoyed all year round.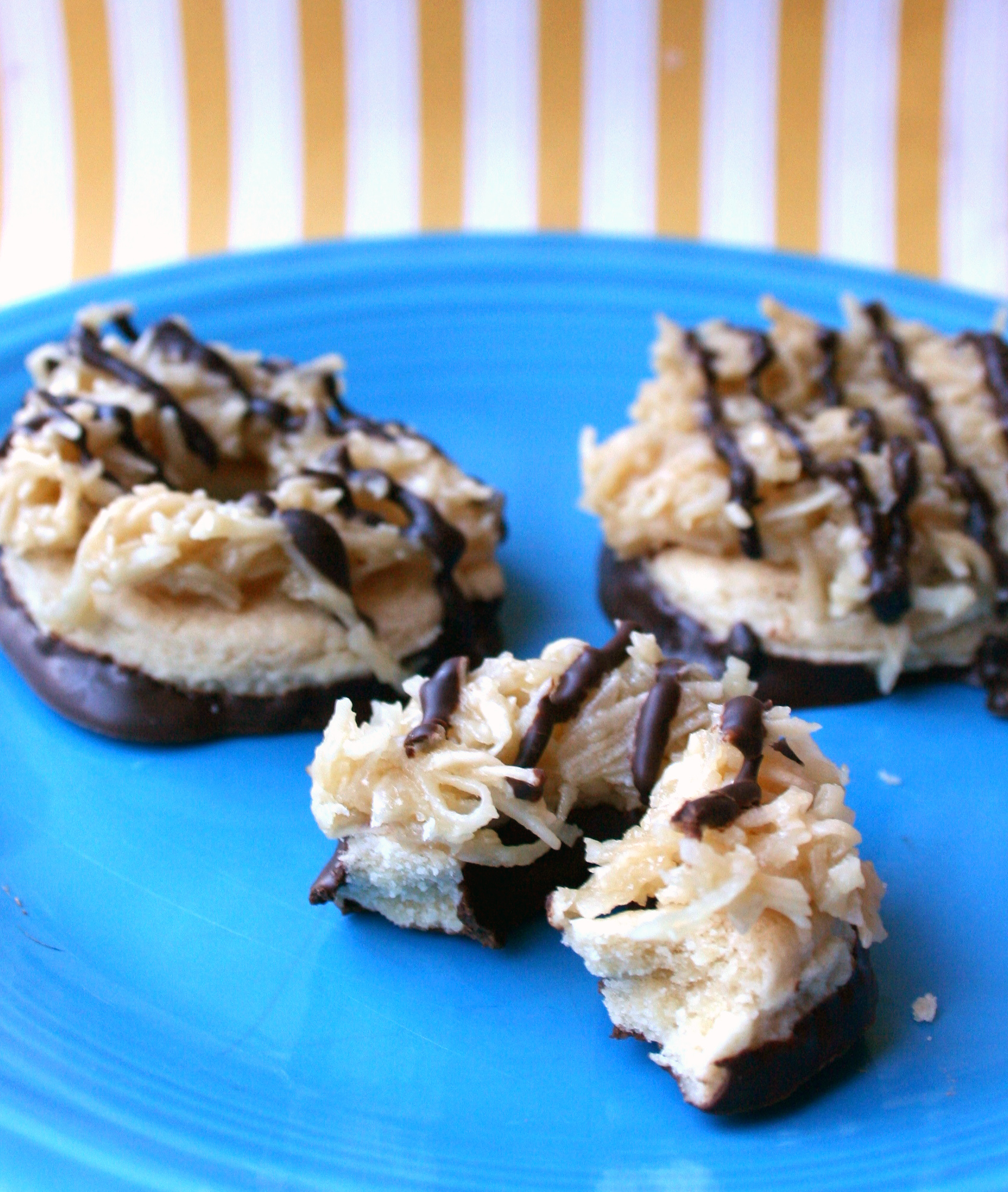 Homemade Samoas
Makes about 40 1.5 to 2-inch cookies
You'll need:
A mini doughnut cutter or 1.5 – 2 inch diameter cookie cutter
For the cookies:
2 cups all purpose flour
1/2 teaspoon salt
1 stick butter, softened
1/4 cup light brown sugar, packed
1/4 cup granulated sugar
1/2 teaspoon vanilla
8 tablespoons heavy cream or milk (you may not use it all)
For the topping:
8 tablespoons (1 stick) unsalted butter
1/2 cup heavy cream
1 cup light brown sugar
1/4 teaspoon salt
2 1/2 cups unsweetened shredded coconut
To finish:
8 ounces semisweet or milk chocolate, coarsely chopped
Step 1:
Preheat the oven to 350 degrees F. Line two baking sheets with silicone mats or parchment paper.
Step 2:
In a medium bowl, sift together the flour and salt. Set to the side for the moment.
Step 3:
In a stand mixer fitted with the paddle attachment, cream the butter and two types of sugar until fluffy and combined, 2 to 3 minutes on medium speed. Reduce speed to low, stir in the vanilla, and give it another quick mix to combine.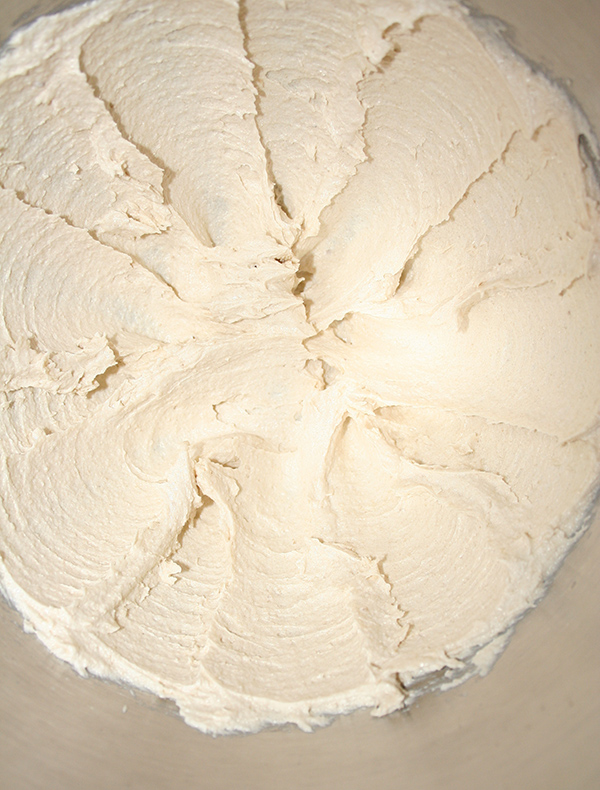 Step 4:
Stop the mixer, and add about 1/2 of the flour mixture. Mix on low speed until combined. Pause again, scrape down the sides of the bowl, and add the remaining 1/2 of the mixture.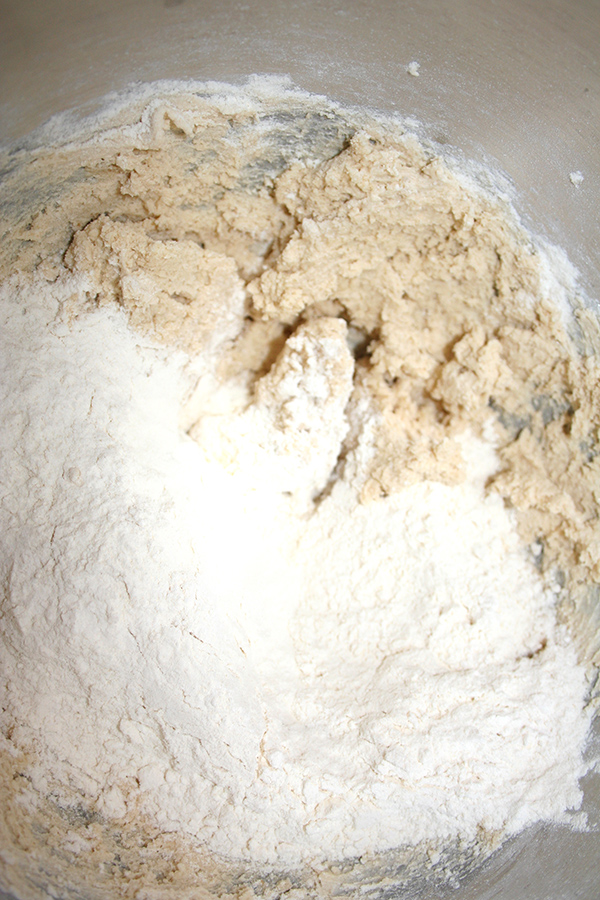 Step 5:
Stop the mixer again, scrape down the sides of the bowl, and set the speed to low. Stir in the cream or milk, 1 tablespoon at a time, until the dough comes together. You may not need all of the cream. It will remain somewhat crumbly in appearance, but you'll be able to easily clump it together.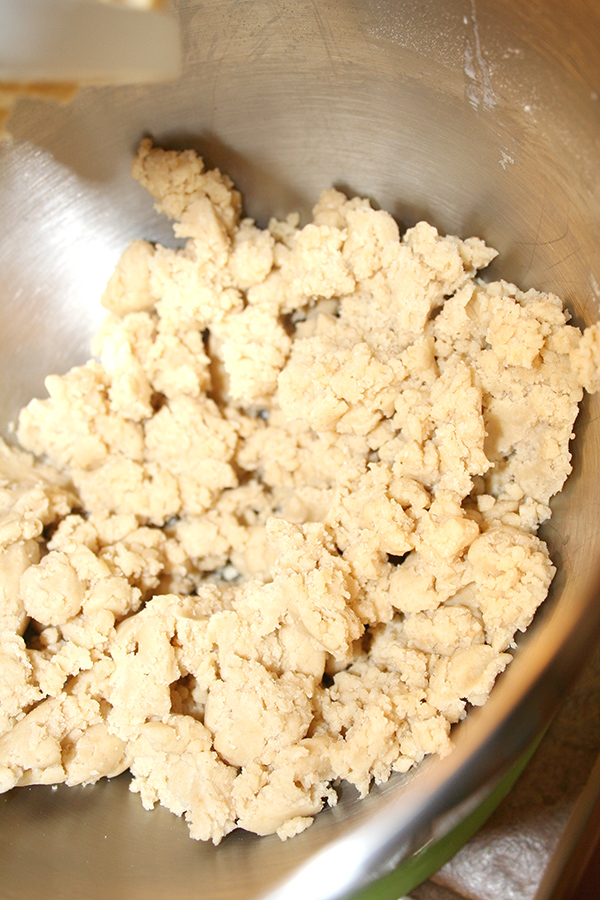 Step 6:
Turn the mixture out from the mixer on to a work surface. If your work surface is marble or a plastic or acrylic board, you won't even have to flour it; you may want to lightly dust a wooden surface with flour. Or, line your work surface with parchment paper.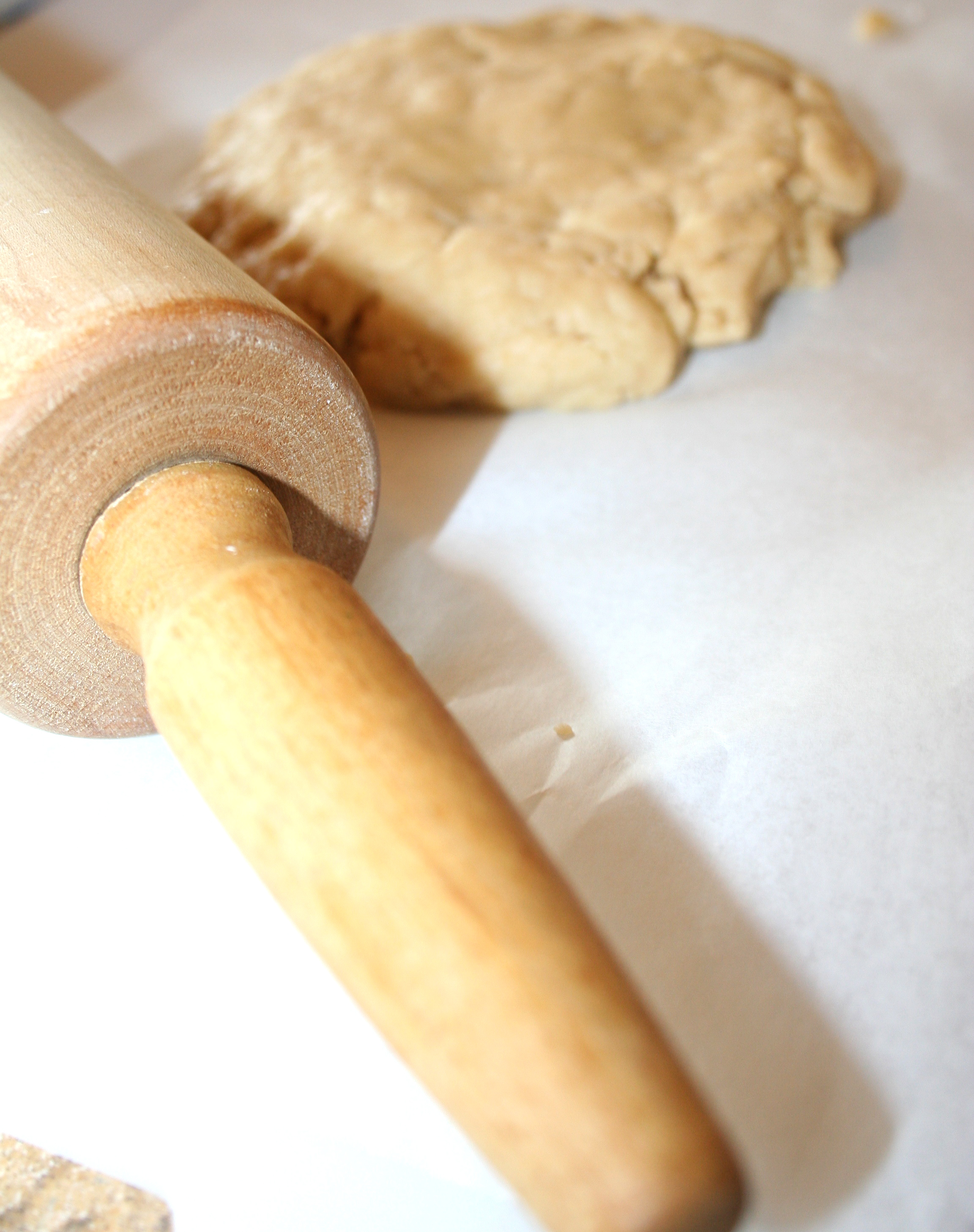 Step 7:
Divide the dough in half. Working with one segment at a time, roll the dough out with a rolling pin until it is about 1/4-inch thick.
Step 8:
Using mini doughnut cutters or small (1.5 to 2 inch-diameter) circle cutters, cut out as many rounds as you can. A doughnut cutter will cut out the center for you, but you can easily use a knife to cut out the center if you don't have a doughnut cutter. Re-roll scraps to get more cutouts. Place the cutouts on the prepared cookie sheets. I placed about 20 on each sheet, with a small amount of space between each cookie to allow for minimal spreading.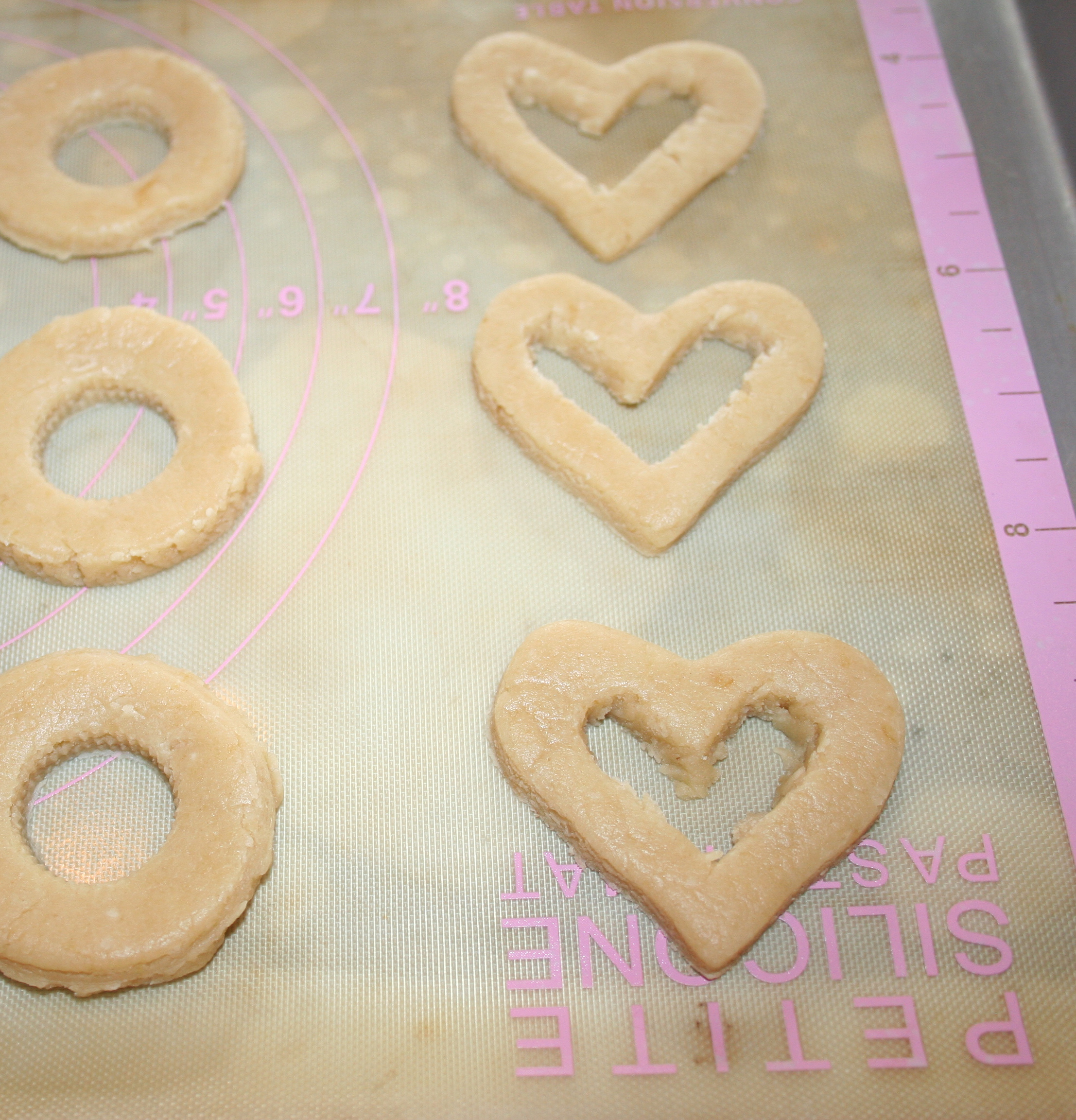 Note: why stick with circles? It's completely ok to make heart or other shaped Samoas cookies. Also, if you want a sweet use for those cut-out circles…how about cookie buttons?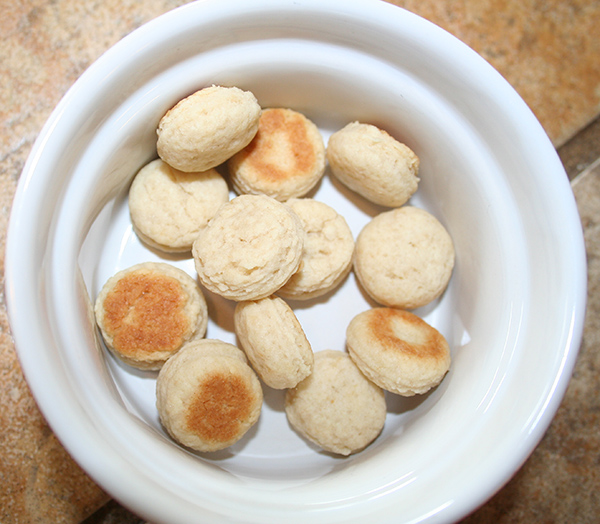 Step 9:
Bake the cookies for 10 to 12 minutes, or until set on top, lightly golden on the bottom and sides. Remove from the oven and let cool completely on a wire rack.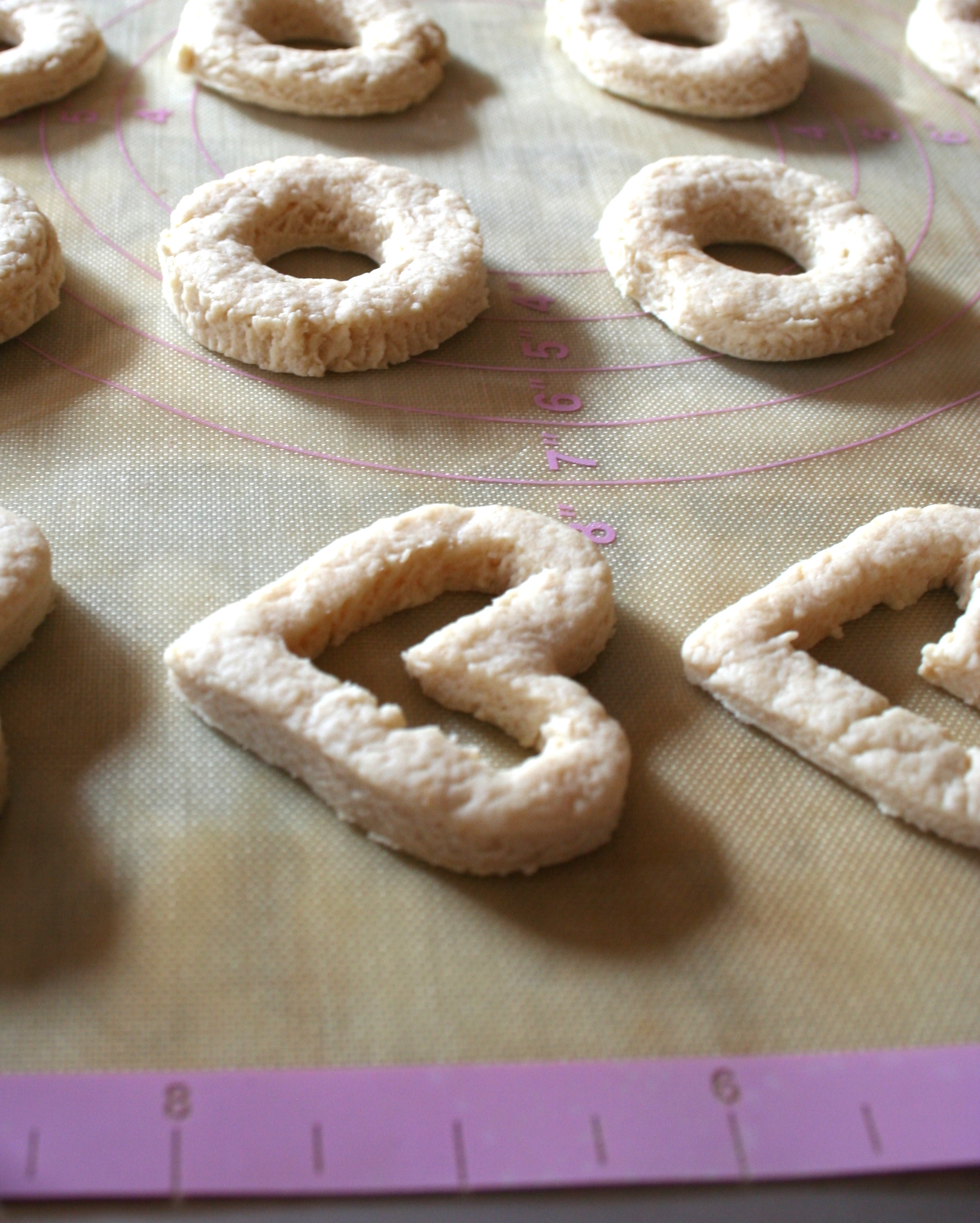 Step 10:
Make the coconut mixture. In a medium saucepan, combine the butter, heavy cream, brown sugar, and salt. Heat on low, stirring constantly but gently, until the butter has completely melted. It's OK if the mixture bubbles a little bit. Remove from heat, and stir in the coconut. Stir until evenly coated. Set to the side so it can cool while you prepare the next steps.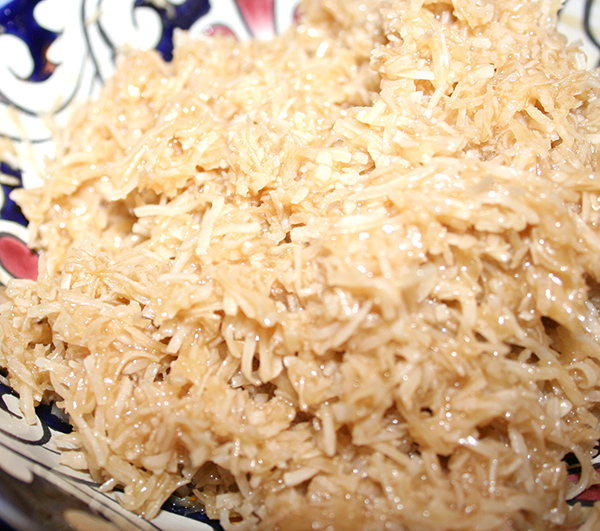 Step 11:
In a double boiler, melt 8 ounces of milk or dark chocolate. Once nearly melted, remove from heat and let the final bits melt in the residual heat.
Step 12:
Dip the bottoms of each cookie in the chocolate mixture, tap off the excess, and set them back on a parchment or silicone-lined baking sheet (I just used the same one since it had remained quite clean). Once you've dipped all of them, you should still have a small amount of melted chocolate remaining. Transfer it to a piping bag or small plastic bag with the edge cut off. Set to the side for the moment.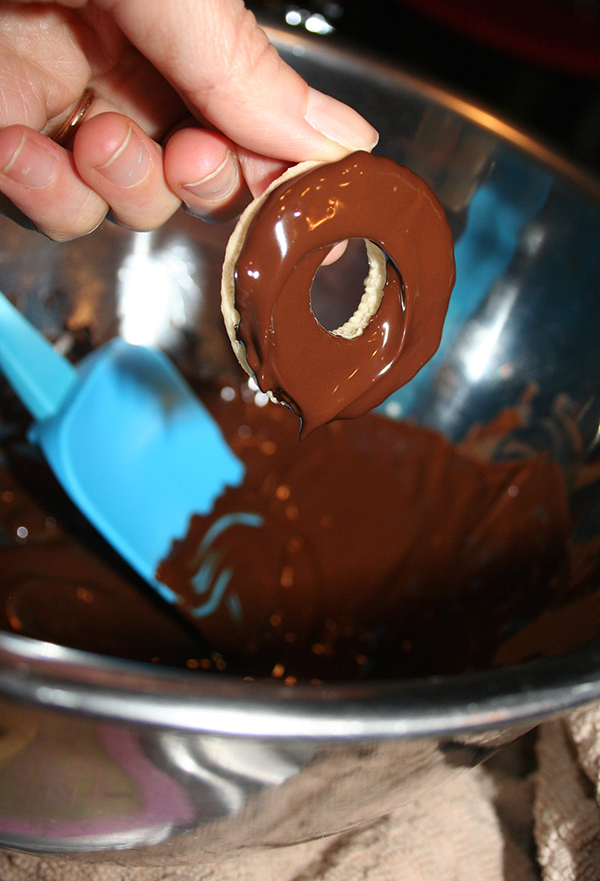 Note: if you're worried that the cookies are too delicate with the wet chocolate on the bottom, transfer to the refrigerator for about 10 minutes to help them firm a bit.
Step 13:
Gently spoon the coconut mixture on to each cookie. It takes a little while because the mixture is sticky, but I found that using a spoon and then molding it with clean hands was the best tactic. Don't stack it too high otherwise your cookies will be unwieldy.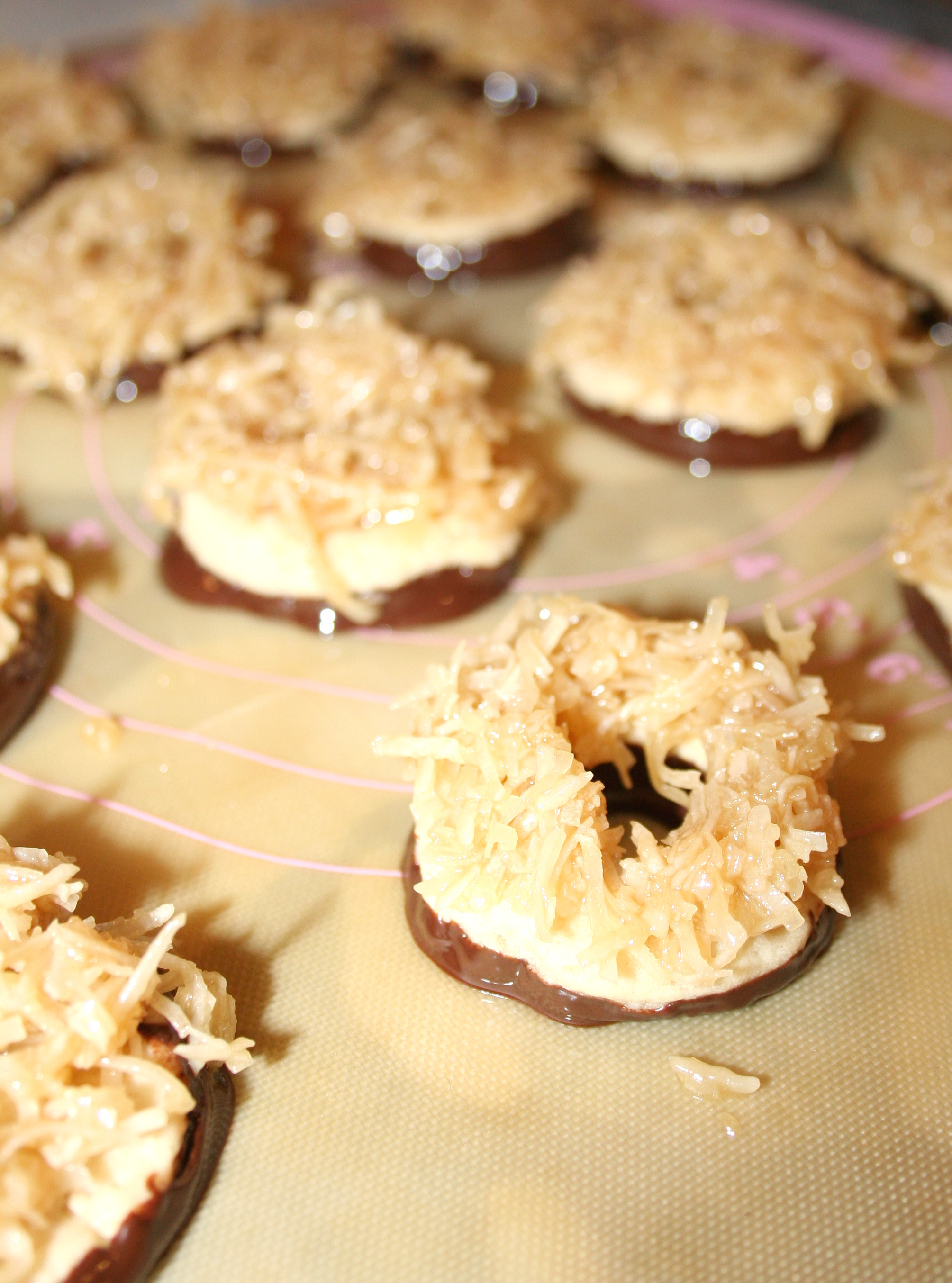 Step 14:
Drizzle several lines of chocolate on top of the coconut on each cookie. Now, the cookies are done–all you have to do is let them set. Once set, remove from the sheets, and enjoy.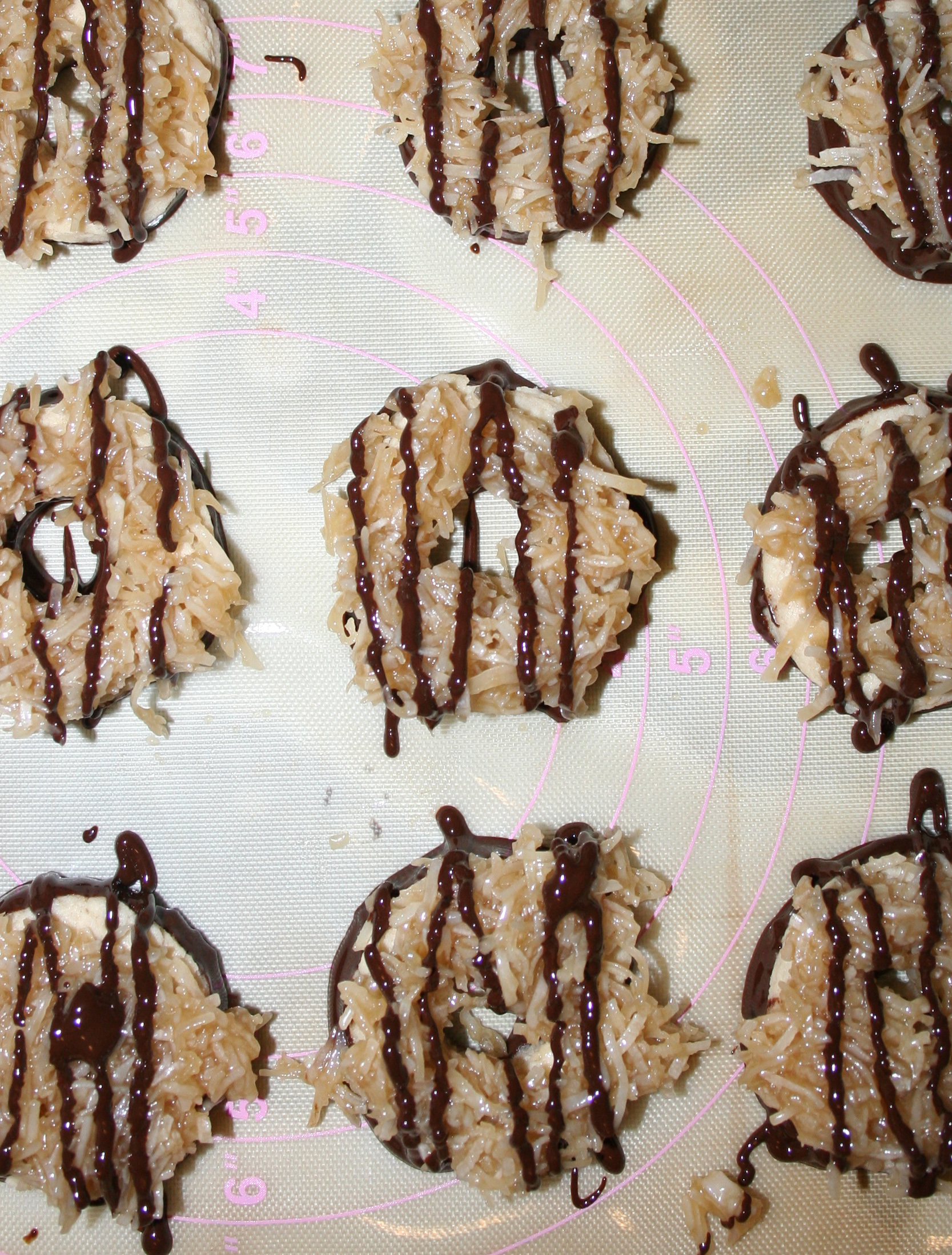 Store leftovers in a single layer in an airtight container for up to 3 days.
Have you ever made homemade Girl Scout cookies?