Baked beans are a traditional accompaniment to a barbecue. But these days, most baked beans come out of a can, and they're not as tasty as homemade baked beans. Put away the can opener and give this from-scratch baked bean recipe a try. They are sure to impress your guests at your next barbecue!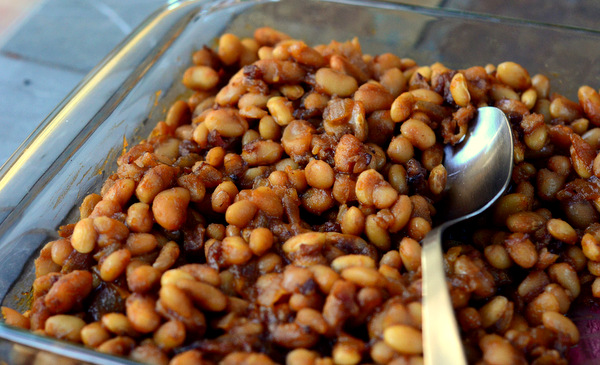 There are several ways to make homemade baked beans. For a very easy option, you can start with a can of baked beans and doctor them up with additional flavorings.
If you have a lot of time to invest, you can start with dried beans and soak them over night before giving them a long, slow roast in the oven.
Finally, you can start with canned beans. Canned beans are pre-soaked and are ready to use with no wait time — and that means that you can make this homemade baked beans recipe on a weeknight, as well as on a weekend. 
Making homemade baked beans with canned beans
The canned beans should be drained well before use. I used white beans, also known as cannellini beans. These beans are often the base of canned baked beans, so you'll be starting with the same main ingredient as your current favorite brand.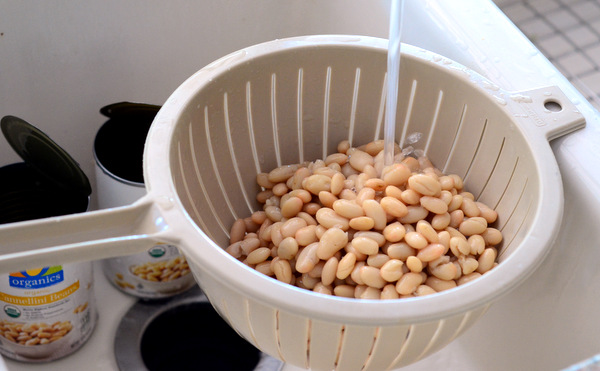 To make the bean base, I started by sauteing some finely chopped bacon. The bits of bacon add a smoky, savory flavor to the beans, adding extra layers of flavor that would normally involve longer cooking times.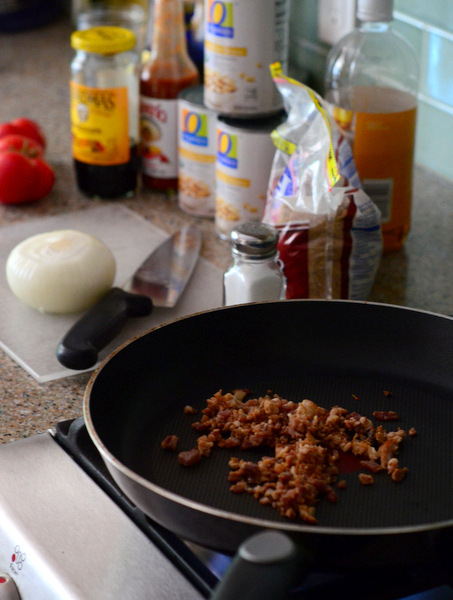 After the bacon, I added in ingredients that I often incorporate into barbecue sauce: onions, garlic, cumin, paprika, salt, brown sugar, vinegar and ketchup. The ketchup helps build a nice bit of sauce around the beans as they bake, while also adding a rich tomato flavor. The brown sugar gives the baked beans their signature sweetness, while the vinegar keeps it from being overly sweet.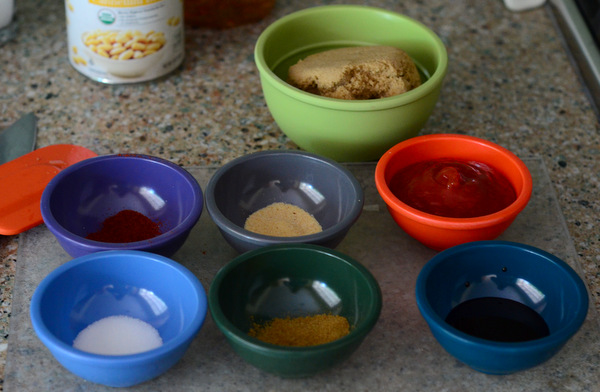 The bacon and spice mixture is added to the beans, then everything goes into the oven and the beans are baked until they are even more tender and flavorful. 
This recipe makes a generous serving of homemade baked beans for a weeknight dinner, but you can easily double or triple it if you are planning to serve a crowd. The beans keep and reheat well if you have leftovers, so don't worry if you make too big a batch and have some beans leftover.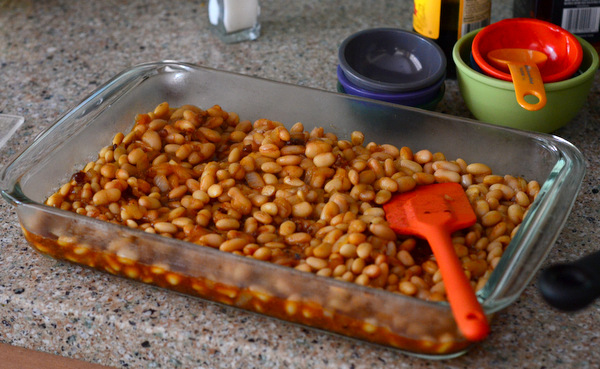 Homemade Baked Beans Recipe
Serves 6-8
Ingredients:
45 oz (3 cans) white beans, drained
1 ounce bacon, finely chopped
1 large white onion, finely chopped
1 cup ketchup
1 teaspoon garlic powder
1/2 teaspoon ground cumin
1/2 teaspoon paprika
1 teaspoon salt
1 tablespoon Worcestershire sauce
2 tablespoons molasses
1/4 cup apple cider vinegar
1 1/3 cups brown sugar
Step 1:
Drain beans and set aside. In a large skillet, cook bacon over medium heat until browned, about 3 minutes. Add in onion and saute until opaque, about 3-4 minutes. Add in all remaining ingredients except for the brown sugar and stir to combine. Add in beans and brown sugar and stir until all ingredients are well-combined.
Step 2:
Preheat oven to 350 F. Remove beans from skillet and transfer to a large baking dish (9-by-9 or 9-by-13). Cover the pan with aluminum foil and bake for 30 minutes.
Step 3:
Remove aluminum foil and bake for an additional 20-25 minutes, until sauce around beans is bubbling and beans are tender.