Are you a barbecue lover? In my home, it's one of our favorite condiments! We use barbecue sauce as a marinade, to baste meat while cooking, and just as a dipping sauce. It's good on just about any kind of meat.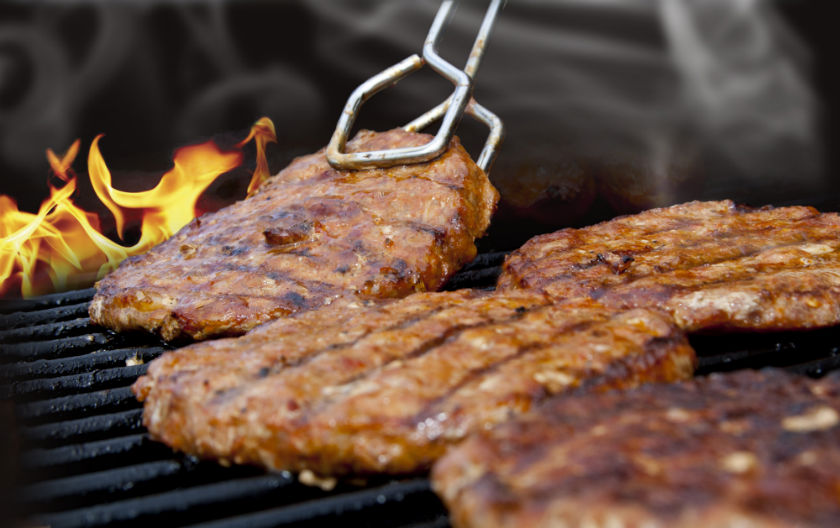 Heading to the grocery store and looking at the barbecue sauce aisle can be a little daunting. There are so many varieties to choose from: sweet, spicy, smoky, tangy– these are all big flavors when it comes to barbecue sauce.
Depending on who you ask, and where they're from, you might hear that the only true barbecue sauce comes from a tomato base, while others might insist that there shouldn't be tomatoes in barbecue sauce. Regardless of where you stand, barbecue sauce is one flavor that we can all agree is perfect for a summer dinner on the grill.
Making barbecue sauce at home is simpler than you might think!
Personally, I'm a fan of tangy sauces that are full of vinegar. I start with equal parts ketchup and apple cider vinegar, and then doctor it up with spices and sugar. The smell of this sauce cooking on your stove is not for the faint of heart! All of the vinegar really makes itself known. The smell dissipates quickly after removing your sauce from the heat, though, and the flavor is completely worth it.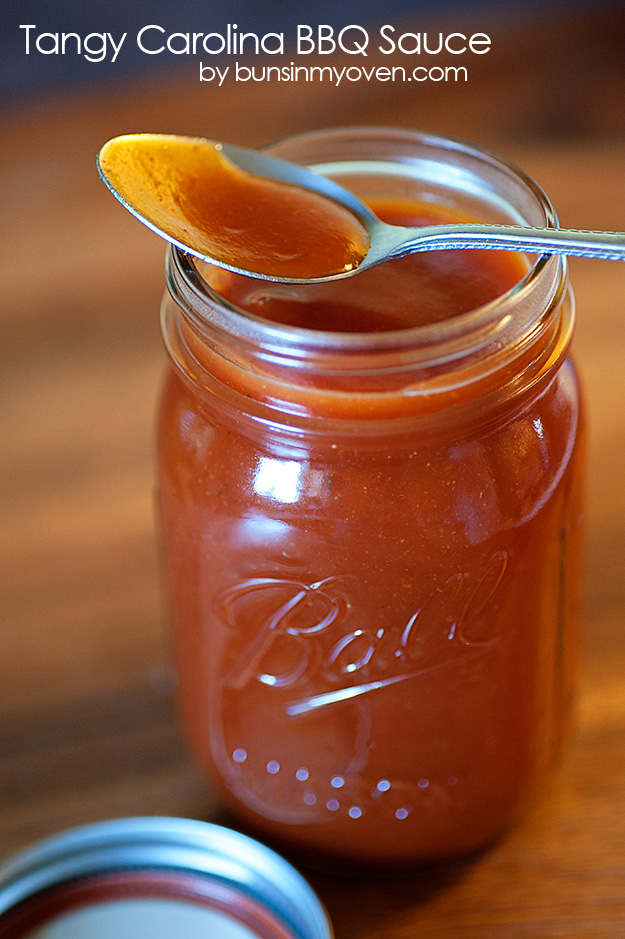 Photo via Buns in My Oven
Tangy carolina barbecue sauce

1 cup apple cider vinegar
1 cup ketchup
1/2 cup brown sugar
1/3 cup yellow mustard
1 tablespoons onion powder
1 teaspoon garlic powder
1/4 teaspoon chili powder
1/4 teaspoon salt
dash of Worcestershire sauce
Step 1:
Dump everything into a medium saucepan set to low heat. Whisk together to combine. Increase heat to high and bring to a boil.
Step 2:
Simmer, stirring often, for 15 minutes or until the sauce has reduced by 1/3.
Step 3:
Remove from the heat and store in a one pint mason jar in the fridge for up to 2 weeks.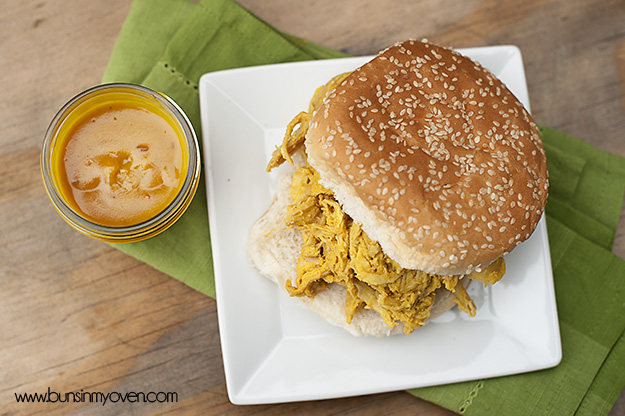 Photo via Buns in My Oven
Another favorite sauce of mine runs along the same lines of being tangy and full of flavor! There's not a drop of ketchup or any other tomato product in it, either.
This South Carolina Yellow Barbecue Sauce is one that always gets people talking. It's full of flavor, and the bite of the mustard is perfectly cut with the sweetness of the brown sugar. This sauce goes from start to finish in less than 30 minutes and is perfect for slathering on pulled pork, basting on grilled chicken, and works pretty darn well as a french fry dip. For the full recipe, visit Buns In My Oven.
Kansas City style barbecue sauces tend to be thick, tomato based sauces that are sweet with just a bit of heat. There are all kinds of recipes available for Kansas City style barbecue sauce, but they generally start with ketchup and brown sugar. Add in some diced onions, a splash of vinegar, and a dash of red pepper flakes and you have a simple sauce that is perfect for basting grilled chicken.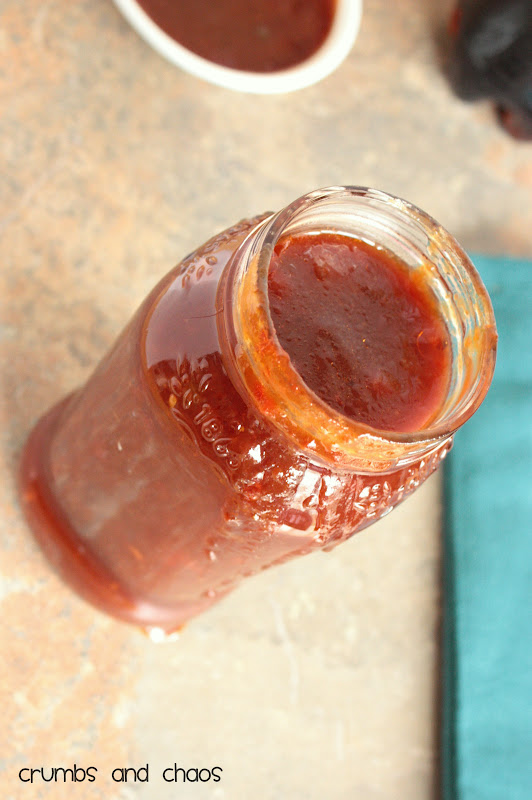 Photo via Crumbs and Chaos
This Coca Cola barbecue sauce from Crumbs and Chaos looks like a fun twist on the classic sweet sauce!
Of course, big barbecue flavor doesn't have to start with a sauce! Dry rubs are perfect for coating meat and add major flavor!
I like to coat a chuck roast in the below dry rub recipe before placing it in the crock pot. After cooking all day, the roast is ready to be shredded and served on buns. We top ours with extra barbecue sauce, but the meat gets great flavor from the rub. It's perfect for coating chicken breasts as well.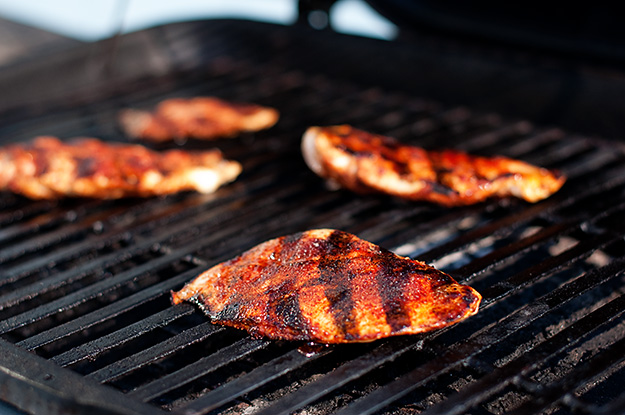 Barbecue dry rub
1/4 cup paprika
1/4 cup softened brown sugar
3 tablespoons garlic powder
3 tablespoons salt
2 tablespoons onion powder
2 tablespoons ground black pepper
1 tablespoon dried parsley
1 tablespoon chipotle powder (optional)
Step 1:
Combine everything in a small bowl and stir well.
Step 2:
Use liberally for coating meat. Store in an airtight container.
Growing up, my favorite sauce was a mixture of 2 parts ketchup to 1 part bottled Italian salad dressing. Stir in a bit of brown sugar and you have an unbelievably quick sauce. It doesn't have the same depth as a barbecue sauce that you cook, but in a hurry, it works wonders! It's a great sauce for kids too, because it's perfectly sweet with just a little zip from the salad dressing.
I hope some of these recipes will inspire you to step away from the bottled sauces and give homemade a try! What type of barbecue sauce do you prefer?