What better way to celebrate Hollywood's awards season than with decorated cakes and cupcakes with a dazzling Hollywood theme? Roll out the red carpet for these show-stopping Hollywood-themed cakes and cupcakes fit for the biggest of superstars!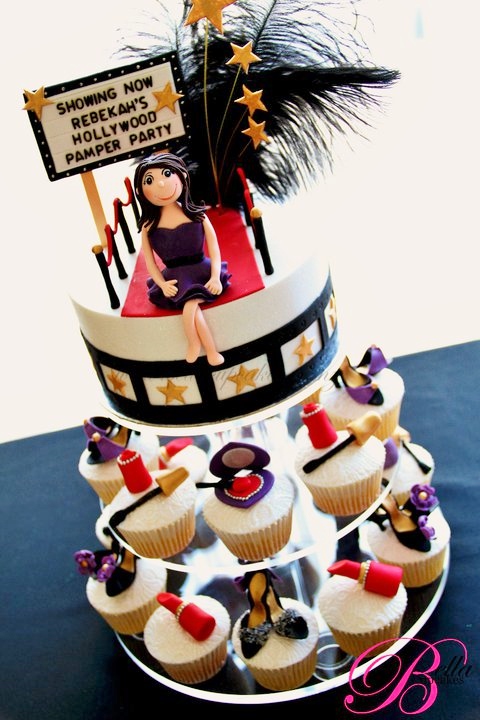 Photo via Bella Cupcakes
Hollywood glam cupcake tower
Especially during awards season, Hollywood is all about the glitz and glam! Capturing the allure and charm of the red carpet, Bella Cupcakes created this beautiful cupcake tower for a superstar's Hollywood-themed birthday. The flawless cake depicts the birthday girl modeled out of fondant at her party's premiere, while the marquee is personalized with the use of edible markers. The surface of the cascading cupcakes are covered entirely in patterned fondant, achieved with an impression mat, and adorned with delicate fondant shoes and make-up, adding to the glamorous feel of the presentation.
[box type="shadow"]Want to make your own glamorous fondant starlet? Practice modeling people similar to this glamorous beauty in Anne Heap's Cake Topper Techniques: Figure Modeling.[/box]
Awards Birthday Cake via Bluprint member PAKNZ
Movie night party cake
For her granddaughter's 11th birthday, Bluprint member and cake artist PAKNZ prepared this ravishing movie night cake! The cake tiers are covered in white fondant and adorned with gold glittered stars, while additional fondant stars are bursting from all sides, adhered to cake wires. Further ornamentation consisting of a fondant popcorn box, film reel and clapboard are perfectly placed on and around the cake, along with a chocolate Oscar statue. Finally, the clapboard is personalized with the use of piped royal icing, creating a brilliant presentation.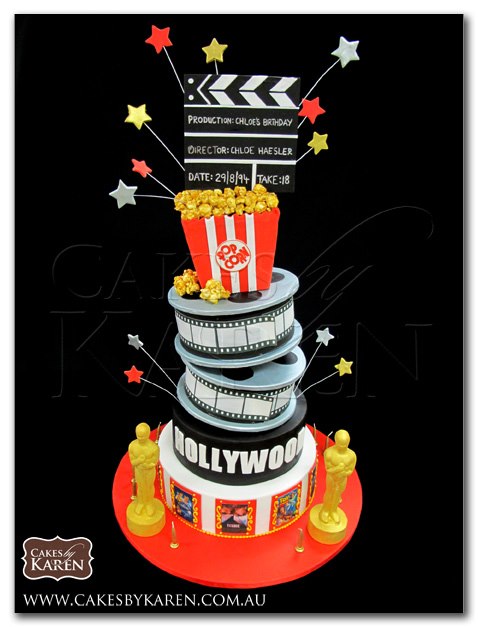 Photo via Cakes by Karen
Hollywood movies cake
This absolutely incredible tiered creation by Cakes by Karen reflects every aspect of Hollywood and the film industry impeccably! The bottom two tiers are stacked perfectly and decorated with movie posters and the iconic Hollywood sign. The next two tiers are film reels carefully assembled in a topsy-turvy manner, topped with a popcorn bucket and a clapboard. The impressive structure is finished off with shooting stars and two Academy Award chocolate statues.
[box type="shadow"]Wanting to create a similarly stunning tribute to film? Learn how to make fondant popcorn. and get detailed instruction on how to create a support system and stack a multi-tiered cake in the course Topsy-Turvy Cake Construction with Richard Haskell.[/box]
Photo via Scrumptious Buns
Welcome to Hollywood cupcakes
For a 30th birthday, Scrumptious Buns created this beautiful and elegant Welcome to Hollywood cupcake set. All the cupcakes were covered with a combination of smooth and textured fondant and topped with iconic film decor. Gold and glittery accents were carefully hand-painted throughout the designs, adding shine to each piece.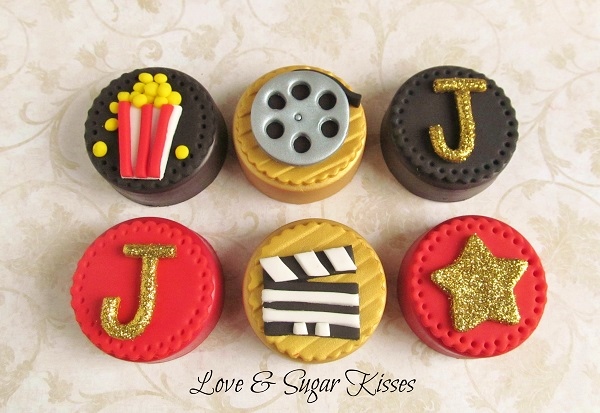 Photo via Love & Sugar Kisses
Red carpet fondant Oreo toppers
For a Red Carpet Hollywood party styled by Grey Grey Designs, Love & Sugar Kisses dipped Oreo cookies in smooth chocolate and creatively topped them with adorable movie-themed fondant decorations to match the red, black and gold party decor. Extra glitz were added to some fondant pieces with gold disco dust to make them pop. For more party inspiration, check out the entire red carpet sweets table.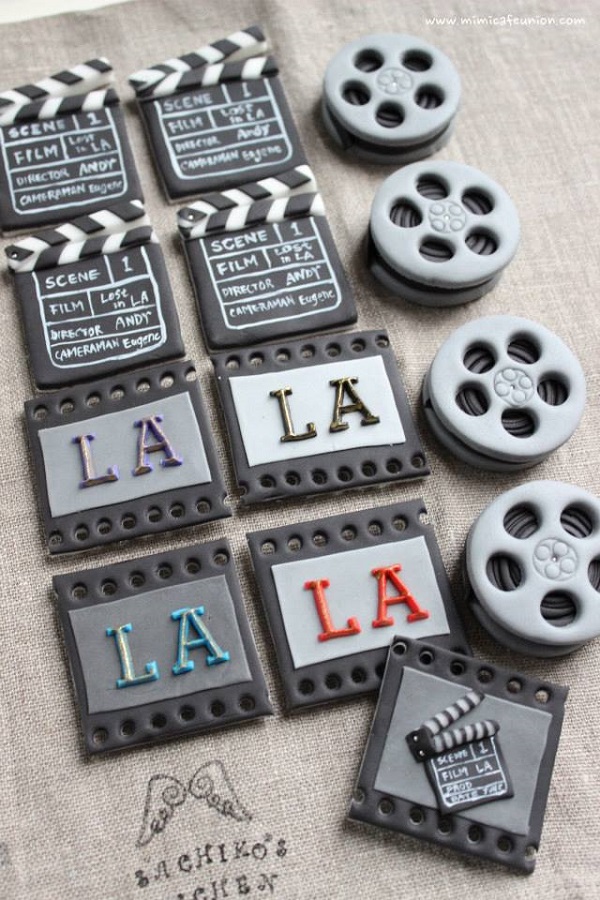 Photo via Mimicafe Union
Hollywood film cupcake toppers
Mimicafe Union creates the most meticulous and detailed fondant toppers and these Hollywood designs are no exception! From film reels and tape to miniature clapboards, each item is carefully pieced together to depict the real deal. Writing and words can be achieved with edible pens and fondant letter cutters, while extra shine can be hand-painted with silver shimmer dust mixed with liquid (water or clear alcohol).
[box type="shadow"]If you are interested in honing your fondant skills to achieve miniature pieces, try out Sheryl Bito's newest class Tiny Cupcake Toppers![/box]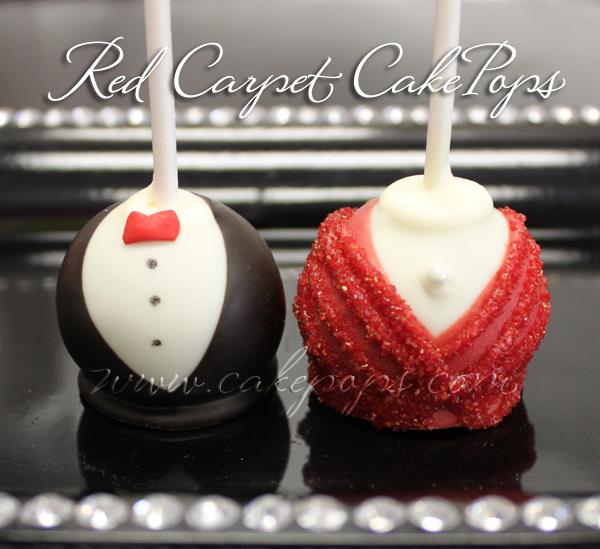 Photo via Candy's Cake Pops
Red carpet cake pops
One question that has become extremely important and popular at the award ceremonies is: "Who are you wearing?" These gorgeous red carpet cake pops by Candy's Cake Pops are dressed to the nines and would impress any fashion commentator! The tuxedo and gown were smoothly dipped in corresponding colored chocolate, while additional details were created via piping and adorned with sanding sugars on the red dress.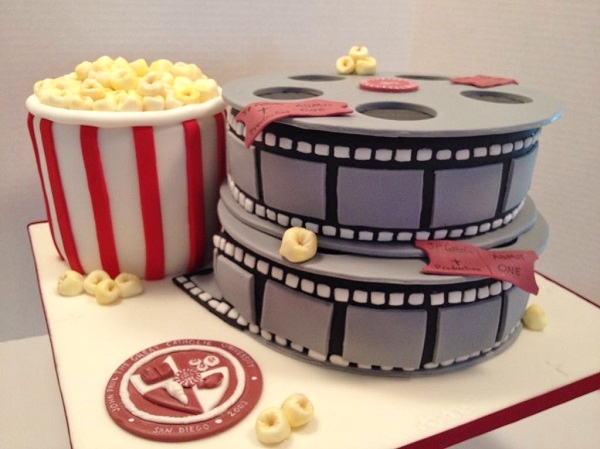 Movie Time Cake via Bluprint member Rhiannon1060
Movie time cake
Bluprint member and cake artist Rhiannon1060 created this amazing movie-themed cake to resemble film reels and a popcorn box. Round cakes were covered entirely in fondant and the perimeter was embellished as strips of film. To add firmness to the reel cases, the circular pieces were made out of gum paste and dried completely to ensure they remained sturdy when constructed.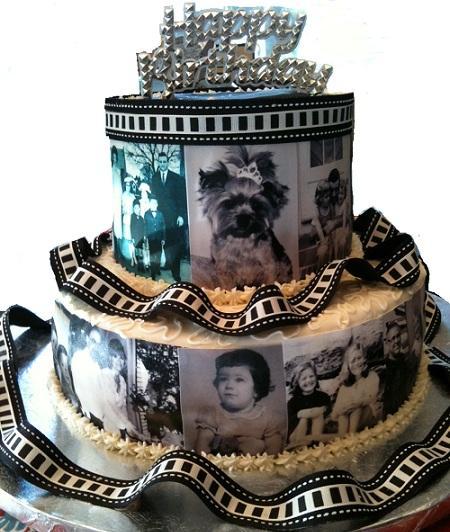 Memories Birthday Cake via Bluprint member countrypretty
Memories birthday cake
Bluprint member and cake artist countrypretty brought the memories of the guest of honor to life in sugar form with this beautiful vintage memories cake! The photographs were printed with the use of edible ink and paper and adhered to the icing, while fabric ribbons were attached together to mimic film strips and strategically wrapped around the tiers and cake board. The black and white color scheme is reminiscent of Old Hollywood and would be perfect for a classic cinematic theme. See the tutorial for more specifics to re-create this cake.
[box type="shadow"]You might also enjoy our roundup of movie-themed cakes and our post on how to make fondant popcorn.[/box]
What is your favorite aspect of the Hollywood award ceremonies: the glitzy clothes, the stars or the speeches?