If you love to create unique packaging for gifts and treats, then you might just go a little bit crazy (like I did) when you feast your eyes on the bold papers and embellishments in the Basic Grey Prism Collection. I love that the patterns, images, and colors in this collection strike a great balance between masculine and feminine, making it a great choice for unisex scrapbook layouts, cards, and paper crafts, including these fun packages.
In this free tutorial, I'll be showing you how to make metallic, heat embossed gift tags using complementary clear stamps. Let's get started!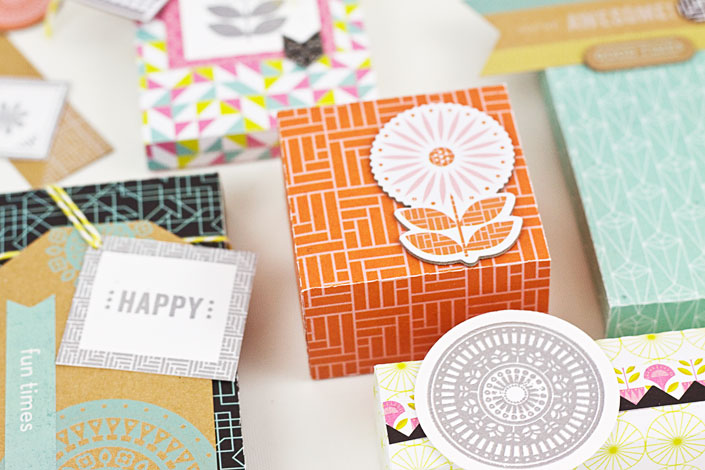 How to make heat embossed, handmade gift tags
Supplies you'll need:
Your favorite collection of paper crafts, we used the Prism Collection
White card stock
Paper cutter or scissors
Double-sided adhesive
An acrylic block (for the stamps)
VersaMark Watermark stamp pad
Silver embossing powder
Heat tool
Hole punch (optional)
Step 1:
In this project, we'll be combining two of the stamps from the Prism collection to create a custom stamp for the tag. First, place the interlocking lines frame stamp on an acrylic block. Then, center the "HAPPY" word stamp inside the frame on the acrylic block.
Step 2:
Ink the stamp with VersaMark ink and stamp onto a piece of white card stock.
Step 3:
Place a piece of scrap paper beneath your stamped card stock, and pour silver metallic embossing powder over the stamped image to cover all inked areas. Pour any extra embossing powder onto the piece of scrap paper. If necessary, remove any stray powder particles from the card stock by firmly tapping or thumping the back of it. Funnel the extra powder back into its container.
Step 4:
Heat the embossing powder with a heating tool until it is completely melted.
Step 5:
Cut the tag from the card stock with scissors. Use a hole punch to make a hole at the corner of the tag and thread the twine from the kit through the hole to tie it to a package (optional).
This is just one of the many gift tags and embellishments that you can create from the Prism collection. I used different stamps and combinations of stamps to make several different gift tag designs using the same heat embossing method as above. Then, I mixed my handmade tags with the chipboard elements, stickers, tags and patterned papers in the kit to create all of the colorful packages below.