Thread holds everything together when you're sewing. Whether you're sewing by hand or by machine, it's important to choose wisely when considering the different types of thread for your project. But if you've ever found yourself in the fabric store, staring at a wall of spools, you know that's not always an easy choice! We can guide you on the right sewing and quilting threads.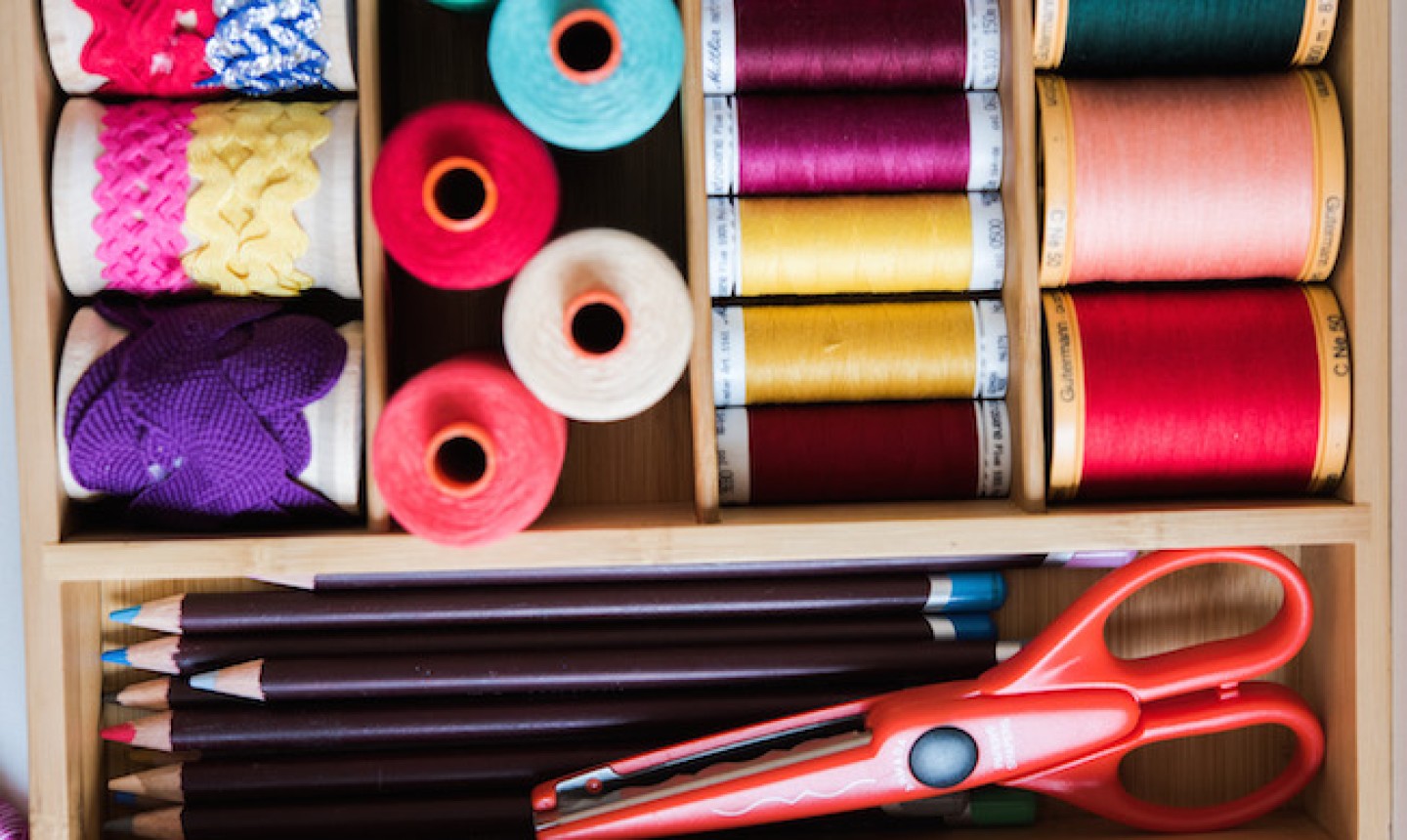 Here's everything you need to know to choose the right thread for your sewing or quilting project.
Choosing the right thread material
Thread can be made in a number of different fibers. How do you know which one to use? We'll walk you through some of the most popular options here.
When in doubt, a good rule of thumb is to match thread content to fabric content: cotton thread for natural fibers, polyester thread for synthetic blend fabrics, silk thread for silk fabric — you get the idea.
Cotton thread
Cotton thread can stand an incredible amount of heat from an iron, which is key when pressing cotton and linen fabrics. It's very versatile and works well for quilting, sewing delicate fabrics, lingerie projects, and working with medium-weight cotton.
Some brands offer coarse cotton threads, but others offer cotton thread with a silk finish, making it ideal for gathering, basting, and hand finishing as it glides through the fabrics with ease.
A few excellent choices for piecing are Aurifil 50-weight Cotton Mako thread and our exclusive Craftsy Pima Thread . Both threads are smooth and fine, while at the same time being strong and durable.
Polyester thread
Polyester thread is a true all-purpose thread, and it's a good choice for most sewing projects, both machine- and hand-sewn. The thread has some give to it, so it won't break when you're working with stretchy knits. Polyester thread often has a wax or silicone finish that allows it slip through the fabric easily and gives it a little shine.
Heavy-duty thread
Most heavy-duty threads are actually polyester, but the weight of the thread is not suitable for most garment sewing projects. It is, however, the perfect choice when sewing upholstery and canvas, so you might find yourself reaching for it when you're tackling home decor sewing projects.
Silk thread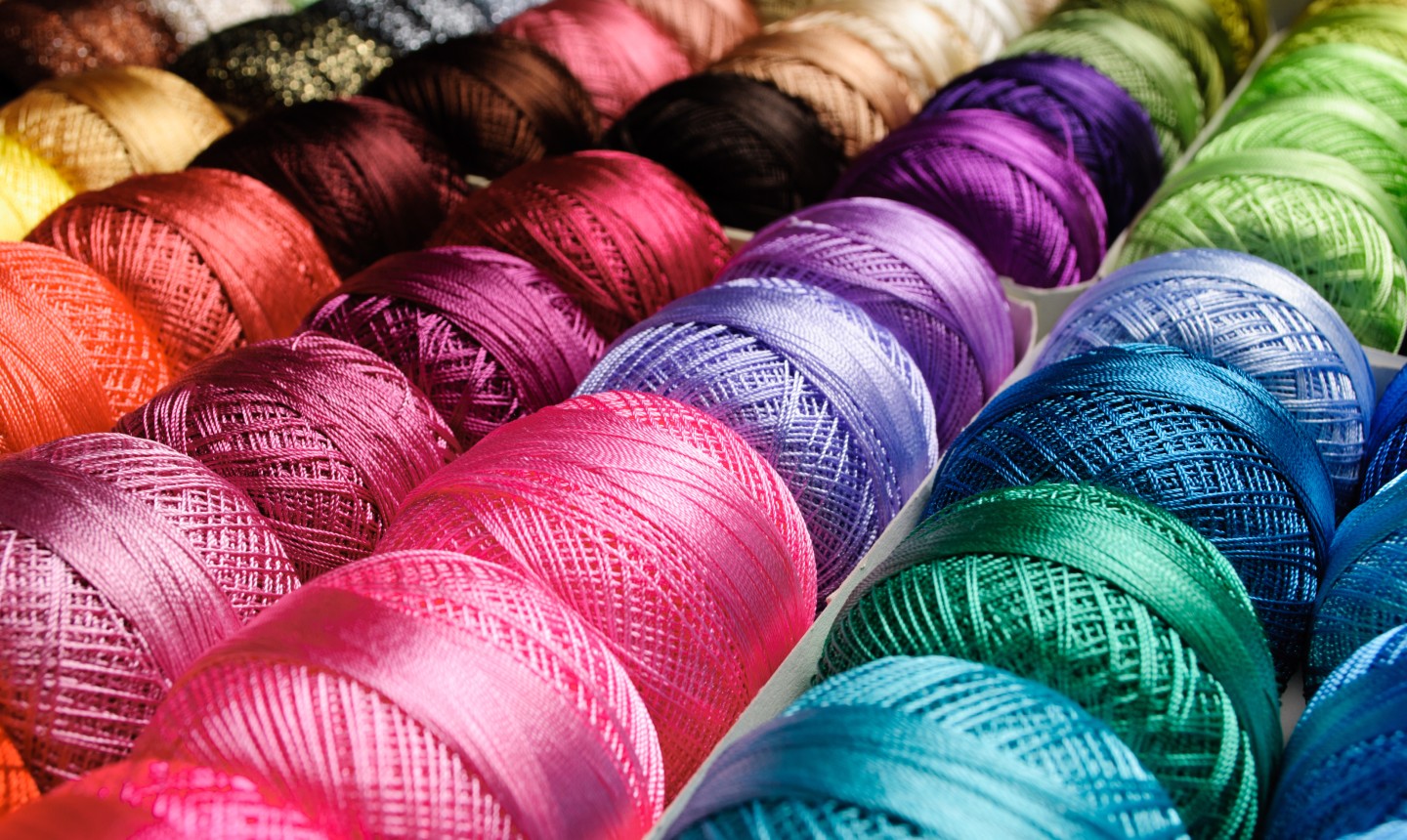 Silk thread is very fine — perfect for sewing silk fabric. It's also ideal for tailoring wool. It can be molded into shape with the heat of an iron, and its natural fibers won't snap easily due to excessive ironing.
Silk thread also rarely leaves marks behind, so it's great for hand basting and fine fabrics. It's also flexible and won't leave holes, so it makes an excellent choice for basting thread.
Wool thread
Wool thread is most common for embroidery projects. It's an extremely strong thread that's a good choice when working with heavy fabrics like wool and canvas. It can be a good option for topstitching, too — just be sure to use a larger needle and adjust your sewing machine's tension appropriately.
Metallic thread
You can find thread in gold, silver and copper varieties. It's used often in machine embroidery and would be a good choice if you were looking a thread with a little flair for topstitching.
Cotton-poly thread
Often called all-purpose thread, this is a polyester thread that's been wrapped with an exterior of cotton.The idea is that since it's made up of both cotton and polyester, you could use it for nearly any project. But unless this is your only choice, it really is better to choose the specialty thread for the task at hand, instead of trying to use one thread for all your needs.
Monofilament thread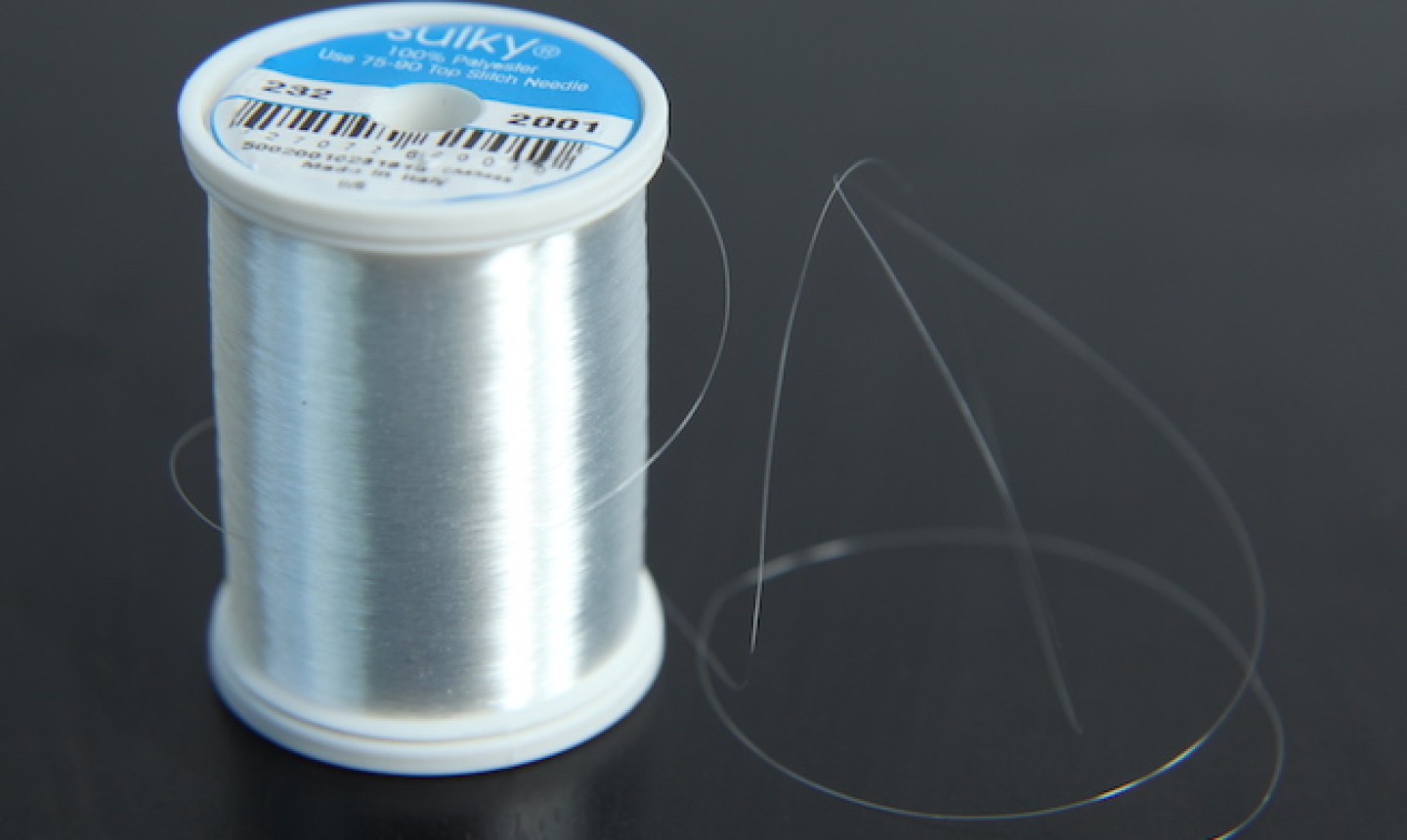 Monofilament thread is a sewing thread that looks invisible when stitched into fabric. It's actually very similar to sewing with normal polyester or nylon thread — the main difference is the thread's weight. Monofilament thread is typically much thinner than most sewing threads (so it's best to use a smaller needle, too!).
You can purchase translucent monofilament thread in clear or a darker smoke color, both of which are see-through. The darker smoke color blends better with dark fabrics.
When using monofilament thread, the bobbin thread can be a regular polyester thread or more monofilament thread. If you do use monofilament in the bobbin, wind it slowly — the thread has some natural stretch.
Elastic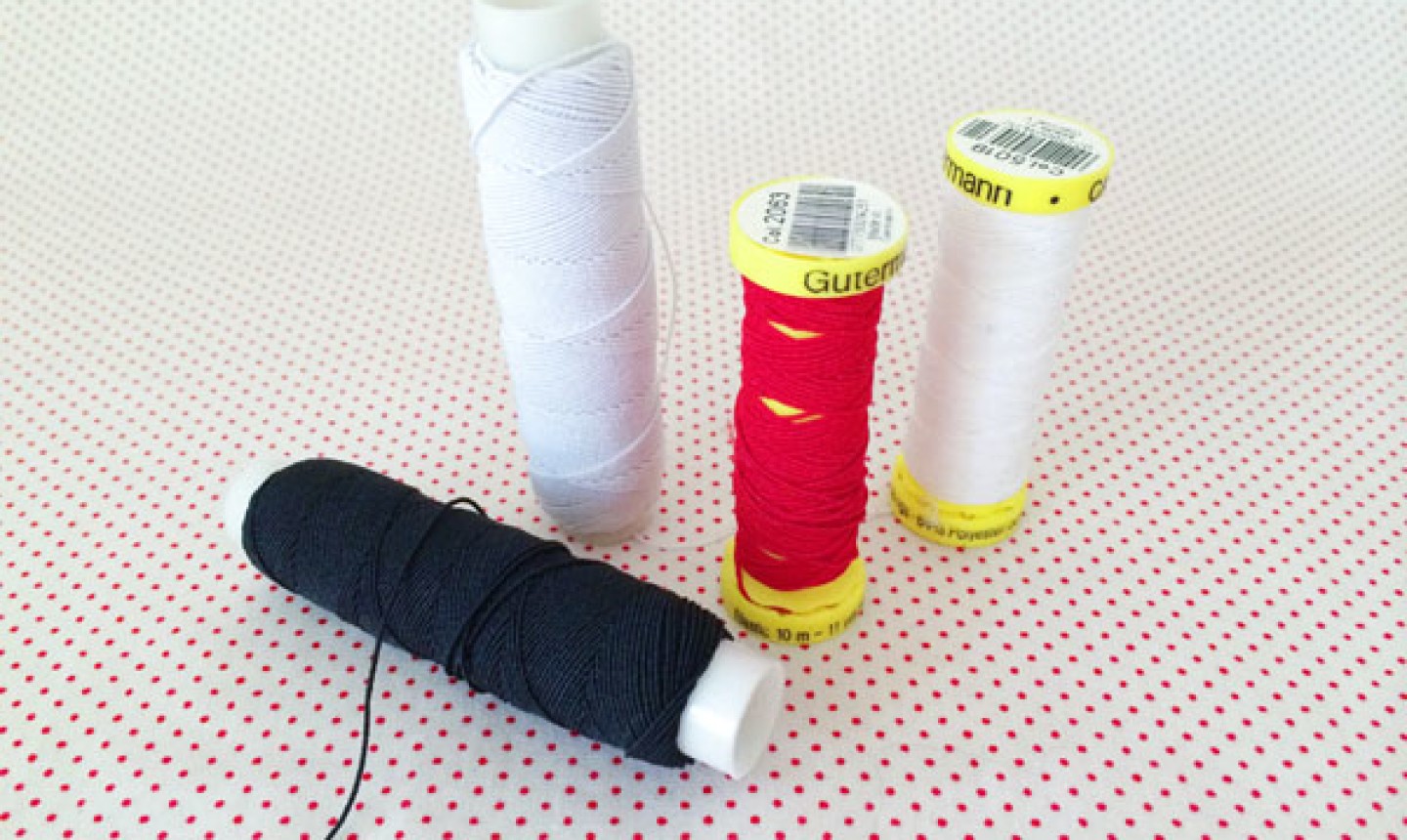 Elastic thread is most commonly used for shirring. Wind elastic thread onto your bobbin by hand, then load it into the bobbin casing. Meanwhile, load regular thread onto the machine and through the needle. When you sew, the fabric will naturally gather up and remain stretchy due to the elastic. To shrink the shirring even more, hover your iron over the sewn area and hit it with some hot steam. The threads will tighten and the whole area will be more gathered.
Understanding thread weight
Most threads, regardless of their composition, come in varying weights or thicknesses. Typically, it's best to use a heavier thread for heavier fabrics and vice versa.
When it comes to weights, the measurement system is a bit backward! The lower the number, the heavier the weight. So a 40-weight thread is actually heavier than a 50-weight thread, and the 40-weight thread will be more visible and prominent in your sewing.
As always, be sure to check your tension when swapping a different thread weight. You might need to make slight adjustments.
Spool size
Most threads come in large, medium and small spool sizes. When buying thread online or in the shop, take note of how many yards of thread are included in the spool.
For instance, the Aurifil spools pictured above contain 1422 yards each, and they come in a set of 6 spools for a total of 8,532 yards. For smaller projects, you might be fine with a 125-yard or 250-yard thread spool. How many yards you'll need depends entirely on your project.
Choosing the right thread for any sewing task
Quilt piecing
The gold standard for piecing quilt tops is a 50-weight cotton thread. A few excellent choices for piecing are Aurifil Mako 50 weight cotton thread and our exclusive Bluprint Pima Thread . Both threads are smooth and fine, while at the same time being strong and durable.
Quilt binding
For binding, use the same thread weight as you use for piecing. Also be sure to match closely the color of your binding thread to the binding fabric.
Machine quilting
For most quilting on a home machine, a 40-weight cotton thread is an excellent choice. Because the 40 weight cotton thread is heavier than the finer 50 weight cotton thread, quilting stitches will show up more easily on the quilt. While the 40 weight cotton is heavier than the thread you'll want to use for piecing, it is still thin enough to easily be used in home sewing machines.
Free-motion quilting
When it comes to free-motion quilting, the thread you choose determines how prominent your stitching is. A heavier weight in a contrasting color will stand out quite a bit; a lighter weight thread in a matching color should blend in well. Monofilament thread can work well if you want the fabric to stand out instead of the quilting thread.
As for fiber content, polyester, cotton or a cotton-poly blend are all good choices.
Hand quilting
For hand quilting, us a heavy thread like a 28-weight cotton thread. The threads used for hand quilting need to be able to withstand the stress of pulling and stretching.
Appliqué
Lightweight (50- to 800-weight) cotton thread in a matching color is an excellent choice. Silk is another great choice since it's a strong natural fiber and comes in a variety of weights and colors. Silk threads practically "melt" into the fabrics, making them nearly invisible and the perfect choice for hand and machine appliqué. If you want really invisible stitches, opt for monofilament thread.
Garment sewing
There's no one-size-fits-all solution for all garments. The best thread depends heavily on the fabric you choose. Try to match the fiber and weight, or use an all-purpose thread when in doubt.
What's more important is color! Focus mainly on matching the color of your thread to your project. Whenever possible, bring your cloth to the shop to choose a thread in person.
Utility sewing
Some hand sewing projects need to be extremely durable. Perhaps you are sewing a button back onto your favorite winter coat or repairing a strap that's pulling away from your beach tote. When hand sewing items that will see heavy use, select a heavy-weight thread in a synthetic fiber such as polyester.
If your utility sewing involves an outdoor item, such as canvas for a playground canopy or a decorative pillow for your patio, look for a thread designed specifically for outdoor use. These threads will withstand sun exposure and temperature fluctuations far better than typical thread.