Glitz, gold, pearls, fringe, beautifully dressed women and impossibly chic short haircuts, champagne flowing and the lights of the great mansion parties beckoning! I am loving the Great Gatsby trend that's sweeping our collective consciousness, and especially how it's inspiring a whole slew of gorgeous, Art Deco-themed cakes for weddings and parties galore. Here's a collection to knock your socks off, with enough gold leaf and glamour to last.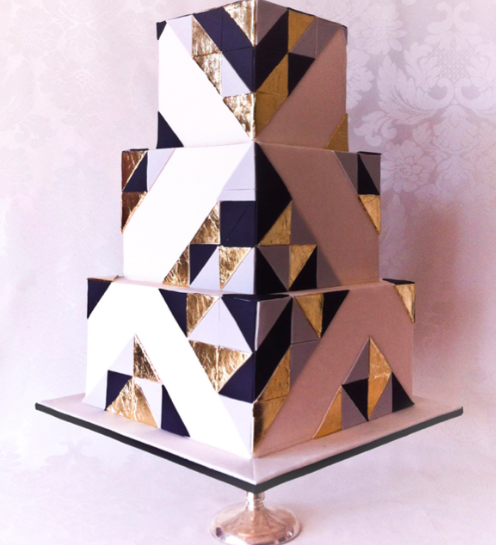 Photo via Yummy Cupcakes and Cakes
Three tiered Art Deco cake: Like an intricate Art Deco tiled floor, this angular three tiered cake by Australia's Yummy Cupcakes and Cakes shines with its crackled gold triangles and black, white and gold motif. The geometric design creates an optical illusion of angles and whitespace.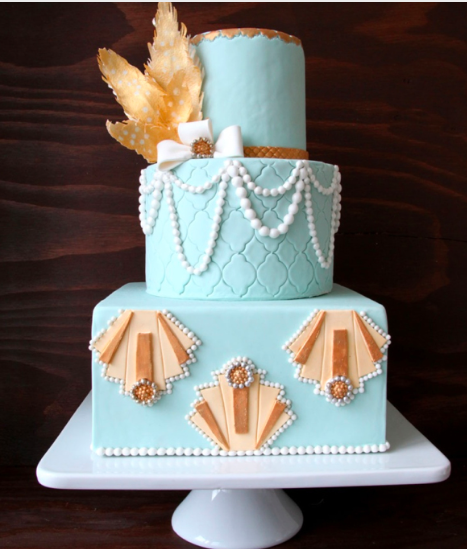 Photo via Tessa Lindow Huff
Great Gatsby powder blue cake: Tessa Lindow Huff created this gorgeous three tiered Great Gatsby inspired cake, and she even created a cocktail to go with it! Visit here for all the details, including the cocktail recipe. I love that powder blue color and the amazing fondant fans on the bottom tier lined in white dragée pearls, creating the illusion of both pearls and bright lights! The draped fondant pearls on the second tier sit atop an indented fondant pattern which reminds me of vintage wallpaper. My favorite part of this cake however is the paper-thin rice paper feathers Tessa created. So many beautiful techniques that all work together in this stunning cake!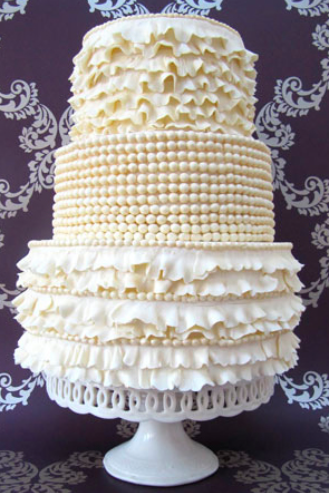 Photo via Rosalind Miller Cakes
Ruffles and pearls three tiered cake: Three tiers for cake! Ruffles and pearls and beautiful things – very Great Gatsby, no? Rosalind Miller Cakes created this romantic and pretty cake, I love the contrast between the fondant ruffles and the circular pearls, makes it pleasant on the eyes, and I am sure, the stomach, too!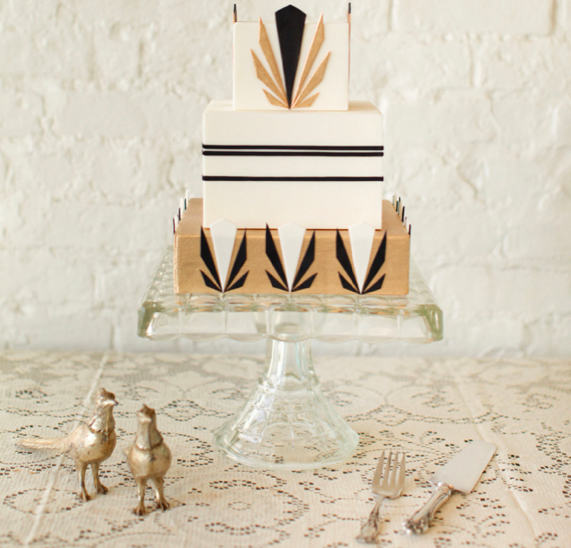 Cake via Lael Cakes. Photo by Jen Huang Photography.
Vintage modern Art Deco cake: This beautifully styled cake has a wonderfully angular precision – all the symbols of an Art Deco cake but graceful and modern in its restrained design. All of the cakes that come out of Lael Cakes, from Brooklyn, New York, are vegan (dairy-free)! She also offers gluten free cakes, too.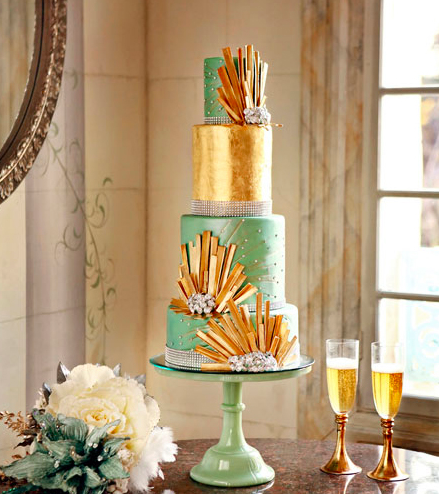 Cake by Cake-A-Licious. Photo by Pepper Nix Photography.
Green and gold glitz Art Deco cake: Tasha of Cake-A-Licious created this absolute stunner of a cake – four glamorous tiers with those incredible golden sun rays cut from fondant that look like sparkly and sculptural gorgeous brooches. She used sparkly bling ribbon to adorn the bottoms of each tier, reminiscent of a glamorous women's necklace.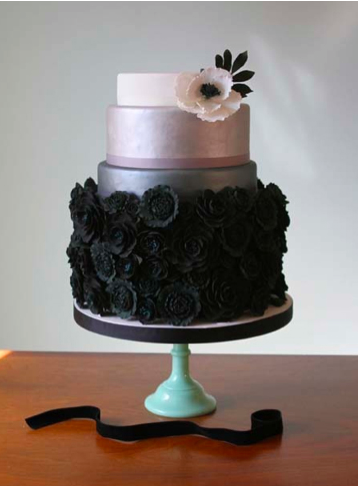 Photo via Charm City Cakes West
Romantic black floral cake: This cake reminds me straight up of a beautiful elegant woman wearing the latest couture dress and a white ruffled flower in her shiny hair that's cut into a stylish bob. I love the colors: muted lavender, silver and white fondant tiers, and the dramatic black gum paste flower covered bottom tier.
Ready to get the champagne flowing and kick into your highest pair of heels for a lipstick covered night on the town? Or, how about tucking into your slippers and your flour-covered apron and throwing a cake in the oven with the intention of making a Great Gatsby inspired cake? Marina Sousa's online cake class Jeweled Wedding Cakes might be just what you're after to add all the bling and beauty you need to your cake- check it out on Bluprint today!