Graphic designs can run the gamut from a single pictorial element to a bold all-over knitting pattern. Many of the best sweater patterns use intarsia to create these fun, focal elements.
Working intarsia can be intimidating, but it's a surprisingly easy and fun way to make a statement on your sweater!
Level up your knitting game with one of these graphic knitting patterns, or use them as inspiration for your own designs.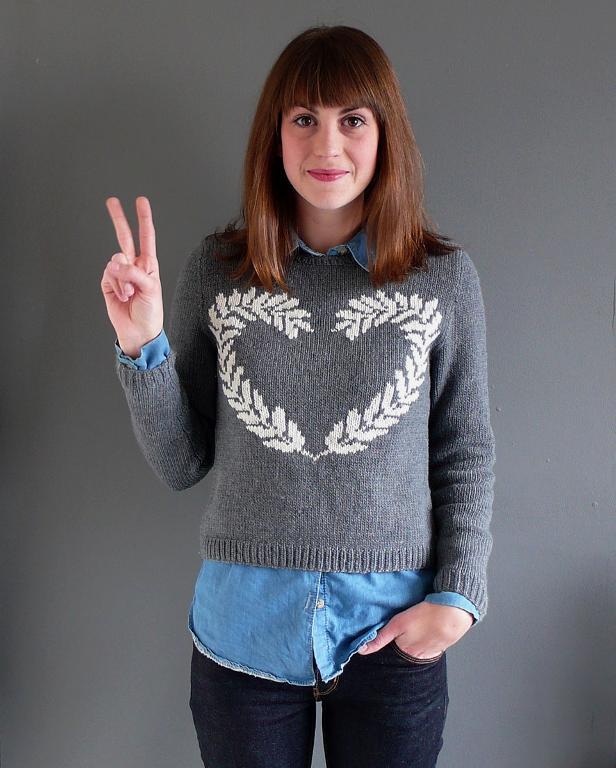 Photo via Craftsy member anna_rave
Peace and Love
This cropped sweater is fitted in the shoulders, but with a little more ease in the waist for comfort. The motif brings together the olive branch and a heart for a bold and beautiful graphic design. This sweater is worked in DK weight yarn, with set-in sleeves.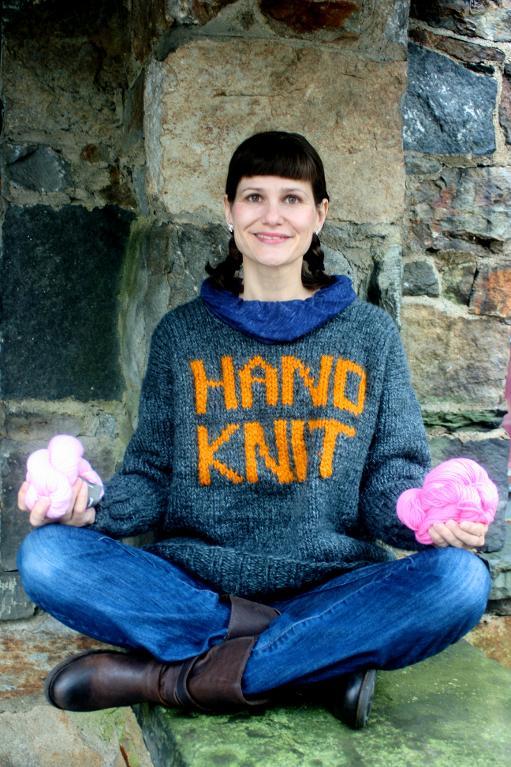 Photo via Craftsy member Casapinka
The Ultimate Hand Knit Sweater
Make sure everyone knows you made this one yourself! This cozy, tunic length sweater works up fast in bulky yarn so you can be wearing it in a jiffy! Sizes up to a 61″ bust. Each piece is knit flat and seamed together, perfect for knitting on the go.
Not quite ready to handle bobbins? Try duplicate stitch for an easy alternative.
Need a refresher on intarsia? Check out the history of intarsia knitting and some must-know intarsia tips!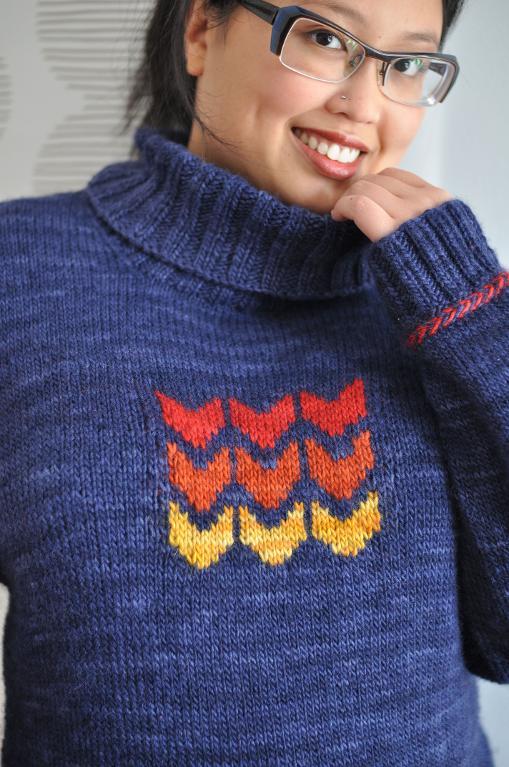 Photo via Craftsy member cosmicpluto(that's me!)
Lansdowne Turtleneck Pullover
Yep, it's another one of my own patterns! The Lansdowne Pullover features fun two colour braids along the hem and cuffs, slip-stitch waist shaping on the back, and a warm ribbed turtleneck for the coldest of days. The scaled-up knit stitch motif uses just a little bit of contrast yarn, and is a simple intarsia pattern that's perfect for beginners.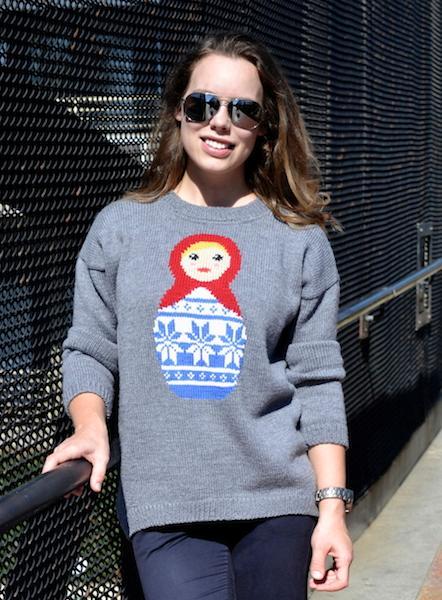 Photo via Craftsy member IrMiAn
Russian Doll
How cute is this sweater?! This gorgeous pullover would be a great sweatshirt alternative. The adorable Russian Doll incorporates a beautiful fair-isle style body motif – change up the colors for a variety of looks! Worked up in DK weight yarn for a lighter weight finished sweater.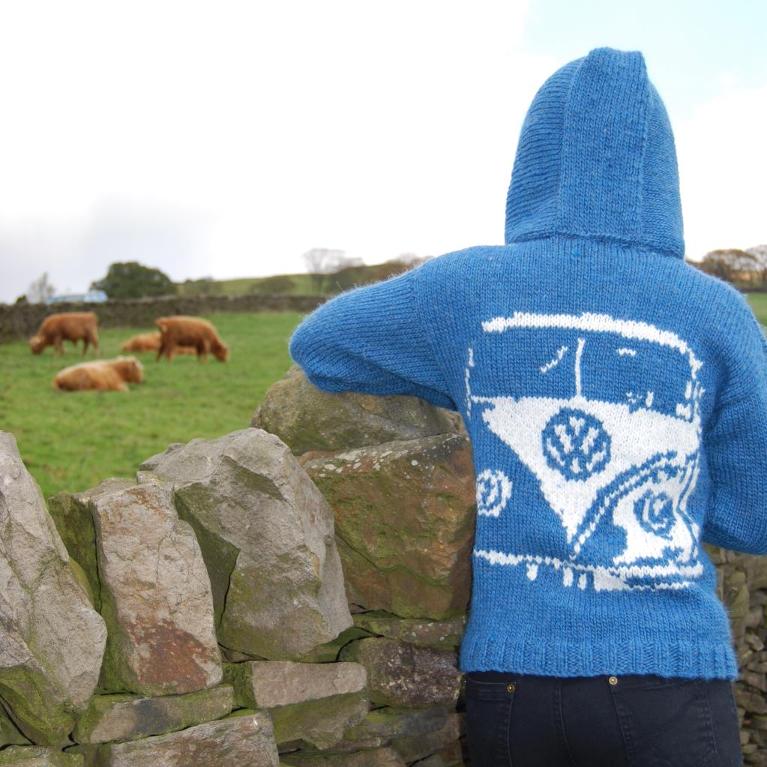 Photo via Craftsy member SnuginaDub
Campervan in the Back
Change things up with a bold graphic element on the back of your sweater instead of the front! This great hooded pullover features a buttoned henley neck on the front, dropped shoulders, and a large scale campervan design on the back. Worked in chunky yarn, it'll knit up fast! The extra-long sleeves feature thumbholes to keep your hands warm.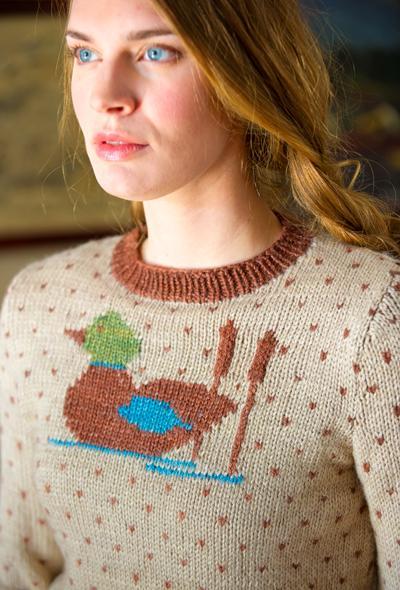 Photo via Craftsy instructors Kate Gagnon Osborn & Courtney Kelley
Winnipeg
Ready for a real challenge? The background dots on this gorgeous sweater are worked in fair isle (stranded knitting), while the mallard duck motif is worked in intarsia. Lots to keep track of, but the finished result is a sweater you'll wear over and over! Fitted set-in sleeves and contrast ribbed edges are classic complements.