Grandparents are very precious family members that are often storytellers, teachers and best of all, spoilers of grandchildren! On Grandparents Day this September 7th, turn the tables on them and spoil them with some sweet cake decorating surprises.
Be inspired to show your appreciation with these inspirational Grandparents Day cake ideas and cupcake designs!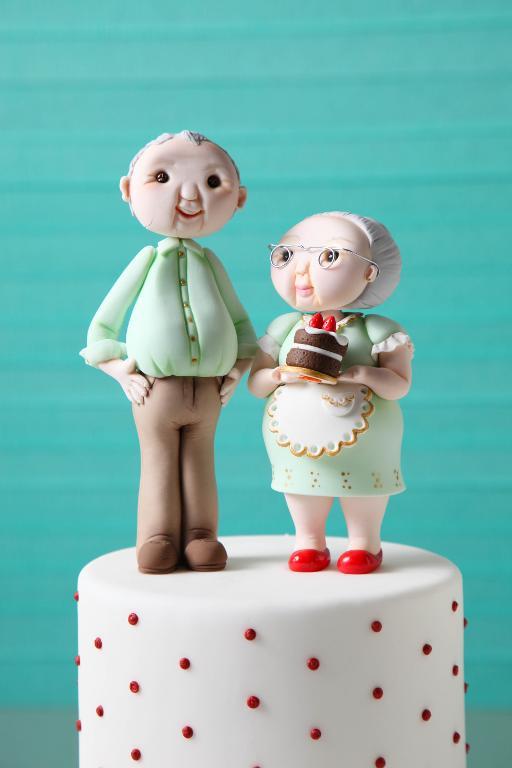 Photo via Bluprint instructor Brenda Walton
Sweet grandparents cake toppers
Brenda Walton of Sugar High, Inc. teaches the techniques she utilizes to creating people figures in her Bluprint course Custom Cake Toppers: Step by Step, which includes this adorable grandparent couple! From figure modeling to face sculpting to shading and painting details, these fondant figures are brought to life and make the perfect toppers to a celebratory grandparent cake.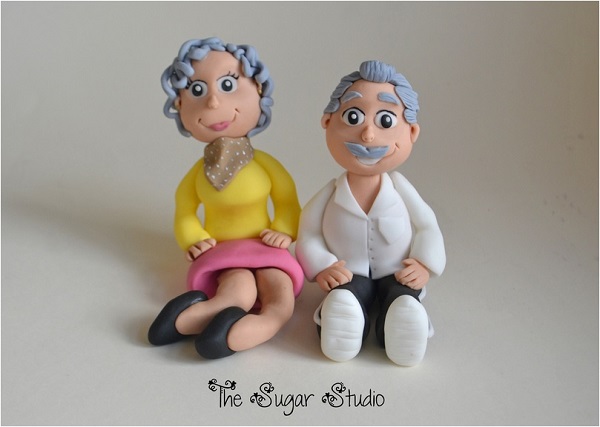 Photo via The Sugar Studio
Sassy grandparents cake toppers
Who says grandparents are old and leisurely? Not The Sugar Studio, who created these adorable and sassy grandparent figures! The sweet characters are modeled out of fondant, with perfect and fun facial features, donning perfectly styled grey hair and accessorized with clothing accents.
Learn more in the Bluprint course Cake Topper Techniques: Figure Modeling with Anne Heap, who will demonstrate how to model characters similar to these and provide tips structuring and modeling figures with fondant.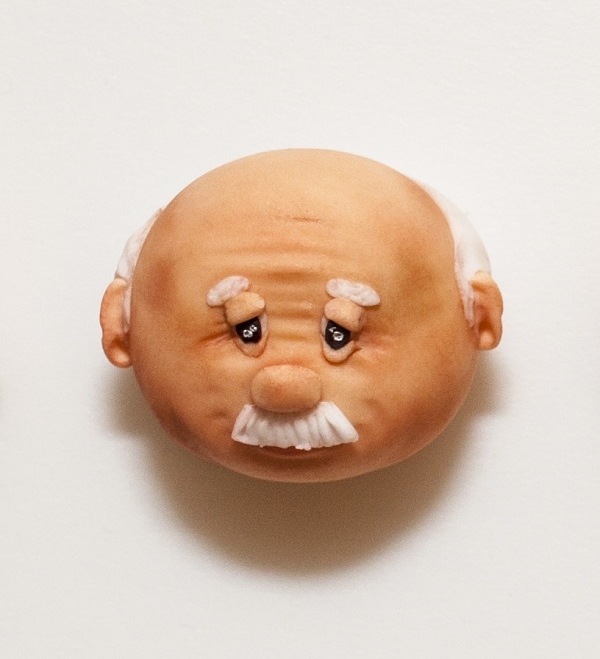 Photo via Bluprint instructor Sheryl Bito
Grandpa face modeling
Bluprint instructor Sheryl Bito of Buns in the Oven perfectly modeled this sweet old man's head out of fondant. One of the most difficult, yet important parts of figure modeling includes the creation of the facial features. By making proper indentations, lines and characteristics of the face, you are able to really liven up your figure, but the eyes are always crucial to truly bringing them to life!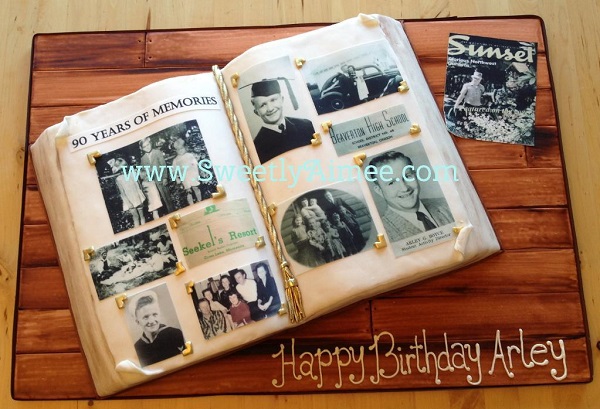 Photo via Bluprint member Sweetly Aimee
Photo album cake
Bluprint member and cake artist Sweetly Aimee created this beautiful photo album cake in the course Basic Fondant Techniques with Elisa Strauss. What an incredibly special way to honor the life of a grandparent than with actual memories from their lives, created with the help of printed edible images. The entire presentation is complete with the board covered in woodgrain fondant and personalized wishes.
To learn additional techniques to working with fondant, make sure to check out the course The Wilton Method®: Decorating with Fondant with Beth Somers who provides techniques to covering cakes and accentuating your designs with this medium.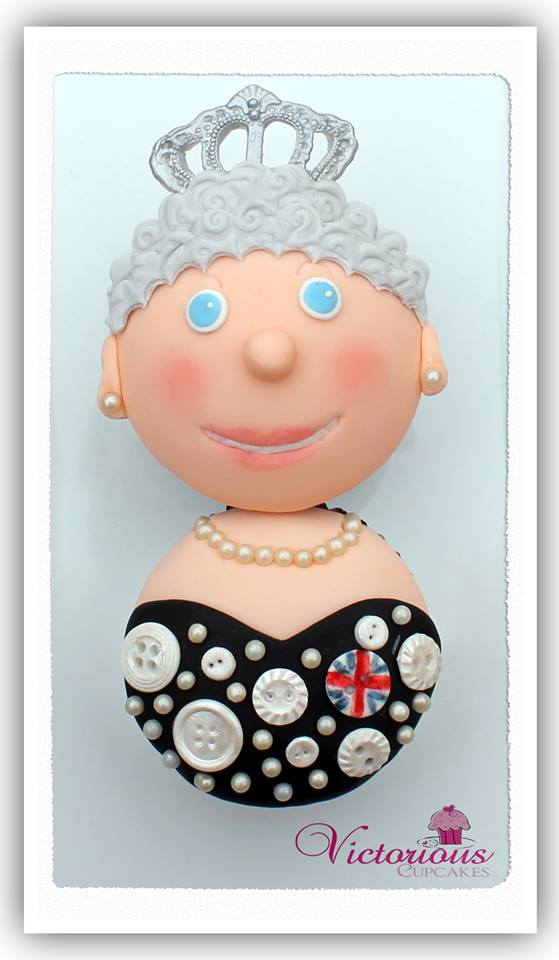 Photo via Victorious Cupcakes
Queen cupcakes
Victorious Cupcakes created this precious cupcake creation, honoring one of the most famous and recognized grandmothers: Queen Elizabeth II! By covering the entirety of the cupcakes surface, you can create the clean canvas to decorate facial and body features, as well as accessory elements to create a person.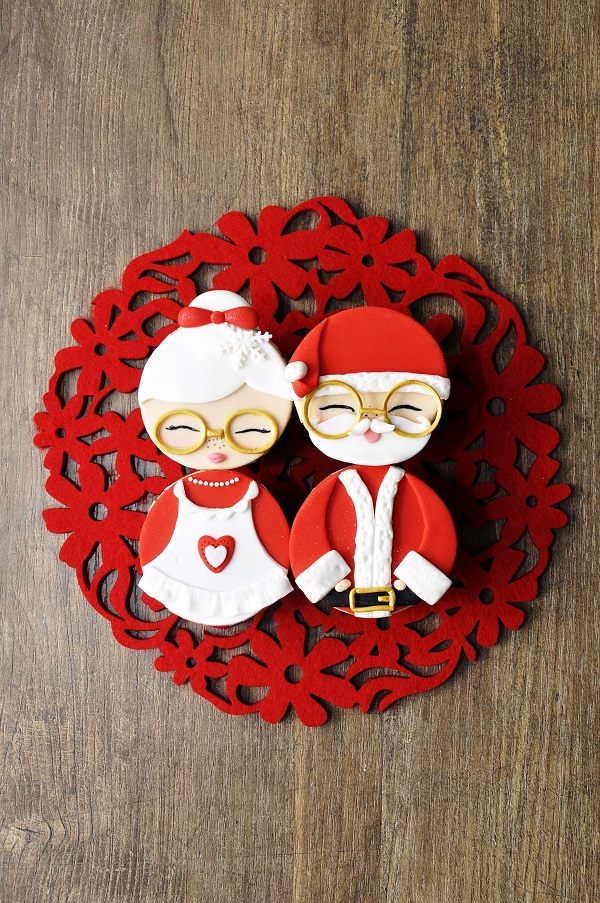 Photo via Bluprint instructor Sheryl Bito
Mr. & Mrs. Claus cupcakes
Mr. and Mrs. Claus were created with the combination of two cupcakes each, much like the previous example, in Sheryl Bito's Global Cupcake Design. In this Bluprint course, Sheryl teaches the techniques to creating these precious characters with thin layers of fondant that can easily be modified to personalize to any adorable grandparents!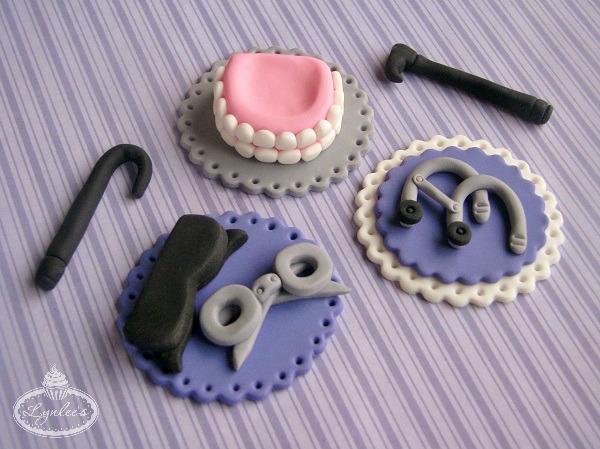 Photo via Lynlee's 
Old folks cupcake toppers
And if the celebratory grandparents have a good sense of humor, be inspired by these Old Folks fondant toppers, originally created to embellish cupcakes for an older couple celebrating their anniversary! Items that are often associated with senior citizens, such as dentures, a walker, canes and glasses, were modeled out of fondant and decorated cupcakes at the commemoration.
Don't forget it's not over with the cupcake toppers! Be sure to wow your recipients with deliciously-flavored confections with the help of Jennifer Shea in her course The Perfect Cupcake, where you will learn how to successfully bake and ice your miniature treats with creative recipes and fillings.
Do you have a favorite story you fondly remember from a cherished grandparent? Share with us!