As summer quickly approaches, so does the culmination of the school year and ultimately, the commemoration of graduation for students of all kinds! Pupils in a large variety of ages are celebrating their academic milestones and what better way to revere and recognize their successes than with aptly-themed graduation cake decorations, parties and confections.
Toss your caps in celebration of your graduate's successes with these sweet and inspirational Graduation cakes, cupcakes and parties!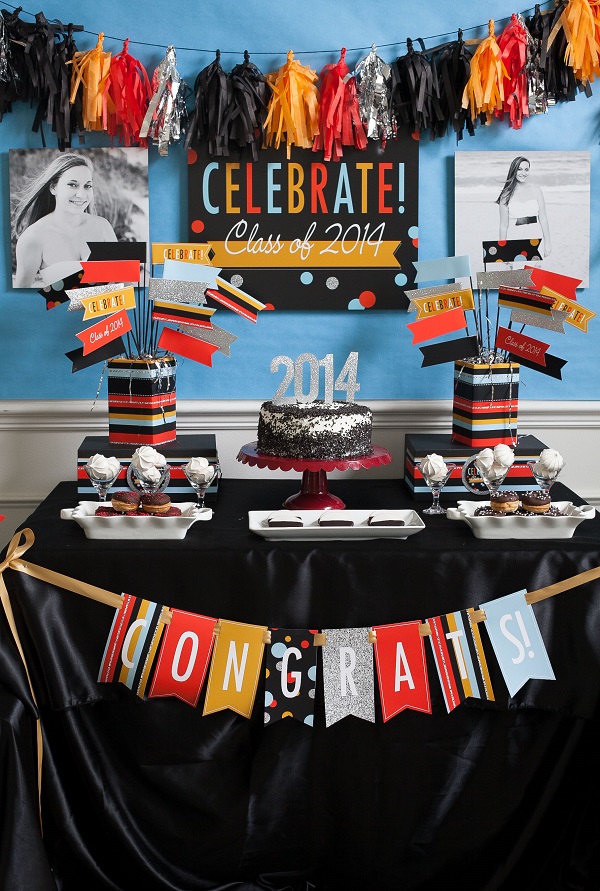 Photo via Frog Prince Paperie
Glittery graduation party
Frog Prince Paperie created this super sparkly celebratory graduation party, inspired by an invitation from Shutterfly for a recent grad. The vibrant colors pop against the black background, while the silver glitter details add extra shine throughout the paper and tassel decorations. The simple and delicious desserts served included the centerpiece cake. This classic layer-cake was iced and covered in chocolate sprinkles, then topped off with silver 2014 toppers, which could also easily be achieved with fondant numbers.
Check out additional personalization ideas and tutorials to re-create this dazzling presentation.
Photo via Cuteology Cakes
Pom-pom graduation topsy-turvy cake
Cuteology Cakes did a tremendous job with this jaw-dropping stacked pom-pom graduation cake! The topsy-turvy layers are meticulously covered in fondant, coordinating the graduate's school colors with her love of cheerleading. The pom-pom layer can be achieved with the use of wafer paper and/or ruffled fondant. The masterpiece was topped off with a cheerleader silhouette topper.
Feel comfortable working with wafer paper in Stevi Auble's Delicate Wafer-Paper Cakes and learn more about the construction of multi-layered cakes such as this, along with tips and tricks in the Bluprint class Topsy-Turvy Cake Construction with Richard Ruskell. Follow suit in further personalizing your creations in Nicholas Lodge's Custom Lettering & Monograms.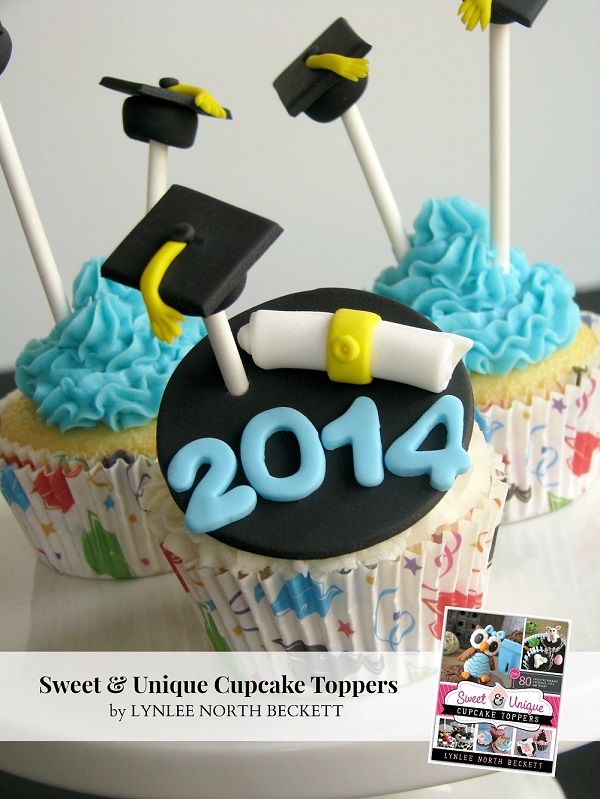 Photo via Lynlee's Petite Cakes
Graduation cap cupcakes
One of the most iconic visuals of a graduation function is at the culmination of the ceremony when the grads toss their caps up into the air! These simple fondant cupcake toppers from the recently released book Sweet & Unique Cupcake Toppers recreate this scene with the use of lollipop sticks in varying lengths. Finish off the topper by including the graduation year or school initials with the use of number cutters for added personalization.
To accentuate your cupcakes, check out Sheryl Bito's class Global Cupcake Design to learn to turn your confections into people, including a special graduate!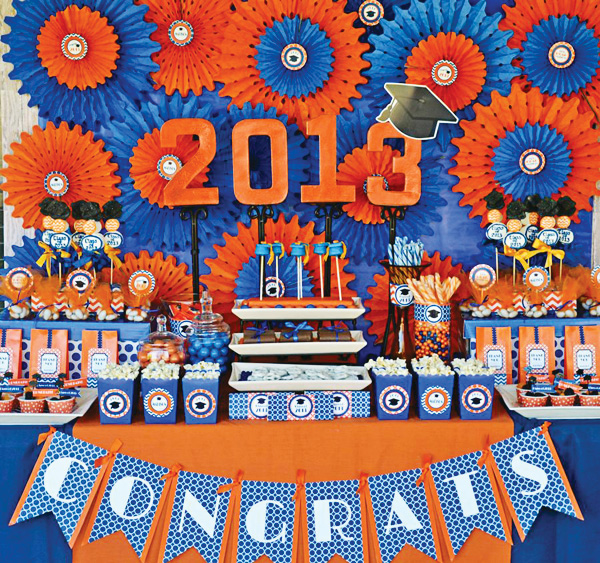 Photo via Crissy's Crafts
School colors graduation party
With the use of patterned printables from Amanda's Parties To Go, Crissy's Crafts created this incredibly festive dessert table for a graduation celebration! By customizing the party to either the graduate's most recent school or the one he/she is about to start, the decor is tailor-made to the desired color scheme.
The background was created with the use of tissue fans in a variety of sizes and colors, while the colors are carried throughout the sweet offerings with the use of candy, popcorn boxes and candy cups. In lieu of a cake, graduation cap cake pops and marshmallow pops anchored the table. See additional details of the party featured on the Hostess with the Mostess blog.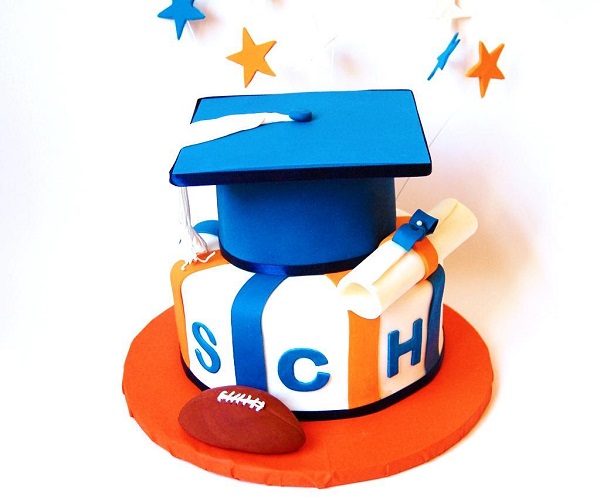 Photo via Bluprint member Sharida Moore
Graduation Cap Cake
If you wanted to add a centerpiece cake to the above dessert table, this adorable graduation cap cake by Bluprint member and cake artist Sharida Moore is just perfect! Made for a recent high school graduate, in the Bluprint class Clean & Simple Cake Design with Jessica Harris, the sleek design was created with the use of fondant and gum paste, perfectly smoothed over both tiers.
To further perfect your fresh and polished cake skills, be sure to check out Jessica Harris' follow-up course Simply Modern Cake Design, and learn to create bold designs and patterns for your cake projects.
Photo via Piggy Bank Parties
"Picture your future" graduation party
Piggy Bank Parties created this "picture your future-themed" graduation party with the clever use of graphics resembling Polaroid photographs and a play on words for the recent graduate's future plans! The backdrop was creatively constructed with the use of square paper plates and further embellished with tassels and a printable Polaroid banner. Additional paper products are utilized to label food and dessert items.
Check out the entirety of the graduation celebration, including yearbook favor boxes, decor tutorials and film cell sweets!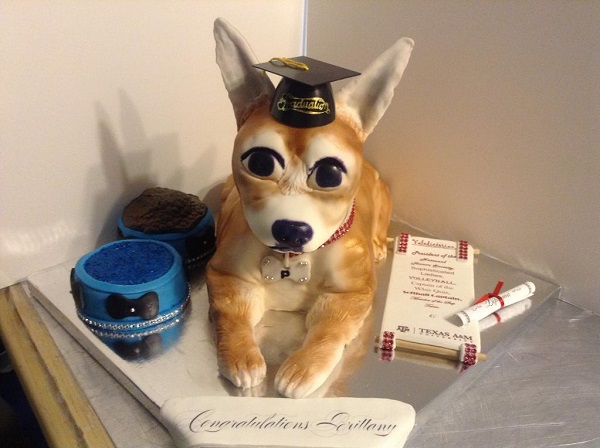 Photo via Bluprint member SugahFace Kakes
Chihuahua graduation cake
Bluprint member and cake artist SugahFace Kakes created this incredible chihuahua graduation cake as part of the class Sculpted Dog Cake with Elisa Strauss. The stacked cake was combined with Rice Krispies Treats®, carved in the shape of the dog, then covered in fondant and textured to resemble fur. Additional details, including embellished dog bowls and diplomas garnished the presentation, as the pup offered his congratulations to the recent grad!
Acquire the basic techniques to stacking and carving cakes in the Bluprint class Cake-osaurus Rex with Catherine Ruehle to begin construction three-dimensional cakes such as this. And, make sure to check out The Art of Airbrushing with Lisa Berczel to learn about color application along with the tools you need to add additional layers and depth to your cake projects.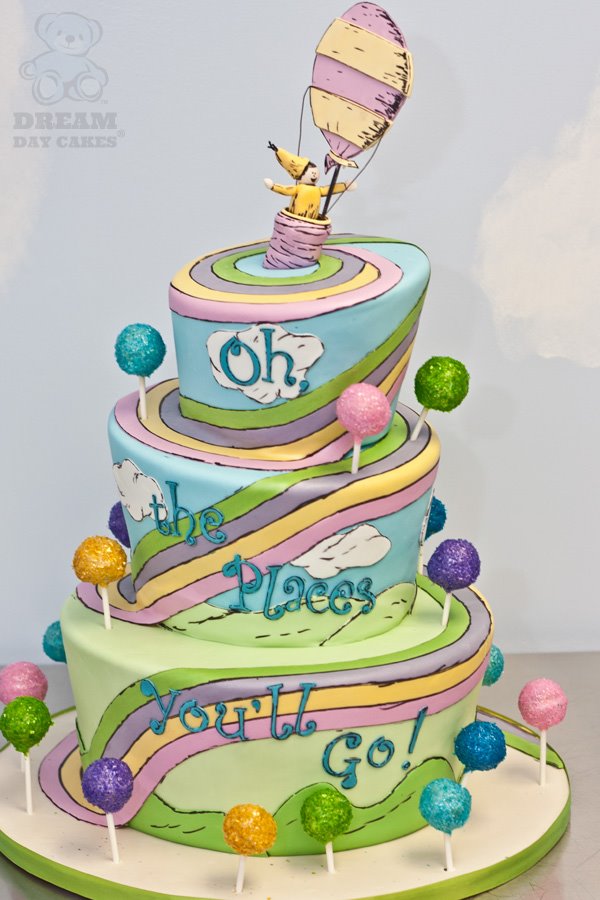 Photo via Dream Day Cakes
Oh the Places You'll Go cake
As the recent grad looks to the future and the adventures on which he/she is about to embark, this cake by Dream Day Cakes based on the popular Dr. Seuss book, Oh the Places You'll Go, is the perfect sugary sentiment! Find out more information on this beautiful confection and additional graduation cakes to further inspire you.
What style or technique most impressed and inspired you to graduate your cake decorating skills?