Who isn't tempted by a homemade Funfetti cake filled with bright rainbow sprinkles? Not many people that's for sure! Funfetti or confetti cakes are perfect for fun birthday cakes, quirky wedding tiers or colorful cupcakes. This pretty yet playful cake is a definite crowd-pleaser for both kids and grown-ups alike — What's even better is that it's gluten-free so now everyone can enjoy it!
Get your spatula and sprinkles at the ready with a delicious homemade confetti cake recipe everyone will love!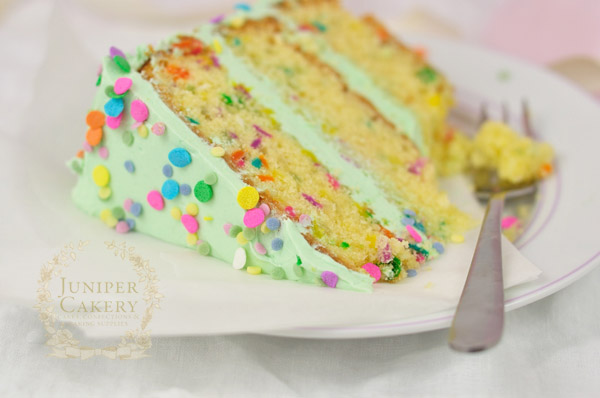 All photos via Juniper Cakery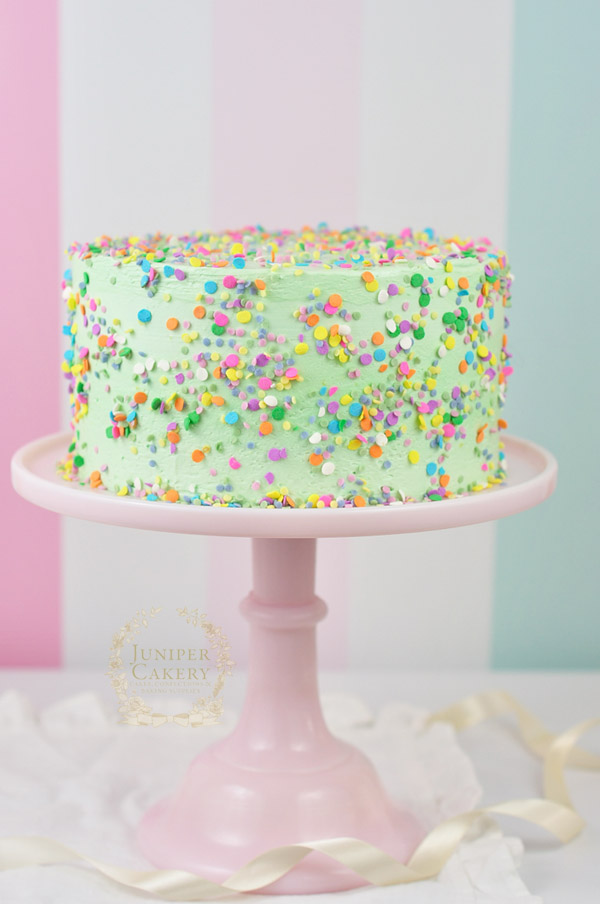 For the cake:
500g/4 cups all-purpose gluten-free flour
1 teaspoon baking powder
500g/2 cups butter / 4 1/2 sticks
7 medium sized eggs
500g/2 cups superfine sugar
4-5 heaped tablespoons of rainbow sprinkles
Note: What type of sprinkles should you use? We think quins (used here) or "jimmies" work best.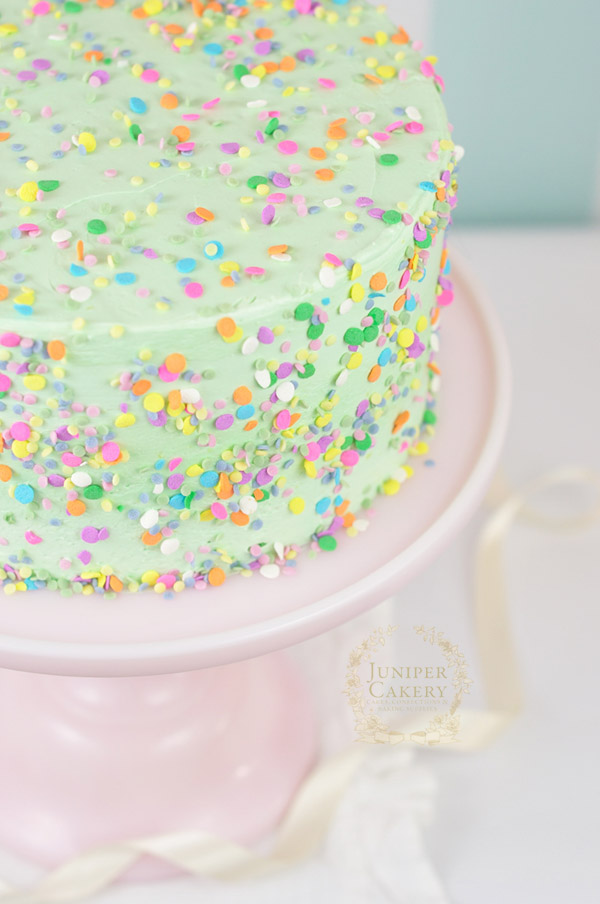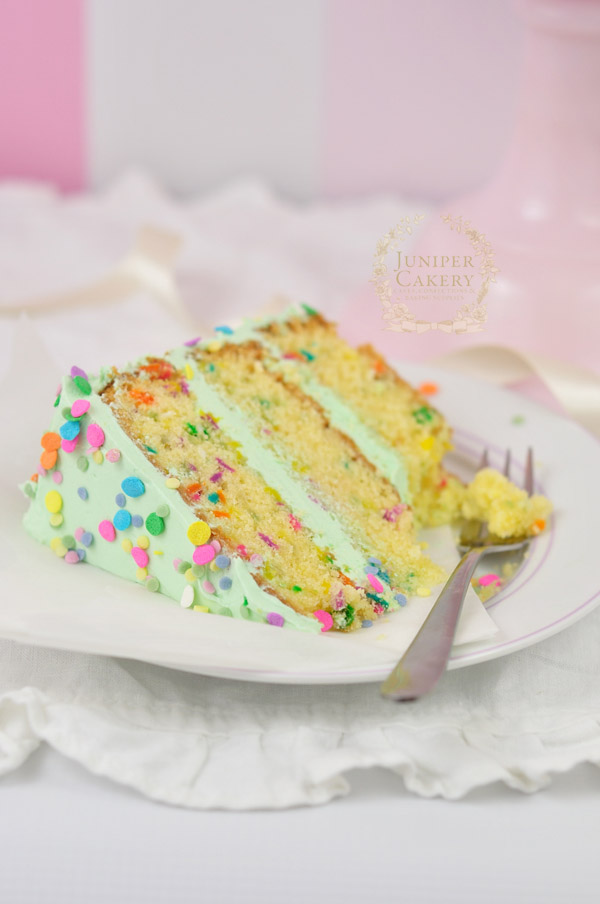 For the vanilla buttercream:
500g/2 cups butter/4 1/2 sticks
500g/4 cups confectioner's sugar
Turquoise gel or paste food color
Good quality vanilla paste or extract
Rainbow sprinkles
Step 1:
Pre-heat your oven to 170 C / 325 F / gas mark 3. Cream together your butter and caster sugar until pale and creamy with a stand-up mixer before gradually adding the flour, baking powder and then eggs. Mix until incorporated.
Step 2:
To add in the funfetti look take your bowl of batter off of the mixer and add in your sprinkles before gently mixing these in by hand. You can use your mixer on a low setting for this step if you're juggling a few different tasks in the kitchen.
Step 3:
Grease or line three 9″ cake pans and separate the batter equally between them. If you've only one 9″ pan you'll need to bake each layer separately. This is perfectly fine, but just takes a little longer.
Step 4:
Bake for approximately 30-45 mins or until a light golden brown on top. You can test if your cake is fully baked by inserting a knife into the center. If the knife comes out clean and with no undercooked batter stuck to it then it's ready to take out. When baked cool on the side while you prepare your buttercream and chocolate drizzle!
Step 5:
Take your butter and cream on a high speed with a stand-up mixer.
Step 6:
When lovely and silky sift in your confectioner's sugar 50g-100g at a time. Always mix and taste test in the process as different brands of sugar will yield different levels of sweetness and texture.
Step 7:
Add in your vanilla paste or extract along with some gel or paste food color if desired. Mix well.
Step 8:
When your freshly baked cake layers are cool you can fill with your smooth buttercream before crumb coating and covering with the rest!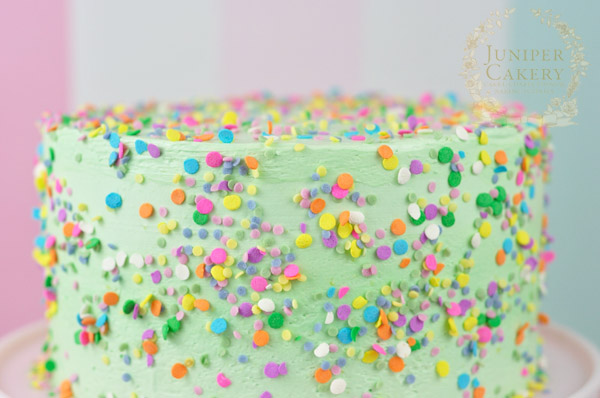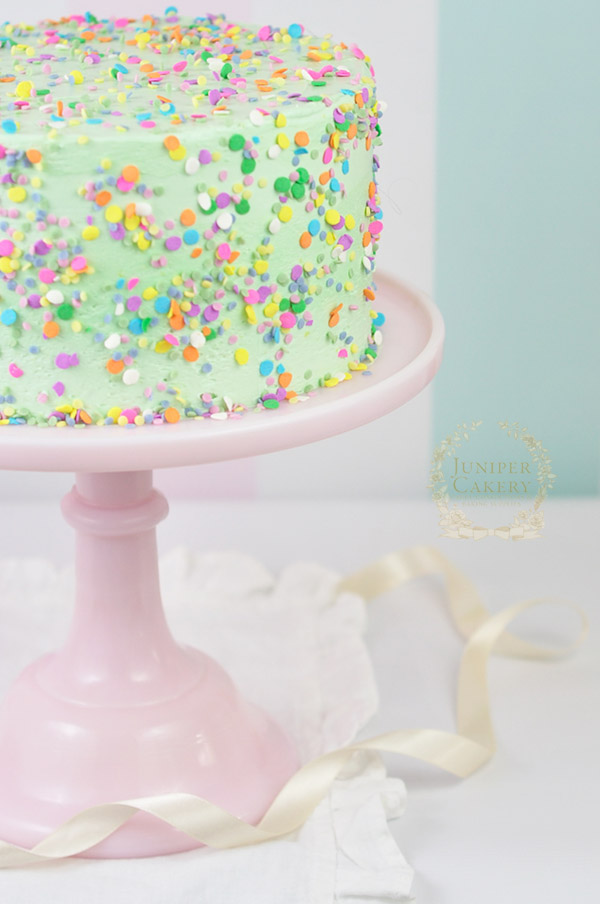 You should now be looking at one impressively fun and playful cake! We love whipping up Funfetti cakes as you can easily tailor these for any occasion. For Christmas, why not only use red and green sprinkles? Or, for Hanukkah you can utilize blue sprinkles in a white cake recipe.
What's your favorite way to add a burst of color to a cake?
Create heavenly gluten-free cakes!
Learn how with lifetime access to lessons from cake artist and author Catherine Ruehle. Enroll Here Now »