You probably are thinking a gluten-free breadstick recipe is not worth your time. However, not only will this recipe have you convinced upon the first bite, but it will also have your friends and family convinced as well.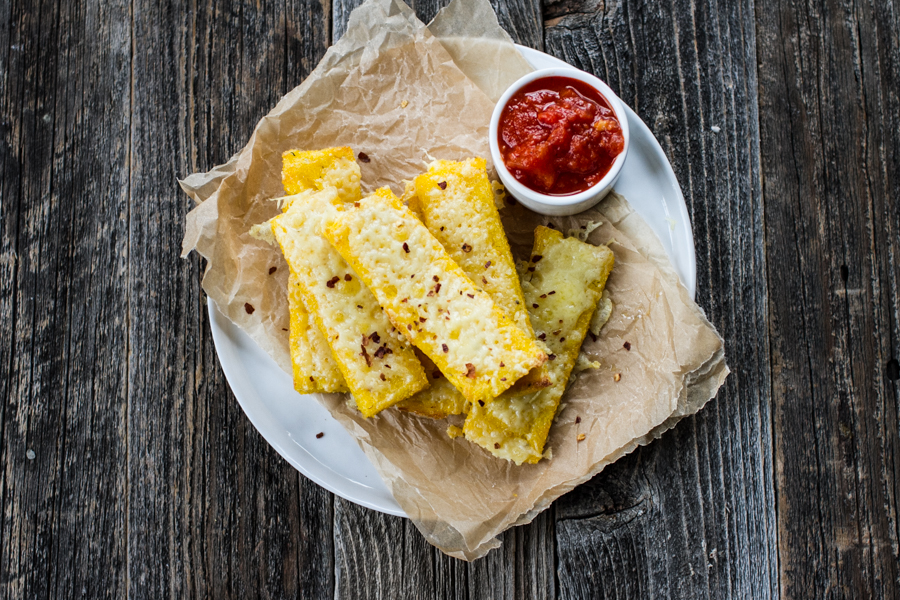 Photos via Edible Perspective
 Today you're going to learn how easy it is to make delicious, gluten-free breadsticks from polenta!
Whenever I'm making gluten-free creations in the kitchen I focus on a few things. First, I try to make the recipes as simple and approachable as possible. Cooking with certain restrictions (whether for health reasons or by choice) can be tricky and sometimes frustrating, but I strive to make readers feel that it is more than doable. Second, I want my recipes to hold up to any gluten-filled recipes. I don't just want them to taste good for being a gluten-free recipe, or feel like they're missing something.
I always say, my recipes just so happen to be gluten-free. It's not the first thing you would think when you try them, at least  I hope.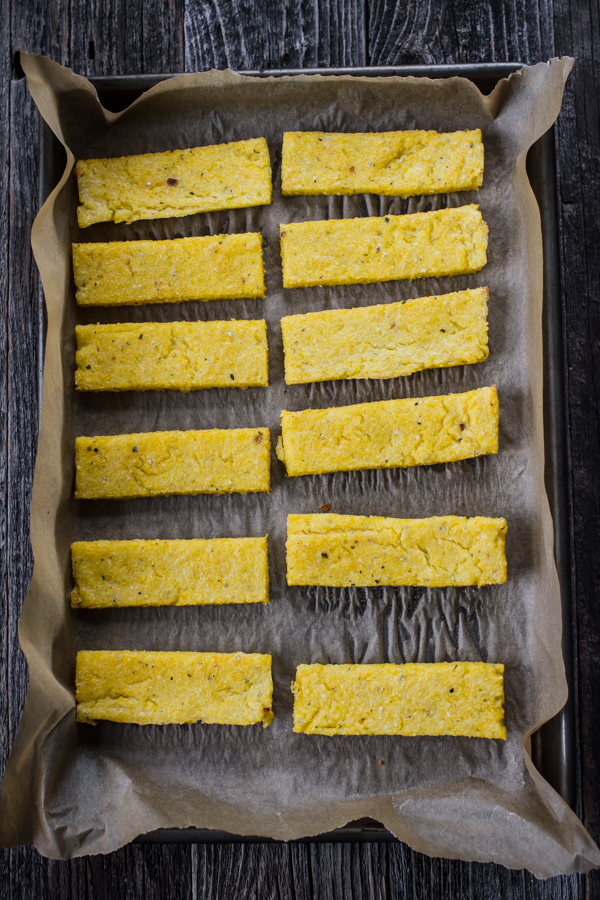 And while this may not be your traditional breadstick recipe, I promise any cheesy, breadstick loving person is going to drool their face off for one (or five) of these babies.
Also, no messing with bread flour, yeast, or kneading. These are easy!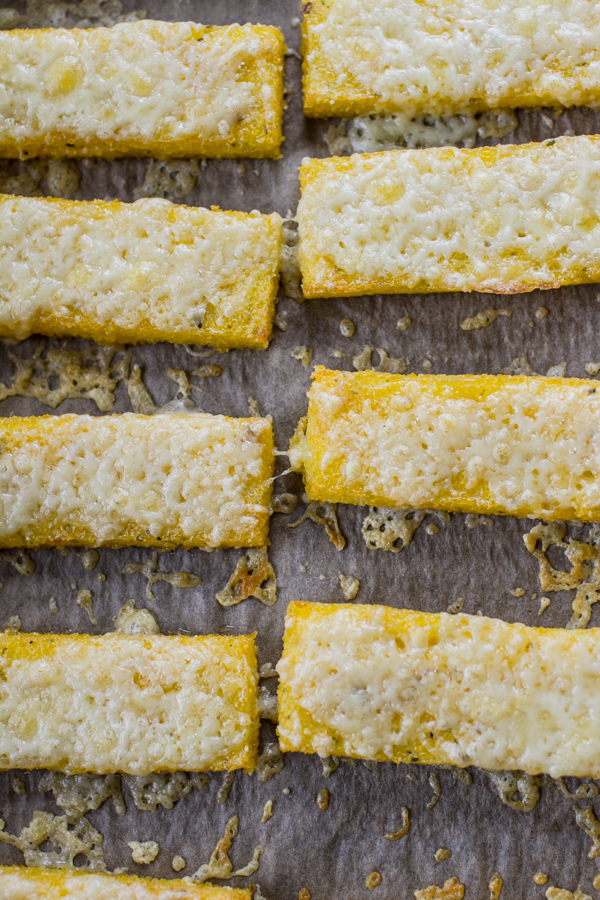 The polenta is cooked and then chilled to hold its solid form. It's then cut into individual sticks and placed in the oven to crisp on the outside. After being showered in cheese they're broiled just for a few minutes to melt.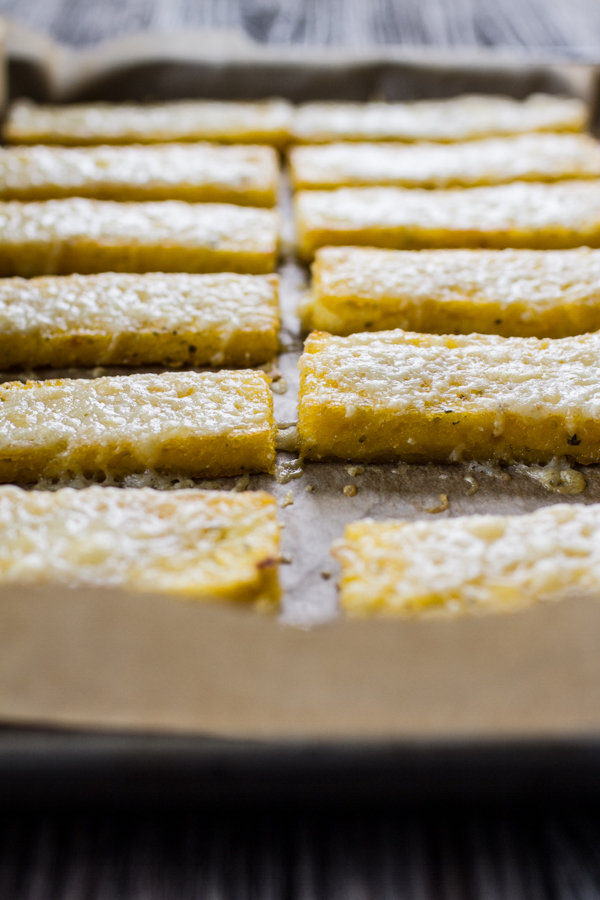 The exterior has a lovely crisp while the interior texture is creamy. I've left them thick to maintain that creamy texture, but they're sturdy enough that you can pick them up and pile on the sauce.
You are going to love them.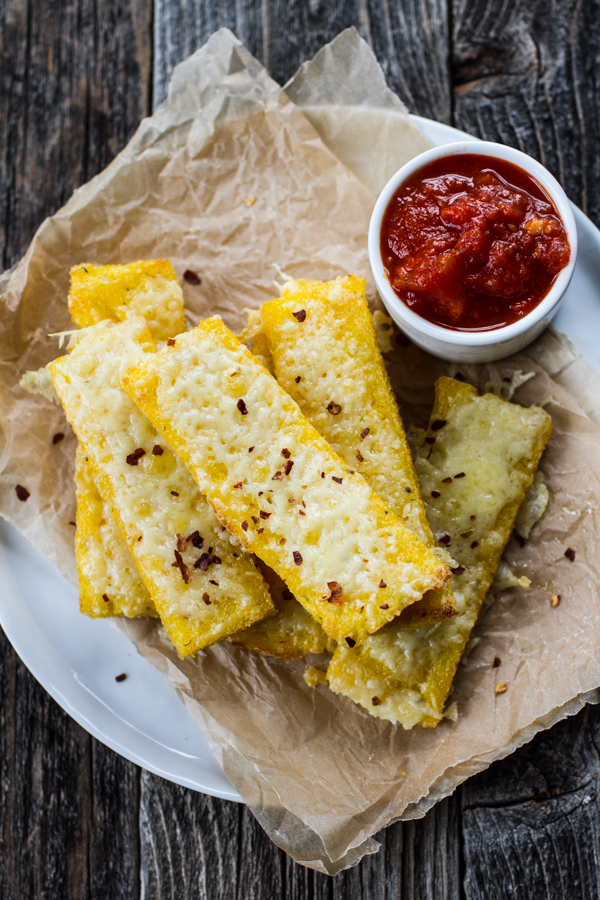 Cheesy Polenta Breadsticks
Yields: 12 breadsticks, 3-4 servings
Ingredients:
1 c up polenta (plus cooking water)
1 1/2 tablespoons extra virgin olive oil
3/4 teaspoon garlic powder granules
1/2 teaspoon salt
1/8 teaspoon red pepper flakes
3/4 cup grated parmesan cheese (divided)
3/4 cup grated mozzarella cheese
pizza sauce or marinara
Step 1:
Cook 1 cup of polenta according to package directions in water. Cook time and liquid amounts can vary by brand. If they specify to add oil or butter, disregard and add in the ingredients as noted above. Just after stirring the polenta into the boiling water add the oil, garlic, salt, and pepper flakes. The cook time typically around 25-35 minutes, until the polenta grits are tender and the mixture is stiff.
Step 2:
At the end of the cook time, stir in 1/2 cup parmesan cheese until fully combined. Taste and stir in more salt if desired. Remove from the heat.
Step 3:
Scrape polenta into a 9×9 unlined/un-greased baking dish. Spread firmly and evenly. Place a piece of parchment or wax paper over top and spread all around with your hands to smooth out.
Step 4:
Place in the fridge until fully chilled, about 1 hour. Or, cover and store in the fridge overnight if prepping ahead.
Step 5:
Preheat your oven to 425 F. Remove polenta from the fridge and slice down the center. Then make 6 even slices in the other direction 1 1/2 inches wide.
Step 6:
Line a large baking sheet with parchment paper. Place polenta breadsticks on the baking sheet and into the oven. Bake for 15 minutes. Flip and bake for another 10-12 minutes. The outsides should feel crispy to the touch and the color will be bright and golden.
Step 7:
Remove and increase the oven to broil. Toss remaining parmesan and mozzarella together and then distribute over each breadstick. Broil until the cheese is bubbly and melted, keeping a close eye.
Step 8:
Top with red pepper flakes if desired and serve with warm pizza sauce.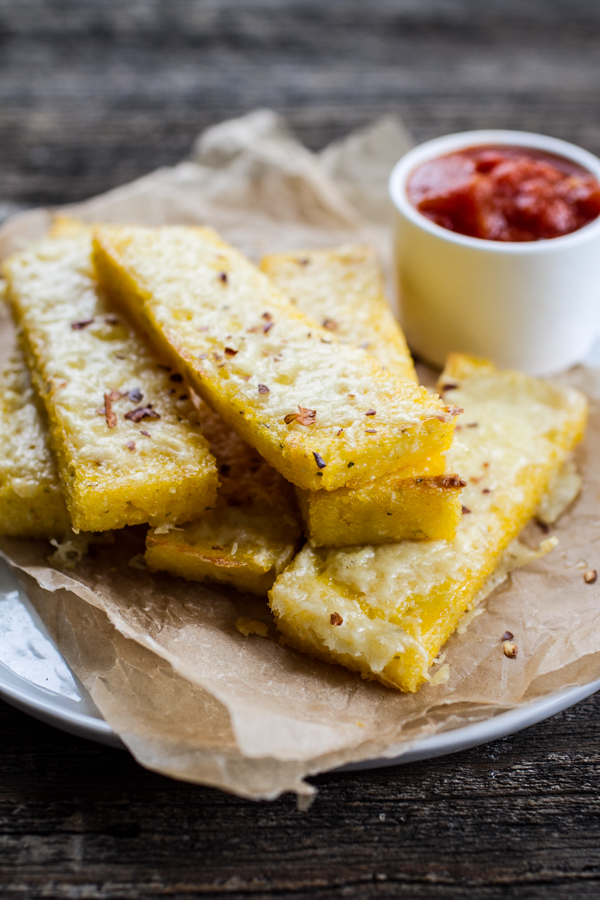 The only thing left to do is start dunking!