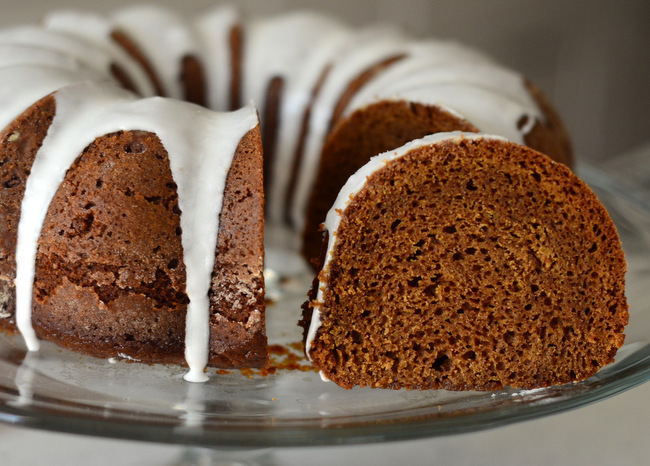 The holidays and gingerbread go hand-in-hand, whether you make simple cute cookies or deck out an entire mansion. And when baked into a bundt cake and topped with a lemon glaze, the molasses and spices shine.
Gingerbread Bundt Cake
Yield: serves 12-14
Ingredients
2¾ cups all purpose flour
1 teaspoon baking powder
1 teaspoon baking soda
½ teaspoon salt
2½ teaspoon ground ginger
1½ teaspoon ground cinnamon
1 teaspoon ground allspice
½ teaspoon ground cloves
¼ teaspoon ground nutmeg
½ cup butter, room temperature
1 cup brown sugar
½ cup sugar
¼ cup vegetable oil
2 large eggs
2 teaspoons vanilla extract
½ cup molasses
1 cup warm water
Instructions
1. Preheat oven to 350 F. Lightly grease and flour a 10″ bundt pan.
2. In a medium bowl, whisk together flour, baking powder, baking soda, salt and spices. Set aside.
3. In a large bowl, cream together butter and sugars until light and fluffy. Beat in vegetable oil and eggs.
4. In a large measuring cup, stir together vanilla extract, molasses and warm water until mixture is uniform.
5. Stir half of the dry ingredients into the butter mixture, followed by the molasses mixture. Stir in the remaining dry ingredients and mix until batter comes together and no streaks of flour remain. Pour into the prepared pan. 
6. Bake for 45-50 minutes, or until the top of the cake springs back when lightly pressed and a toothpick inserted into the center of the cake comes out clean. Allow cake to cool in the pan for 10 minutes, then invert onto a cooling rack. Cool cake completely, the top with lemon glaze.
---
Lemon Glaze
Ingredients
1½ cups powdered sugar
1 tablespoon butter, room temperature
2 tablespoons lemon juice
Instructions
1. Combine all ingredients in a medium bowl and whisk until smooth. Glaze should be thick enough to drizzle easily over the cake.
2. If the glaze is too thick, thin it by adding an additional teaspoon or two of lemon juice. If the glaze is too thin, thicken it by whisking in 1-2 tablespoons of powdered sugar, as needed.