What's your favorite fruit? Juicy Hawaiian pineapple? Tropical mango? Local summer strawberry? Or perhaps a nice, tart and crunchy green apple?
Yes, fruits have their health benefits: vitamins and antioxidants galore. Sadly, much of this is lost when fruits take on a giant cake form. From berries to pineapples, there are fruit cakes galore. And I'm not talking about the rock hard raisin-filled fruit cake covered in royal icing that's currently in your freezer from the holiday season last year.
Let's explore fun, colorful fruit cakes!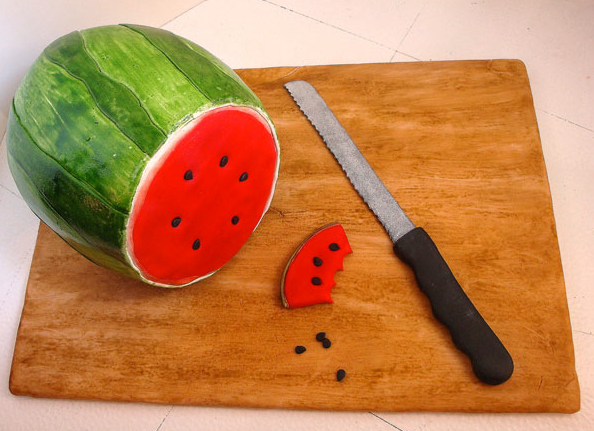 Photo via Love & Sugar Bakeshop
Sliced Watermelon Cake:
Stephanie of Love & Sugar Bakeshop tells me this was one of her first cake creations ever. She is certainly following her calling! I love how realistic, yet cartoonish, this awesome cake is, with the bites from the watermelon piece, the sprinkle of "seeds," the cutting board, and the fondant knife. The details are simple, but very effective. Let's not forget the watermelon- doesn't that fondant exterior look real?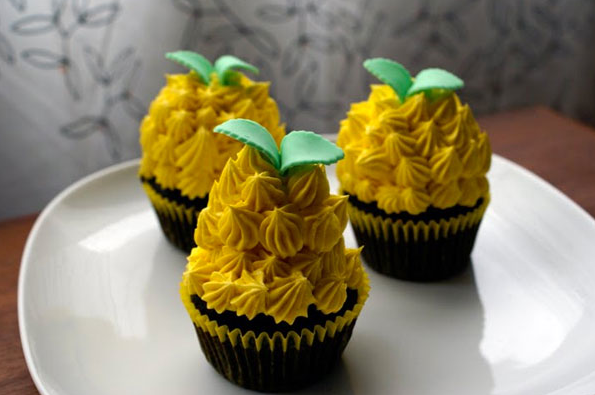 Photo via Coco Cake Land
Pineapple Cupcakes:
These hilarious "pineapple" cupcakes were created for a little girl's 4th birthday party. Yellow tinted buttercream piped using an open star tip in long strokes gives the piled up and spiky illusion of cartoon pineapples. Classic rose leaf cutters were used to make pineapple leaves!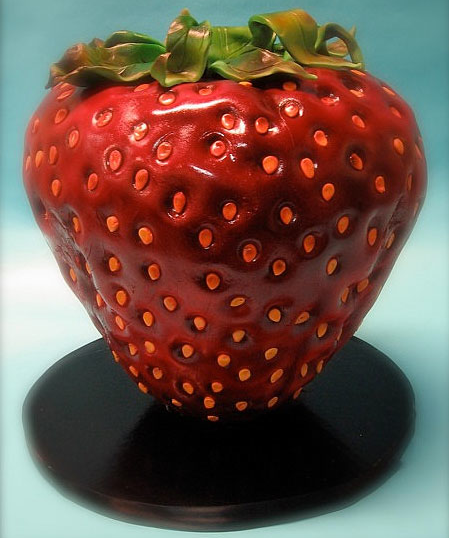 Photo via Debbie Does Cakes
Giant Strawberry Cake:
There's only one lady in the business who could execute a giant strawberry so raw and real, yet somewhat cartoonish: Debbie Does Cakes. This brilliant giant strawberry is airbrushed and pock-marked to perfection, making it a shiny juicy jewel-like fruit trophy.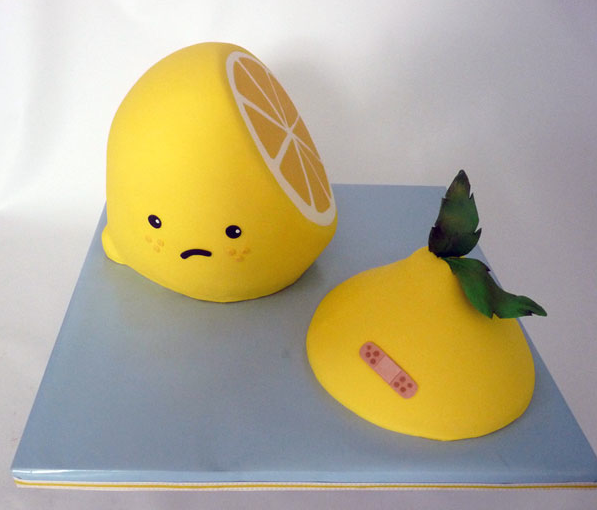 Photo via Tough Cookie Cakes
Adorable Lemon Cake:
The brilliant Sylvia at Tough Cookie Cakes created this hilarious sad lemon cake. I love how the lemon face is so simple but has little dotted freckles and a band-aid. I wonder what kind of injury this guy had – apart from getting the side of his face lopped off?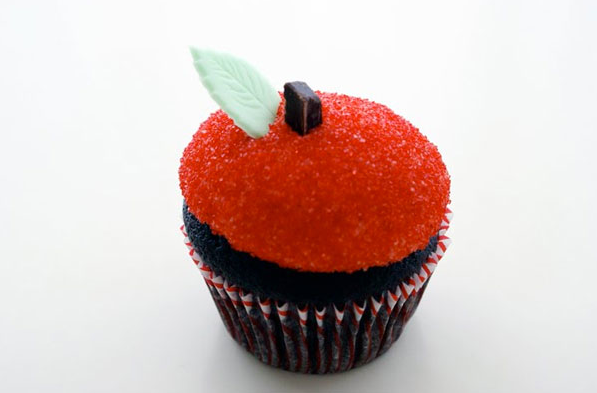 Photo via Coco Cake Land
Sugar Sprinkle "Apple" Cupcakes:
These chocolate cupcakes made to look like simple sugary apples were part of a farm-themed wedding party. To try this technique, use a large open circle tip to pipe a dollop of buttercream on your cupcake (this is how you get the clean edges between the buttercream and the cupcake). Fill a small bowl with red sanding sugar and dunk your cupcake buttercream-first into the sanding sugar, rolling it around until fully covered. The stem is made from a piece of dark chocolate and the green fondant leaf was made using a classic leaf punch cutter.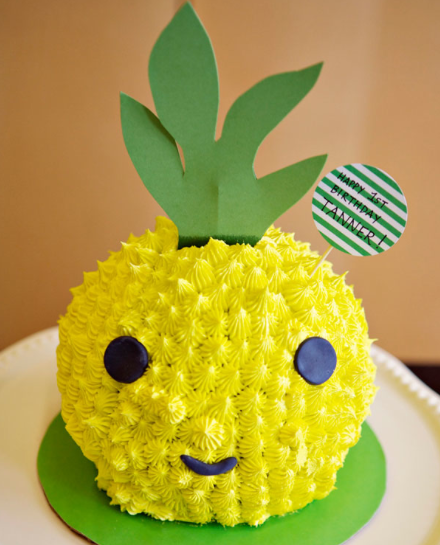 Cake by Coco Cake Land. Photo via Jonetsu Photography.
Pineapple Head Cake:
What's that you say? You've never seen a pineapple head cake before? This giant pineapple head cake was the centerpiece at a Hawaiian themed 1st birthday party! The sphere was made using a ball shaped cake pan and piped using an open star tip, creating yellow drop stars all over the cake to give it a spiked feel. Eyes and mouth are fondant, and the stem is made from craft paper which matches the cake board.
Ready to make your own fruit cake? How about a cake covered in beautiful handmade sugar berries, leaves and blossoms? Check out one of Bluprint's latest classes taught by the talented cake artist Maggie Austin: Sugar Berries, Leaves and Blossoms.