French wedding cakes, like French fashion, are characterized by being effortlessly chic and exhibiting an absolute aura of glamor and beauty.
Traditionally, a French wedding is capped off with a gorgeous croquembouche. But in today's more global world, both croquembouche and beautifully decorated cakes are able to share real estate as French wedding centerpieces.
Whether you're seeking a French wedding cake for your own celebration or a Francophile looking for a beautiful cake decorating ideas to fuel a love of all things French, here are some cakes that will have you saying "ooh la la."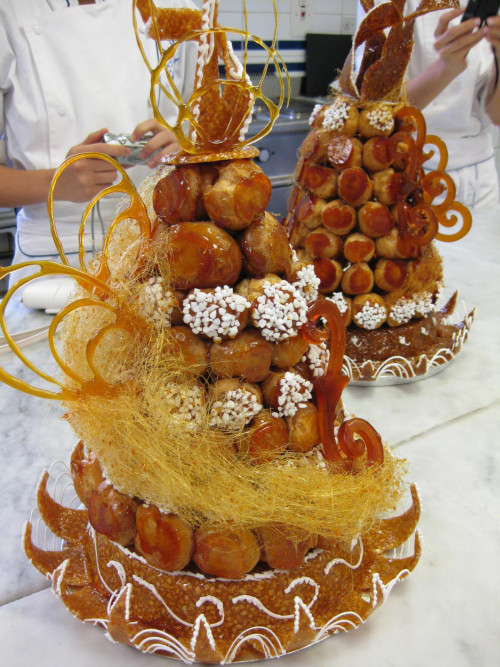 Photo via Le Petit Pâtissier
Spun sugar croquembouche:
The croquembouche is a traditional French wedding confection in which puffs of choux pastry are assembled in a cone shape, and bound together with threads of caramelized sugar. In this example, while the shape is traditional, Le Petit Pâtissier pushed the boundaries of tradition by adding some stunning avant garde sugar work. Strings of sugar cascade down the side of the cone shape, and poured sugar designs add dimension and drama to the sides and top of this beautiful centerpiece.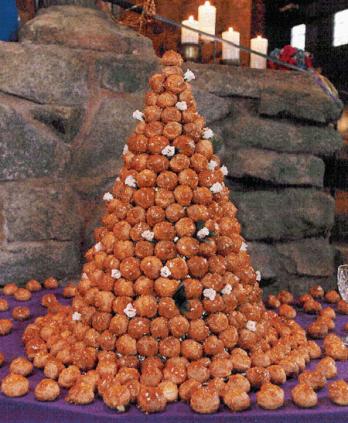 Photo via The French Gourmet
Tall croquembouche:
Size does matter in the case of this impressively large croquembouche. The construction is simple but impeccable, and the scale of the finished cone composed of choux pastry makes it an awe-inspiring treat to behold.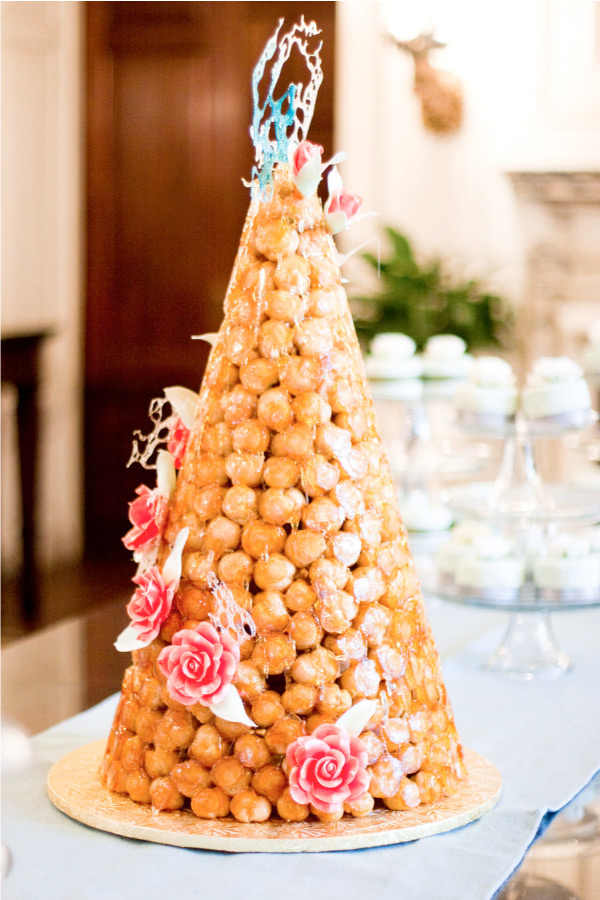 Photo via Style Me Pretty
Pretty in pink flowers:
The small choux pastries are assembled snugly on this stunning croquembouche, and the strings of caramelized sugar binding it together look like spun gold. A lovely cascade of delicate pink flowers spiraling down the side are delicate and pretty. Learning how to make sugar rose flowers can certainly pay off for a wedding à la française!
Photo via French Wedding Style
Crepe wedding cake:
Although this gorgeous cake by Petite Rêve Cafe was made in California, it exudes French charm, prompting daydreams of idyllic lavender-scented, sun-dappled afternoons in Provence. It's not only a work of art, but a labor of love: it's made from over 200 crepes held together with lavender vanilla pastry cream.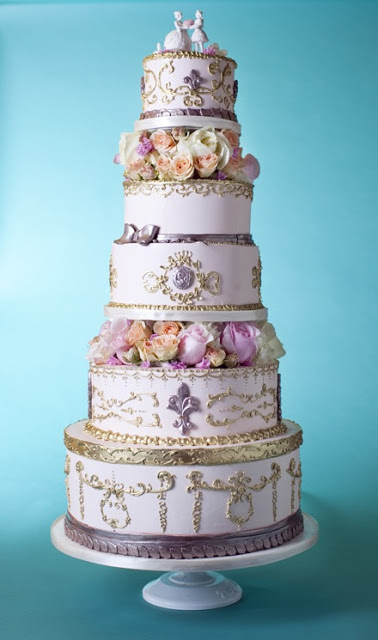 Photo via Cake Coquette
Marie Antoinette inspired cake:
If "let them eat cake" is your speed, you'll love this Marie Antoinette themed cake. Five tiers of cake are punctuated by fresh flowers, adorned with luxe metallic gold detailing, and topped with a très French topper inspired by the ones used on cakes at famous and fancy French bakery Ladurée.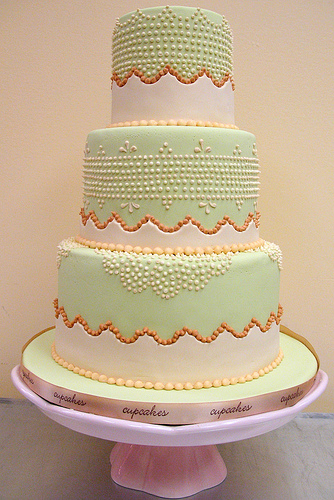 Photo via The Cake Bar
Ladurée-inspired cake:
Speaking of that famous and fancy French bakery Ladurée, here's a cake inspired by the revered house of pastry. The pastel green tone and gold detailing mirror the decor in the French tea house and pastry shop, delicately assembled to look both old world and worldly at the same time.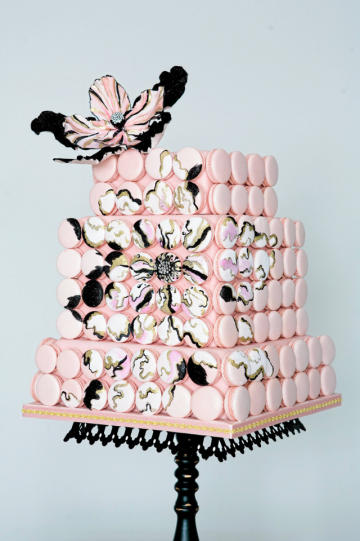 Photo via Cake Opera Co.
Pink macaron cake:
Square wedding cakes are eye catching and slightly avant garde. But this one takes it to haute new levels, with square cake tiers adorned all over with pretty pink macarons. It doesn't stop there, though. A bold black flower is drawn, Chuck Close-style, across the cookie tops, and a beautifully handcrafted flower finishes off the Frenchie effect.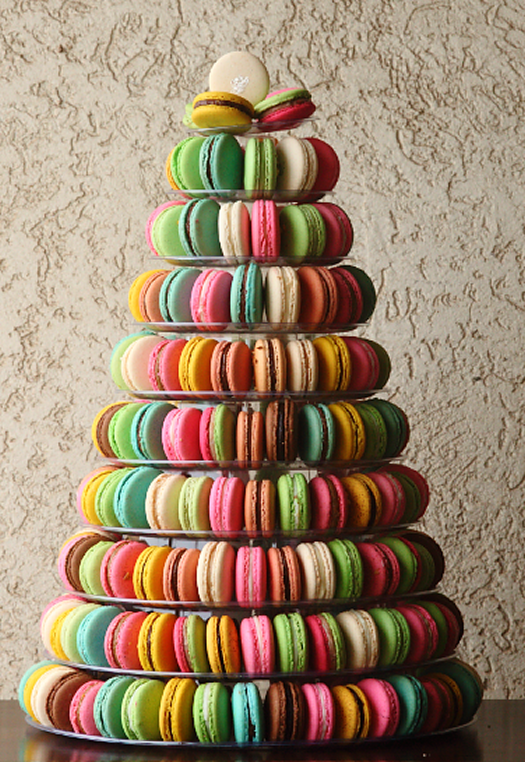 Photo via Charlotte's Fancy
Rainbow macaron cake:
The cupcake tower concept gets French-ified with this beautiful rainbow tower of macarons. The tiered shape mimics a wedding cake or croquembouche, giving it a formal appearance, but the fact that the shape is composed of colorful macarons adds a sense of whimsy and fun. Although perhaps not traditional, it couldn't be lovelier.
Are you a total Francophile?
Create your own luxe creation reminiscent of French elegance, be it a fashion-inspired wedding cake complete with ruffled fondant  or an ornate creation adorned with  classic sugar flowers.
To delve even further into the world of France, why not explore the art of French cuisine with the Craftsy class French Cooking at Home: The Food of Provence, taught by Georgeanne Brennan.
What kind of French wedding cake captures your sweet fancy?