Are you ready for some football? Football season has just begun, and so begins the weekly nail-biting, game-watching get-togethers and celebrations!
Kick off the season with inspiration from these fabulous football cake ideas that are sure to score at your next tailgating party!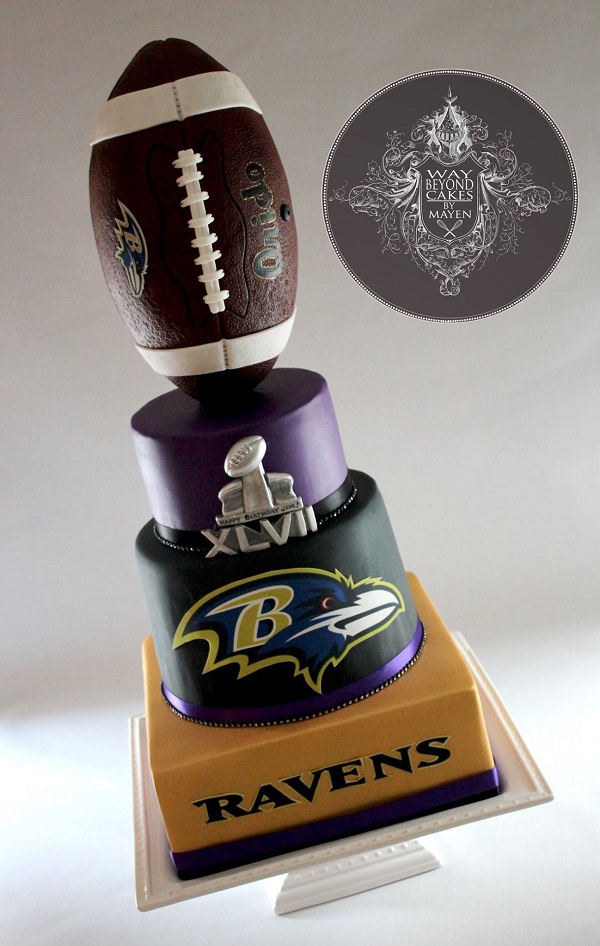 Photo via Way Beyond Cakes by Mayen
Four-tiered football cake
Way Beyond Cakes by Mayen created this absolutely incredible four-tiered football cake for her husband, honoring his team of choice, the Baltimore Ravens, who won the the Super Bowl in 2013! The first three layers were covered in fondant with coordinating team colors and adorned with the recognizable team name and logo printed from edible images. The pairing of the square shape with the round tiers gives the presentation a more masculine look. The large football topping the cake was created out of rice cereal treats covered and decorated with fondant. For additional details on the topper, check out the football tutorial for images of Mayen's process.
To learn how to cover and work with fondant, make sure to check out the Bluprint course The Wilton Method®: Decorating with Fondant with Beth Somers.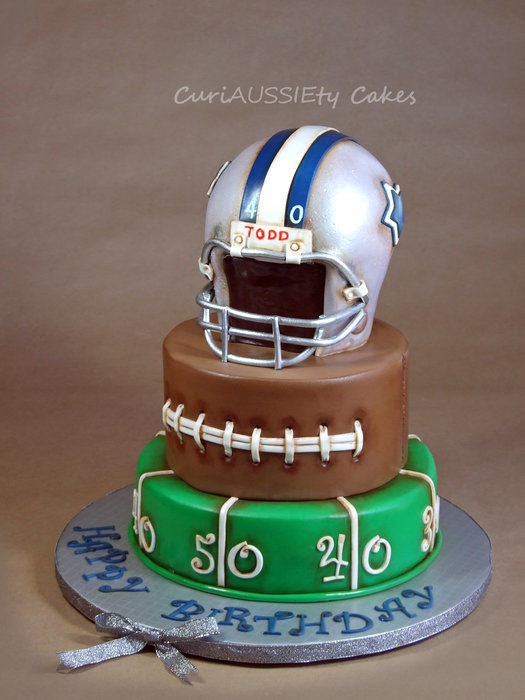 Photo via CuriAUSSIEty Cakes
Vintage football cake
For a football-themed birthday, CuriAUSSIEty Cakes created this beautiful cake with a vintage feel. Though the top tier is an amazingly carved helmet cake, the bottom tiers represent aspects of the game, such as the yard lines on the field and a football, but in the traditional round shapes, allowing for added creativity. The entire cake is given a marvelous worn, aged quality with the use of hand-painted details.
To begin working with carved cakes, check out Cake-osaurus Rex with Catherine Ruehle, who will teach you the basics of designing, sculpting and building cake to create three-dimensional cakes.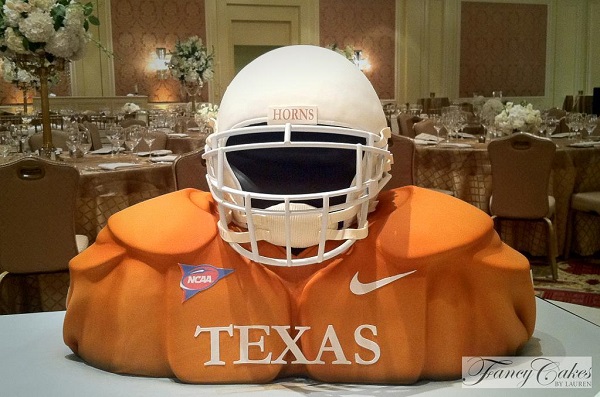 Photo via Bluprint instructor Lauren Kitchens
Football bust cake
Lauren Kitchens, owner of Fancy cakes and instructor to various Bluprint courses, created this incredibly realistic and superb football bust cake. The entire cake was constructed and carved to resemble the upper portion of a football player. The details are unbelievable, including the player's safety pads, created with the use of modeling chocolate covered with fondant.
Be sure to look into Lauren's Bluprint courses Intro to Modeling Chocolate and Modeling Chocolate Magic for specific instruction on the various uses of this medium for your cake decorating skills.
Photo via Bluprint member Antonio Balbuena
Football 3-D cake
Bluprint member and cake artist Antonio Balbuena created this awesome football birthday cake in the course All-Star Cakes with Mike McCarey. Similar to the first cake above, this football stands upright, but instead of utilizing rice cereal treats, it is made completely out of cake with the assistance of gravity-defying support . In addition to finishing off the presentation with a fondant-covered board, the cake was further cleverly personalized with the use of an edible marker to resemble a player's autograph!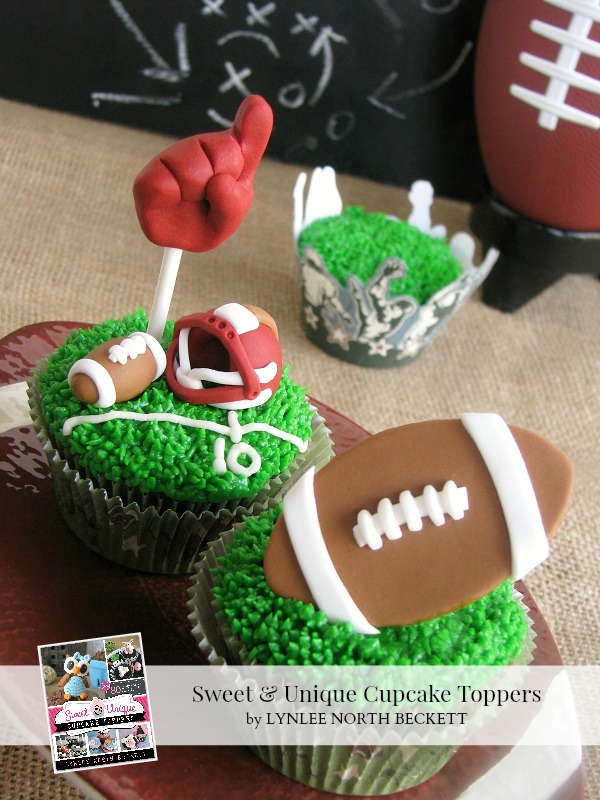 Photo via Lynlee's
Touchdown football cupcakes
These football-themed cupcakes from the book Sweet & Unique Cupcake Toppers include several miniature football fondant toppers that can easily be customized to any team color. The presentation is finished off with piped buttercream details, resembling grass and the football field's yard lines. Be inspired with additional football cupcakes for your next sports-themed party!
For instruction and practice with miniature fondant decorations, try Tiny Cupcake Toppers with Sheryl Bito and feel comfortable working with a smaller scale.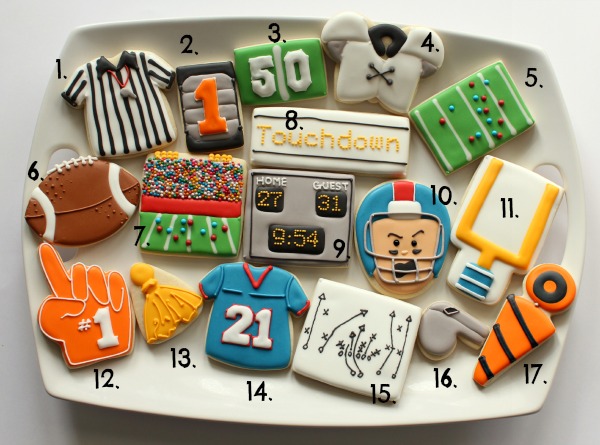 Photo via Sweet Sugarbelle
Football cookies
This amazing array of cookies decorated so beautifully by Callye of Sweet Sugarbelle incorporate many aspects of the game. Callye is so incredibly creative when it comes to utilizing different cookie cutters to make inventive designs and this set is no exception. Check out what cutter was used for each of the cookies corresponding with the numbers in the image in her post on football cookie ideas and cutters.
Learn how to embellish cookies with a variety of techniques in the Bluprint course Decorating Essentials: Designer Cookies with Autumn Carpenter that will wow your guests, regardless of the game's score!
Who do you cheer for and how will you show your team spirit in sugar form?!