There's no doubt that the use of fondant is a foundation in cake decorating, and can transform cakes into gorgeous works of art. But fondant can also be such a fun medium with which to work for a variety of other desserts, such as cupcakes, cookies and cereal treats.
Since dessert tables continue to be a popular trend, finding creative ways to embellish sweets is the perfect opportunity to put fondant to use in more imaginative ways.
Cupcakes
As miniature cakes, cupcakes make the perfect sweet begging to be topped by fondant. With a little bit of icing, you can easily attach fondant toppers to cupcakes. The design possibilities are endless.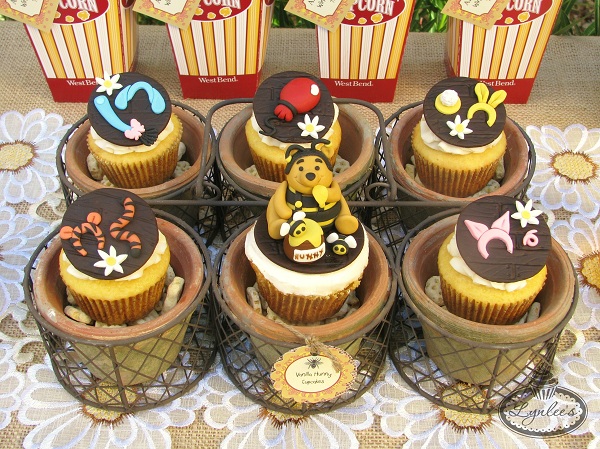 Photo via Lynlee's Petite Cakes
With a combination of both two-dimensional toppers and three-dimensional figures (including a super cute fondant bear), I adorned these Winnie the Pooh-inspired cupcakes for a themed party.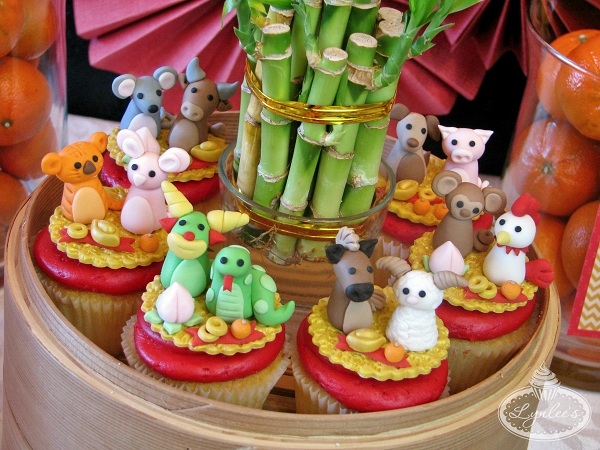 Photo via Lynlee's Petite Cakes
In celebration of Lunar New Year, I added fondant toppers representing the Chinese zodiac to basic cupcakes. The simple addition of colored buttercream helps to accentuate the fondant designs, as well as the entire presentation.
You may also enjoy our roundup of Asian-inspired cakes.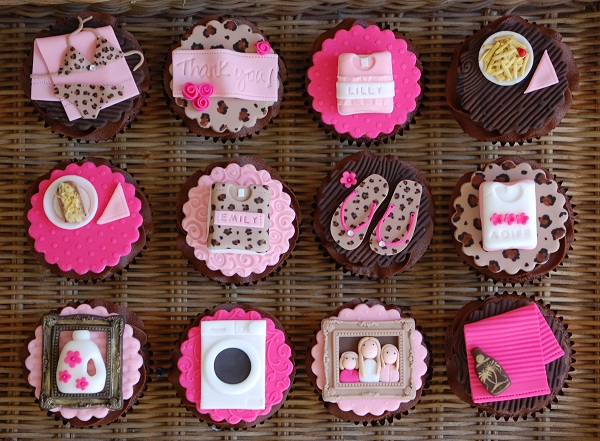 Photo via Royal Bakery
This extremely detailed and adorable cupcake set by Royal Bakery incorporates a variety of patterns and techniques such as cake painting, along with the use of molds. Making fondant decorations for cupcakes can be very similar to the process of adorning cakes but on a smaller scale.
As a gift for a nanny, this cupcake set is a prime example of the ability to personalize and incorporate the gift receiver's likes into the individual fondant designs.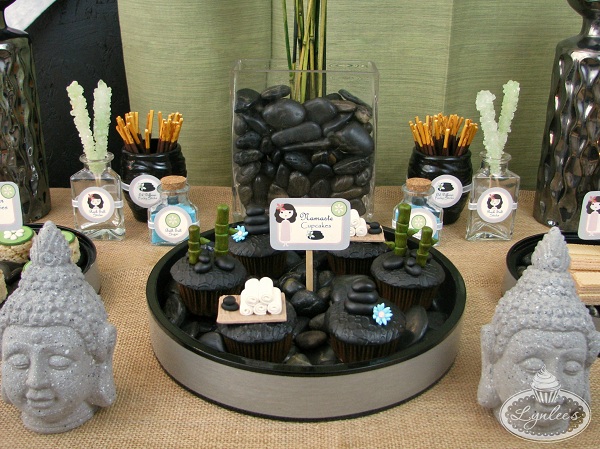 Photo via Lynlee's Petite Cakes
While the icing can often enhance your cupcake presentation, you can also cover the cupcake completely with fondant to create a clean and different look using advanced fondant techniques.
These spa-themed cupcakes were covered with embossed black fondant and accented with additional fondant decorations to resemble a rock fountain.

Cookies
Another great treat easily embellished with fondant is the cookie. Fondant accents really add dimension. They can be attached with royal icing, chocolate or clear piping gel.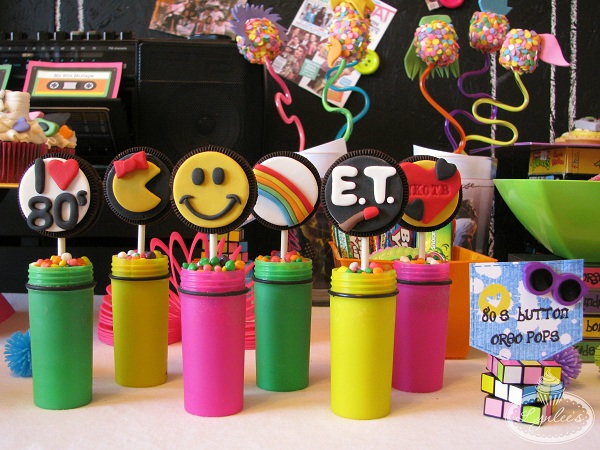 Photo via Lynlee's Petite Cakes
These 80s-themed fondant decorations were attached with chocolate directly to bare cookie sandwiches on lollipop sticks. Such a simple way to add flair to an already delicious treat.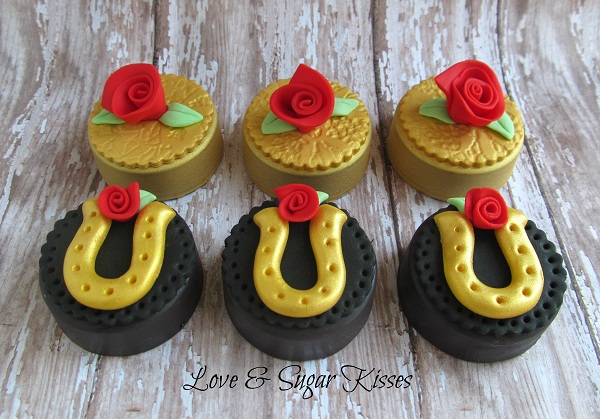 Photo via Love & Sugar Kisses
Chocolate-covered sandwich cookies are all the rage and Love & Sugar Kisses has taken these mouth-watering treats to a new level with the addition of fondant decor. These cookies were covered in chocolate and adorned with charming Kentucky Derby-themed fondant embellishments.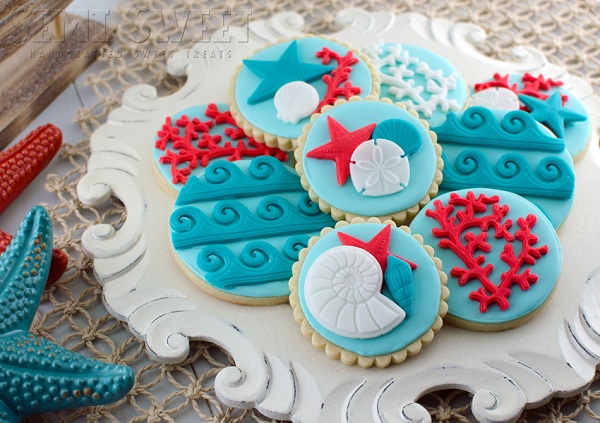 Photo via Semi Sweet
Sugar cookies make the best canvases for cookie decorators who often work with royal icing to create their masterpieces. Mike at Semi Sweet designed a gorgeous mixed-media set with these nautical-themed cookies, utilizing royal icing for the bottom layer and adding fondant accents once the icing has set.

Push-up pops
These plastic push-ups have become the perfect container for sweets of all kinds, from cakes to pudding to layered desserts.
To customize these trendy treats to a specific theme, a simple way to enhance it is with some fondant decor.
Since a liquid-based dessert can quickly seep into the fondant and soften or ruin it, plan your contents and layers accordingly.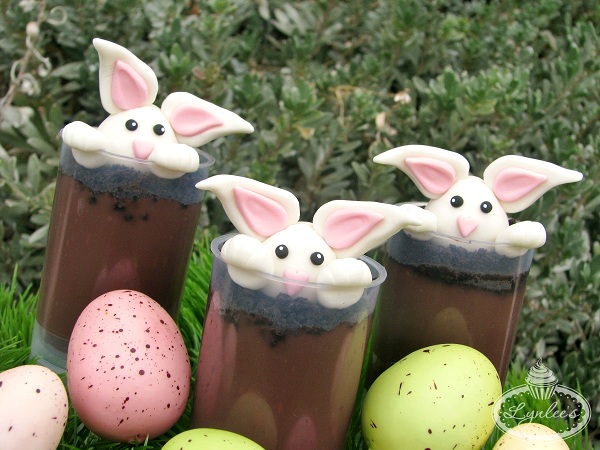 Photos via Lynlee's Petite Cakes
Pudding push-up pops for an Easter party were intended to look like rabbit holes, topped with crushed cookie "dirt." Fondant bunnies were added peeking out, while only bunny bums showed as they climbed back into their holes.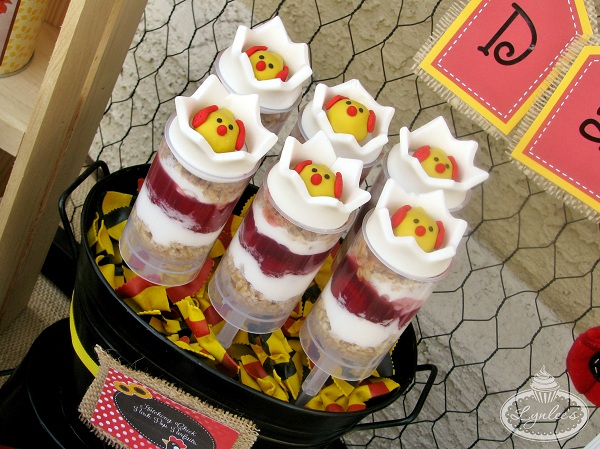 Photo via Lynlee's Petite Cakes
Layered yogurt parfaits were the push-up pop treats at this Mother Hen brunch. They were topped with oatmeal and fondant hatching chicks.

Rice cereal treats
A classic treat for kids of all ages gets a makeover with the addition of fondant decorations. Use white or colored marshmallows and vary the cereal to create the sweets to customize and match back to the fondant design.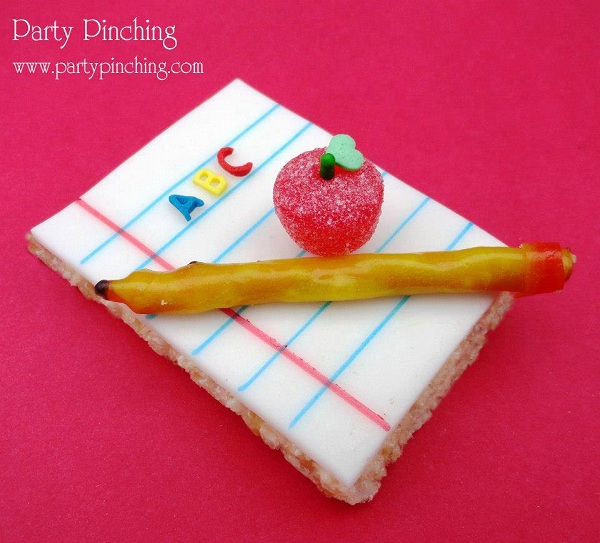 Photo via Party Pinching
Norene at Party Pinching created this incredibly fun back-to-school-themed cereal treat by covering it with white fondant, decorating it with edible pens to make a notepad, and adding edible items, such as a gumdrop and pretzel stick.

Other creative fondant uses

Photo via Creative Juice
French macarons are quickly becoming a staple on dessert tables. They can be made in a variety of colors and shapes, and fondant accents add the perfect finishing touch.
Mindy Cone of Creative Juice, who wrote the recently released book Gourmet French Macarons, created this stunning wedding cake macaron and finished it off with a shiny fondant rose!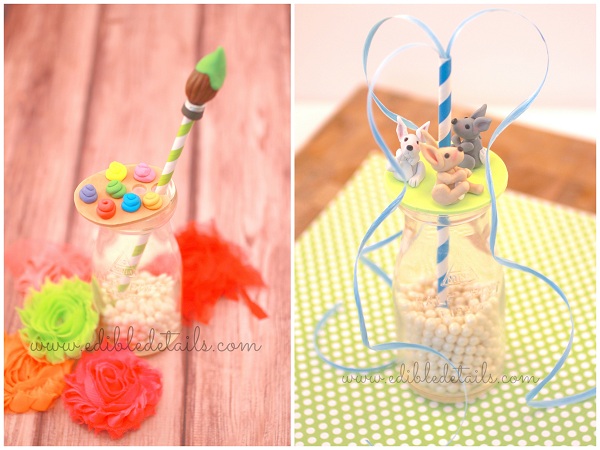 Photo via Edible Details
Forget about milk and cookies…it's all about milk and fondant! How incredibly creative and adorable are the toppers adorning these old-fashioned milk bottles by Edible Details?
You can learn more about modeling fondant toppers right here on Bluprint. Check out Cake Topper Techniques: Fondant Animals with Sharon Wee, Cake Topper Techniques: Figure Modeling with Anne Heap, and Rolled Fondant Flowers with Gary Chapman.
See, fondant isn't just for cakes! What are your creative uses for fondant?