Do you like cookies? Silly question. Of course you like cookies. I know it seems so much easier to buy boxed cookie mix from store, but I promise you this recipe for flourless peanut butter cookies is as easy as they come.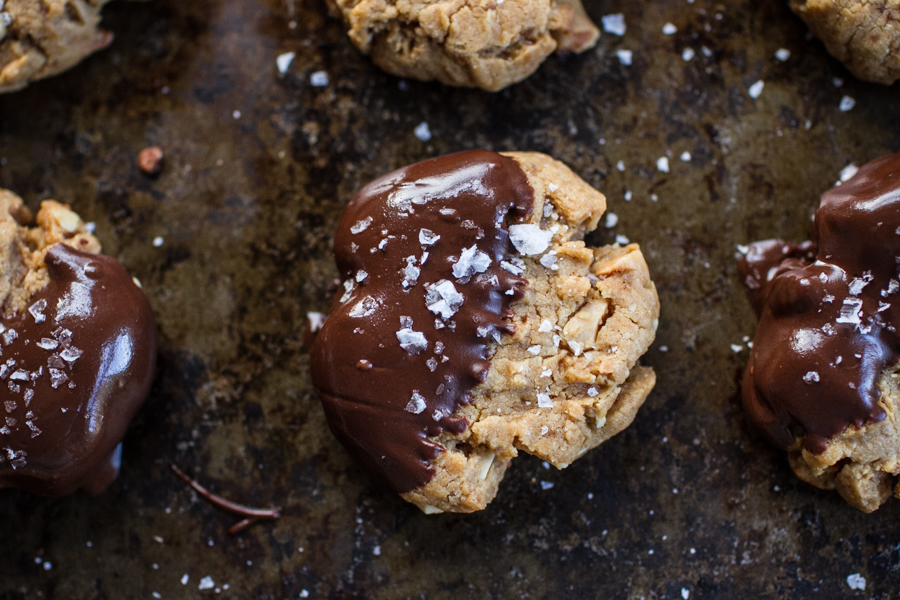 Photos via Edible Perspective
Today you're going to learn how to make super easy flourless peanut butter cookies! These cookies are so simplistic they don't even require flour, but they taste like a dream! With no flour they are completely gluten-free and grain free. All you need are the following ingredients:
And if you want to dip your cookies in chocolate at the end, I assure you it takes just a few more simple steps.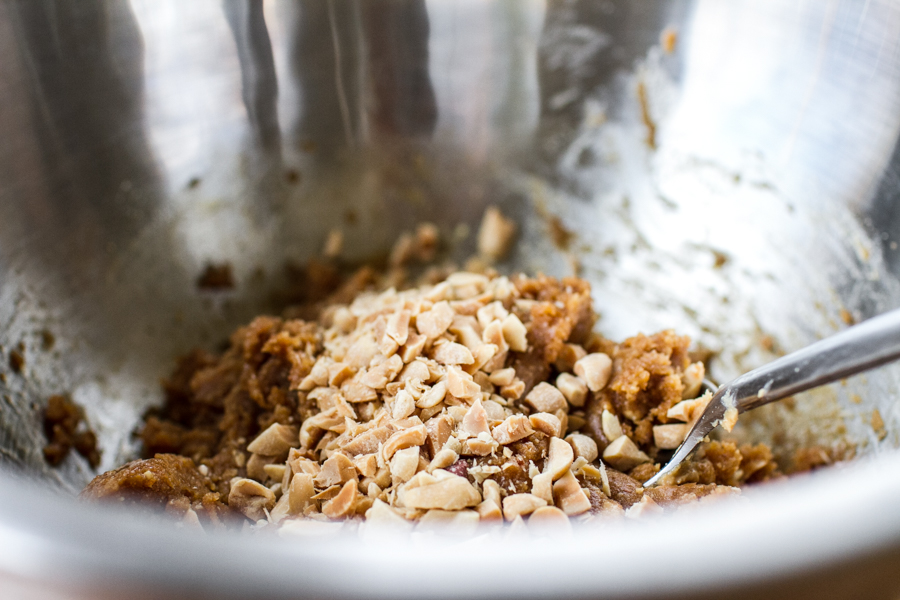 The crisscross pattern is a must for any good peanut butter cookie. I added chopped peanuts to the mix for fun, but you can definitely leave them out. Chocolate chips also work! These are such a fun little treat to make and the perfect recipe for kids to help out with. It's hard to mess these up and they take just minutes to mix up.
If you've never made homemade peanut butter before, it's a must try! If you have a large food processor you'll be good to go with dry roasted peanuts and a few pinches of salt. Amazing. Check my post for more details on how to make homemade peanut butter. If you don't have a food processor, no worries! Store-bought peanut butter will work perfectly. Be sure to buy the drippy (non-stabilized) kind. But, be sure to stir the peanut butter first, mixing in any oil that has separated and collected on top. No one likes an oily cookie!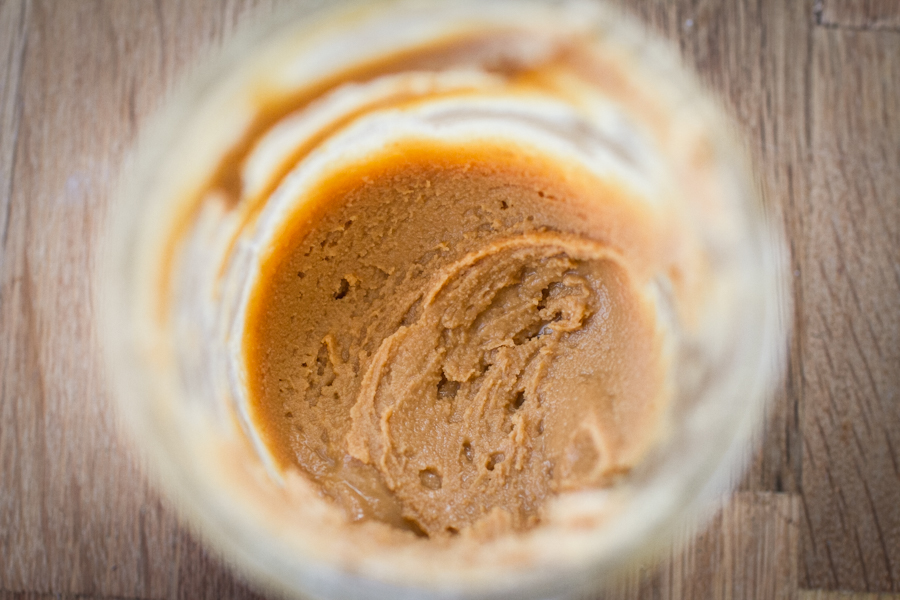 After baking these for under 15 minutes you're left with a slightly puffy, chewy, peanut butter filled cookie. The flaked sea salt is an absolute must!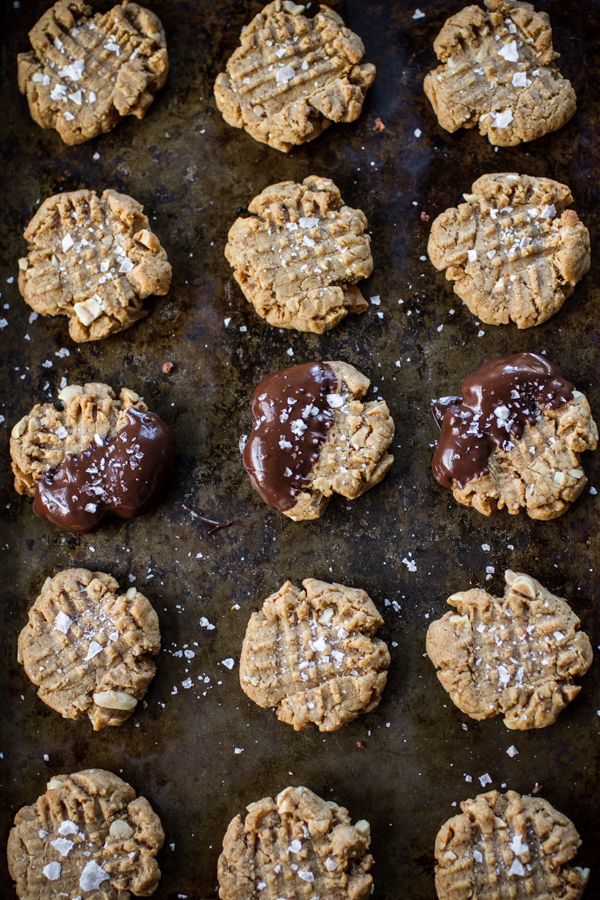 Flourless Peanut Butter Cookies
Yields: approx. 20 cookies
Ingredients:
1 cup peanut butter
1/2 – 2/3 cup coconut sugar, (or pure cane sugar)
1 large egg, whisked
2 teaspoons pure vanilla extract
1/3 cup finely chopped peanuts (optional)
large flaked sea salt, (to top)
Chocolate coating:
1 cup dark chocolate (or semisweet) chips
2 teaspoons coconut oil (optional for thinner consistency)
1. Preheat your oven to 350* F.
2. In a mixing bowl, mix together the peanut butter, sugar, whisked egg, and vanilla until well combined.  The batter should form a thick dough that will continue to thicken as it sits for a few minutes.
Stir in the peanuts if using.
3. Roll/pack about 1 – 1 1/2 tablespoons of dough into a ball shape and place on a cookie sheet.
4. Gently press down with a fork in 2 directions to make a crisscross pattern. You want the cookies about 1/4-inch thick.
5. Bake for 10-14 minutes, until puffed and light golden brown. Cookies will continue to brown a bit once removed. Let fully cool before handling. They will firm one cooled.
6. After cooling, melt chocolate and coconut oil in a double boiler or in the microwave for 30 second increments, stirring after each until smooth. Line a baking sheet with parchment or wax paper. Pour chocolate into a bowl and dip half of each cookie into the chocolate.
7. Sprinkle with flaked sea salt and place on the lined pan until set.
Notes:
If skipping the chocolate, add a sprinkle of flaked sea salt on each cookie prior to baking. If skipping the flaked sea salt add 1/4 – 1/2 teaspoon fine grain salt to the cookie batter.