Firefighters are amongst our everyday true heroes, so it's no surprise that both children and adults look up to them for their dedication and selfless work. For International Firefighters Day, which takes place yearly on May 4th, this hard-working group of men and women are recognized for their commitment to protect their communities. So, whether your honoring the courageous work of a firefighter or trying to execute a theme party, here are a collection of firefighter-themed cake ideas to fire up your imagination!
Sound the alarm for these inspiring firefighter cake and cupcake ideas!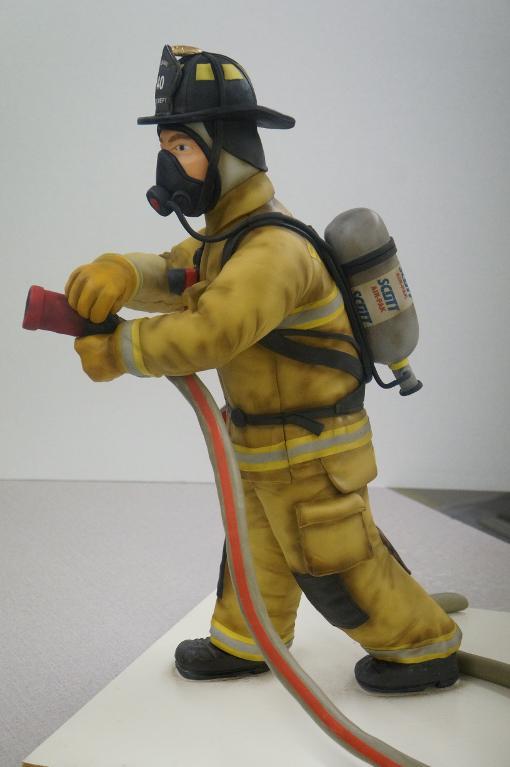 Photo via Bluprint member Bobnsamnix
Standing firefighter Bob cake
Bluprint member Bobnsamnix created this absolutely breathtaking 3-D Standing firefighter Bob cake in this course Advanced Cake Sculpting: Bobbleheads with Mike McCarey. The internal structure, constructed from plywood, dowels and copper tubing, held up the remainder of the body and accessories, made from cake and buttercream. The decor was achieved with the use of fondant and modeling chocolate. Check out images of the cake being built, as well as additional details of the embellishments on the project page.
New to building and sculpting 3D cakes? Try out Catherine Ruehle's Cake-osaurus Rex: Basic Cake Sculpting and hone your skills in Elisa Strauss' Sculpted Dog Cake course.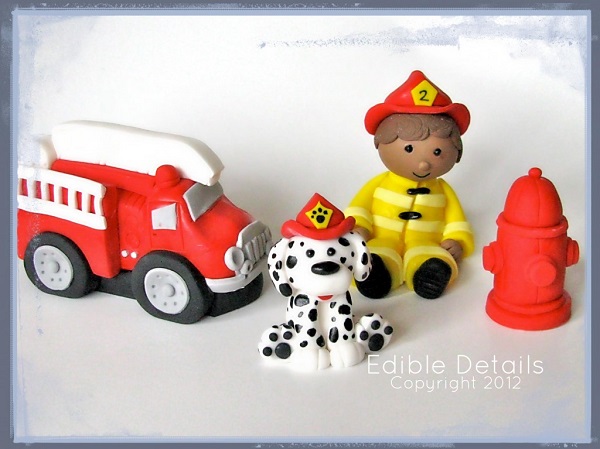 Photo via Edible Details
Firefighter fondant toppers
Representing several popular aspects of a fire station, Edible Details modeled these absolutely adorable fondant figures as cake or cupcake toppers. The firefighter, truck, hydrant and iconic Dalmatian were all sculpted from fondant, while additional adornments, such as the writing and spots on the dog, were achieved with the use of black edible markers and painting techniques.
3-D people and animals can often be difficult to create, so practice your fondant and gum paste skills in the course Cake Topper Techniques: Figure Modeling with Anne Heap as well as Cake Topper Techniques: Fondant Animals with Sharon Wee.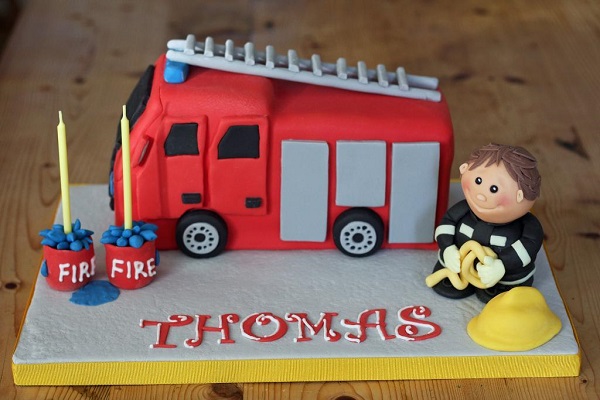 Photo via Bluprint member Bite Me Bakery
Fire engine birthday cake
Bluprint member and cake artist Bite Me Bakery created this impressive and precious fire engine birthday cake for an aspiring fireman's second birthday! The fire engine was built by stacking sponge cake using buttercream, and then covering and decorating the hydrant in fondant. The super-cute fireman was sculpted from Mexican modeling paste, an ultra-thin medium that does not stretch to due its lack of gelatin. The cake board was utilized to personalize the project by spelling the birthday boy's name in fondant letters.
Find out more about personalizing your confections in the new course Custom Lettering & Monograms with Nicholas Lodge and learn to carve and create ornate automobiles and modes of transportation in the class Classic Car, Timeless Techniques with Mike McCarey.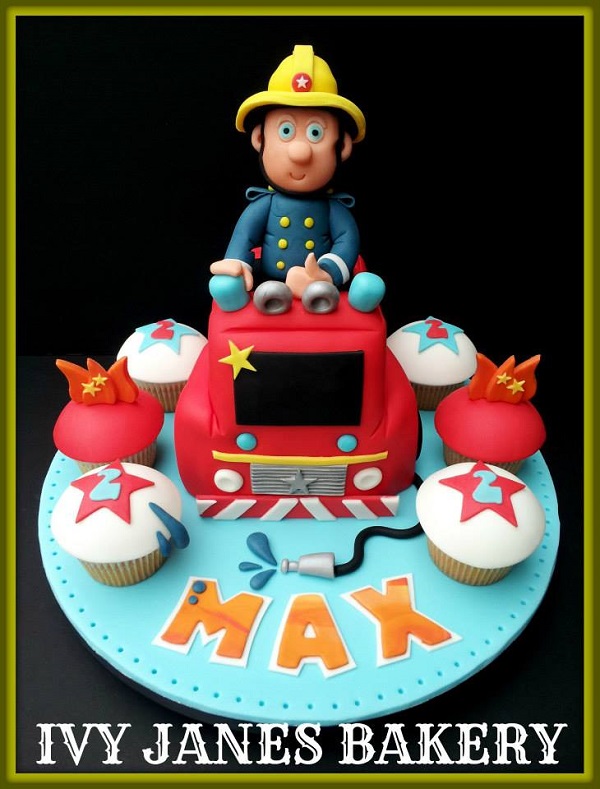 Photo via Ivy Jane's Bakery
Fireman Sam cake
Similar to the above cake, Ivy Jane's Bakery created this incredibly playful "Fireman Sam" cake and cupcake set, inspired by the animated children's series. Instead of creating an entire fire engine, the cake constructed the front of the vehicle with the adorable modeled figure popping out of the top! The cake board was covered in fondant and decorated with the birthday boy's name along with a fire hose cleverly  squirting water onto one of the covered cupcakes, all which finished off the presentation with simple and clean decorations.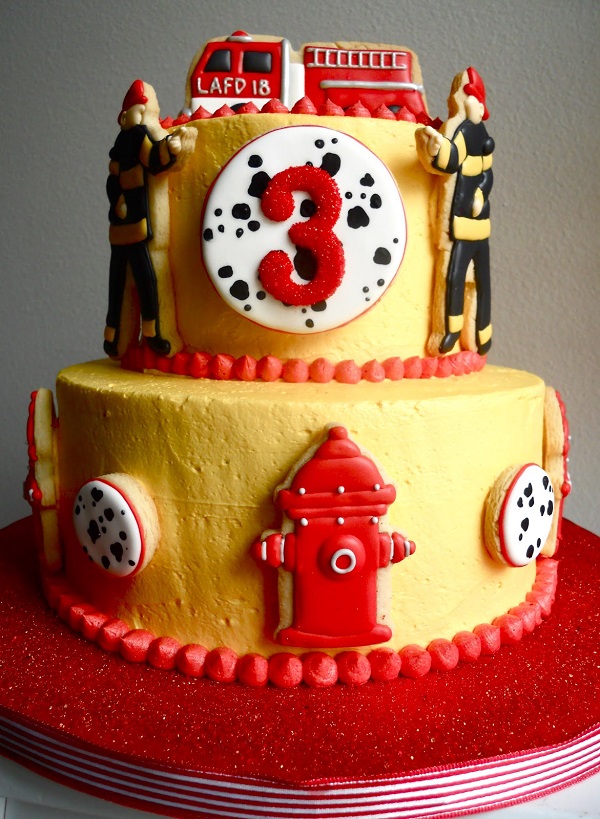 Photo via Oh Sugar Events
Fireman cake
This beautiful two-tiered fireman cake by Oh Sugar Events was covered entirely using yellow buttercream icing, while the trim was added with red piping. The firefighter accents consisted of shaped sugar cookies covered and piped with royal icing to reflect the firemen and accessories attached to top and perimeter of the tiers.
Decorating tip: Instead of fondant or gum paste, be creative with your decorations, such as cookies or candy that can serve as perfect alternatives!
Learn how to embellish cookies in the Bluprint course Decorating Essentials: Designing Cookies with Autumn Carpenter to serve on their own or to utilize as additional cake decorating materials!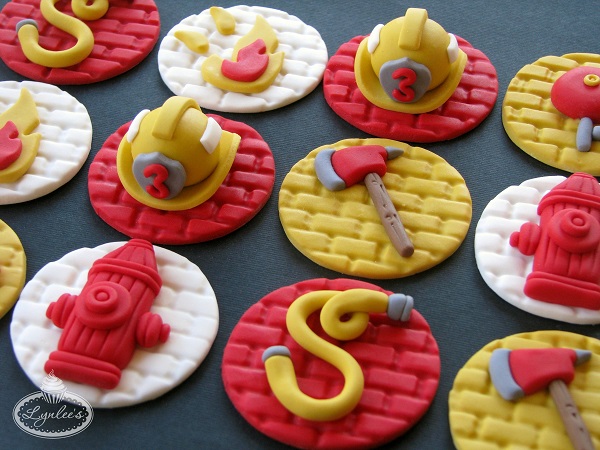 Photo via Lynlee's Petite Cakes
Firefighter cupcake toppers
Lynlee's Petite Cakes created these fondant firefighter-themed cupcake toppers for another aspiring fireman celebrating his third birthday! The round fondant discs were given texture with the use of a brick impression mat, tying all the designs together, despite the different colors utilized. Coordinating fondant decorations were molded and added to the top, providing added dimension to the designs.
Practice creating and working with fondant on a small scale in the Bluprint course Tiny Cupcake Toppers with Sheryl Bito where you'll learn to adorn your smaller confections.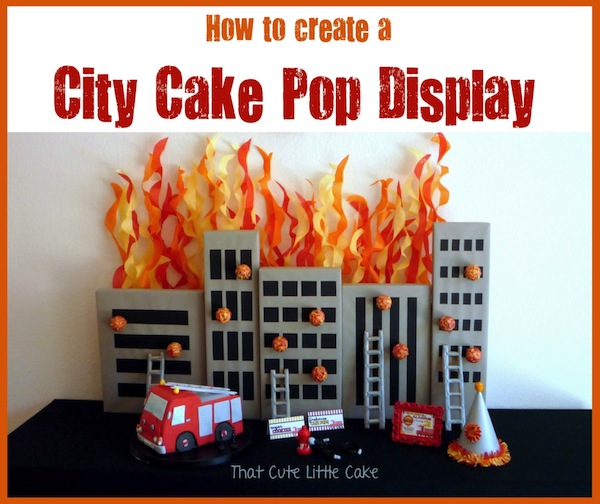 Photo via That Cute Little Cake
City cake pop display
With cake pops especially, it is essential to properly showcase your works of art. That Cute Little Cake did just that with this impressive city cake pop display for a fireman-themed birthday party! The firefighters were called in to save the cake pops from the fiery scene. While the tutorial will show you exactly how to re-create it, check out the rest of the That Cut Little Cake party for additional details and ideas for your own alarming celebration.
What methods do you utilize to fire up your cakes and cupcakes?