One of the best things about cake is that it is so incredibly versatile — you can whip up a whole array of different styles and themes, from ornate wedding tiers to a carved replica of a favorite car! One hilariously fun cake design to create is a fast-food themed cake! Imagine setting a burger, milkshake and fries down in front of someone only for them to find out it's actually a delicious red velvet cake!
For some drive-in inspiration, here's our top five fast food cakes!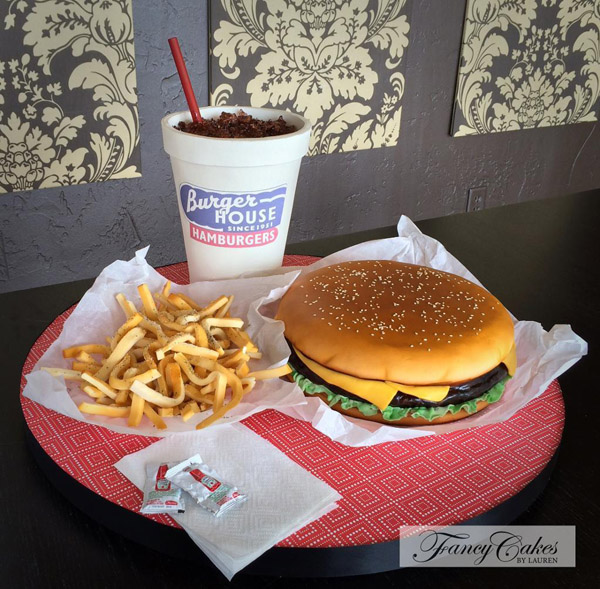 Photo via Craftsy instructor Lauren Kitchens
Burger, fries and soda cake
The fast-food fare above definitely makes us want to pull up a chair and dig in! We love the lightly pepper fries, realistic-looking cola drink and ruffle lettuce leaves. The addition of the napkins add ketchup sachets help set the scene too.
A fun idea would be to carefully open a real ketchup sachet, empty, wash clean, then fill with raspberry preserve and re-seal with a little royal icing or hot iron. Instruct the lucky recipient to open their ketchup and add to their cake for a fantastic and interactive touch!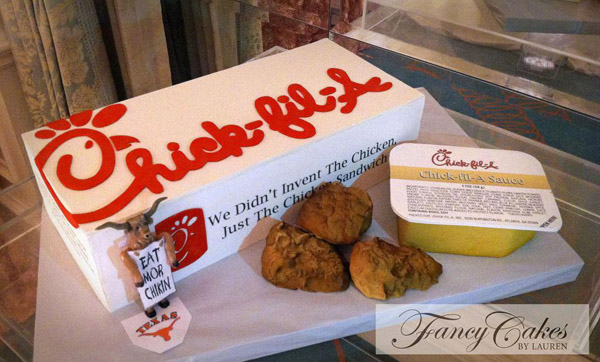 Photo via Craftsy instructor Lauren Kitchens
Fried chicken cake
We love this tasty and unbelievably realistic fried chicken themed cake complete with a pot of dipping sauce! Add a thoughtful touch by sneakily adding the lucky recipient's name as a brand name! Another brilliant idea would be to create a one-of-a-kind logo just for the birthday girl or boy. If you need to fit in a longer personal message, you could even create an edible wafer paper receipt!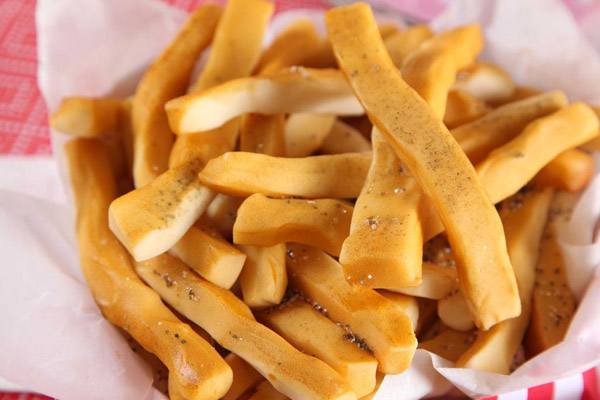 Photo via Craftsy instructor Lauren Kitchens
Modeling chocolate fries
Adding some cake-inspired fries to your fast food cake design is easy with Lauren Kitchens' Fast Food Cakes class, so enroll now for some amazingly fun how-to and insider tips!
These modeling chocolate fries certainly are mouth-watering. The added seasoning makes this basket of sweet fries look even more realistic! If you prefer ketchup, melted cheese or BBQ sauce on your fries, try whipping up some royal icing in the appropriate color and drizzle on top.
Canadian? Use "shreds" of yellow/orange fondant with brown colored piping gel or royal icing to add cheese and gravy to create a tasty cake version of poutine!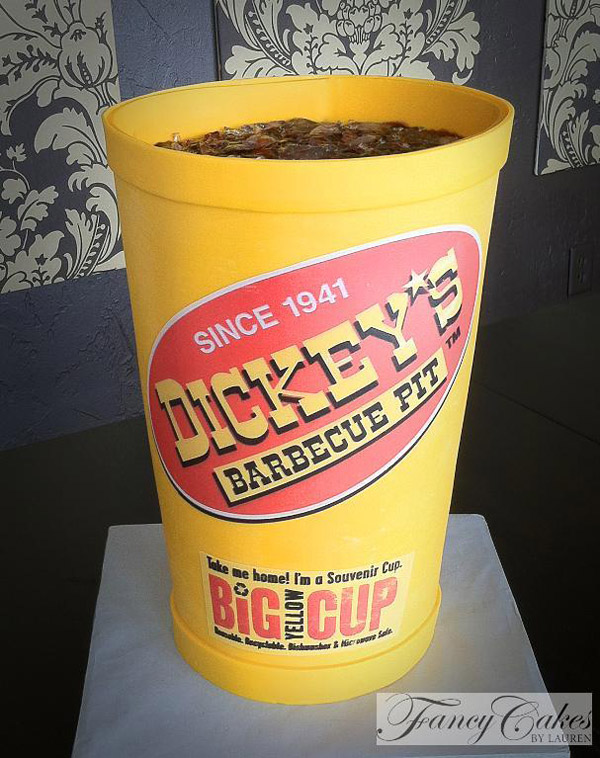 Photo via Craftsy instructor Lauren Kitchens
Giant soda cake
Need to whip up an impressive cake for a definite soda addict? Create and decorate a giant fast-food drink with fondant, buttercream, edible images, cake and more sweet ingredients! We simply love the idea of a delicious milkshake inspire cake complete with an edible straw made from wafer paper or perhaps a tall frappuccino topped with buttercream as fresh whipped cream with a dusting of cocoa on top.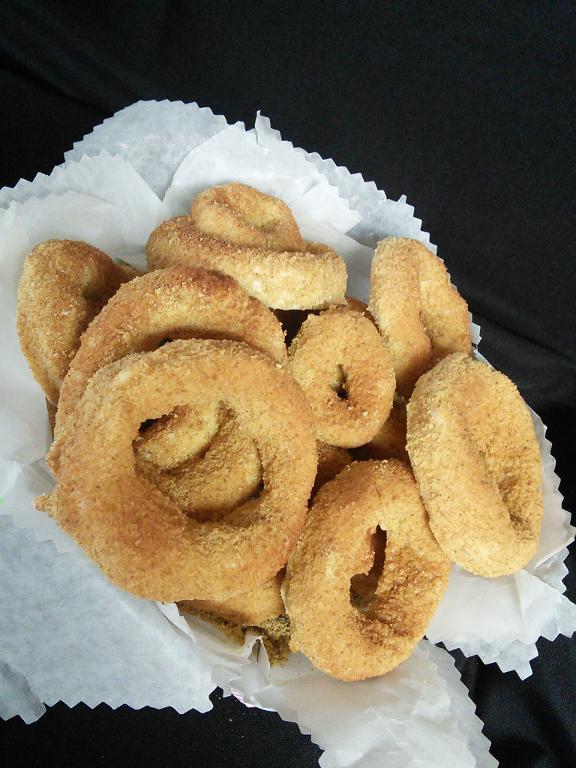 Photo via Craftsy member Oatmeal48
Onion ring cake toppers
You'd definitely be forgiven for thinking these tempting onion rings were the real thing. Instead they're sweet and edible cake toppers for a fast food themed cake. We just love the idea of these toppled in an edible modeling chocolate basket with a wafer paper wrapper and some red royal icing ketchup or chocolate BBQ sauce on the side. Pair these with a fabulously realistic soda made of fondant and you've got a super fun cake!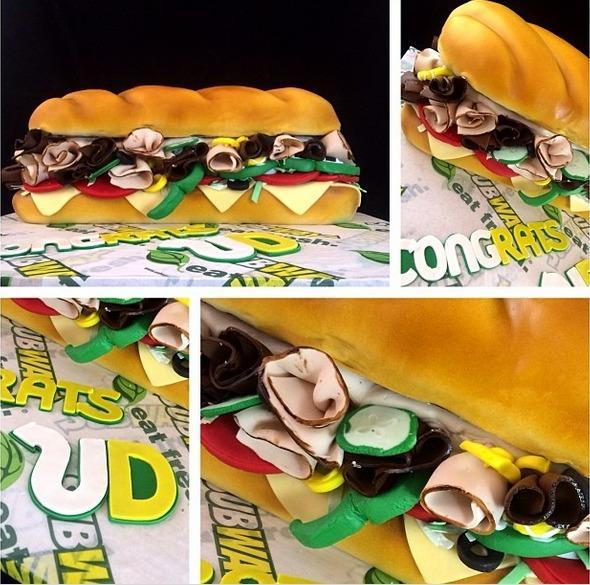 Photo via Craftsy member Buttercreamery
Foot long sandwich cake
This Subway sandwich cake is oh so tempting! We love the custom fondant message that mimics the company font, super bright colors and the edible wafer paper wrappers! Another fabulous thing about creating a foot long sandwich cake is that you can easily customize the "fillings" and "ingredients" to make a sandwich perfect for the recipient. You could even add a fondant cookie and a towering soda next to a Subway themed cake for a hilariously fun touch!
Bonkers for burgers or out of your mind for onion rings? What fast food would you love to re-create as a fun cake?