When it comes to cake design, gum paste florals are essential, and master the technique for creating sugar flowers requires a lot of patience, time, skill and the right tools. It may seem like a daunting task, but choosing the proper tools for making sugar flowers, Craftsy sugar flower classes and an eagerness to learn you can become a master! Get those resources and more here!
Here's a list of some must-have tools for making sugar flowers.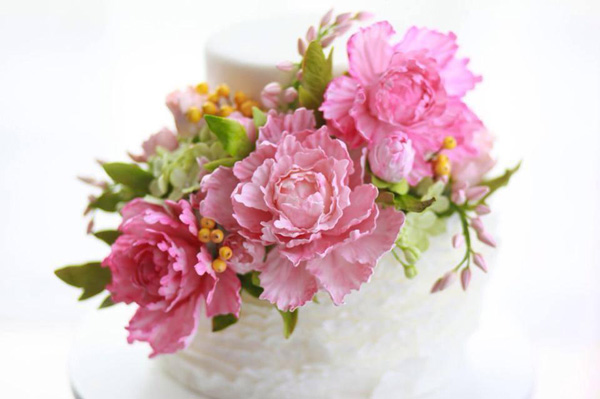 Photo via Craftsy member Alex Narramore
Modeling tools
Some of the first tools you'll need to invest in are modeling tools, including ball tools (used to ruffle petal edges) to veiners (used to etch 'veins' into  petals and leaves). You can buy each tool separately, but our advice is purchase a full set. You may not need all of the tools right now, but you will as you progress.
If you're new to creating gum paste flowers get a taste of floral flair with Nicholas Lodge's class Classic Sugar Flowers: Peony, Anemone, Tulip.
Foam pads & CelBoard
You'll also need a flower foam pad and a Mexican foam pad. The plain pad is for general use like ruffling petals. The Mexican pad is for creating Mexican hat shaped floral bodies. Roll out gum paste over the appropriate hole on the pad to create flat piece with a shape like the peak of a Mexican hat, which becomes the fluted part of a flower.
Another type of pad (though this one is made of hard plastic) to obtain is a CelBoard. This kind of pad has linear grooves along one side in order to create a 'vein' down the back of large petals and leaves for floral wire to be inserted.
Paintbrushes
A variety of good quality paintbrushes are also essential pieces of a sugar flower making kit. For flowers, there are three kinds of brushes: flat brushes, for adding color to the edges of petals; fine tapered brushes, for adding dots of color (like orchids); and large brushes, for overall dustings. You'll also want to have a general handful of brushes for any extra work.
Fondant rolling pin
A small fondant rolling pin is also a top essential tool for making sugar flowers. You can purchase these with, or without, removable guides on the ends (they look like rubber bands) to help roll straight edged fondant. Either will do the job well!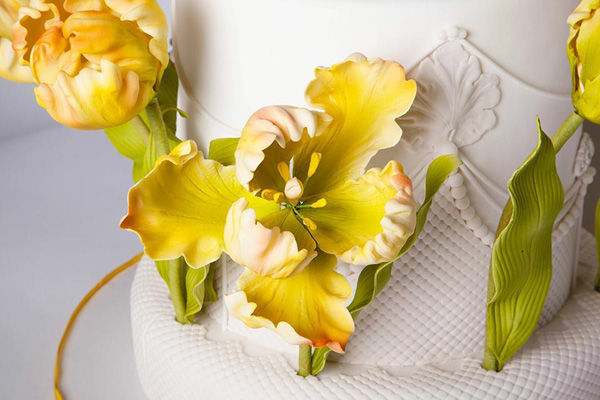 Photo via James Rosselle
To discover how to create stunning Parrot Tulips like the striking blooms above try James Rosselle's Bluprint class Spring & Summer Sugar Flowers!
Floral wire & tape
When you progress to creating floral sprays, you'll need things like floral wire and floral tape. Floral wire comes in different coatings and gauges; plastic coated wire is stronger than paper covered; the stronger the wire the lower the gauge number! We use two specific types of wire: 20 gauge plastic coated wire for heavy flowers like peonies and paper coated 26 gauge wire for petals and leaves.
Tylo powder & glue
Tylo powder and edible is good to have to hand. Tylo helps harden and strengthen fondant when added (approx. 1 teaspoon per 250 grams of fondant) while edible glue is perfect for attaching petals or stamens.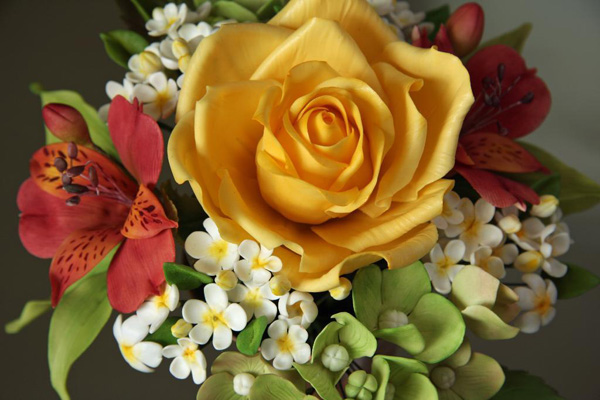 Photo via Bite Me Bakery
Petal cutters
The most popular flower, that many decorators learn first, is the rose. You can create roses with either five petal cutters in different sizes or individual rose petal cutters. For other flowers, there are definite shaped cutters on the market, so prepare in advance and practice!
To learn how to master the art of gum paste roses try Nicholas Lodge's Bluprint class The Ultimate Sugar Rose!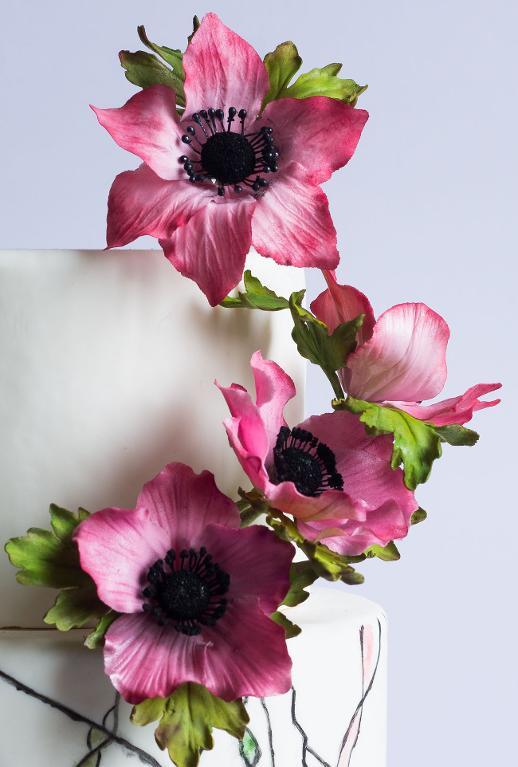 Photo via Craftsy member ModernLovers
Veiners
Using veiners adds texture to petals and leaves. You can freehand with a veining tool, use hard veiners to press your work, press with silicon veiners or even use real leaves (wash and dry them first). We prefer to work with double-sided silicon veiners; they're often very realistic, plus they imprint both sides.
Cutting mat
A cutting mat is a great for working with gum paste and fondant. It looks like a dark green rectangle (in lots of sizes) with a brighter green grid.  Once purchased, only use this on edible items e.g., making fondant characters or sugar flowers.
Cake dummies
Polystyrene cake dummies are great for standing your flowers on when creating sprays with wire otherwise you can utilise flower forming cups, empty egg cartons or paint palettes for non-wired florals.
Pliers & scissors
Handy tools to have are also pliers, wire cutters and small sharp scissors. You'll need the pliers and wire cutters when working with wire for floral sprays. The scissors are useful for a myriad of jobs especially adding texture to fondant topiary bushes!
Colorful tints & dusts
On top of coloring fondant you can add color to your flowers using blossom tints or petal dusts. These help lovely tones and graduations of color to create a sweet realistic effect!
Hopefully, thanks to our hints and tips of what tools you'll need to begin creating gorgeous sugar flowers, you're ready to get started!
Are there any specific tools you swear by when creating sugar flowers?