The only thing better than a homemade chocolate cake is a homemade chocolate cake that takes only minutes to make, yet delivers enough flavor to satisfy any chocoholic. Sound good? Look no further than this one-bowl eggless chocolate cake recipe. Start preheating your oven now, since you probably already have all the ingredients you need in your pantry.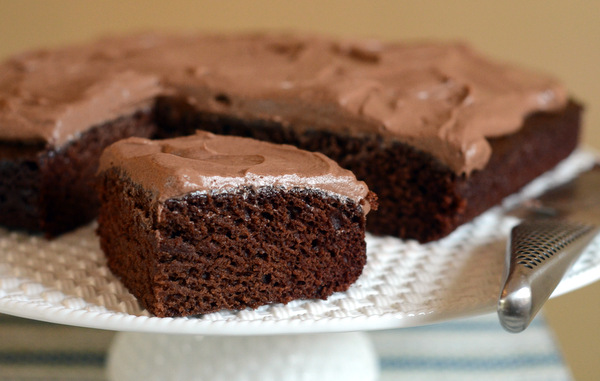 Photos via Nicole Weston of Baking Bites
More about this eggless chocolate cake recipe
There are a lot of things to love about this recipe. First, it is easy to make and doesn't require anything more than an ordinary whisk to bring the ingredients together. It can also be made in just one bowl.
Second, this eggless chocolate cake is relatively low in fat, though it is full of flavor. Finally, the cake is both dairy and egg free, which means that it is an excellent choice when you need to bake for people with dietary restrictions. It also means that you can literally make this cake with ingredients stored in your pantry.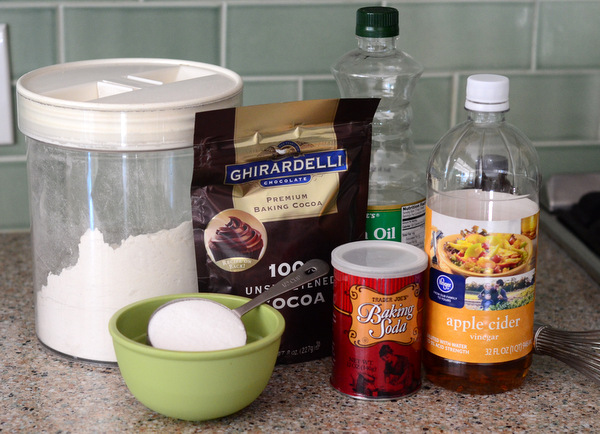 Even without these features, the cake is simply an excellent chocolate cake and a great recipe to have in your back pocket!
Here's what you need for this tasty dessert
Unlike other chocolate cake recipes, which are laden with butter and melted chocolate, this recipe is surprisingly light. It uses only a small amount of vegetable oil and gets its chocolate flavor from cocoa power. Cocoa powder is naturally low in fat and has an intense, bittersweet chocolate flavor that gives the cake a lot of depth, while keeping the cake tender.
Eggs typically serve to lighten a cake batter and give it a little additional lift in the oven. Instead of using eggs, this cake batter includes a little vinegar. The vinegar reacts with the baking soda in the batter and helps the cake rise up while baking.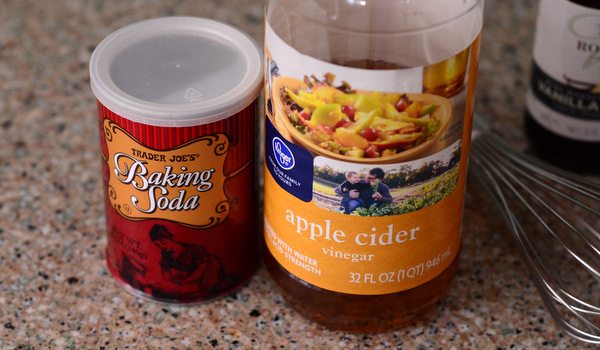 The finished cake has a fluffy, even crumb and you'll never know that there were no eggs in the batter. I always use apple cider vinegar, which has a slightly sweet flavor and blends seamlessly into the other ingredients. You could also use plain white vinegar if that's what you have on hand. A very strongly flavored vinegar, such as an aged balsamic, will typically leave a hint of flavor in the finished cake.
How to make this eggless chocolate cake
The dry and wet ingredients for the cake are mixed up in one bowl. It should take you no longer than it takes your oven to preheat to mix up the cake batter!
I recommend lining your cake pan with parchment paper to make it easier to remove the cake from the pan before serving. I used a 9″ square baking pan, but you can also use a 9″ round cake pan for a different look.
After it cooled, I topped my cake with a chocolate frosting. You can make any flavor work with this recipe. A caramel frosting can make it seem especially decadent, or peanut butter buttercream would give you a salty-sweet flavor combo. Of course, you can't go wrong with a simple vanilla buttercream or even just a sprinkle of powdered sugar. 
Eggless chocolate cake recipe
Makes 1 cake or 9 servings.
Ingredients:
1½ cups all-purpose flour
1 cup sugar
¼ cup unsweetened cocoa powder
1 teaspoon baking soda

¼

tsp salt

¼

cup vegetable oil
2 teaspoons vanilla extract
1 tablespoon apple cider vinegar
1 cup water, room temperature
Step 1:
Preheat oven to 350 F. Line a 9″ square baking pan with parchment paper and lightly grease it.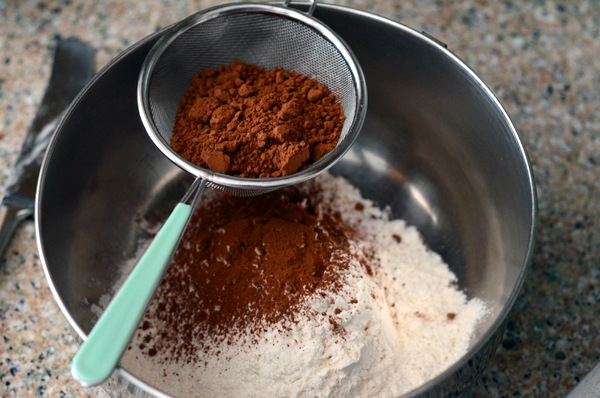 In a large bowl, sift together flour and cocoa powder. Stir in sugar, baking soda and salt. 
Step 2: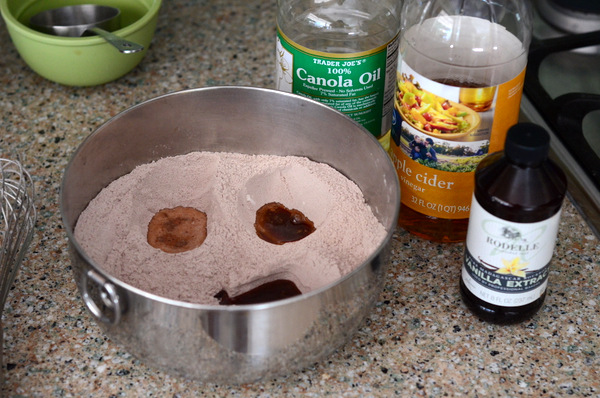 Make three wells in the dry ingredient mixture using the back of a spoon. Pour vegetable oil into one well, vanilla extract into another and vinegar into the third well. Pour water over everything and whisk until the batter is smooth. Pour into prepared pan.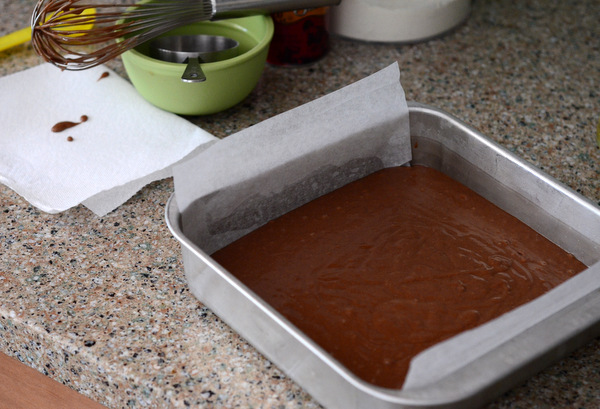 Step 3:
Bake for 25-30 minutes, until the cake is set and a toothpick inserted into the center comes out clean, or with only a few moist crumbs attached. Allow cake to cool completely in the pan before using the parchment paper to lift it out and transfer it to a cake stand. Frost as desired.