Adding a mouth-watering easy chocolate glaze to your freshly baked treats is a surefire way to make them look instantly gourmet! It's also a fabulous way of adding an extra punch of flavor.
Imagine making your already delicious chocolate cake, cookies or bundt cake a little bit more tempting with a rich, dark chocolate glaze! If your taste buds are already tingling, you need to give this super easy chocolate glaze recipe a try. All you need is 5 minutes and three ingredients you might already have in your pantry! 
All photos via Juniper Cakery
Easy chocolate glaze recipe
You'll need:
4 ounces of chocolate (you can use white, milk or dark) chips or buttons (couverture chocolate is best)
2 heaped tablespoons of butter
2 tablespoons of light corn syrup or maple syrup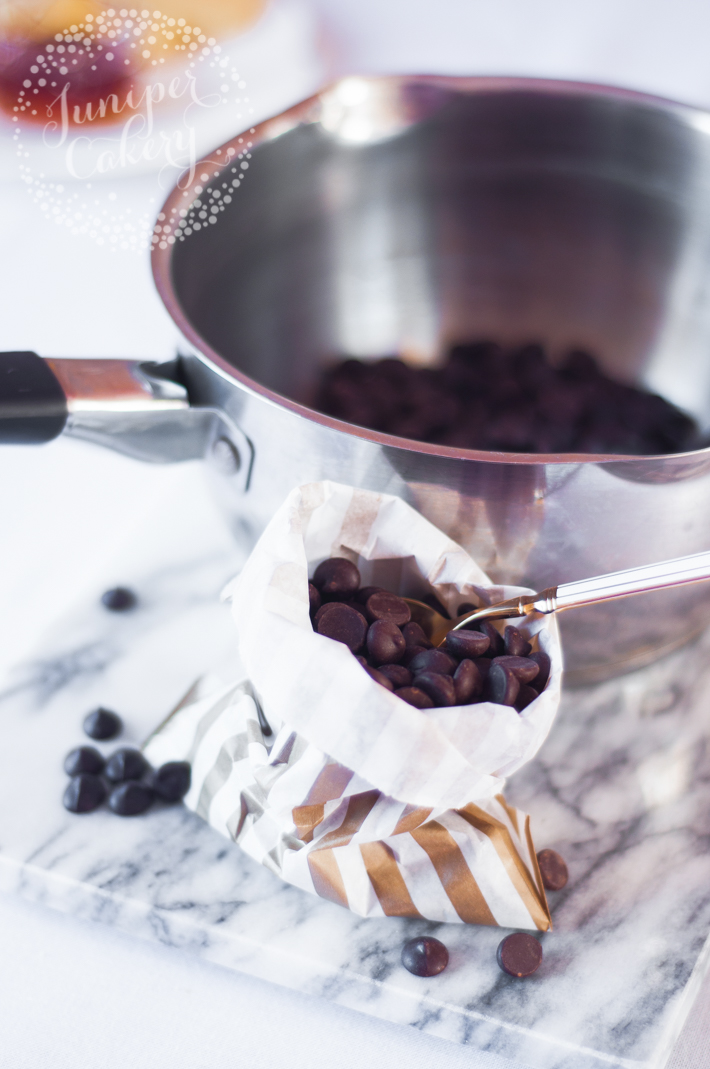 Step 1: Melt the chocolate
In a saucepan over medium heat, melt the chocolate chips along with the butter. Stir often.
Make sure not to melt your chocolate on high heat or you won't be left with silky smooth chocolate — instead you're likely to find burnt, grainy lumps of something that sort of resembles chocolate pieces.
Top tip:
We highly recommend using couverture chocolate for this. It will melt perfectly, as it contains a higher ratio of cocoa butter and it's already tempered (it has been "worked" previously while molten to better control the crystallization of the cocoa butter).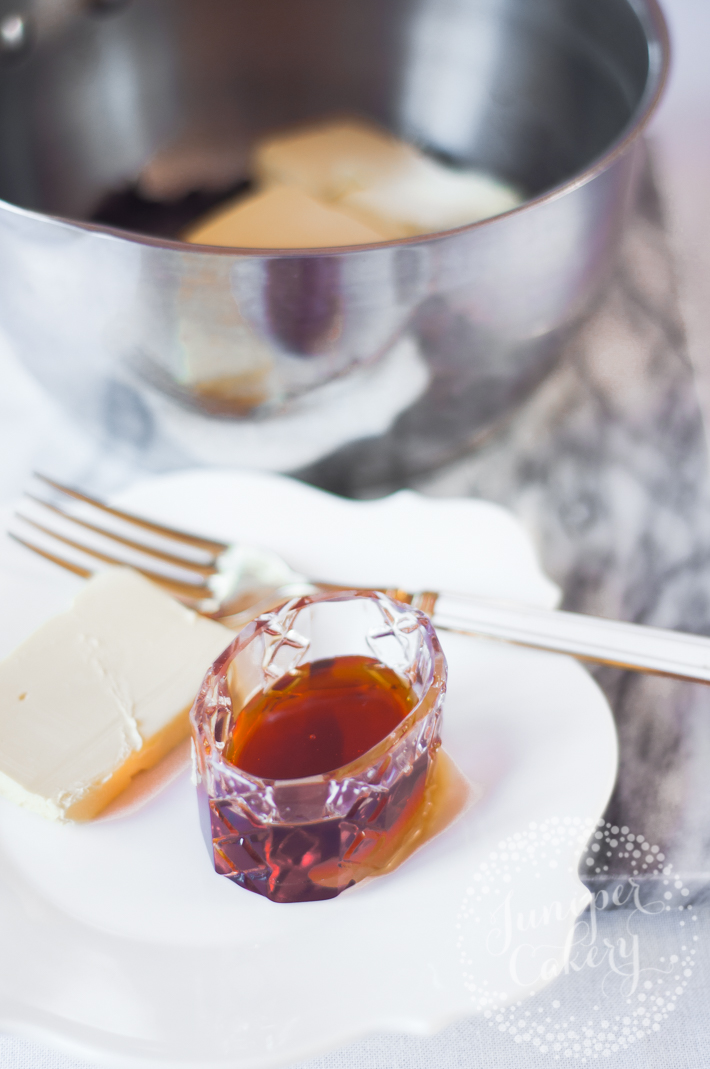 Step 2: Add the syrup
Remove your saucepan from the heat and slowly add in the light corn syrup or golden syrup, stirring gently. 
Step 3: Pour the chocolate!
You can now add your homemade chocolate glaze to your cake, doughnuts, cupcakes or other treats!
There's lots of ways to add this delicious glaze to your cakes. You could use a piping bag to drizzle it artfully atop of your bakes, or you could simply pour it over bundt cakes or muffins.
How to use chocolate glaze
On top of cakes
When we add a chocolate glaze to cakes, we pour a pool of the glaze on top of the cake in the center. Then, we use a small palette knife to gently sweep the glaze to the outer edges of the cake, letting it luxuriously drip down the sides.
Over buttercream
If you're hoping to pour the simple chocolate glaze on top of a freshly buttercream-frosted cake, our advice is to chill the cake beforehand to avoid melting your frosting.
Controlled drip
If you want your glaze to only drip so far down your cake, quickly place it in a refrigerator with the chill factor turned up. This should stop the glaze in its tracks!
Get even more creative
Try using a white and dark chocolate glaze for a marbled effect. Or, tint a white chocolate glaze to make pastel drizzles. Why not add small kicks of flavor with caramel flavoring or chili powder? We've used maple syrup instead of light corn syrup in a chocolate glaze for maple-bacon bundt cakes.