A few weeks ago we shared a tutorial for adorable cat cupcakes readers loved. Dog lovers, we haven't forgotten about you!
Today we're sharing a step-by-step for these doggone cute puppy dog cupcakes that are simply FUR-tastic. They may look complicated, but we assure you they're not! If you're new to making cute fondant animal cake toppers, this step-by-step guide is the perfect place to give it a try. Instead of creating the body and waiting for it to fully set your puppy will be bathing in a sparkling bubble bath decorated cupcake!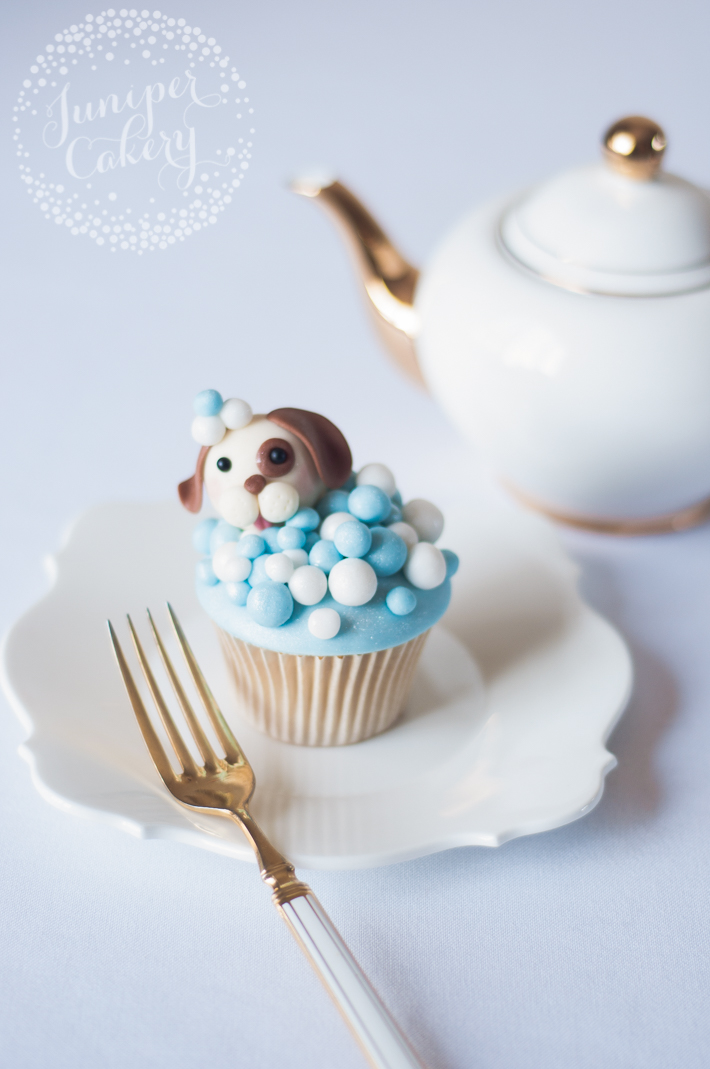 How to make adorable puppy dog cupcakes
Materials needed:
Light blue fondant
White fondant
Cream fondant
Brown fondant
Pink fondant
White pearlescent luster dust
Food-safe paintbrushes
Edible glue
Cupcake
Circle cutter a little larger than the top of the cupcake
Cocktail stick
Black edible pearl beads
Small rolling pin
Cornstarch to dust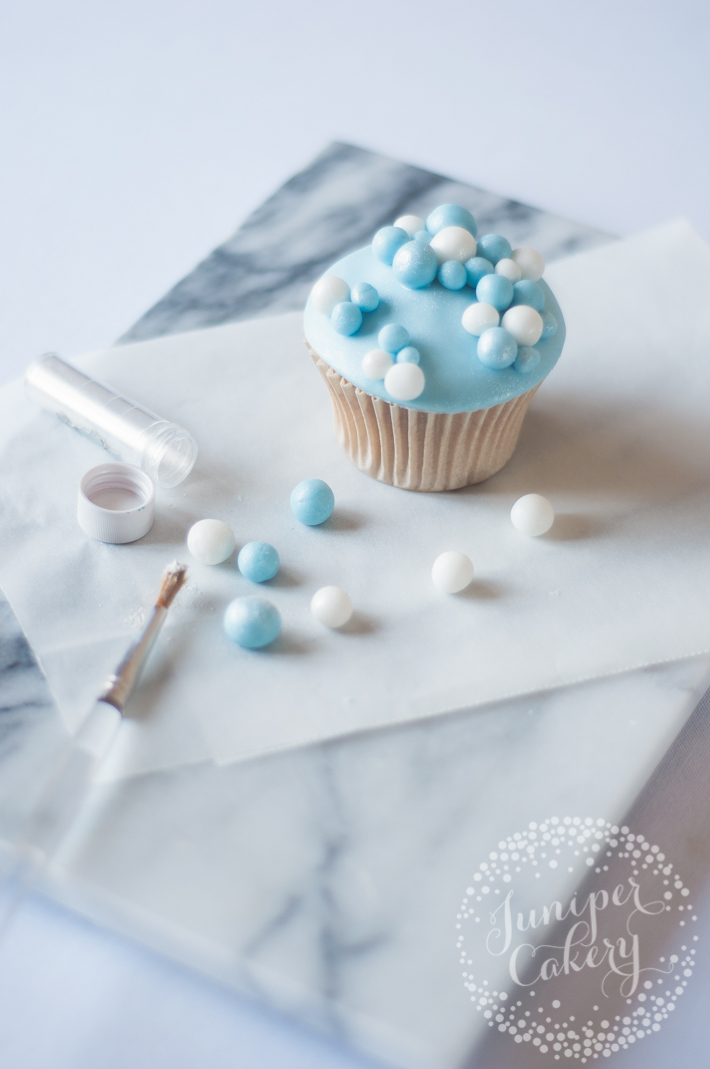 Step 1:
Flat ice your cupcake with a circle of rolled fondant in a pale blue. The circle should be a little larger than the top circumference of your cupcake.
Step 2:
Create lots of different sized fondant 'bubbles' in light blue and white colors. Add a little sparkle to each one with a dusting of pearlescent luster. We used a crisp white colored luster to add a pale glitter on top.
Step 3:
Attach each bubble to the surface of your flat iced cupcake with dabs of edible glue.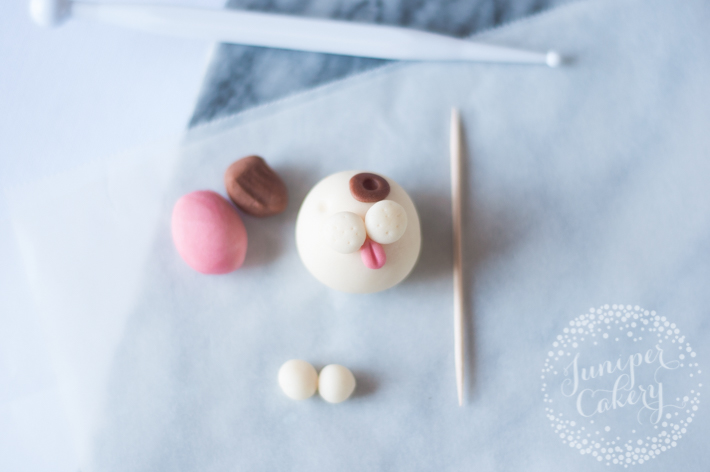 Step 4: 
Now for your cute puppy dog's head! Roll a small to medium sized ball of cream tinted fondant. Make sure that you have no cracks, dry spots or creases in your ball of fondant by working the ball between your hands.
Step 5:
Begin to add facial features. Attach two smaller balls to the front center to create the muzzle; indent the muzzle with the sharp end of a cocktail stick.
Step 6:
Create a patch on your puppy's fur around the eye by adding a circle of brown fondant. Indent the eyes with a small ball tool.
Step 7:
Add a tiny teardrop shape of pink fondant for the tongue. We indented ours with the end of a cocktail stick.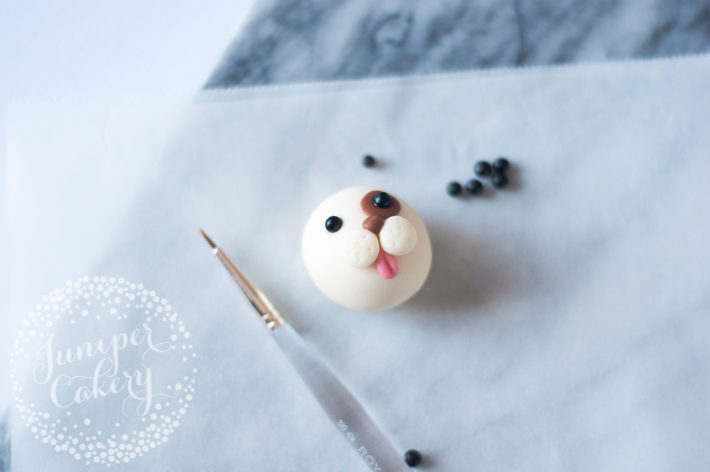 Step 8:
Add the eyes using black sugar pearl beads and little edible glue. If you don't have any edible pearls to hand you can always roll out two tiny balls of black fondant.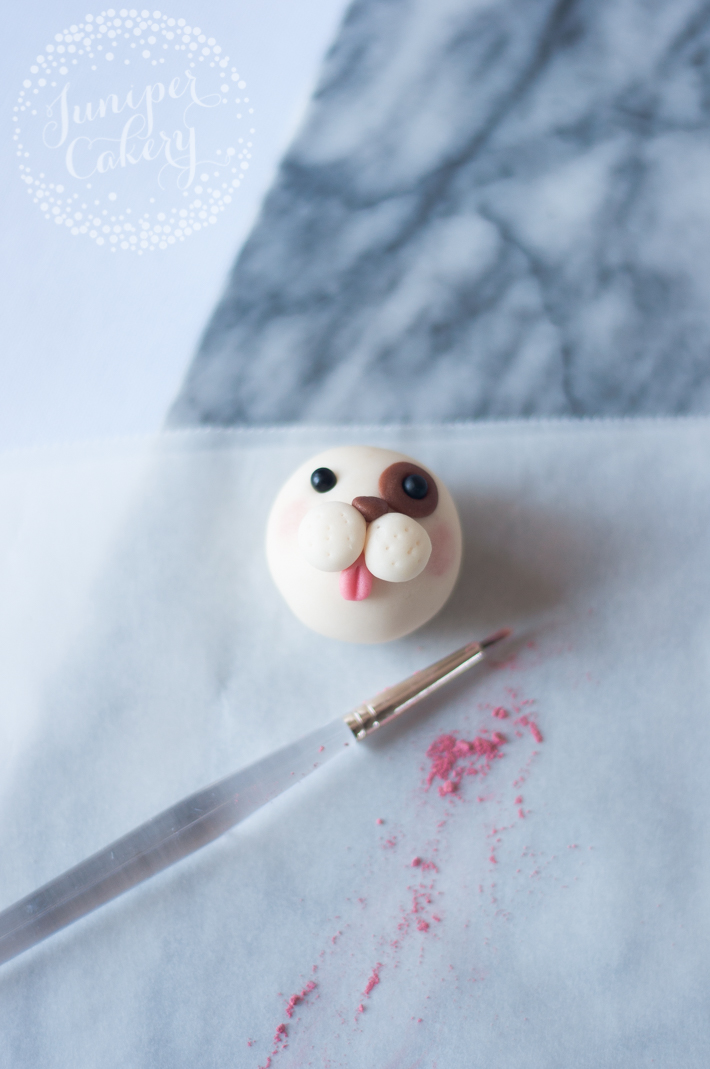 Step 9:
Make your cute little puppy blush by adding two soft circles of pink blossom dust to its cheeks. Always begin with a little color and gradually build it up! It's much easier to add blossom dust for a darker look than to remove it for a lighter appearance.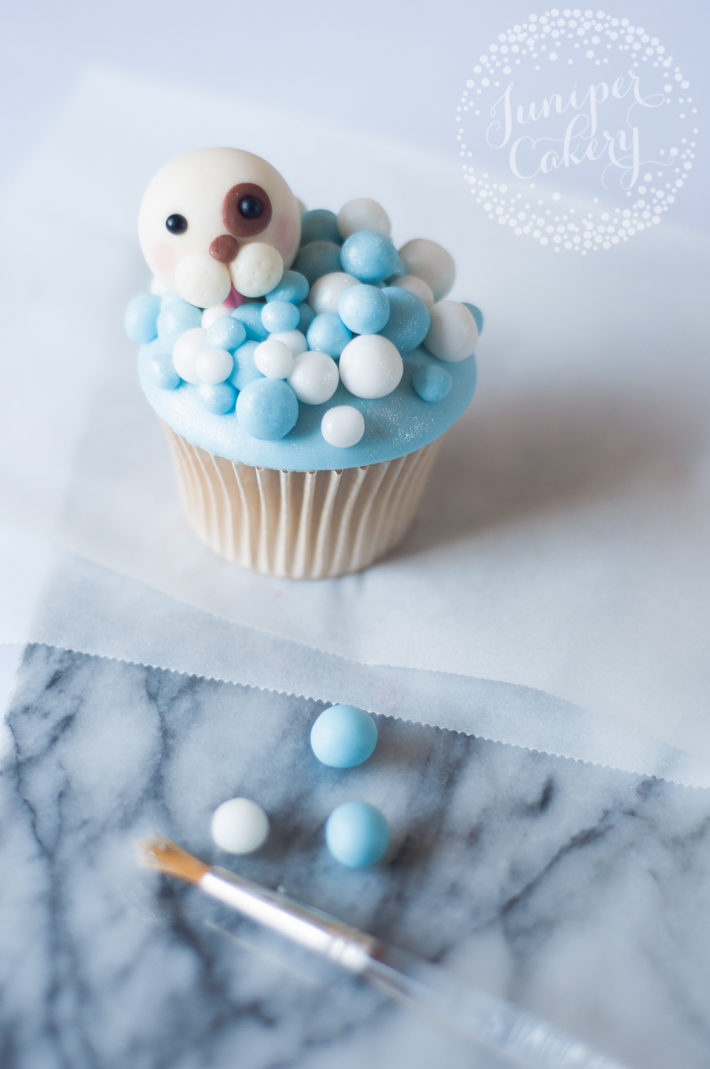 Step 10:
Add your puppy's head to your bubble bath decorated cupcake with a little edible glue and/or a cut down uncooked stick of spaghetti!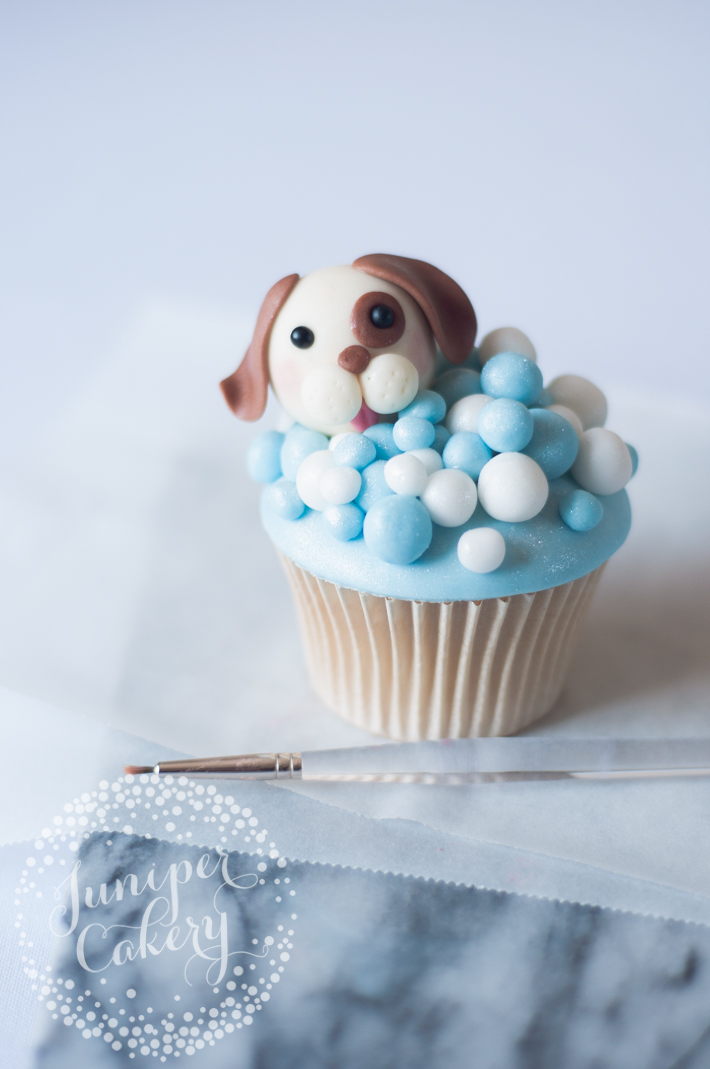 Step 11:
Roll out two sausage shapes from a small amount of brown fondant before flattening and shaping them into your dog's floppy ears. Attach each to the side of its head with edible glue.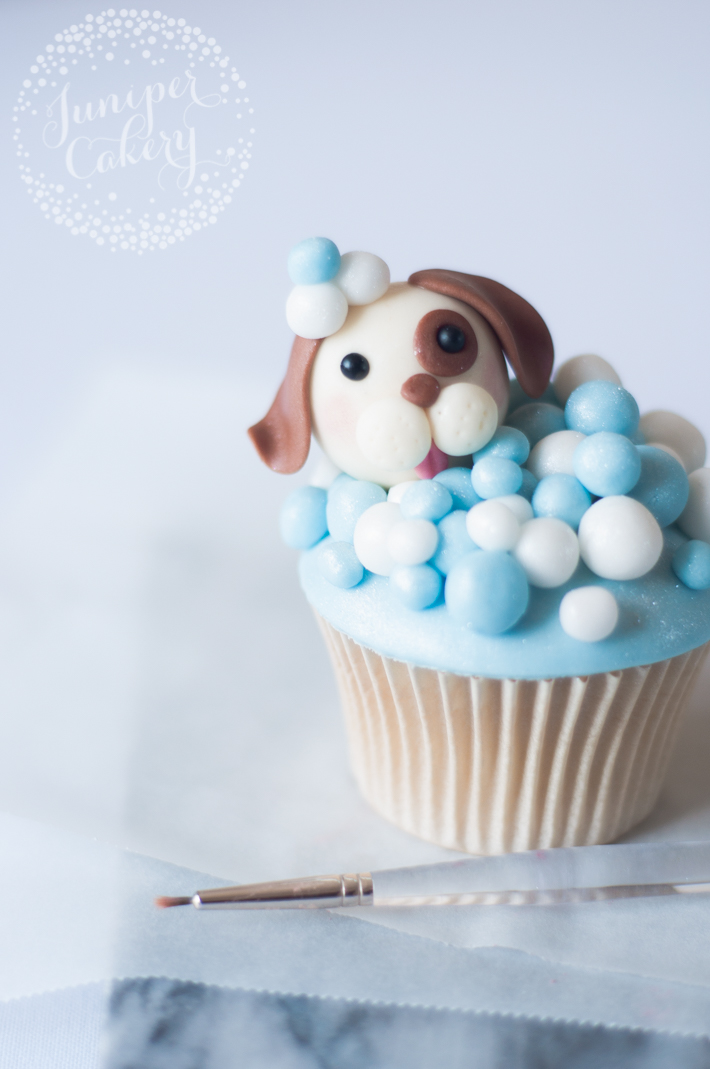 Step 12:
Add a few cute fondant bubbles on top of your puppy's head for a sweet and playful look.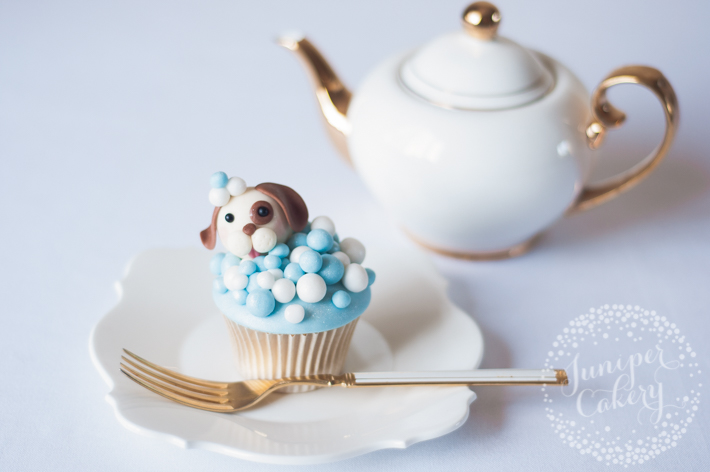 You should now be left with one adorable little cupcake! For extra brownie points, add some toys like a teeny-tiny fondant rubber ducky, a bone or even a cute dog collar and tag.