A dress or blouse doesn't need to be overly complicated in order to make a statement, and using the neckline design as the focal point is one easy way to prove that. Let's take a look at five classic (and classy!) styles that can add a lot of character to your, and your clothes.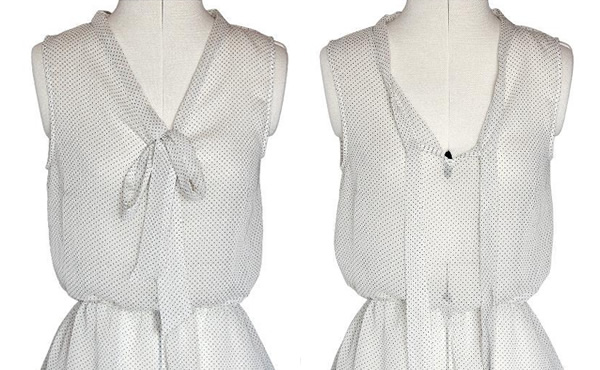 Photos via Craftsy member Salme Patterns
1. The bow neck
Bow neck styles are perfect for adding a feminine element to your garment without a lot of extra frill. As far as timeless looks go, there really isn't a single era where a bow neck blouse or dress wasn't in style! This simple, elegant blouse pattern is a great beginner sewing pattern that's perfect to kick off the Spring season.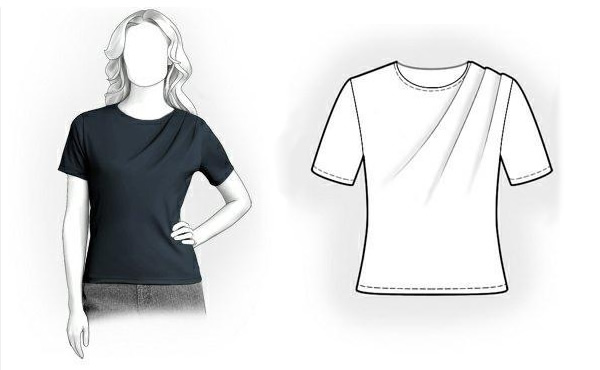 Images via Craftsy pattern store Lekala Sewing Patterns 
2. The fancy crew neck
Practically everyone owns at least one simple T-shirt, but this beautiful draped style turns a basic crew neck into something a little fancier. Any excuse to sew comfort and fashion together in one project is a winning move in my book!
3. The sweetheart neck
Perhaps the most feminine of all necklines is the sweetheart. This neckline gets its namesake from the curved bottom edge that has a double scallop resembling the upper half of a heart. A popular style for flirty day dresses and retro-inspired looks, the sweetheart neckline is a sure-fire way to add a little glamor and charm to your next sewing project.
Learn how to make the adorable dresses seen above with Laura Nash in her class Sewing Vintage: The Flirty Day Dress.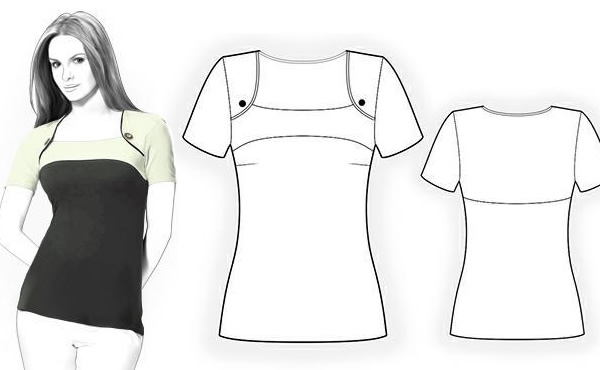 Images via Lekala Designs
4. The square neck
Square necklines are flattering on many shapes, but are especially balancing to those with narrow shoulders. The open lines across the chest and up toward the neck help allude to an hourglass shape for those with a petite upper body. Square necklines are often associated with nautical styles, which seem to be back in fashion every single season. The piping and added buttons on this particular pattern are a perfect opportunity to add a pop of color and do a bit of stash-busting at the same time.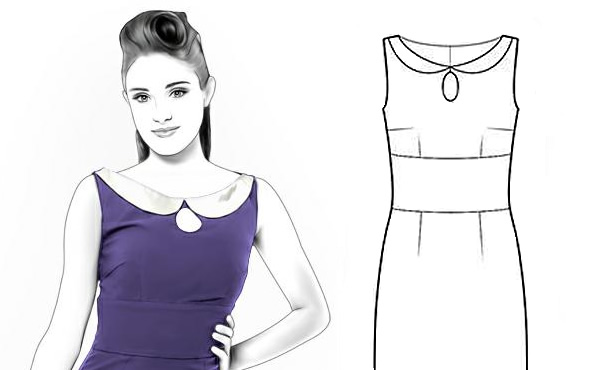 Images via Lekala Designs
5. The keyhole neck
A neckline with a "keyhole" features a decorative opening that is usually round or teardrop shaped. The keyhole can be in the front or back of a garment, just below the neckline, and is usually a functional opening that fastens at the top. Keyholes are youthful, flattering and extra adorable when paired with a Peter Pan collar!
An intermediate or advanced beginner could sew any of these classic neckline styles, but if you're just getting into garment sewing, try Patternmaking + Design: Creative Necklines with Suzy Furrer for more step-by-step help, not to mention a lot more inspirational designs!
Which of these creative necklines would you sew?