Designing knitwear is a truly unique form of clothing design, because the designer creates everything, beginning from the fabric right through to the custom finishes.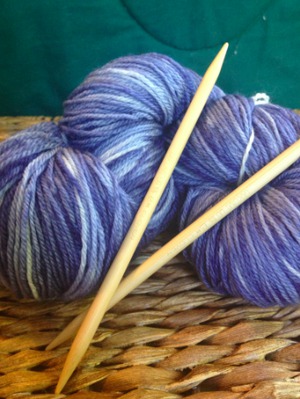 You'll quickly discover that branching out and making your own items is fun! Designing your own knitwear (or at least heavily modifying a set pattern or combining elements from several patterns) allows you to create exactly the perfect item for anyone. Here are five simple steps to get you started:
1. Start with a shape in mind:
If you want your finished product to fit a particular person perfectly, you need to begin with an idea of both the shape and drape you desire.
Take my two cousins for example. One is tall and lean, with model-like curves. The other shorter with a boxy frame. Even if I wanted to design cardigan wraps for both of them, I would create them differently– adding a bit of a cinch for cousin two to create the appearance of curve for her. For her, I might want a stiffer yarn that would provide structure so that cinch would show. Whereas for the taller cousin, I might want a longer cardigan with a looser yarn that would drape well over her natural frame.
2. Consider the yarn characteristics:
Find your inspiration in the color or feel of a particular material. But make sure that the yarn you select will work well when combined with the shape and drape you'd like to achieve. For example, take this sweater I made for myself. While I like it as it is, in a beautiful bright red color, it didn't come out the way I envisioned because this yarn is a bit too heavy to create the drape I was going for.
I made the same sweater for my mom in a stretchier yarn and it looks completely different, more like what I intended.
3. Take accurate measurements to create your dimensions:
If you're designing knitwear for a particular person, measure them in all the relevant places. Then spend some time thinking about what garments that person already has that are flattering.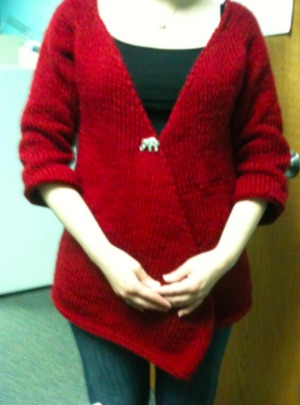 4. Play with and compile partial schematic patterns or work from existing garments:
Looking through other knitting patterns is never a bad idea, as maybe you can draw a waist detail from here, a sleeve from there, and so on. Just because you're creating your own garment from scratch doesn't mean you have to completely reinvent the wheel.
5. Incorporate stitch colors, stitch patterns, and embellishments:
Add texture and visual interest with complementary color combinations, stitch patterns with rich textures like brioche and entrelac, and exciting embellishments like buttonholes, ribbed sleeves, ruffles, and more.
When designing knitwear, you get to make exactly the item you want by pulling all of these crucial elements together in the best combinations. Now get started on your pattern, with this intro to pattern drafting.