One of the fabulous things about knitting is getting to play with colors of all kinds. Unlike shopping for hats or sweaters in a store and being limited to the half dozen or so colors on the rack, our only limitation as knitters is having to make a choice among the many hundreds of possibilities. For example check out Craftsy's Cascade Heritage assortment; with so many yarns and colors to choose from, the combinations could be endless!
Most knitting patterns call for one color to be used throughout the entire project. In this case the biggest challenge is likely to be choosing which color you want to work with, but also making sure all of the skeins are of the same dye lot. (This is just one reason why buying an extra skein is a good idea – if you need extra to finish the project, buying it later on might mean getting a skein that doesn't quite match the ones you bought originally). Working with one color at a time can also provide opportunities to explore your personal color preferences. Have you ever thought about your ideal wardrobe color palette? Over time, you could have a personalized set of garments in exactly the colors you want to wear, reflecting your own sense of style. No matter what colors are 'trending' in the fashion world, your own handknit style never needs to be limited as long as you have access to a variety of yarns.
Color Theory Basics
As you expand your practice with multiple colors, the color wheel is a good place to start when brainstorming about color choices. This is probably familiar to you from the days of school art classes! The color wheel is a way of organizing colors into a spectrum, and understanding how different colors relate to one another. You may remember the primary colors as red, yellow, and blue, and secondary colors as orange, green, and purple. Secondary colors result from the mixing of primary colors together, when thinking about color as pigment or a 'mixable' medium. When secondary colors are blended with their neighboring primary color, the result is an additional set of six tertiary colors – red and orange result in reddish-orange, for example, and yellow and green result in yellowish-green.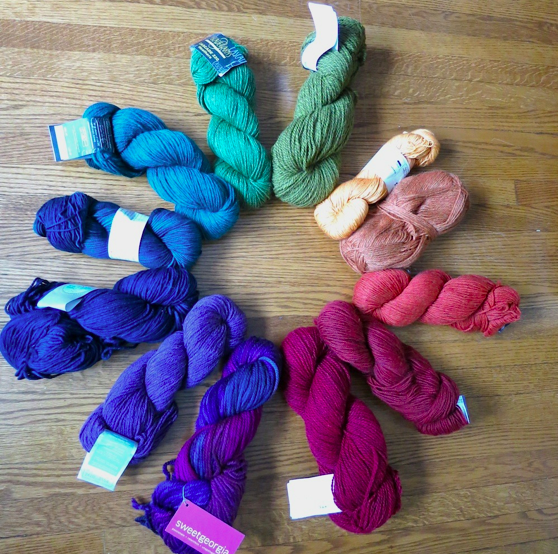 In addition, we can consider neutral colors as those which offer more of a contrast in tone rather than a distinct hue. Neutral colors include white, cream, beige, brown, and blacks and greys. Browns do often result from combinations of many different colors together and can often 'read' as close companions to red or orange, for example, depending on how they have been mixed.
Each hue on the color wheel can also have a lot of variation in tone depending on whether the pigment has been mixed with white, grey, or black. Hues mixed with white are tints, those mixed with grey are considered tones, and those mixed with black are considered shades. This is why it can appear that so many different variations exist within a single color group. For example, have you ever looked at the number of purples, greens, or reds within a single yarn line? Why, there must be more than 2 dozen greens in Cascade 220 Heathers alone!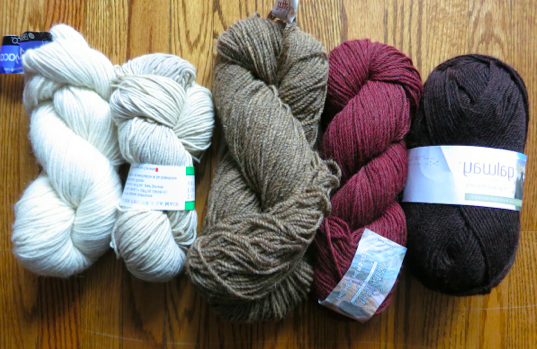 These color variations occur in yarn largely from how the dyer has chosen to mix the dyes which are applied to the yarn. However, variation also happens due to the yarn itself. If the yarn has been bleached before dyeing – made as white as possible – then the resulting color will look different than if it had been applied to unbleached yarn. Cotton yarns, for example, are often a good example of this kind of color processing. Also, wools that appear to be of a heathered color typically rely on wool that has not been bleached and comes from a blend of sheepswool, or grey sheep with variation in their wooly fibers. These are just a couple of the ways in which yarns can appear to round out the tints, tones, and shades of the color wheel – and all of it happens before the yarn arrives at your local or online shop!
Our challenge as knitters is that yarns do not come in the form of pigments which we can mix together to create our own color blends, but as fixed color mediums which must be used as partners with others. Knitted stitches sit next to each other, but do not physically blend with one another. So, we get to practice working with multiple colors in the same project to find combinations that will look pleasant, and be compatible with our own personal color style.
Practicing Color Work
Many patterns also involve combining two or more colors in the same project, which is the most basic criteria for calling it a color-work project! Different combinations will result in different visual effects. If you want a high contrast combination, choose yarns with very different tones or color value. In other words, just because two yarns are from two different color families or hues does not mean they will normally have a high contrast. In the yarn color wheel photo above, for example, consider the reds and blues – they are different hues but very similar color value. If we were to view the photo in black-and-white and remove all color, the reds and blues would appear to be almost the same color.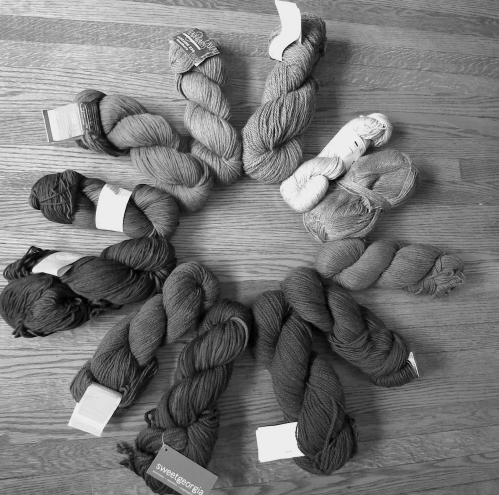 Alternatively, combining one of the blues or with the yellow or yellow-green yarns would result in a more visible contrast, since we can see there is a greater difference in tone between them. High-contrast and low-contrast combinations give different results – you might enjoy the low-contrast color combinations more so than the high-contrast! Choose what pleases you.
There are many different kinds of color-work techniques to choose from as well, and all include the challenge of selecting combinations – this is often the part of color-work projects that takes the most time and thought! One of the easiest ways to practice this is to work with stripes. Other techiques involve using more than one color on the same row – these include stranded color-work knitting and intarsia. Stranded color-work also encompasses many traditions, including Fair Isle knitting, Bohus knitting, and the Norwegian color-work so familiar to us from the 'ski sweaters' made popular by Dale of Norway.
Have you discovered your own personal color style through your knitting? What are some of your favourite color combinations to work with?
Don't forget to join us here on the Craftsy blog tomorrow for a feature on fun patterns for wrapping the turning with ease.