Teachers are often unsung heroes and don't receive all the deserved recognition for their commitment to their students year after year. October 5th is set aside in more than 100 countries for students (and their parents) to sing their praises in celebration of World Teachers' Day and what better way to show your appreciation than with cupcakes for teachers?
Treat your favorite teacher with these sweet cupcakes as they feed your student's love of learning!
Photo via Lynlee's Petite Cakes
Classroom fondant cupcake toppers:
These school-themed fondant toppers were made for a charity Back to School event organized by Whimsically Detailed, inspired by the free printables available for download. The base toppers are embossed with basic geometric circles and stripes to add texture and interest, while the embellishments reflect common classroom supplies. Primary colors are evenly spread throughout the designs to ensure they are balanced. When working with a variety of colors, make sure to pre-plan to avoid a disproportionate or heavier hue in each design.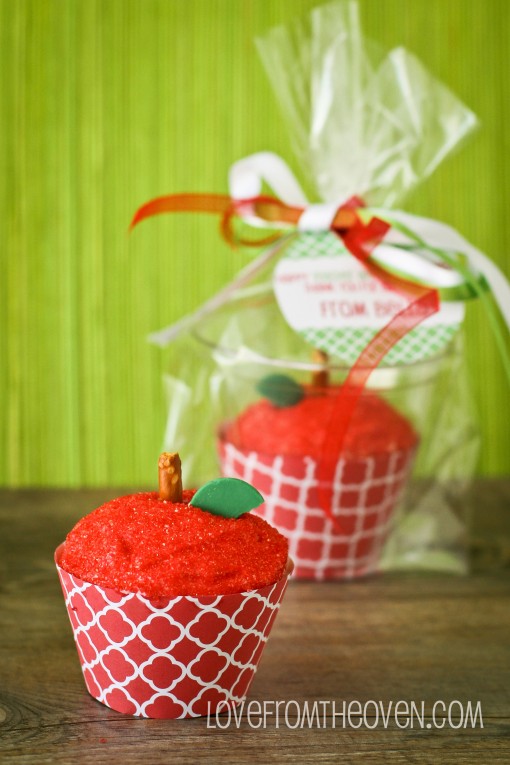 Photo via Love from the Oven
Apple for the teacher cupcakes:
Love from the Oven shares this sweet and simple tutorial and free cupcake wrapper printables for these apple cupcakes, which sure to please any teacher! The use of icing covered in red sanding sugar shapes the apple, topped off with a pretzel stem and chocolate leaf. The same can be achieved with fondant by covering the cupcake with icing and placing a circle cut from red fondant smoothed over the top.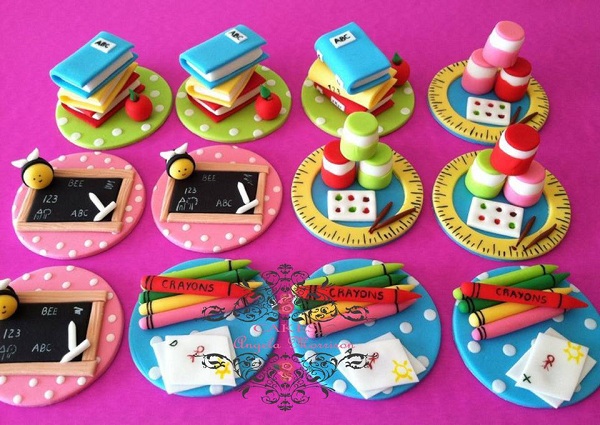 Photo via Cakes by Angela Morrison  
School days fondant cupcake toppers:
This incredibly detailed and adorable set of school-themed fondant toppers by Cakes by Angela Morrison mirror items found in a preschool or kindergarten teacher's classroom. The polka dot pattern on the base toppers exude a childlike playfulness, along with the fondant details reflecting the age-appropriate supplies and activities. The clever use of ruler on the perimeter of the topper is the perfect example of taking a simple representation of the theme and creatively utilizing it in the design, along with the use of edible markers and gel pastes to emulate chalk writing, crayon drawings and printing.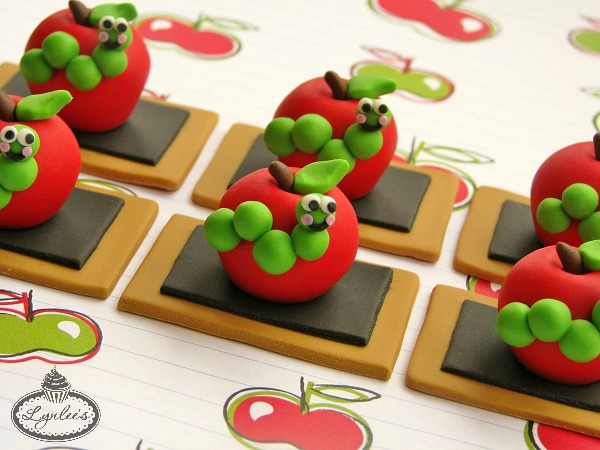 Photo via Lynlee's Petite Cakes
Back-to-school bookworms:
These fondant bookworms heading back to school were inspired by the free printables by Amanda's Parties to Go for a celebration styled by Crissy's Crafts. Cupcake toppers are not limited to circular shapes, but can be open to different silhouettes, such as these simple, yet impactful blackboards. As long as they fit appropriately over a cupcake or are proportionate to the dessert you are decorating, feel free to be creative! This collection also demonstrates the ability of one repetitive design to make an overall impressive presentation.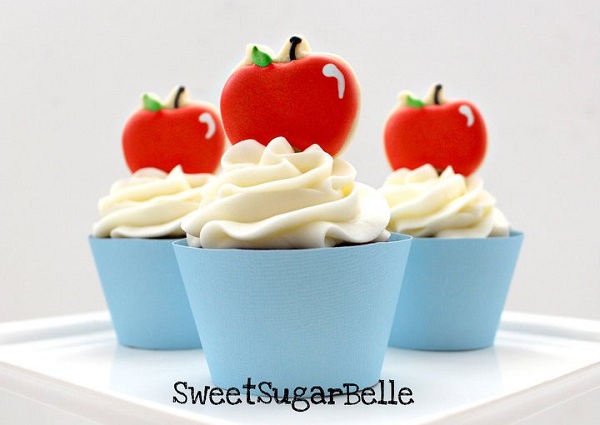 Photo via Sweet Sugarbelle
Apple cookie cupcake toppers:
Sweet Sugarbelle is a master and extraordinary artist when it comes to cookies decorated with royal icing. These flawless apple cookies make the perfect cupcake toppers with the insertion of short, wooden sticks and provide a yummy added treat for the teachers!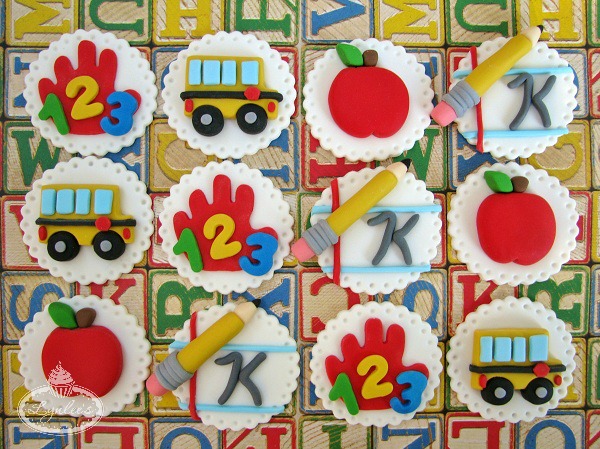 Photo via Lynlee's Petite Cakes
Kindergarten graduation fondant cupcake toppers:
While these fondant cupcake toppers were intended for a kindergarten graduation celebration, they could just as easily be utilized as gifts for preschool teachers or those of younger grades! Even if you are not creating 3-D figures, you can achieve dimension by creating designs that are a bit thicker to make your designs pop.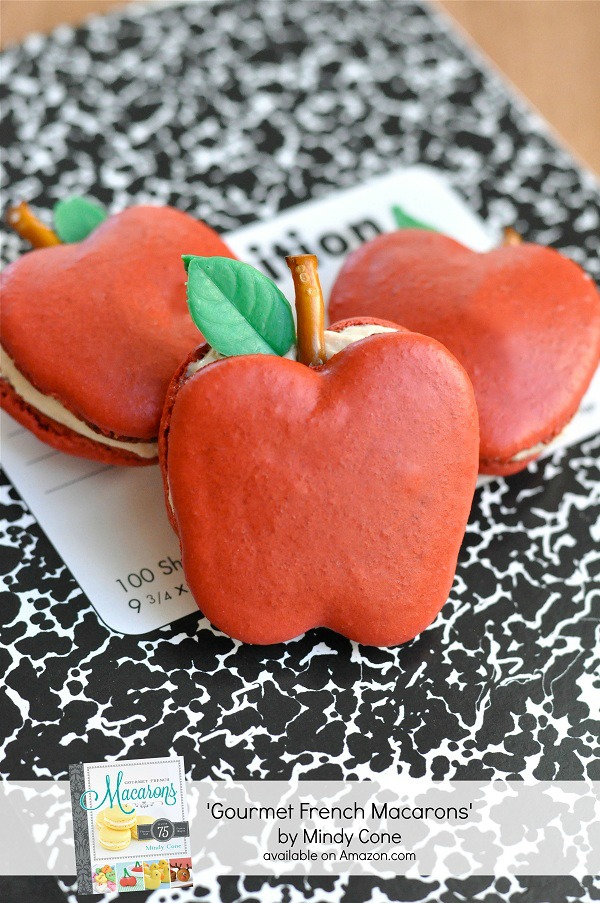 Photo via Creative Juice
Teacher apple macarons:
For the modern and trendy teachers, why not surprise them with these adorable and delicious apple-shaped French macarons included in Creative Juice blogger Mindy Cone's recently released book, Gourmet French Macarons. Follow Mindy's recipe for caramel apple pie filling to sandwich in between these charming apple treats.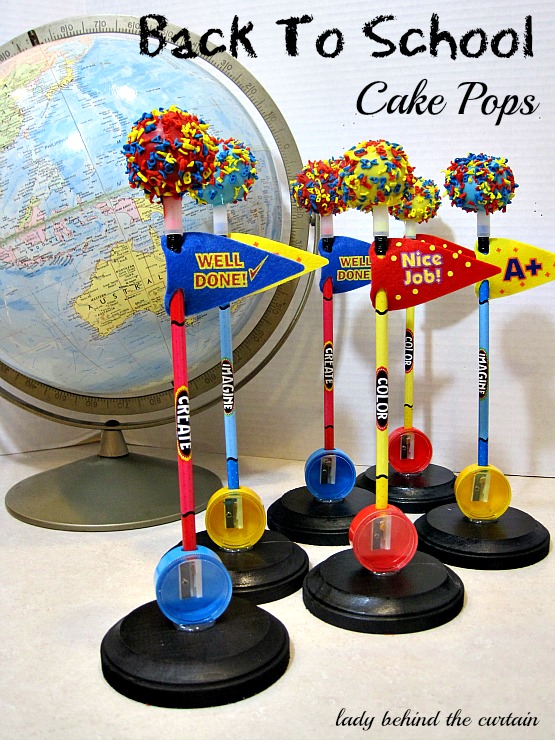 Photo via Lady Behind the Curtain
Back-to-school cake pops:
Cake pops continue to be a super popular dessert, but Lady Behind the Curtain took these teachers' treats to the next level! Once coating them with alphabet sprinkles, they are creatively attached to sucker sticks to top these scholastic pencils in this tutorial. These back-to-school cake pops are the perfect sweet embellishment to this incredibly innovative stand that teachers could easily reuse in their classrooms.
Photo via Bluprint member Sugar Girl
Teacher appreciation cupcake bouquet:
Bluprint member Sugar Girl made this incredibly sweet and fun cupcake bouquet when searching for a "bright and cheery" teacher's gift. Inspired by crayon hues, this cake artist followed a tutorial for ruffled modeling chocolate flowers by Jessica Harris, instructor of Clean & Simple Cake Design.
Can't choose just one project? Take the opportunity to practice different techniques and designs to show your gratitude to the teachers that truly make an impact. When Teacher Appreciation Week rolls around in the spring, you'll be more than ready. Or, even better, surprise them all year long because they deserve the extra recognition!
If you've never worked with fondant and need some help getting started, check out Bluprint's FREE mini-class Basic Fondant Techniques. Instructor Elisa Strauss walks you through the process of rolling fondant out, texturing it and creating dimension, and making fondant cutouts you can use to top your cupcakes and other sweet treats, like the ones seen here!
How will you decorate your cupcakes for the teachers in your life?