For a fun change-up in your cake decorating routine, try a cupcake cake! Cupcake cakes have been around for a while now, but they are still a sweet idea for a children's birthday parties. No need for a knife, fork or even a plate — just pull the cupcake away and straight into your mouth. The options are pretty much endless with some creative icing and cupcake placement.
Here are some fun cupcake cakes to inspire your next birthday cake project!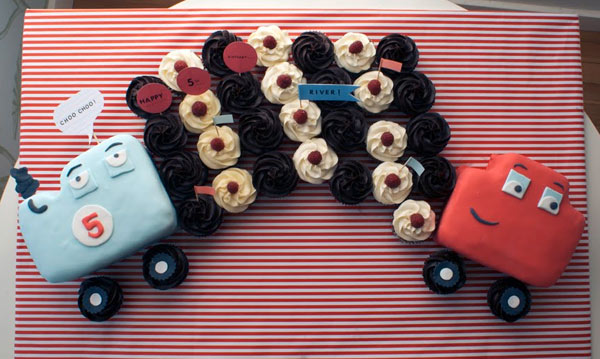 Photo via Coco Cake Land
Choo choo train cupcake cake:
This rarin' to go train-themed cupcakes cake has a happy faced engine mini cake and an equally smiley faced caboose mini cake book-ending a beautiful and delicious looking collection of cupcakes.
A nice alternative to the "Thomas" the tank engine cakes, this cake is cartoon-ish and familiar with bright colors and a classic red and white striped cake board. The train's wheels are dark chocolate cupcakes topped with black-colored fondant scalloped circles and white fondant circle centers to emulate train wheels.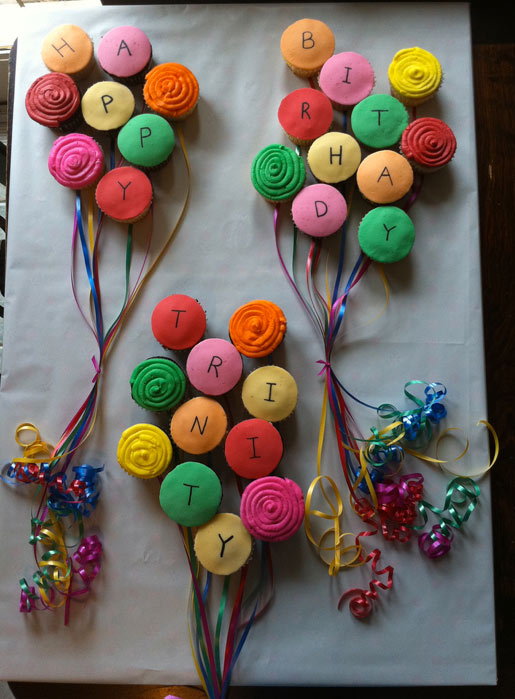 Photo via Smyley Bears
Floating balloons cupcake cake:
I love how simple but effective this cupcake cake is. Colorfully iced cupcakes, some covered in fondant and hand lettered with edible marker and some iced with a simple swirl using an open circle tip, all bunched together like floating balloons, anchored by the shiny curly rainbow of ribbons. Just looking at this makes me happy!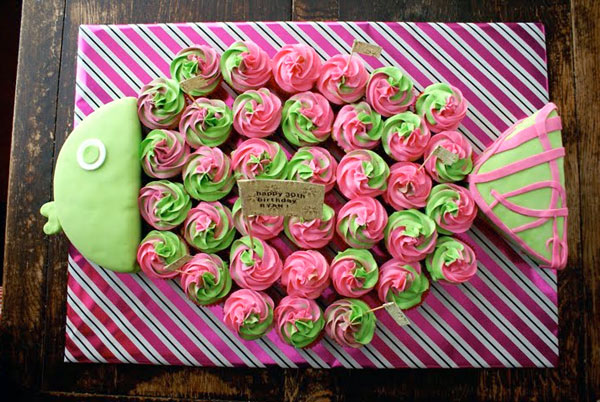 Photo via Coco Cake Land
Glub glub fish cupcake cake:
This fish themed cupcake cake uses two-tone swirled cupcakes to make up the fat fish body and a one-layer round cake halved and stacked to create the fish "head" and a one-layer square cake halved and stacked to create the fish "tail."
The cake board is covered in shiny wrapping paper to color coordinate with the pink and green theme. A great cake for fish lovers or as part of a under-the-sea birthday party!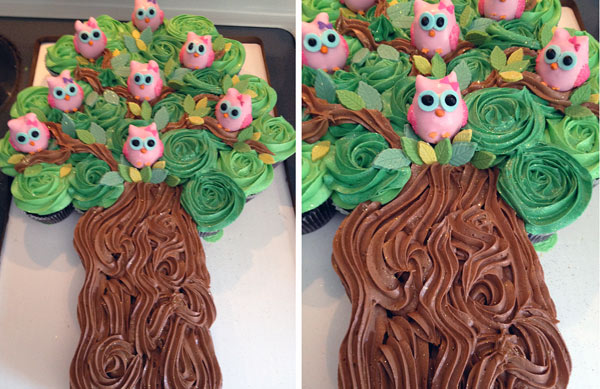 Photo via Sugar Tree Bakeshoppe
Owl cake pops tree-themed cupcake cake:
This clever and cute cupcake cake features cupcakes lined up to form a tree trunk and iced with chocolate buttercream and green buttercream iced rosette cupcakes to form the tree top. Sugar leaves add dimension, texture and shape, and owl cake pops sit nestled in the branches of this ultra-cute cupcake cake.
[box type="shadow"]
The wise-as-an-owl cake artist
Several elements went into creating this cake. To create your own, take a look at these posts and classes to help along the way:
[/box]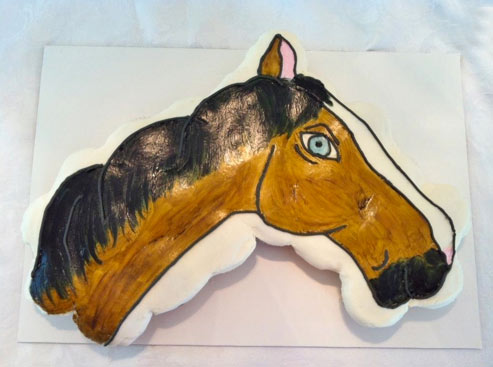 Photo via Bluprint member lisacakes
Horse head cupcakes cake:
This hand-painted cupcakes cake comes courtesy of Bluprint member lisacakes! This cake would be awesome for a Godfather-themed party…anyone remember the scene from the movie I'm speaking of?
[box type="shadow"]If you'd like to learn the art of hand painting cakes, sign up for Bluprint's FREE mini-class The Hand-Painted Cake.[/box]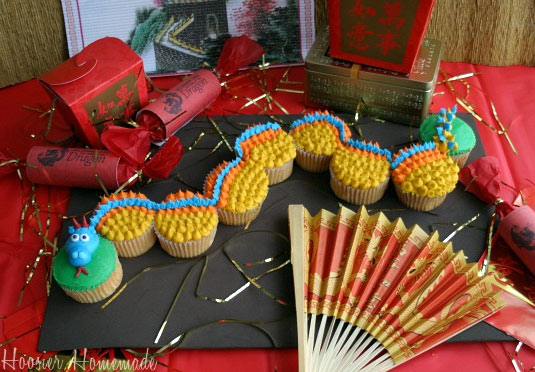 Photo via Hoosier Homemade
Chinese dragon cupcake cake:
This simple and fun Chinese dragon cupcake cake would be awesome for a Chinese New Year party or a reptile-themed kid's birthday party. You could also translate this idea into a snake quite easily.
I love the open circle buttercream dots in the yellow, orange and blue stripes. Even the face is made of buttercream, utilizing a few different piping tips. A nice example of an easy-to-create cupcake cake.
The full tutorial can be found on Hoosier Homemade. If snakes and lizards are a must at your next party, check out these fabulous Reptile Cakes.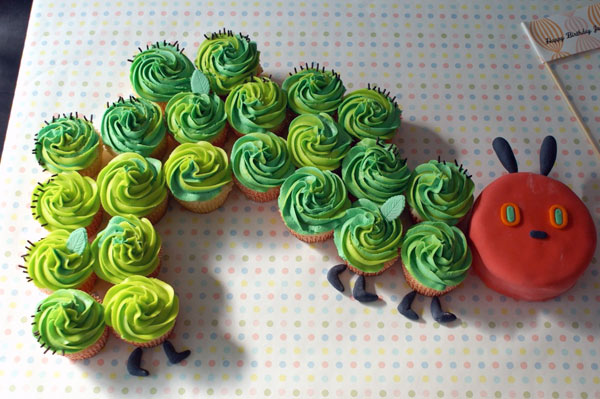 Photo via Coco Cake Land
The Very Hungry Caterpillar cupcake cake:
Eric Carle's beloved children's storybook The Very Hungry Caterpillar translates very nicely into cake.
This cupcakes cake features two-tone swirled green buttercream cupcakes to emulate the watercolor aesthetic of Eric Carle's work.
Little feet are made using black fondant and the head is a round two-layer cake covered in red fondant and decorated with fondant eyes and nose. The antennae stay put with the help of wooden toothpicks. And who could forget the "hair" of a caterpillar? This guy's "hair" is made up of tiny chocolate sprinkles, hand-placed into the buttercream using tweezers.
So much fun for a kid's birthday party, with great visual appeal, too!
[box type="shadow"]Looking for more creative ideas for children's birthday party cakes? Check out the Bluprint class Design Your Own Castle Cake with Sharon Wee.[/box]
For more cupcake fun, come back to the Bluprint Blog on Friday for a roundup of creative fondant toppers for cupcakes and other sweet treats!
Have you ever made a cupcakes cake? If so, what was your method?